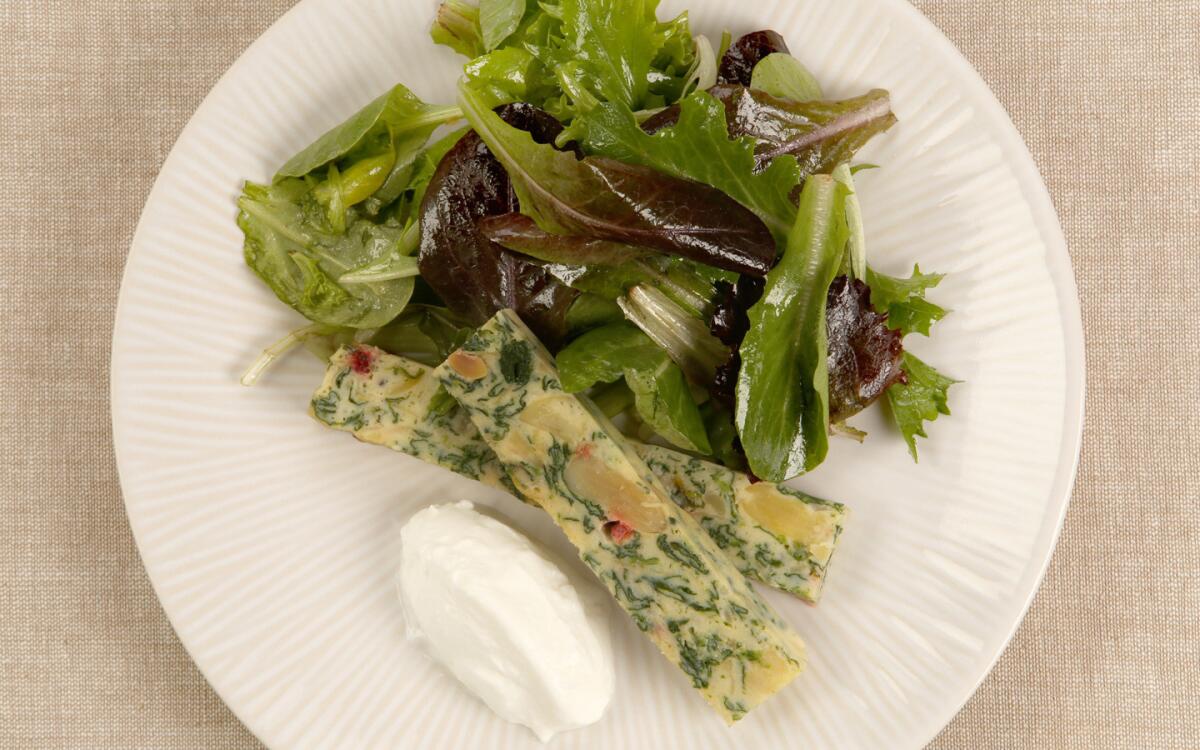 Print Recipe

Print Recipe
Depending on your family's traditions, you might spend your Easter morning hiding eggs in the shrubbery or baking hot cross buns, heading to church or watching old Judy Garland movies on Amazon. Maybe you read crime novels — this is an actual Easter tradition in Norway — until noon. But whether your morning is filled with books or chocolates or both, making brunch for those around your table is likely on the list too.
So while you get out recipes for eggs Benedict, glazed ham and asparagus with Hollandaise, consider making something a bit less expected: the Persian herb frittata kuku sabzi.
There are many reasons why this is a fantastic addition to your Easter brunch table, not least being the name, which is a lot more fun to say than, well, pretty much any other dish that comes to mind. Kuku is also the perfect thing to make if you've just come back from your local farmers market, bags filled with all the fragrant herbs and other greenery that are loading the stalls this time of year. Parsley and coriander, dill and spinach, lettuce and scallions, leeks and fenugreek — it can all go into a bowl, from there into a cast-iron pan and ultimately, onto your table.
Kuku sabzi is a traditional dish served at Nowruz, the Persian New Year, as well as Easter. It's also often served as part of picnics or casual feasts — fittingly, as Easter is technically a movable feast too — as it can be made ahead of time and is best at room temperature. Unlike most frittatas, the proportion of greens to eggs vastly favors the greenery, which makes the dish not only more healthful but also vastly prettier.
"When you make it, you think there's no way this can hold together with so few eggs — and then it does," cookbook author Naomi Duguid told me recently. "Somehow, cooks figured out how many pounds of greens one egg can hold together. It's like Harold McGee's mayonnaise," Duguid said, referencing the noted food scientist, who famously describes that sauce's emulsification as about 80% oil to egg yolks and other ingredients. Duguid, who includes a recipe for kuku in her latest cookbook, "A Taste of Persia," describes it as a "dish of life" in the regions her book documents, Iran, along with Azerbaijan and Armenia.
"You're in the spring, it's still bleak in the mountains; if it's Easter, you've been fasting. The egg is new life, it's 'bring it on.' " Which is not a bad way to think about your brunch table.
Kuku is by nature a forgiving recipe, built to accommodate whatever greens you have available — variations are made with potatoes, beans and other vegetables — and made to hold. It can be baked in a skillet, a cast-iron pan or a baking dish and served prettily with a handful of dressed greens, or straight out of whatever it was baked in.
This versatility is one of the reasons chefs Sara Kramer and Sarah Hymanson put it on the menu at Kismet, their Mediterranean-style restaurant in Los Feliz.
"We were interested in having an egg dish that could hold — not be cooked to order," says Kramer. "Truly an easy thing to make ahead and serve quickly, which translates so well to home cooking. Plus, we love the aesthetic of the dish, with the greens and beans and barberries studding the egg beautifully."
Barberries, a tangy, crimson dried berry used a lot in Middle Eastern cooking, add some zip and color to the dish. (If you can't find them, try dicing a few dried cranberries or adding a hefty amount of lemon zest.) Or you can use Aleppo pepper, which also provides color, zip and some heat.
Aleppo pepper is not only in the dish but also on the tables at Momed in Atwater Village, where it fills the pepper shakers at Alex Sarkissian's Eastern Mediterranean restaurant. Momed's version of kuku is also a lot of fun to cook at home, especially if you like making shakshuka, the fantastic tomato-and-egg dish popularized in recent years by the London-based Israeli chef Yotam Ottolenghi.
Sarkissian's kuku is deconstructed, which means it's kind of a green version of shakshuka, with the eggs cooked on top of the vegetables rather than bound with them. This makes it even prettier than the more traditional versions, and particularly wonderful when paired with grilled bread — and as much Aleppo pepper as makes you happy.
If you're the sort of person who likes eggs, particularly on a day that celebrates them, perched on top of whatever you're eating — a food trend that shows no sign of abating — then deconstructing your kuku is likely the way to go. Happy Easter. Now back to that Scandinavian mystery novel.
Kuku cream
1
In a heavy saucepan, heat the olive oil over medium heat. Add the shallots and sweat until softened, 5 to 7 minutes.
2
Stir in the bay leaf, salt and heavy cream. Bring to a gentle simmer and reduce the cream by one-third, 30 to 40 minutes. Remove the bay leaf, but do not strain the shallots. This makes 2 cups kuku cream.
Kuku
1
Heat the oven to 350 degrees. Grease a 13- by 9-inch baking pan, and line the bottom with parchment paper. Grease the parchment paper.
2
Heat a large skillet over medium-high heat until hot. Add the olive oil. Saute the spinach (this may need to be done in batches; add additional oil if needed) until wilted, then remove from heat. Wring the spinach out using a large kitchen towel, squeezing out as much liquid as possible. Finely chop the spinach.
3
Combine the spinach, beans and kuku cream in a heavy saucepan and heat, stirring frequently, until the mixture is just above room temperature. Remove from heat.
4
Whisk the eggs until smooth, then pass through a strainer into a bowl, discarding any unstrained bits. Stir in the warmed cream mixture, along with the barberries and salt, to fully combine.
5
Pour the kuku mixture into the prepared pan. Bake until the egg is set and a knife inserted in the center comes out clean, 30 to 45 minutes, depending on the thickness of the kuku.
6
Adapted from a recipe by Kismet in Los Angeles.
---
Get our Cooking newsletter.
Your roundup of inspiring recipes and kitchen tricks.
You may occasionally receive promotional content from the Los Angeles Times.