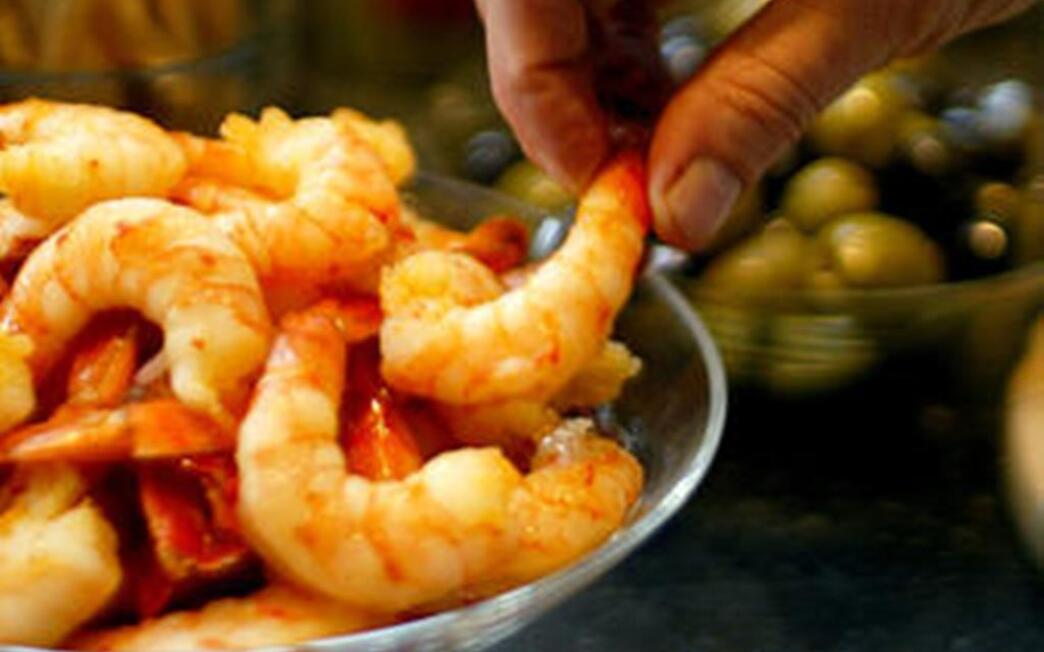 Print Recipe

Print Recipe
Thanksgiving traditions vary from one house to another, but there is one that's universal: At some point while you're fixing dinner, you will look around and realize that every single soul you've invited is standing in your kitchen.
Whether they're there to pitch in and help cook or just filch tastes of things that aren't quite ready and telling you what you could be doing better, the fact is, the kitchen is where the party always begins.
Fight it all you want, you're going to lose. I know: After years of battling for a quiet work space, I just gave up and moved in an old sofa. Set out caviar and truffles in the living room and they'll go untouched in favor of cheese and crackers in the kitchen.
The only thing you can do about it is to be prepared. A smart cook always has an appetizer ace or two up his or her sleeve -- perfect little bites that will occupy and satisfy without topping off the tank. Look at it this way: If your guests are being helpful, they deserve a reward. If not, there's nothing like a little finger food to keep idle hands busily occupied and out of your way.
Great appetizers can be as simple as sliced dry sausages or as complicated as puff pastry rafts.
The important factors are that they be easy to eat while your guests are standing around, that they have punchy, pointed flavors that will stave off hunger without spoiling appetites, and that they can be put together quickly and without too much bother -- preferably the day before. Ideally, they will also go well with Champagne, which should be poured in abundance.
Seafood is always a good place to start, since it takes so little cooking and always seems so festive (visions of an old friend walking into a cocktail party and shouting, "Look at all that shrimp!").
An elegant fruits de mer platters is really easy to put together. Pick up some shaved ice when you buy the seafood and arrange everything artistically. Just be sure to have all the components ready to go when the guests arrive.
At this time of year, set out a platter of cold Dungeness crab, already cracked for easier snacking. Cook the crab the night before and refrigerate it. Spend a couple of minutes first thing in the morning and break it into serving pieces. Find a good fish market near you; they'll usually have crab already cooked and chilled and some of them will even do the cracking.
If you have a particularly obnoxious kitchen know-it-all coming, pick up a couple dozen oysters and hand him a shucking knife the moment he steps in the kitchen. This guarantees at least a half-hour of silence (I know this works because it's been used on me).
It is nice to have one centerpiece in the production, such as these marinated shrimp, which are a complex blend of sweet and citrus and smoke. All of that is underlined by a slight bitterness from the orange pith, a flavor that might be echoed during the main dinner in your cranberry relish.
Olives should be a staple in your pantry, particularly during the entertaining season. But these days the assortment presented at even the most pedestrian high-end delicatessen can be bewildering -- and expensive. You can get the same flavor at a fraction of the cost by marinating your own olives. It's no more difficult than making vinaigrette.
This combination with its aromatic mixture of cumin and herbs is but one possibility. As an acid test, I made it with some cheapo canned green olives from the neighborhood supermarket. It's amazing how a little good olive oil and vinegar can improve an olive, no matter how humble its origins. Try making some with cracked fennel seed, citrus peel or maybe the smoky Spanish paprika pimenton.
Easy does it
You've got to have some crisp little toast things too. Call them pinchos, canapes or crostini, they're so easy to make that they're the perfect keep-busy chore for the kitchen invader who may not be proficient enough to handle oysters. Toasting bread? Smearing cheese? Who can't do that?
You can also make these simple crusts showy and elaborate. Clifford Wright has an entire chapter devoted to them in his new cookbook "Little Foods of the Mediterranean." Crostini with Gorgonzola and walnuts, anyone? Canapes with ground pistachios and softened cream cheese?
Of course, if you want the purest form of crunch, bake some breadsticks. This might not sound very exciting if you're thinking about the bland chalky kind you find in most restaurants. But when you season the sticks yourself you can really punch up the flavor.
And when you roll and cut them with a pasta machine, they come out wonderfully thin and crisp, more like bread spears than breadsticks. Sticking out of a juice glass, they look almost architectural. Season them to fit the meal and then twist them into a variety of shapes. Unleash your inner Martha.
And if anyone gives you any trouble, hand them the oyster knife.
1
Put the chipotle puree in a blender and juice the orange into it. Add the salt.
2
Cut one of the orange halves in half again; and then cut that half in half to make an eighth of an orange. Cut away the pulp from the peel of that section, but leave the white pith. Dice the peel and pith as finely as possible and add to the blender. Grind chipotle, juice and orange in the blender to a coarse puree. Season to taste.
3
Put the shrimp in a plastic bag; add the puree and the onion. Seal tightly; refrigerate at least 1 hour.
4
Empty into a serving bowl and spear each shrimp with a toothpick.
This recipe scales up quite easily to serve more people. Make the chipotle puree by finely chopping and mashing with a knife 1 chipotle chile in the sauce it comes in.
---
Get our new Cooking newsletter.
You may occasionally receive promotional content from the Los Angeles Times.