Pork chops with roasted figs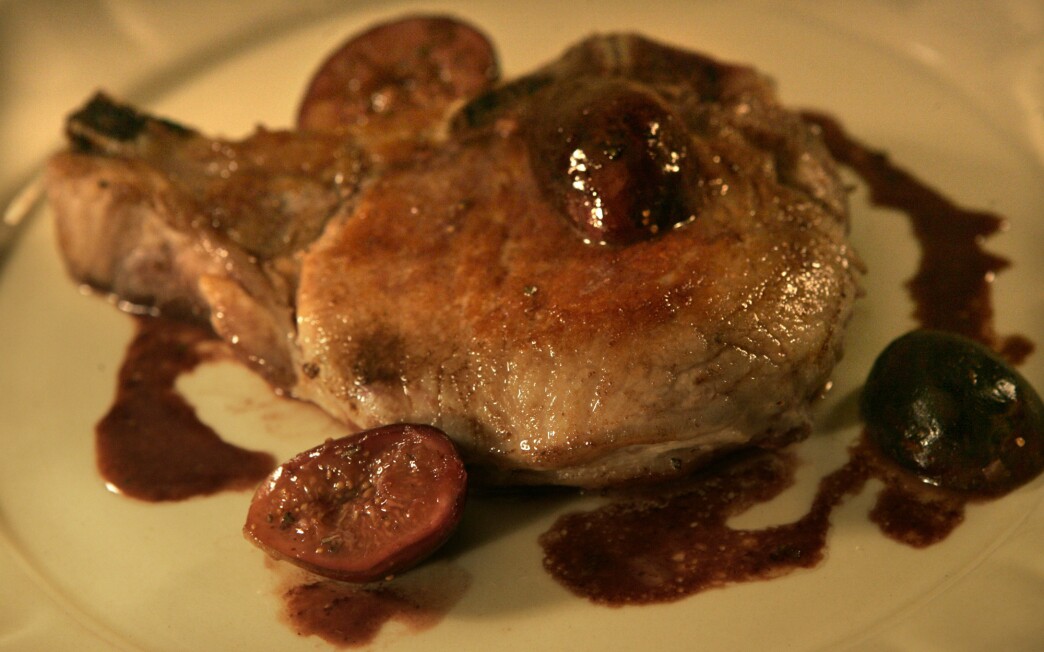 Print Recipe

Print Recipe
Though fresh figs are so utterly compelling raw, there are times you want to dress them up a little. Generally speaking, the less you do the better.
One of the best things to do with figs is to pair them with prosciutto or jamon serrano. Wrap the meat around the fig and skewer it with a toothpick for handy eating. Try a couple of different proportions to see what gives you the best balance of salt and sweet. I usually find that about a half of a thin slice of meat is just right for a half of a medium-sized fig.
Fresh figs also pair well with cheese, but here you need to be careful. To my taste, the popular match of figs and strong blue cheese needs to be entered into very cautiously. Use a light hand with the cheese, or the combination can easily become an overpowering combination of rich, sweet and salty. I prefer something milder and lighter, like a fresh goat cheese or good ricotta.
Figs are also good spiced and pickled, much as you would prepare pears. Make a quick pickling mixture of half water and half red wine vinegar and simmer it with sugar and some warm spices (cinnamon, clove, allspice). Pour the mixture over the whole figs and then let them sit for a couple of hours, up to a week. Serve them with roast meat or on crisp vegetable salads.
One of my favorite fall desserts is a fig tart. Pre-bake the crust, then spread it with a thin layer of raspberry jam. Make lavender sugar by grinding sugar with some lavender flower pods. Arrange quartered figs in the crust, then sprinkle them with the sugar and bake until the figs have heated through.
Even simpler, cut the figs in half, dust them lightly with sugar and then run them under the broiler to glaze. Try a few of these with a little bourbon-spiked whipped cream.
Or quarter them and poach them very, very briefly in a simple sugar syrup you've infused with fresh basil. (Basil goes with figs almost as well as it does with tomatoes.)
If you want to get a little more complicated, try marinating figs with minced fresh rosemary and shallots and some red wine vinegar to give them a savory edge. Then add them to a sauce for sauteed duck breasts or well-browned pork chops. Cook them just until they begin to melt.
Richard Olney has a wonderful recipe for a fig salad with prosciutto and mint in "Simple French Food." But as good as it is, I like my twist a little better, using basil and streamlining the technique a little. This makes a very elegant first course.
The idea of fig ice cream sounds natural enough, but it can be a little tricky to pull off. There's an enzyme in figs called ficin, and it can sour the milk if you don't handle it right. Warm the figs with the sugar just until the sugar melts and the mixture begins to bubble. That'll be about 155 degrees, the temperature that kills the enzyme.
I like a little mascarpone in the ice cream to add depth to the flavor of the cream, and some honey to underline that bittersweet caramel quality of the figs.
However you use figs, shop carefully. Ripe figs are tender, but not gushing. If you see cracks in the skin, that's a good sign. And if you see a little tear of syrup falling from the eye on the bottom, that's a great sign. These indicate super-sweet figs. When you get them home, stick them straight into the refrigerator; they're very delicate.
The only figs that really need to be peeled are Kadotas, which have a tough, thick skin. The others are tender enough that peeling is strictly optional. Personally, I love the contrast of colors between the peel and the pulp, whether the skin is black or green.
1
Place the figs in a bowl and sprinkle them with the rosemary and shallots. Add 2 tablespoons of Port and the red wine vinegar and stir gently to combine. Set aside for at least 1 hour, or up to 4 hours.
2
Generously season the pork chops on both sides with salt and pepper. Refrigerate at least 1 hour until ready to serve.
3
Heat the oven to 400 degrees. In a large skillet, heat the oil over medium-high heat. When the oil is quite hot, pat the pork chops dry and add them to the pan. Brown the pork chops well on both sides, in batches, about 3 minutes on the first side and 2 to 3 minutes on the second.
4
Remove the pork chops to a plate, pour all the fat from the skillet and add the remaining one-quarter cup of Port. Reduce to a syrup, add the cream and reduce that to a thick sauce, about 30 seconds. (It will thin with the cooking juices).
5
Return the pork chops to the pan and arrange the figs over the top. Add the marinade. Cover and place in the oven until the pork chops are cooked through, about 10 minutes.
6
Carefully transfer the pork chops and figs to a warmed serving platter. If necessary, reduce the sauce a little more over medium-high heat, and then spoon it over the pork and figs. Serve immediately.
---
Get our new Cooking newsletter.
You may occasionally receive promotional content from the Los Angeles Times.