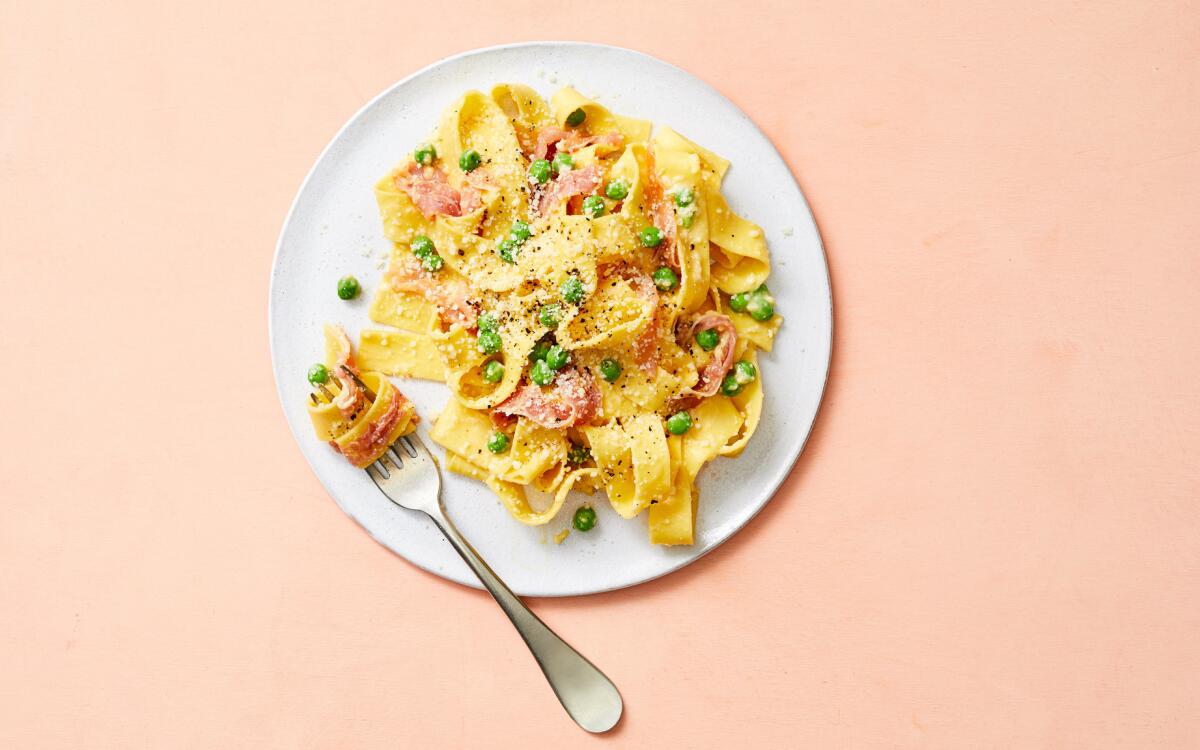 Print Recipe

Print Recipe
The creaminess of carbonara comes from eggs and Parmesan blending into a silky sauce when tossed with al dente noodles. Just make sure the noodles aren't too hot before tossing or the eggs will scramble. Here, wide pappardelle replaces spindly spaghetti to cradle peas and salty prosciutto. And while you absolutely could substitute fresh, shelled peas from the farmers market, there's a wonderful maxim from Fergus Henderson, the chef of the legendary St. John restaurant in London, that gives you an easy out: "A wise old chef once told me: Wait till peas are in season, then use frozen."
1
Bring a large pot of salted water to a boil. Add the pasta and cook 2 minutes less than the package directs. Add the peas and cook for 2 minutes more.
2
Meanwhile, whisk the eggs in a large bowl until smooth. Add the cheese and mix until evenly incorporated.
3
Reserve ½ cup pasta cooking water. Drain the pasta and peas in a large colander and shake to cool slightly. Pour into the bowl with the egg mixture. Toss gently until evenly coated. For a thinner sauce, toss in the reserved water, 1 tablespoon at a time, until you get the consistency you want.
4
Season lightly with salt and generously with freshly ground black pepper. Fold in the prosciutto until laced through the noodles. Serve immediately.
---
Get our Cooking newsletter.
Your roundup of inspiring recipes and kitchen tricks.
You may occasionally receive promotional content from the Los Angeles Times.