The Sports Report: A miraculous night in Anaheim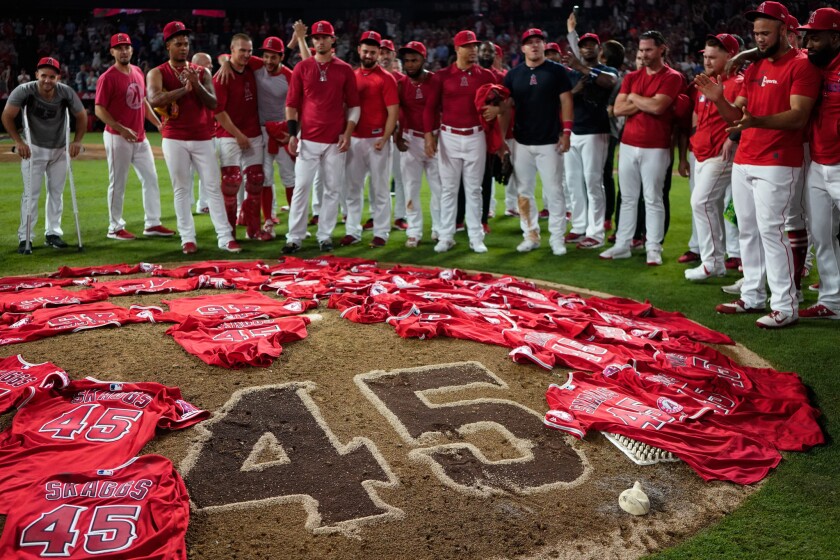 Howdy, my name is Houston Mitchell and it's nearly impossible to describe what happened at Angel Stadium on Friday night.
Angels
Only one topic today, because nothing else matches this in terms of drama, emotion and the supernatural.
The Angels returned to Angel Stadium on Friday to play their first game their since the death of Tyler Skaggs on July 1 in Texas. There was a pre-game ceremony, with a mural on the outfield wall unveiled showing Skaggs in mid-delivery with his name and number. Skaggs' mother, Debbie, threw out the first pitch (a perfect strike). The Angels all wore the No. 45 and Skaggs' name on the back of their jerseys. They left his locker untouched, with his shoes and jerseys still in them.
And then, in a season that has been so tragic, the impossible happened. Pitcher Taylor Cole and Felix Pena combined for a no-hitter.
Let me repeat that. On the night the Angels returned home and honored their final teammate, they pitched a no-hitter. Cole opened with two perfect innings and Pena followed it with seven no-hit innings.
Not only that, Mike Trout, the leader of the team and a close friend of Skaggs, drove in six runs. The Angels defeated Seattle, 13-0. And I'm betting even the Mariners didn't really mind losing this one.
After the game, the Angels removed their jerseys and laid them on the mound.
Here's what some Angels had to say before and after the game.
Manager Brad Ausmus: "That was pretty special, one of the most special moments I've been a part of in 25 years. "We feel like it's partly Skaggsy's no-hitter. We certainly felt early on those emotions were lifting us up. Tyler was lifting us up.""
Said Pena in Spanish: "We now have an Angel protecting us from above."
Trout: "You can't make this stuff up. We score seven runs in the first and end it with 13. Tyler's birthday is 7/13. We had 13 runs, 13 hits. Tonight was in honor of him, and he was definitely looking over us. He's probably up there saying, 'We're nasty,' and just what an unbelievable game to be a part of. I'm speechless. This is the best way possible to honor him. It was pretty crazy."
Andrew Heaney: "Everybody was running out on the field and celebrating and three hours earlier I had tears in my eyes and you're sort of reliving your bad moments and thoughts."
David Fletcher: "It's definitely tough seeing his locker. You get emotional. At times, you still think it's unreal."
Noe Ramirez: "Being in here, I'm constantly reminded of him. I'm trying to celebrate him, to not have a really depressed energy. I just think about what he was like and what he would want and for us. To be sad all the time, that's not something he would do. It's tough. It's tough to talk about."
Kevin Jepsen, who was part of the 2009 team that had to deal with Nick Adenhart's death: "Guys eat lunch together, they all kind of get there at the same time and shoot the breeze, maybe Skaggs played ping-pong and had a regular partner. There are all these little things that as baseball players are part of our routines. And whether we notice or not, we kind of do the same stuff every single day. We sit at the same table, in the same chair with the same people. All that stuff is now going to bring up memories, and then they'll notice that Skaggs never shows up at the table, Skaggs never meets them in the lunch room to play ping-pong, he's not there for pitchers meetings and weightlifting, all those things that you notice more at home as opposed to when you're away. It's gonna be a tough next few months for those guys. I feel for them."
Debbie Skaggs: "I hope I make him proud."
Back to your host here. I was searching for the right way to end something like this. And I think the best way is to steal a line from someone else.
Do you believe in miracles? Yes.
Odds and ends
Angels' Jonathan Lucroy can't remember the collision that left him bloody and broken…. Lakers GM Rob Pelinka: 'Anything short of a championship is not success'…. Dodgers fall to Red Sox, suffering their fourth loss in a row…. Dodgers reliever Joe Kelly returns to Fenway Park as a visitor…. Jerry Hollendorfer's assistant trainer applies for Del Mar stall space…. Wimbledon: Roger Federer beats Rafael Nadal and will face Novak Djokovic in final…. Serena Williams gets another shot at history in Wimbledon final versus Simona Halep…. UCLA softball player Stevie Wisz on her way to 'being healthy again' after heart surgery…. Adama Diomande scores twice as LAFC hands Dynamo first home loss…. USC to play its first-ever FCS opponent when it hosts UC Davis in 2021…. Galaxy and Zlatan Ibrahimovic are held in check in loss to Earthquakes…. Sparks beat Fever to snap three-game road skid.
Other newsletters
We also have other newsletters you can subscribe to for free. They are emailed to you and we don't sell your name to other companies, so no spam from us. They are:
Our Dodgers newsletter, written by me. Subscribe here.
Lakers newsletter, written by Tania Ganguli. Subscribe here.
Horse racing newsletter, written by John Cherwa. Subscribe here.
Soccer newsletter, written by Kevin Baxter. Subscribe here.
Today's local major sports schedule
Dodgers at Boston, 4:15 p.m., Fox, AM 570
Seattle at Angels, 6 p.m., FSW, AM 830
Born on this date
1954: NBA player David Thompson
1963: NBA player Spud Webb
1976: NHL player Sheldon Souray
1982: Baseball player Yadier Molina
Died on this date
2010: Yankees owner George Steinbrenner, 80
And finally
The pre-game ceremony honoring Tyler Skaggs. Watch it here.
That concludes the newsletter for today. If you have any feedback, ideas for improvement or things you'd like to see, please email us here. If you want to subscribe, click here.
---
Get the latest on L.A.'s teams in the daily Sports Report newsletter.
You may occasionally receive promotional content from the Los Angeles Times.