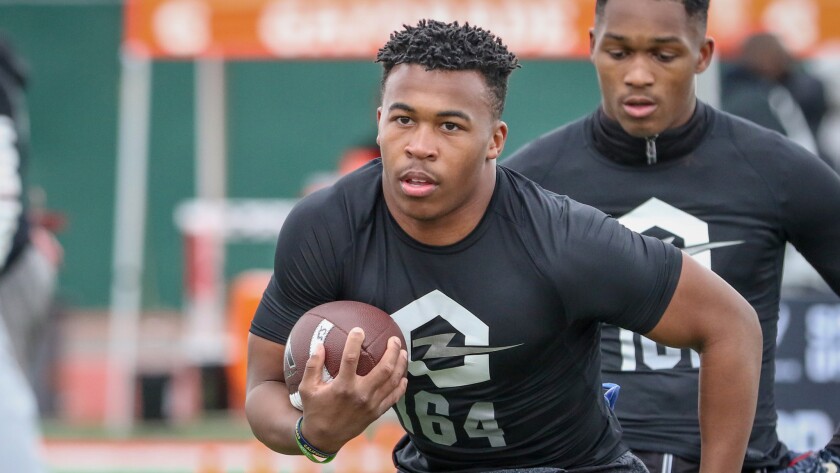 Chris Street planned to worry about where he was going to play college football after his senior season at San Juan Capistrano JSerra High.
"My thing is I want to focus on the season and not about recruiting," Street said in February.
Plans change. So did Street's intentions. The three-star running back, per the 247Sports composite rankings, committed to California two weeks ago after taking his official visit to the school.
"Honestly, I just felt like it was the right thing to do," Street said. "The school, the atmosphere, everybody, the coaches and the staff. I just felt like it was the place for me. They've all been supporting me. They all want me there, you know. It feels good to be wanted, honestly."
It was his third trip to Berkeley this offseason. But the official visit was a little different. There were limited visitors. He had the coaching staff's full attention.
Street's mother had already given her approval after joining him on his second spring visit to California.
"She really liked it. Previously we went on a visit to Utah and [Arizona State]," Street said. "She likes Cal. She was really on board with me."
Street had the green light going into his official visit, where he sat down with the coaches and hung out with the Golden Bears players. The coaches explained how they want to use Street. The 5-foot-9, 191-pound running back is short but powerful. He can be hard to find between the tackles and has a thick lower half that helps him break arm tackles.
Cal's coaches like Street's short-area quickness. (He was tied for the fifth-best shuttle time of the nearly 900 athletes who competed at the Opening Los Angeles regional in February.) His burst helps him evade tacklers in between the tackles and in the open field. Street also has good hands and can be used in the passing game.
"They say I got all the tools in the kit and they just want to sharpen them," Street said. "I plan on advancing my skills further along with them. They have a plan so I believe in that plan and we're going to stick to it."
Street received positive feedback when hanging out with two former Trinity League players. Traveon Beck from Bellflower St. John Bosco and Nikko Remigio, who was Street's teammate at Santa Ana Mater Dei prior to Street's transfer to JSerra, were his hosts. They took Street around Berkeley and told him about their experiences transitioning from high school to the Bay Area.
Sign up for our daily sports newsletter »
By the end of the weekend, Street was convinced.
"It's a really great place," he said. "Any person that goes there will tell you it's the place to be. They take care of you and they love you. They truly love you."
Cal gets Moore at running back
California picked up a second running back commitment a week after Street's. And the Bears again dipped into the Southland. La Puente Bishop Amat's Damien Moore, a 5-10, 190-pounder, chose Cal over Arizona State, Utah and multiple Mountain West schools.
Who's left?
St. John Bosco's Nathaniel Jones committed to UCLA last week. Jones and Street are the top two senior running backs in the Trinity League.
Following their pledges, there is only one uncommitted Southland senior running back in the top 1,000 national players — Harbor City Narbonne four-star JoJuan Collins.
The top uncommitted junior running back, Marceese Yetts, recently transferred from Narbonne to Mater Dei.
---