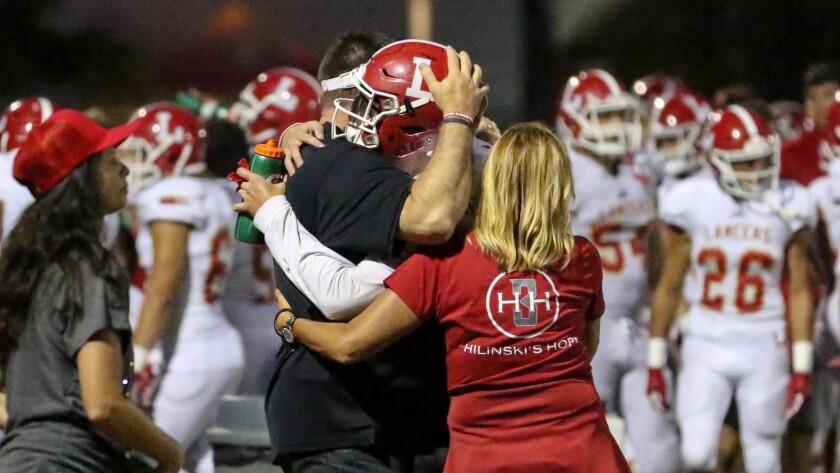 Ryan Hilinski was determined not to cry. He told himself going into his senior season opener with Orange Lutheran on Friday night that he was going to focus on the task at hand, going from play to play and drive to drive.
Then his emotions took over.
Hilinski couldn't hold back the pain and grief he had endured after the January suicide of his brother Tyler, a quarterback at Washington State. The affection for his brother poured out after his first touchdown pass — a 16-yard strike to Kyle Ford.
"Once I threw that touchdown, the emotion just flooded in," Hilinski said after the Lancers' 27-7 victory at San Juan Hills. "It's just something you can't hold back. Losing a brother is the hardest thing I've had happen to me."
Hilinski sobbed into the shoulder of a coaching staff member. His teammates showed their support with hugs and shoulder pats. Hilinski's parents were soon there to comfort and share in the moment as well.
But Orange Lutheran soon got the ball back. Hilinski composed himself and led the offense back down the field. He connected with Logan Loya in the left corner of the end zone for a second score. Again, a wave of emotion overtook him. He found his father on the sideline and shared a long embrace while they thought about Tyler.
"I know he's looking down on me tonight though. I know he's proud that I'm wearing No. 3," Hilinski said of the number he now adorns like his brother had. "It's just good that we came out of here with the win. It was a good night for all of us."
Hilinski finished with 295 yards passing and three touchdowns despite a slow start. Ford, his top receiving target, had nine receptions for more than 100 yards.
Little guys play big
Jason Heller is a 5-foot-8, 165-pound receiver at Westlake Village Westlake. E.J. Gable is a 5-6, 150-pound running back at Chatsworth Sierra Canyon. They engaged in quite a duel Friday despite being the smallest players on the field.
"There's no doubt those two guys were the best players on the field," Sierra Canyon coach Jon Ellinghouse said.
Heller caught six passes for 205 yards and four touchdowns, including an 82-yard score. Gable had 160 yards in 25 carries. Westlake won 35-30 on a goal-line stand late in the game.
"Both are incredibly shifty and elusive," Ellinghouse said.
Narbonne loses
Harbor City Narbonne's trip to Hawaii didn't go well. The Gauchos were beaten by Honolulu Saint Louis 47-7.
Saint Louis had three interceptions.
"We're going to be OK. The reality is we played a great team," coach Manuel Douglas said.
Jayden Daniels time
Jayden Daniels of San Bernardino Cajon is the best uncommitted senior quarterback in California. He began his season by completing 10 of 11 passes for 188 yards and four touchdowns, and had 84 yards in six carries in Cajon's 43-3 win over La Mesa Helix, supposedly the top team in San Diego.
Girl power
Anahi Garcia of L.A. Wilson made two conversion kicks to help the Mules defeat Bell 14-13.
Star in the making
Junior receiver Gary Bryant caught nine passes for 264 yards and three touchdowns in Corona Centennial's 35-13 win over Arizona Chandler.
Twitter: @latsondheimer
---