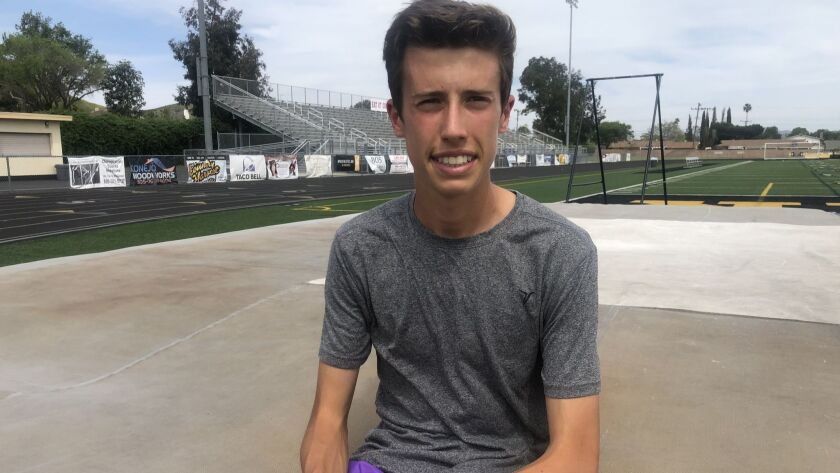 When Nico Young showed up at Newbury Park High on Monday morning, classmates treated him like a football player who had scored five touchdowns on a Friday night. There was nonstop congratulations and high-fives from students he never knew followed track and field.
Young, a 16-year-old junior, ran the fastest 3,200 meters in the history of the prestigious Arcadia Invitational, and his time of 8 minutes 40 seconds was the eighth-fastest all-time outdoors by a high school athlete.
"I was surprised at the amount of people who heard about it," he said.
Young's most noteworthy accomplishment was keeping his poise in an eight-lap race in which he never led until overtaking junior Cole Sprout of Highlands Ranch (Colo.) Valor Christian in the final 50 meters. Sprout finished second in 8:40.73.
Young almost always takes the lead at some point in races. He didn't know if his closing kick would be good enough until he found out at the finish.
"I knew I had to adapt to whatever plan was put out by the other runners," he said. "Originally, I was planning on leading part of the race, but since Cole did that part, I decided to stick on him and changed my plan. I had to trust my kick and training even though I wasn't leading. I learned I could kick really well and will keep that in mind in the future."
Sign up for our daily sports newsletter »
Young's maturity is what impressed Newbury Park coach Sean Brosnan most.
"He's very comfortable running in front, but it was a great test," Brosnan said of Young's come-from-behind win. "He was finally in a race people were willing to take the lead."
Young is ready to take on the role of nation's best distance runner. He underwent a growth spurt after entering high school as a 5-foot-1 freshman. He has grown to 5-11 and 135 pounds, has a 4.6 grade-point average and won the state Division II cross-country championship in the fall. Stanford, Michigan, Princeton, Washington and Georgetown are recruiting him.
He didn't participate in high school track and field until his sophomore season because of an injury. He has been running since he joined a youth track program at age 5.
"We knew he was talented as a freshman," Brosnan said.
Brosnan was a runner himself in high school and college. He grew up in Long Island, N.Y. He became cross-country and track coach at Newbury Park the same year Young showed up in 2016 and has been influential in Young's development. Last spring, Young finished 15th in the 3,200 state final with a time of 9:09.56. His improvement of close to 30 seconds in less than a year is not normal.
"To improve this much on paper is very unusual, but from personally seeing his progression and knowing what he could do, I'm not shocked," Brosnan said.
Young has come to trust Brosnan's observations, which makes their relationship even more special.
"My coach has been really good at predicting what I can run," Young said. "So what he says, I'm able to trust in him and know what I'm capable of doing."
What makes Young different?
It could be how he deals with lactic acid produced in the legs during running.
"When you run fast speeds, your legs build up lactic acid, which makes you tired," Young said. "I guess I'm able to buffer that and push back and not let it bother me."
Then there's dealing with the pain of running long distances. His training has him running 60 to 65 miles a week on trails around Newbury Park.
"There's no specific spot," he said of pain. "It comes from everywhere. There's mental pain and physical pain, and you just have to push by the mental pain to get past the physical pain. And you have to take it one lap at a time, especially for a race that has eight laps."
Young will be focused on training for the next month with no big races before the league finals, Southern Section prelims and finals, Masters Meet and finally the state championships on May 24-25 in Clovis.
Brosnan is just happy to be along for the ride.
"It's cool to see this kid run so much faster than I did,'' he said.
Twitter: @latsondheimer
---