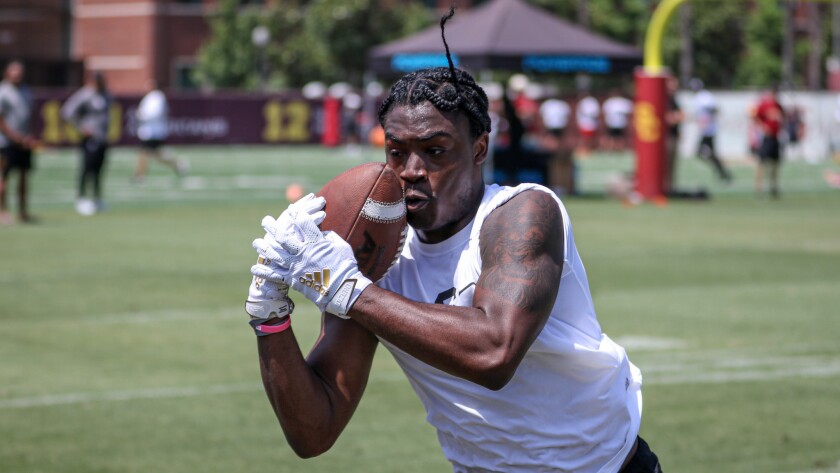 Gardena Serra High's Doug Brumfield and Justin Pinkney were already in the ear of teammate Ronald Gilliam. Brumfield and Pinkney committed to play at Nevada-Las Vegas and knew that Gilliam had interest. They talked up the Rebels and tried to push Gilliam to join them, but it wasn't until the muscular 6-foot, 192-pound receiver went on a visit over the weekend that he was swayed.
"I have chemistry with them," Gilliam said of Brumfield and Pinkney. "They talked to me about the school, the campus, but once I took the visit and got on the campus, it felt like home. It just felt like home."
Gilliam toured the UNLV facilities, including the state-of-the-art Fertitta Football Complex that is expected to be completed this fall. He checked out the new locker room, saw the weight room and explored the academic amenities. He talked with fifth-year coach Tony Sanchez and recruiting coordinator/wide receivers coach Cedric Cormier.
"Coach Sanchez told me about what he's trying to do here and all," Gilliam said. "Coach Sanchez, he's going to change everything. It's going to be a new program. It's going to be even better. I liked what he was talking about and it got me."
Gilliam announced his commitment to UNLV Friday afternoon on Twitter, choosing the Rebels over offers from Arizona State, Florida, Kansas and Oregon.
He said he made the decision to commit because the coaching staff made him feel comfortable, not only with the football program but with his future as a student and as a person.
"They took me around. They showed me the campus, but one thing they talked about is the education, how like the education is more important and how their GPA improved overall [as a team]," Gilliam said. "They coach everybody to be great and it's not just about football. It's about making you a better person in life."
The coaching staff also hopes Gilliam can be great on the field as a versatile receiver that can line up outside and in the slot. He's a physical wideout that knows how to use his body to create separation. He does a good job of catching the ball away from his body. He has a wide catch radius and he's not afraid to help out as a blocker in the run game.
"I'm a big and strong, physical receiver and I'm a big-bodied receiver," Gilliam said. "I can do anything you want."
A three-star prospect in the 247Sports composite, Gilliam is ranked No. 950 nationally and the No. 69 overall prospect in the state of California after having 36 receptions for 557 yards and three touchdowns last year for Serra.
Sign up for our daily sports newsletter »
He is expected to be one of the featured receivers again during his senior season along with four-star LV Bunkley Shelon and 6-foot-4 junior Devin Kirkwood, giving Brumfield plenty of options at quarterback.
Pre-dead period push
Gilliam was not the only prospect to make a verbal commitment over the weekend. USC has received five commitments in the last two weeks. Three came from linemen last weekend, including Bellflower St. John Bosco defensive tackle Kobe Pepe. UCLA picked up a commitment from Pepe teammate Jake Newman on June 13 and grabbed another from Georgia linebacker Myles Jackson on Sunday.
Here's a look at the 11 Southland players to announce a commitment over the weekend:
Anaheim Servite ATH Ender Aguilar - California
Rancho Cucamonga Los Osos OL Jacob Gardner - Nevada
Gardena Serra WR Ronald Gilliam - UNLV
Yucaipa DE Brandon Hernandez - Boise State
Anaheim Servite OL Nicholas Martinez - Kansas
Bellflower St. John Bosco DT Kobe Pepe - USC
La Habra CB Clark Phillips III - Ohio State
Anaheim Western WR Caine Savage - Arizona State
Anaheim Western ATH Cassius Savage - San Diego State
JSerra RB Chris Street - California
Tesoro OL Justin Williams - Cal Poly
There were also a number of verbal pledges announced all across the country. What prompted the explosion of commitments? Timing.
Monday began an NCAA-mandated, monthlong "dead period" during which college coaches are not allowed to have in-person contact with recruits or their parents. Coaches are still allowed to communicate via electronic devices during a dead period but can have no face-to-face contact. With little time between June 24 and the start of fall camps (and another dead period) at the beginning of August, many schools pushed hard for prospects to take official visits and/or to make commitments.
---