Brad Kaaya puts Chaminade over top against Oaks Christian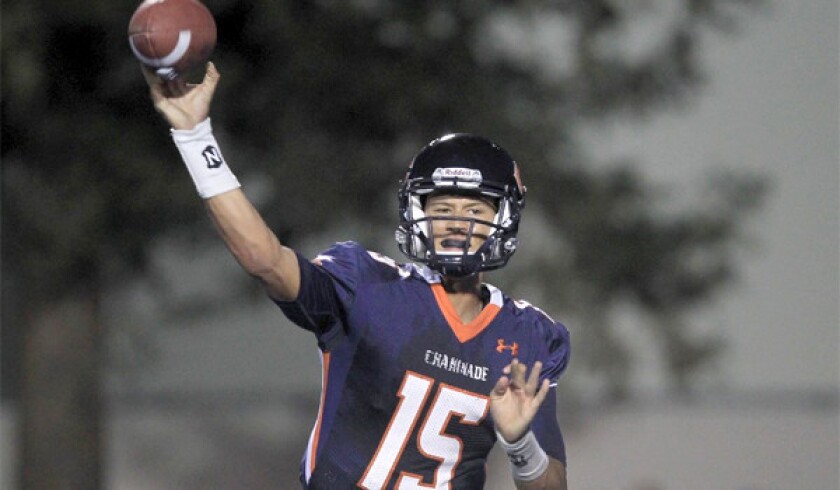 Facing fourth-and-goal from the 1-yard line late in Thursday night's game, West Hills Chaminade quarterback Brad Kaaya knew exactly what he wanted to do. The question was, would his coach give him the chance?
Kaaya got his chance and snuck into the end zone with 2:30 left, then watched his defense make a stand deep in its own territory to preserve a 21-14 victory over Pac-5 contender Oaks Christian in Westlake Village.
"I thought we were going to just kick the field goal but in the timeout Coach [Ed] Croson looked me right in the eye and asked 'Do you think you can get this?' Kaaya said. "I told him 'Yes, let's do it' and fortunately everything worked out for us."
Kaaya, who has committed to Miami, completed 16 of 26 passes for 183 yards and running back Donovan Lee had 197 yards and a touchdown on 32 carries for Chaminade (3-1), ranked 11th in the Southland by The Times and No. 2 in the Southern Section's Western Division.
For three quarters, the anticipated quarterback showdown between Kaaya and Arizona-bound Brandon Dawkins of Oaks Christian was overshadowed by the defenses, yet Kaaya didn't mind.
"I wasn't going to give in to all the hype of me versus him because it was more than us out here," Kaaya said. "I just wanted to do whatever it took for us to win. They had guys playing both ways, so we wanted to go no-huddle to try to wear them out. I knew the defense would make a stop at the end."
Oaks Christian (3-1), ranked ninth by The Times and fifth in the Pac-5 Division, drove all the way to Chaminade's 13-yard line with 1:30 left, but Dawkins threw four straight incompletions and the Eagles took over on downs and ran out the clock.
"We practice hard all week so that in the third and fourth quarter we can put our foot on the gas," Lee said. "Losing to Hart a couple games ago motivated us and we knew we can out up points. The key was keeping [Dawkins] to a quiet game."
Dawkins completed 17 of 34 passes for 245 yards with two interceptions (both by Nick Doctors) and Chris Davis caught 10 passes for 127 yards for the Lions, including a 12-yard reception that pulled the Lions even, 8-8, early in the second quarter.
"We were confident we'd score at the end -- we had the ball and that's all we needed," Dawkins said. "On the fourth down play I had Chris [Davis] open on the sideline and I just missed him. It was an ideal situation, we just didn't make the play."
Both teams had been averaging over 50 points a game so it was a surprise to both the score was 11-11 heading into the fourth quarter. Jamie Sullivan made field goals of 51 and 39 yards for Oaks Christian and Ben Kreitenberg countered with kicks of 27 and 35 yards for the Eagles.
"They dropped eight guys and only rushed three, so it took away a lot of the passing lanes and it frustrated me," Dawkins said. "I was forcing a few throws early but after those two picks I got my head right and just took what the defense gave me."
Chaminade was poised take the lead in the final seconds of the first half, but Lee fumbled at the Lions' 2-yard line and Malik Cyphers recovered for Oaks Christian. Lee also had three receptions for 55 yards and played defensive back.
I'm just trying to be a warrior and be there for my team," Lee said. "We have a bye week now and it couldn't come at a better time. This win gives us confidence and extra time to heal and prepare for [Sherman Oaks] Notre Dame."
---
Get the latest on L.A.'s teams in the daily Sports Report newsletter.
You may occasionally receive promotional content from the Los Angeles Times.