A look at Saturday's boys' and girls' regional basketball finals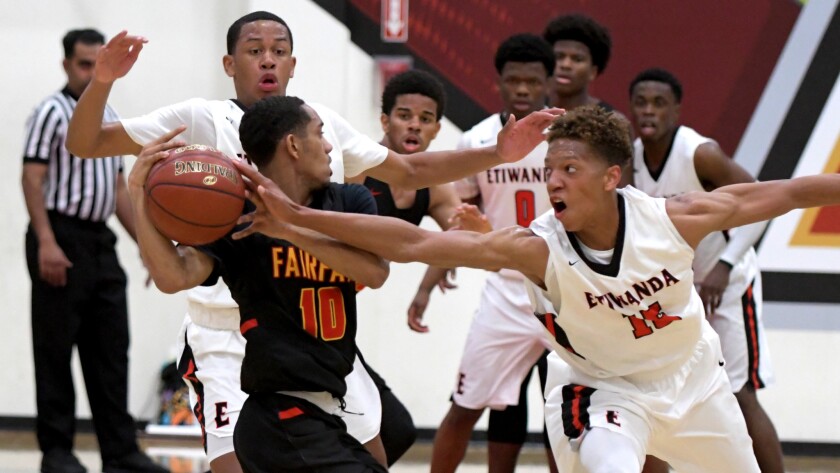 Here's a look at the Saturday's boys' and girls' basketball regional finals (winners advance to next week's state championship games):
BOYS
Open Division
Etiwanda vs. Chatsworth Sierra Canyon at Long Beach State, 7 p.m.: After four months, these are the two survivors in California's toughest division. Sierra Canyon has dramatically improved since January, coming together as a team and developing the chemistry needed to win a championship. Two wins over Torrance Bishop Montgomery speak volumes. Athletic with lots of weapons, the Trailblazers will test Etiwanda's defensive toughness. The Eagles must get the ball inside to Kessler Edwards and rebound effectively to win. The pick: Sierra Canyon.
Division I
Chino Hills vs. Bellflower St. John Bosco at Long Beach State, 2 p.m.: These are two surprise teams. St. John Bosco has played the toughest schedule in Southern California and is still alive, led by junior guard Josh Adoh. Chino Hills has had an up-and-down season but is peaking behind Onyeka Okongwu, who is averaging 28 points a game, and Andre Ball. The pick: St. John Bosco.
Division II
Lake Balboa Birmingham at Santa Monica Crossroads, 6 p.m.: Home-court advantage has been big for Crossroads. The fans are loud and energetic. Shareef O'Neal, a 6-foot-10 senior, is averaging 27.6 points. Point guard DJ Houston is an effective court leader. Devonaire Doutrive must be scoring for the Patriots to pull off the upset. The pick: Crossroads.
Division III
La Puente Bishop Amat vs. Riverside Notre Dame at Riverside CC, 6 p.m.: At 32-3, Notre Dame has shown it can win games. Anthony Holland, a 6-5 junior, is averaging 18.6 points. Bishop Amat uses patience and discipline to wear down opponents. Ismael Arellano is the Lancers' key offensive weapon. The pick: Notre Dame.
Division IV
El Cajon Christian at L.A. View Park Prep at L.A. Price, 6 p.m.: View Park faced tough games in the City Section's Coliseum League and relies on balanced scoring. Guard Nashom Carter and 6-6 Jackson Larsen each average 14 points for Christian. The pick: View Park Prep.
Division V
Van Nuys vs. Santa Clarita Christian at Master's College, 6 p.m.: Top-seeded Santa Clarita Christian benefited from the arrival of several former Village Christian players and has been dominant in this division. Tyree Winborn, a high-scoring guard, will try to keep the Wolves in the game. The pick: Santa Clarita Christian.
GIRLS
Open Division
Fresno Clovis West vs. L.A. Windward at Long Beach State, 4 p.m.: Clovis West is a defending state champion that beat Studio City Harvard-Westlake on a three-pointer in the final seconds of the semifinals. Freshman point guard Nikki Tom is a future star. Windward has been making three-pointers and relying on junior standout Charisma Osborne. The pick: Windward.
Division I
L.A. Ribet Academy vs. Gardena Serra at Long Beach State, noon: If you want to see size, Ribet has it with 6-foot-9 Andrea Aquino. Serra is led by junior Alexis Tucker, who's averaging 16.9 points. The pick: Serra.
Division II
San Diego San Marcos at Redondo, 6 p.m. Redondo has several players who have stepped forward in big games. That kind of versatility should come in handy against a San Marcos team that relies on 6-foot Rachel Roberts. The pick: Redondo.
Division III
Chula Vista Mater Dei at Fullerton Sunny Hills, 6 p.m.: Sunny Hills will need to keep making three-pointers to pull this one out against a Mater Dei team that relies on 5-8 junior Chloe Webb, who's averaging 20.1 points. The pick: Mater Dei
Division IV
San Pedro Rolling Hills Prep at Palmdale Knight, 6 p.m.: At 29-2, Rolling Hills Prep has been rolling. Sophomore Alyssa Maxey is a player to watch. Knight has its own sophomore standout in Keyna Hadley. The pick: Rolling Hills Prep.
Division V
Oxnard Hueneme at Hanford Sierra Pacific, 6 p.m.: Home-court advantage should be big for Sierra Pacific, which is led by sophomore Celeste Lewis. Hueneme, at 15-17, has been led by Isabel Ayala, averaging 14 points. The pick: Sierra Pacific.
Twitter: @latsondheimer
---
Get the latest on L.A.'s teams in the daily Sports Report newsletter.
You may occasionally receive promotional content from the Los Angeles Times.