Steve Alford is surprised by LiAngelo Ball leaving UCLA program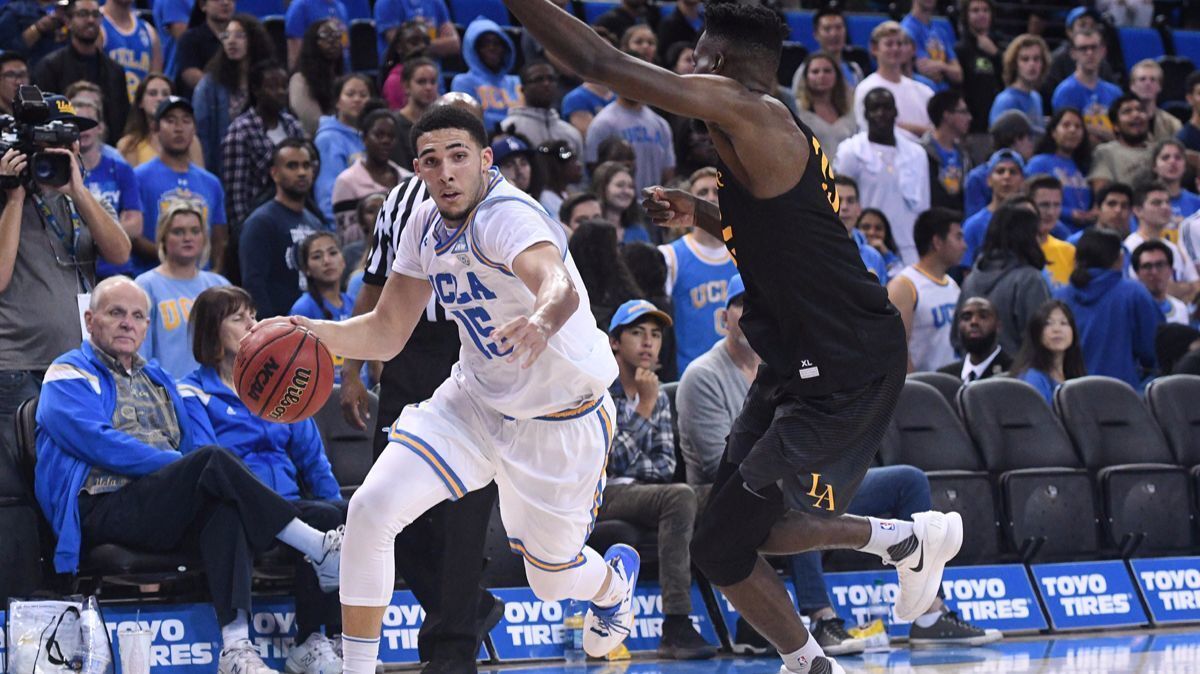 UCLA coach Steve Alford doesn't remember much about his final interaction with LiAngelo Ball as a member of the school's basketball team.
Alford recently saw the freshman shooting guard in the Mo Ostin Center or in Pauley Pavilion. He couldn't say for sure.
"Probably over the weekend, I would guess," Alford said Tuesday.
The farewell involving coach and player was unforgettable. It came Monday when Ball's father, LaVar, announced he was withdrawing his son from UCLA over dissatisfaction with the handling of the indefinite suspension LiAngelo and two other players were serving for shoplifting.
Alford learned of the withdrawal through media reports, having received no notification from LiAngelo or his family.
"If you're looking for one word I'd go with 'surprised,' " Alford said of his reaction, "because it's nothing that we saw coming."
Alford said he did not know whether LiAngelo had formally withdrawn from school. The coach indicated he was not concerned about LiAngelo's departure having a carryover effect with Cody Riley and Jalen Hill, the other freshmen who admitted to shoplifting from an upscale mall last month during the Bruins' season-opening trip to play Georgia Tech in Shanghai.
"I think each of them are individual cases," Alford said, "so I don't think it makes us worrisome that something else is going to happen."
Alford said he expected a decision on the length of the players' suspensions "sooner rather than later."
In his first interview since the shoplifting incident, LiAngelo suggested on NBC's "Today" show that he was following the lead of his teammates when he took items from the stores in Hangzhou, China.
"We all went out one night and went through the malls, went to a Louis Vuitton store and people started taking stuff," LiAngelo said during the TV interview. "Then, me just not thinking and being with them, I took something too.
"We left just thinking we'll get away — you know how kids think. I didn't realize till I got back to my hotel, I'm like, that was stupid. But by then it was too late. And then, sure enough, the next morning the police came and got us."
The players were questioned and put in jail "for a day and a half or something like that," LiAngelo said, before bail was posted and they returned to the team hotel. They were never formally charged before being allowed to return to the United States.
Asked about LaVar Ball's contention that UCLA coaches should have been more accountable for their players' whereabouts in China, Alford noted that players were not given wide latitude to roam.
"It's not like we turned 'em loose to go across town," Alford said. "They had a 90-minute window to walk around an area outside of the hotel. They were told not to go individually, so they were going to be in a group. And they're young adults, so how you carry yourself at 17 and 18, I think they know what's right and what's wrong."
None of the three UCLA players who spoke with the media Tuesday said they had been in touch with LiAngelo since his departure.
"I think he made the decision that he felt was the best for him, so you can never fault anybody on that," sophomore guard Prince Ali said. "At the end of the day, we're all still cool. I'll probably talk to him sometime tomorrow or even today."
LaVar said during the TV interview that he intended to get LiAngelo into shape in preparation for the NBA draft, predicting that he would join his older brother Lonzo with the Lakers. Online betting site Bovada on Tuesday placed LiAngelo's odds of being excluded from the 2018 draft at 1-100.
Alford prepared the Bruins (7-1) to face Montana (5-3) on Wednesday night at Pauley Pavilion with the certainty that they will be without at least one of their suspended players for the balance of the season.
"We've played eight games to date without 'Gelo," Alford said. "I don't know if there's an adjustment to be made."
::
NEXT UP
VS. MONTANA
When: Wednesday, 8 p.m.
Where: Pauley Pavilion
On the air: TV: Pac-12 Network; Radio: 1150.
Update: Like the Bruins, Montana is coming off its most complete game of the season. Sophomore guard Sayeed Pridgett recorded his first career double-double with 20 points and 12 rebounds to lead the Grizzlies to an 86-68 victory over Cal State Northridge on Sunday. Four Montana players scored in double figures and the Grizzlies shot better than 50% for the second time in three games.
Follow Ben Bolch on Twitter @latbbolch
Get our high school sports newsletter
Prep Rally is devoted to the SoCal high school sports experience, bringing you scores, stories and a behind-the-scenes look at what makes prep sports so popular.
You may occasionally receive promotional content from the Los Angeles Times.