Column: NFL Week 1: A change of seasons, and a season of change?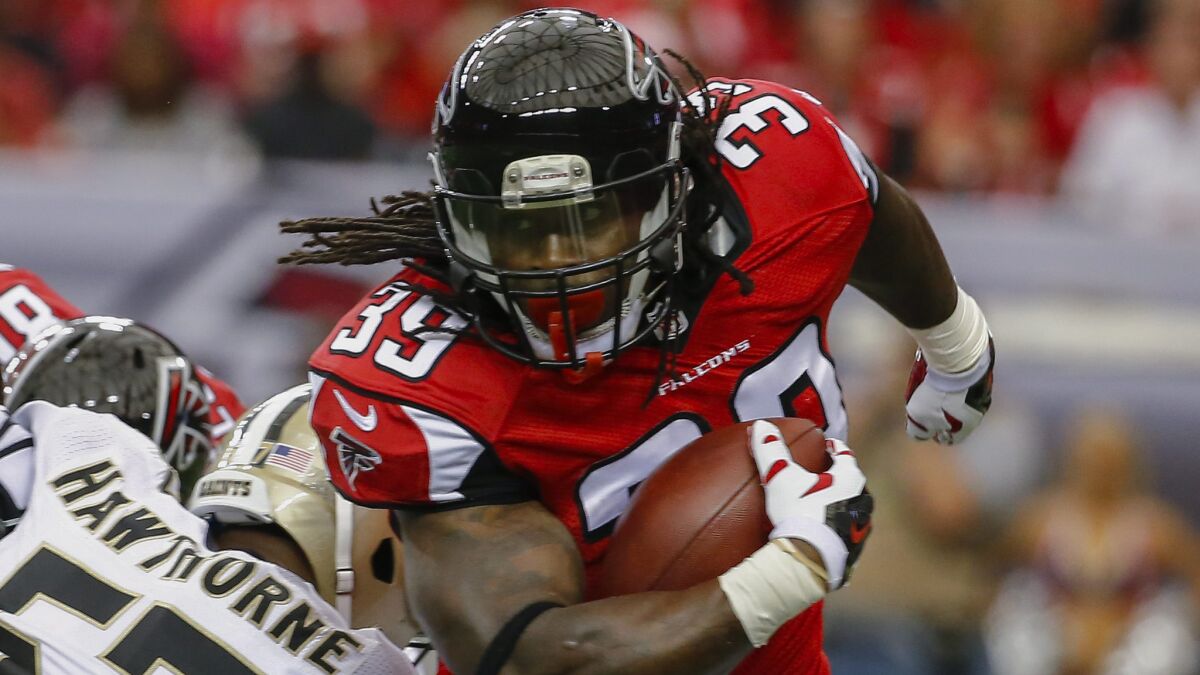 It's too early to know if a changing of the guard is afoot in the NFL, but Sunday's openers suggested a shake-up.
• Atlanta beat New Orleans in overtime, 37-34, with the Falcons making an early bid to be this season's worst-to-first team. For 11 years in a row, at least one franchise has gone from last to first in its division in consecutive seasons, and although Carolina and not New Orleans won the NFC South in 2013, the Saints are considered the team to beat. Atlanta's Matt Ryan threw for a club-record 448 yards and three touchdowns.
• Miami scored 23 unanswered points in the second half to upset New England, 33-20, becoming the first team since 2003 to beat the Patriots in an opener. It was New England's second consecutive loss to the Dolphins after defeating them seven times in a row. It's only Week 1, but this is bizarre: the rest of the AFC East is 3-0, and the 0-1 Patriots are in the cellar. A bit of solace for the Patriots: the last time they lost their opener, they wound up winning the Super Bowl.
• Quarterback Andy Dalton finally won at Baltimore. In a back-and-forth thriller, Cincinnati held on for a 23-16 victory over the Ravens. Coming into the season, the Bengals were 1-7 in AFC North road games that Dalton finished. Next up, Cincinnati can work on its 2-4 record in Dalton's prime-time games.
• The Buffalo Bills, who have gone 14 years without a playoff appearance, pulled off a big win at Chicago, handing the Bears a 23-20 defeat in overtime. Chicago was favored by a touchdown and had never lost to Buffalo at Soldier Field.
• A year ago, Kansas City won its first nine games. The Chiefs got off on the wrong foot this season, though, with a 26-10 loss to Tennessee in the debut of Titans Coach Ken Whisenhunt. The news got worse for the Chiefs. They lost linebacker Derrick Johnson and defensive end Mike DeVito for the season, both to ruptured Achilles' tendons.
Close call
Pittsburgh got a scare at home from Cleveland, which rallied back from a 24-point halftime deficit before falling, 30-27. The Browns have lost 10 consecutive openers. First-year Coach Mike Pettine said he didn't consider replacing quarterback Brian Hoyer with rookie Johnny Manziel, even though Cleveland could barely generate an offense in the first half. Hoyer's performance in the second half should help him hold onto the starting job for the time being. Pittsburgh got good productivity from Le'Veon Bell, who rushed for 109 yards in 21 carries with a touchdown.
"We can't apologize for the way we win," Steelers quarterback Ben Roethlisberger said. "We just have to win games."
Roethlisberger has a career record of 18-1 against Cleveland, the best mark of any quarterback against one team since 1970 (minimum 15 starts).
Roughed-up rookies
Houston's defense was impressive in a 17-6 trouncing of Washington, but the Texans have to be concerned about No. 1 pick Jadeveon Clowney, who left in the second quarter with a knee injury. Clowney looked upset as he walked slowly to the locker room. Earlier, he tackled Washington's DeSean Jackson for a nine-yard loss on a reverse.
In Atlanta, rookie tackle Jake Matthews also suffered an injury in the second quarter. The sixth overall pick injured an ankle and did not return.
No Newton, no problem
Tampa Bay is the vogue pick for turnaround team of the season, but Carolina didn't get the memo. Even with Derek Anderson starting in place of the injured Cam Newton, the Panthers beat the Buccaneers on the road, 20-14. Tampa Bay gave them a scare, though, with two touchdowns in the fourth quarter and a potential pick-six — a would-be interception that slipped right through the hands of Buccaneers safety Dashon Goldson.
New Carr
Every season since 2008, at least one rookie quarterback has started an opener. Sunday, that was Oakland's Derek Carr, who performed well in a 19-14 road loss to the New York Jets. He threw for a modest 151 yards but had two touchdowns and no interceptions.
"I don't think the game was too big for him," Raiders Coach Dennis Allen said. "Overall, I saw some positive signs, some things that he did well. Obviously, I saw some mistakes."
False start
Dallas quarterback Tony Romo completed five of his first six passes . . . then was knocked around by San Francisco's defense, which sacked him three times and intercepted three of his passes in a 28-17 victory by the 49ers. It's no surprise that the Cowboys' defense is a liability, but the offense failed to get traction until after San Francisco built a 28-3 lead.
Lethal weapon
San Francisco tight end Vernon Davis had four catches for 44 yards with two touchdowns. He has 53 receiving touchdowns since 2009, the most in the NFL during that span. With his performance Sunday, Davis moved ahead of Detroit's Calvin Johnson (52) on that list.
Pounding the Patriots
Clearly, Dolphins running back Knowshon Moreno loves playing New England. Last season, when he was with the Broncos, he gained 224 yards against them. Sunday, he ran for 134 with a touchdown.
"Did you see that man out there?" Dolphins center Samson Satele asked reporters. "He's a crazy dude. You give him a little crease and away he goes."
Wake-up call
In what looked to be the stunner of the weekend, Philadelphia faced a 17-0 deficit at home to the Jaguars before tearing off 34 unanswered points to set the world back on its axis. Eagles quarterback Nick Foles, who had an astounding 27 touchdown passes and just two interceptions last season, had a turbulent first half: two fumbles and a pick.
"When you face adversity, you have to respond," Foles said. "You can't get frustrated. We made corrections and kept playing."
Out of nowhere
The NFC South is crawling with talented rookie receivers, with New Orleans' Brandin Cooks, Tampa Bay's Mike Evans and Carolina's Kelvin Benjamin all looking good in their debuts. But few people could have predicted the day of Jacksonville's Allen Hurns, an undrafted rookie whose first two career catches went for touchdowns of 34 and 21 yards. Hurns, who finished with four catches for 110 yards, is the second player in NFL history to score touchdowns on his first two receptions. The first was Detroit's Charles Rodgers in 2003.
Different directions
Sunday marked the head coaching debuts of Washington's Jay Gruden and Minnesota's Mike Zimmer, Cincinnati's former offensive and defensive coordinators, respectively. Gruden lost at Houston; Zimmer won at St. Louis, the Vikings' first road win since Week 16 of the 2012 season (because their victory at London was a "home" game.)
Mr. Fantasy
Vikings receiver Cordarrelle Patterson caught three passes for 26 yards, but did his real damage carrying the football. He ran for 102 yards in three carries, including taking a pitch 67 yards for a touchdown.
"There's no way I can miss that hole," he told reporters later. "When I get the ball in my hands, I expect great things."
In his final two games last season, Patterson had a 35-yard touchdown run against Cincinnati and scored on a 50-yard run against Detroit. According to the NFL, he's the first receiver since at least the 1970 merger to have a rushing touchdown of at least 35 yards in three consecutive games. He's also the first wide receiver since at least the merger with a rushing touchdown of at least 50 yards in consecutive games.
Thinking big
A couple of analysts offered bold statements Sunday, with NFL Network's Steve Mariucci saying Seattle's defense might be the best ever, and CBS' Tony Gonzalez predicting Denver will run the table, winning every game, including the Super Bowl.
Get our high school sports newsletter
Prep Rally is devoted to the SoCal high school sports experience, bringing you scores, stories and a behind-the-scenes look at what makes prep sports so popular.
You may occasionally receive promotional content from the Los Angeles Times.