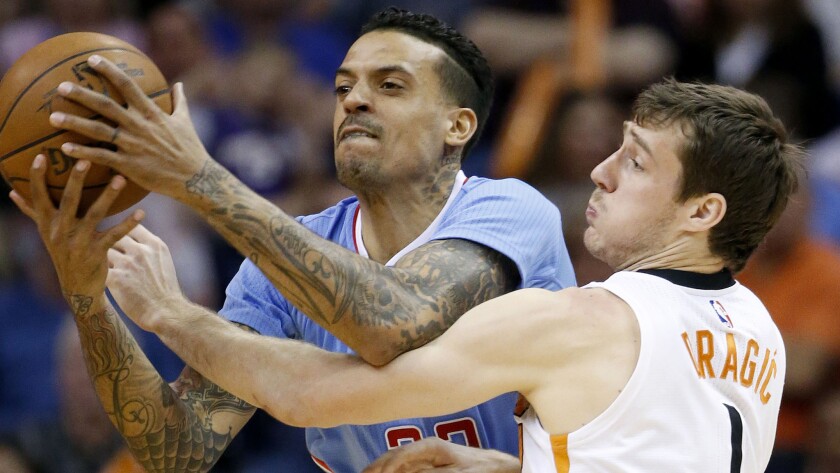 Matt Barnes has been fined $25,000 for 'inappropriate language' toward a fan during the team's 120-100 win over the Phoenix Suns on Jan. 25, the league announced Tuesday.
The incident apparently took place with 4 minutes and 28 seconds left in the second quarter at US Airways Center. It is unclear exactly what was said.
Barnes took to Twitter to defend himself.
Tweeted Barnes: "Another 25k! The part of the story the nba hasn't told you was my language wasnt directed at a fan, I was talkn to the owner of the Suns....
"Who was sitting on the baseline & I only said something to him AFTER he cussed at me, BUT because I didn't SNITCH I get fined!! #thecode"
The Clippers' small forward was also fined $25,000 by the league on Dec. 13 for kicking a water bottle into the stands and using profane language toward fans during a 104-96 loss to the Washington Wizards on Dec. 12.
Tweeted Barnes: "I've been fined 50k in the last mnth for kicking a "PAPER"Gatorade cup that had alil bit of water in it that didn't even hit anyone &....
"Responding to an OWNER who cussed at me first.. 50,000 dollars for that?? Come on now!
"I might need to find a second job with all these crazy tecs & fines. I Can see it now LA TIMES.. "Costco worker by day nba player by night"
Barnes is averaging 9.8 points and 3.6 rebounds in 28.6 minutes a game this season. The Clippers, who have won five games in a row, leave for an eight-game trip Tuesday.
Added Barnes via Twitter: "You can take my money, I care about winning!!"
---