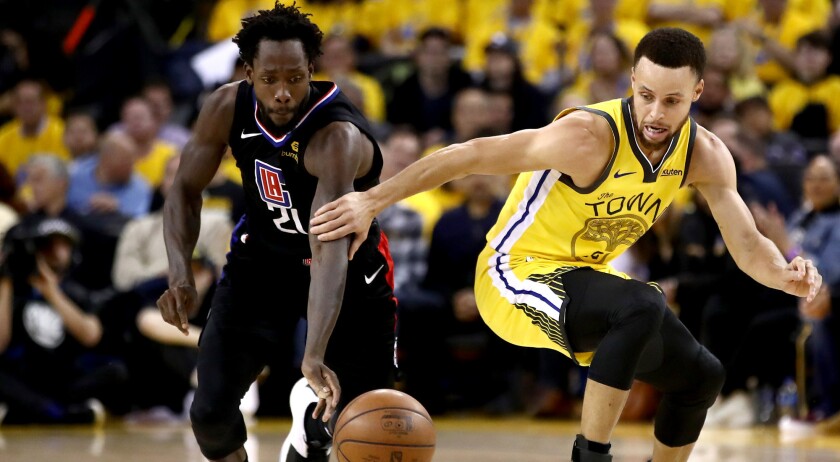 Hello one and all, my name is John Cherwa, and I'm guest-hosting this here newsletter for a couple weeks while Houston Mitchell teaches his friend's dog Warrior(s) how to lay down, roll over and play dead, just for luck.
Clippers
Being opportunists, and not knowing when this may ever happen again, we've got a ton of content on the Clippers. So, sit back and relish in the Clips' Game 2 come-from-way-behind victory over Golden State.
First, our beat guy Andrew Greif went to Patrick Beverley to find out how they cracked the code, discovered the secret and here's what he found.
"As the bus barreled from an arena in Oakland toward a luxury hotel in San Francisco on Saturday night, Clippers guard Patrick Beverley focused on the glowing screen of a laptop. He wanted to see Game 1's seams, to know where exactly it had come apart hours earlier.
"The video ran, then he'd rewind. Play, rewind.
"Beverley saw the Clippers' inability to capitalize on Golden State's turnovers and their loss of composure toward referees during a key stretch late in the second quarter. He saw the way Stephen Curry, the star of the two-time defending NBA champion and top-seeded Warriors, made contested three-point attempts, and the way the Clippers missed open looks.
"Amid a 17-point loss, he noticed something else, too.
"'That we can play with them,' Beverley said.
"He paused his retellling. It was Monday night in a nearly empty locker room inside Oracle Arena, less than an hour after the eighth-seed Clippers came back from 31 points down to win Game 2, 135-131. The comeback was historic — the largest in NBA playoff history — and yet just the latest in a Clippers season defined by them.
" 'We knew if we did the right things, then we'll be all right,' Beverley said. 'We were. Stole the game, bro. It's big time. So big time.' "
---
You ever notice how people toss around the word "existential" when something is inexplicably big? Except, does anyone really know what "existential" means? Seems as if it's a good word that makes you look smart and since no one wants to admit they don't really understand what it means they just nod in agreement.
Well, our columnist Helene Elliott digs down into the meaning of the Clippers win and doesn't need to use the word "existential." So, let's see what smart words she does use and make us smarter for reading it.
"For all they knew, it might have been their only chance to show the disbelieving world they were more than a pesky gnat destined to be swatted away while the Golden State Warriors rolled to a third consecutive NBA title, but the Clippers had let that chance slip away.
"It wasn't like them to waste those opportunities. They had developed an uncanny resilience and collectively embraced the role of fighters who never gave up, no matter the circumstances in a game or in their season.
" 'That is in our DNA,' forward Danilo Gallinari said.
"But when the Warriors left the door open a crack in the teams' playoff opener by committing 21 turnovers, the Clippers didn't make them pay. The Clippers slammed the door shut on their own fingers by scoring only 15 points off those turnovers, and that bothered them for the next two days.
"It stung them deeply because they felt they hadn't played to their hard-working and opportunistic identity, a team that could build something worth admiring while aiming for the shining future that has always been beyond the franchise's reach. And it hurt because they couldn't be sure they'd get more gifts from the Warriors, who acknowledged their 17-point victory in Game 1 hadn't been easy and vowed to clean things up in Game 2."
Lawler's Law
Talk about a great story idea. Ryan Menezes decided to look into Ralph Lawler's prophetic proclamation each game. This good read is worth your time. Here's an excerpt.
"As the game was barreling toward its dramatic conclusion, Ralph Lawler paused from narrating the action to update television viewers on the score: Clippers 100, Oklahoma City Thunder 99.
"The nice, round number gave Lawler, perched 20 rows above the Staples Center court as usual, yet another chance to deliver his signature line.
"You know Lawler's Law," he told the audience, familiar with it from listening to him over the last 40 years. "First to 100 wins. It's the law."
"The referees didn't end the game right there, because Lawler's Law is plainly not a law. The Thunder remained close over a back-and-forth final four minutes, but the Clippers held on for a 118-110 victory.
"Now, with the Clippers in the playoffs and the 80-year-old broadcaster calling the final games of his career, we started wondering: How often did Lawler's Law hold true?
"The Times crunched the numbers and found that, aside from being catchy and alliterative, Lawler's Law turned out to be remarkably accurate. Over the last 23 years, among more than 27,000 NBA games, the first team to reach 100 won 94% of the time."
Clippers playoff schedule
All times Pacific
Game 1: Warriors 121, Clippers 104
Game 2: Clippers 135, Warriors 131
Thursday, 7:30 p.m., at Clippers, TNT
Sunday, 12:30 p.m., at Clippers, ABC
Wednesday, April 24, TBA, at Golden State, TBA
*Friday, April 26, at Clippers, TBA
*Sunday, April 28, at Golden State, TBA
* if necessary.
Tuesday's NBA playoff scores
Toronto 111, Orlando 82 (series tied 1-1.)
Denver 114, San Antonio 105 (series tied 1-1.)
Portland 114, Oklahoma City 94 (Trail Blazers lead series 2-0)
Today's schedule
All times Pacific
Indiana at Boston, 4 p.m. TNT (Celtics lead series 1-0)
Detroit at Milwaukee, 5 p.m. NBATV (Bucks lead series 1-0)
Utah at Houston, 6:30 p.m. TNT (Rockets lead series 1-0)
UCLA basketball
Little did Cincinnati Enquirer columnist Paul Daughtery know when he joined the paper 25 years ago that it was all a master plan that would one day lead him to write a story for the L.A. Times. But that's what happened. Now, that's planning.
What better person to tell us about new UCLA men's basketball coach Mick Cronin, who spent the last couple decades in a city where the airport is in another state.
So, let's take a peek into his story on the newest Bruin. For more, just go here.
"Mick Cronin likes country club golf. He enjoys a good $20 cigar, especially if you're buying. (Another [Cincinnati] west side trait. Frugality.) A single father, he adores his 13-year-old daughter, Sammi. He might not have taken the job if she didn't want to leave Cincinnati.
"This is the kind of guy you're getting, L.A.
" 'I'm a hard worker,' Cronin said last week. 'That's how I got to where I'm at. The way to become a better coach, leader and person is to work at it all the time. And know you don't have all the answers.'
That's a stock answer, of course. Having covered Cronin for the last 13 years as Cincinnati's coach, and five years before that, when he was a Bob Huggins assistant, I can tell you it's exactly accurate.
"All you really need to know about Cronin, you can discover in his first five years as Cincinnati's head coach. He came into a program one year removed from the ouster of Huggins, an act that still draws ire and rebuke from the faithful. Huggins left three months before the 2005 season. The talent was nil. The recruiting was worse.
"Cronin took a job that nobody wanted. He filled his team with players nobody wanted. One of his best reserves was a football tight end named Connor Barwin. Barwin went on to a fine NFL career, as a defensive end. The Bearcats had a winning record (in the Big East) in Cronin's third year. By his fifth, they were in the NCAA tournament.
They haven't missed since."
Kings
Ah, for the good ole days when we were waiting for the end of the NHL playoffs so we could hear Mayor Eric Garcetti speak an obscenity. Instead, we've got the woeful Kings hiring a coach. Curtis Zupke takes us down that road.
"In the aftermath of the worst Kings season in more than a decade, general manager Rob Blake knew what he needed from his next head coach.
"He pinpointed structure, a modern style of play and motivation for an aging sector of their roster that has become admittedly complacent.
"I'm going to demand a lot from that head coach," Blake said at his end-of-season news conference.
"Blake didn't have to look far to check off all those boxes, and he's banking on a long-term commitment to get that done. His expected hiring of Todd McLellan was announced Tuesday and reunites the former San Jose Sharks coach with Blake, who played for McLellan in San Jose, for the long term."
NHL playoffs
Tuesday's scores (read game stories here)
Columbus 7, Tampa Bay 3 (Blue Jackets win series 4-0)
New York Islanders 3, Pittsburgh 1 (Islanders win series 4-0)
Winnipeg 2, St. Louis 1 (series tied 2-2.)
Vegas 5, San Jose 0 (Golden Knights lead series 3-1)
Today's schedule
All times Pacific
Boston at Toronto, 4 p.m. NBCSN (Maple Leafs lead series 2-1)
Nashville at Dallas, 5 p.m. USA (Predators lead series 2-1)
Calgary at Colorado, 7 p.m., NBCSN (Avalanche lead series 2-1)
Odds and ends
Kenta Maeda's performance on the mound leads to Dodgers' victory over the Reds. … Angels held to three hits in shutout loss to Rangers. … Lakers GM Rob Pelinka interviews 76ers assistant Monty Williams for coaching job. … Chargers switching to powder blues as their primary uniform. … Tokyo Olympics schedule reveals prime-time TV boon for marquee sports. … Marc Dos Santos hopes his club in Vancouver can match LAFC's example. … USC basketball adds transfer guards Daniel Utomi and Noah Baumann.
Today's local major sport schedule
(All times Pacific)
Cincinnati at Dodgers, noon, SportsNet LA; 570
Angels at Rangers, 5 p.m., FS West; 830
LAFC at Vancouver, 7 p.m., YouTube TV; 710
Born this date
1961: NFL player Boomer Esiason
1962: Swimmer Nancy Hogshead
1964: NHL player Ken Daneyko
1972: NFL player Tony Boselli
1973: NBA player Theo Ratliff
1983: Baseball player Miguel Cabrera
---