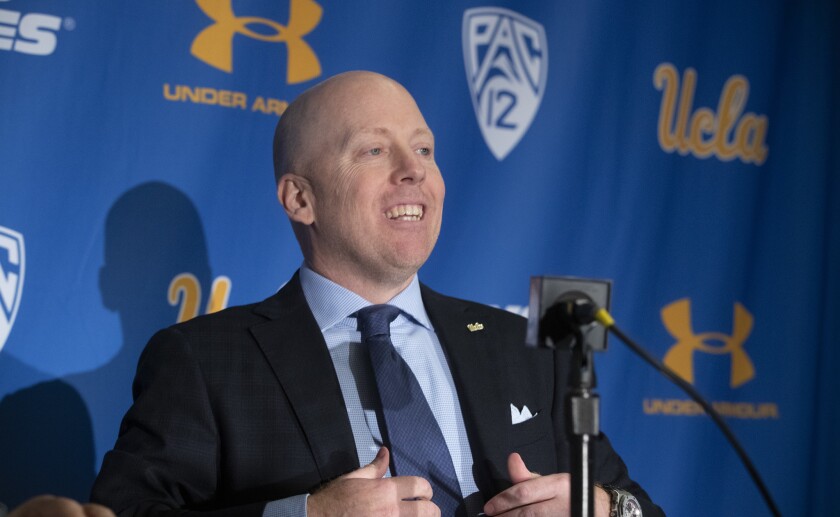 Hello everyone. My name is Houston Mitchell, and I'm awaiting my interview to be the next coach of the Lakers. In the meantime, here's what's going on in the local sports scene.
UCLA
As I'm sure everyone knows by now, the Bruins have a new basketball coach. Mick Cronin. But it wasn't supposed to be him, it was supposed to be Jamie Dixon. And for a while, it looked like it would be Dixon. Until it wasn't. How did that happen? Well, Ben Bolch takes a closer look here. Some highlights:
--The Bruins didn't want another Steve Alford. It was widely known within the UCLA athletic community that the school had bungled the Alford hiring after having pivoted from more attractive options.
--UCLA's hunt for Alford's successor had a familiar feel to those paying attention. Major donors had been told in 2013 that hotshot coach Brad Stevens was going to get the job, only for Stevens to wind up as the Boston Celtics' hotshot. The next thing anybody knew, Alford was being trotted out.
--In the weeks before UCLA made Dixon its top target, it had a bigger candidate in mind: John Calipari. Calipari was a polarizing figure among basketball cognoscenti. He had won a national championship at Kentucky but vacated Final Four appearances during previous stops at Massachusetts and Memphis because of NCAA violations involving his players. He had also called a reporter "a Mexican idiot" while coaching the New Jersey Nets. But his allure was undeniable for a school that needed to restore long-lost buzz to its flagship program. Multiple meetings between UCLA and Calipari ensued, and the Bruins eventually agreed to satisfy all of the coach's demands. Among them were a contract that would pay Calipari $45 million over six seasons, a $1.7-million pool for assistant coaches, eight new staff positions, private planes for the use of the team and its coaches, and a monthly catered meal for Calipari's staff and players. Calipari ultimately stayed at Kentucky, signing what amounted to a lifetime contract, making $9.2 million a year.
--Calipari, Stevens, Tom Izzo, Jay Wright, Billy Donovan, Mark Few and Tony Bennett were all contacted to get a feel for their interest in the job. Only Calipari showed any interest among that group and allowed UCLA officials to meet with him.
--Dixon deeply wanted to coach the Bruins and didn't believe his roughly $9-million buyout at Texas Christian was going to be a hindrance. Momentum toward a hire appeared to be building inside the UCLA athletic department on the afternoon of April 4, spurring the creation of media materials announcing Dixon as the new coach. There was hope a news conference could be scheduled for the following day. But there were some significant stumbling blocks. Donors who were more than happy to pony up money for Calipari were reluctant to do so for Dixon because they considered him a far lesser candidate. As the days passed it became clear that TCU wasn't going to budge on the buyout. The Horned Frogs had all the leverage and felt no need to surrender their highly coveted coach at a discount. Negotiations reached a stalemate.
--The search committee turned to Tennessee's Rick Barnes, who had been a popular pick all along among some Bruins donors. He had just been given the Naismith Coach of the Year award following a season in which his team won 31 games. After a series of back-and-forth discussions, Barnes agreed to take the job for just short of $6 million per season, with the Bruins footing his $5-million buyout. But Barnes subsequently had a representative contact UCLA, asking for more money. UCLA pulled out of the discussions at that point, even after Barnes said he would accept the previously agreed-upon terms in an attempt to salvage the deal.
--The Bruins returned to Dixon. The search committee had found the money to pay Dixon's hefty buyout but there was a catch: Because of a California provision that taxes buyouts as a gift, Dixon was going to be on the hook for around $4 million in taxes even after UCLA restructured his contract to cover the buyout. Hopes of a deal fell apart.
--Cronin became the pick. The Bruins offered him the job and he accepted later on April 8, not long after closing the door on Dixon. The search was over.
"This isn't a hard decision," Cronin said of coming to UCLA at his introductory news conference after signing a six-year, $24.5-million contract.
UCLA gymnastics
A look back at the incredible season the team had, using photos to tell the story.
Angels
When the Angels take on the Toronto Blue Jays starting today, they will look in the opposing dugout and see Vladimir Guerrero Jr., son of the only person in the Hall of Fame as an Angel. They will see a player who shagged fly balls in the Angel Stadium outfield as a kid. So why isn't he with the Angels?
When the Angels could have attempted to sign him out of the international pool of amateurs during the 2015 period, general manager Jerry Dipoto opted for what he considered a safer bet. Dipoto spent all the Angels' international signing bonus money on Roberto Baldoquin, a young shortstop who defected from Cuba.
Dipoto is now GM of the Seattle Mariners. Guerrero, 20, is in the majors with Toronto. Baldoquin, 25, is still with the Angels. He is playing for the double-A Mobile BayBears, where he is hitting .183/.242/.233. His career minor league numbers: .240/.293/.316.
Whoops.
In 2015, Dipoto said this: "He's not a raw, let's-wait-and-see-how-this-turns-out projection. He looks like a major league player now. He needs a little time in the minor leagues to adjust to a new country, but he's a pretty mature kid. He has a skill set that is very well-balanced."
Whoops.
It suddenly begins to make more sense why the Angels have been stumbling along around mediocrity the last few seasons.
NBA playoffs
Monday's NBA scores
Philadelphia 94. at Toronto 89 (Series tied, 1-1) (Read game story here)
at Denver 121, Portland 113 (Nuggets lead series, 1-1)
Today's NBA schedule
All times Pacific
Boston at Milwaukee, 5 p.m., TNT (Celtics lead series, 1-0)
Houston at Golden State, 7:30 p.m., TNT (Warriors lead series, 1-0)
NHL playoffs
Monday's NHL scores
St. Louis 4, at Dallas 3 (Blues lead series, 2-1) (Read game story here)
Today's schedule
(All times Pacific)
Boston at Columbus, 4 p.m., NBCSN (Series tied, 1-1)
San Jose at Colorado, 7 p.m., NBCSN (Series tied, 1-1)
Odds and ends
Dodgers lose to Giants, 3-2…. Sam Lewis overcomes adversity to be powerful influence for USC volleyball…. Chargers making progress in battle to win over fans in Los Angeles…. Chargers' Thomas Davis gives his new team a lesson on not taking anything for granted…. The favorites are on a roll in the Kentucky Derby…. Canelo Alvarez's loss to Floyd Mayweather Jr. helped spur his rise…. Caster Semenya: Court to rule Wednesday in sex-testing case…. Rams sign 14 undrafted free agents to bolster roster…. Calabasas standout Jermaine Burton eager to showcase speed, physicality for LSU…. Trent Redden will remain as Clippers assistant general manager
Today's local major sports schedule
(All times Pacific)
Dodgers at San Francisco, 6:45 p.m., Sportsnet LA, AM 570
Toronto at Angels, 7 p.m., FSW, KLAA 830
Born on this date
1961: NBA player Isiah Thomas
1963: NHL player Steve Smith
1966: NFL player David Meggett
And finally
That concludes the newsletter for today. If you have any feedback, ideas for improvement or things you'd like to see, please email us here. If you want to subscribe, click here.
---