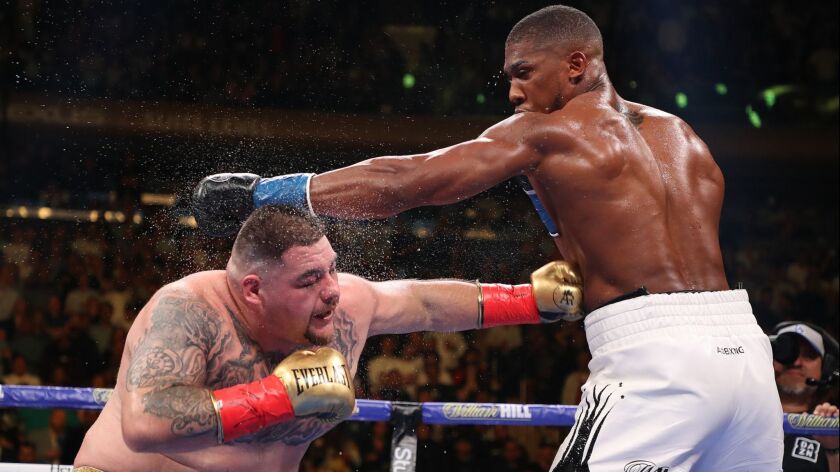 Hello everyone. My name is Houston Mitchell and let's get right to the news.
Boxing
This wasn't supposed to happen. Andy Ruiz Jr. was supposed to lose quietly and relatively quickly to Anthony Joshua so that boxing could go ahead with the dream matches that involved Deontay Wilder and Tyson Fury. But someone forgot to tell Ruiz, who delivered a shocking seventh-round technical knockout of Wilder on Saturday at Madison Square Garden.
"I had a lot of fans over there rooting for me," Ruiz said of his border farming hometown of Imperial, Calif., east of San Diego. "I'm sure they're all proud. That's where I grew up. I'm sure they're all smiling, saying, 'He did it, a kid from a small, little town did it.'
"Everything is possible, man. You believe in God, focus, believe in your dreams, never give up. And if someone puts you down, don't listen. Keep working. Look what I did. I just made history."
As Lance Pugmire writes, "Joshua's loss shakes up the heavyweight division and adds another interesting date to the calendar, as Joshua's promoter Eddie Hearn said he expects his fighter to invoke the rematch clause in his contract to meet Ruiz again around November, likely in Cardiff, Wales.
"That date will be sandwiched between World Boxing Council champion Deontay Wilder's fall rematch with Luis Ortiz, and Wilder's planned early 2020 rematch with unbeaten former three-division champion Tyson Fury.
"The interesting wrinkle for Joshua, who has one fight left on his contract with the streaming service DAZN, is that he has been reduced from a heavyweight who called all the shots after drawing 90,000 to Wembley Stadium two years ago to a fighter who must take the rematch.
"Otherwise, Ruiz, who like Wilder fights for Al Haymon's Premier Boxing Champions, has contractual leeway to take his belts and move toward Wilder down the road.
"It's a minor setback," said Joshua, who's 29 like Ruiz. "I'll bounce back and get my hands on those belts again. … I'll beat him up. Tidy up, brush off the cobwebs and fight again.
"Losing is something we can learn from. Tighten up. Get smart. There's more to come. Winning is everything, but if you do happen to take an 'L,' reset, readjust … I do not condone losing. On to the next one. The hunger is always there. I'm ready to go back to work tomorrow."
UCLA softball
Rachel Garcia hit a three-run walkoff home run Sunday to lift the UCLA Bruins to a 3-0 win over Washington and into the championship series at the Women's College World Series for the first time since 2010.
The No. 2 Bruins will face No. 1 Oklahoma in the best-of-three championship series, which begins today.
UCLA was in the semifinals, one win away from the championship series, but lost back-to-back games against Florida State to be eliminated. Garcia pitched both losses.
"She wasn't gonna let that happen again," Bruins coach Kelly Inouye-Perez said. "And I think that's what it comes down to, your ability to stay convicted. This team never gave up.
"There's a resiliency about our team. But most importantly, there's a belief that we will win. They didn't get overly frustrated or emotional. They just kept throwing punches."
Women's World Cup
Although she is one of the most decorated coaches of one of the most successful teams in soccer history, Jill Ellis, the coach of the U.S. women's soccer team, finds her way forward limited not by her talent but by her gender.
As Kevin Baxter writes, "What money, fame and prestige there are in coaching exist primarily on the men's side. Yet that remains exclusively a boys' club where sex, not success, determines admission. While men routinely coach women in every sport on every level, the number of women coaching men can be counted on one hand — with some fingers left over.
"Why hasn't it happened? Because there hasn't been an opportunity for it to happen," said Ellis, who will coach the U.S. national team in the month-long Women's World Cup, which opens June 7 in Paris. Four years ago she guided that team to the title.
"You can have all these really qualified women but at the end of the day the people sitting in the positions to say 'Yes, we're going to hire that person' are the people that have to see it without gender in terms of giving opportunity," she said.
"Marjorie A. Snyder, director of research and programs for the Women's Sports Foundation, blames that lack of vision on the same stereotypes and prejudices that kept a young Ellis off the playing fields in England.
"There are cultural reasons why. There are environmental reasons why. And it's a statement obviously about competence," Snyder said. "Are women competent? Can they do it? It seems like a ridiculous question on the face of it. They're doctors and lawyers and they're senators and Congress people. Why couldn't they coach?"
"Snyder partially blames Title IX, the landmark 1972 civil rights legislation that mandated increased athletic opportunities for women but also took away many of the opportunities for women to coach those athletes. Before Title IX, Snyder said 90% of women's teams were coached by women. But as colleges began pouring money and resources into women's programs to comply with the new law, men suddenly began applying for the jobs.
"In its 2016 study "Beyond X's and O's: Gender Bias and Coaches of Women's College Sports," the Women's Sports Foundation found that 57% of women's teams were coached by men but just 3% of men's teams — mostly in minor, coed sports such as swimming and diving or cross-country — were coached by women.
"The people who were hiring those coaches were, for the most part, exclusively male," she said. "So they were tapping their own networks to hire coaches."
"As a result Geno Auriemma got the chance to win 11 NCAA women's basketball championships at the University of Connecticut but no woman has been asked to coach a top-flight men's team. Four of the last five NCAA women's soccer champions have been led by men but NYU's Kim Wyant is the only female coach of a men's team.
"So why aren't there more?
"That's an excellent question," said UCLA women's soccer coach Amanda Cromwell, a former World Cup player who coached the Bruins to an NCAA title in 2013. "I think more people need to ask that question. There is no reason why."
Stanley Cup Final
Helene Elliott on the Stanley Cup Final:
"The St. Louis Blues went on the offensive Sunday, even though it was a practice day during the Stanley Cup Final.
"Suggesting they've been given too many penalties in their first three games against the Boston Bruins might have more impact than any adjustments they make on Monday at Enterprise Center. In a league whose referees — consciously or not — issue makeup calls to balance power-play opportunities or compensate for previously missed offenses, the Blues' complaint is sure to be heard and likely will be felt. Planting that seed isn't a bad strategy for them to implement as they try to prevent Boston from expanding its 2-1 series lead.
Blues coach Craig Berube, irked after his team was given seven minor penalties and got burned by four power-play goals in a 7-2 loss to the Bruins on Saturday, questioned how his group had gone from the NHL's least-penalized in the first three rounds to getting more penalty minutes than Boston has gotten. The Blues averaged 6.32 penalty minutes per game in the first three rounds of the playoffs but are averaging 11.33 penalty minutes against the Bruins, on 17 penalties for 34 minutes in three games. The Bruins, who averaged 6.35 penalty minutes per game in winning the East, have averaged 8.67 minutes in the first three games of the Cup Final, on 12 penalties for 26 minutes.
"Some of the Blues' punishment was justified. Winger David Perron has been invisible in the Final aside from committing three needless penalties. Losing an offside challenge on Boston's third goal on Saturday resulted in a mandated delay of game call. And the Bruins are deeper and more experienced than the Blues' previous opponents, triggering frustration among the Blues. That often leads to the holding and hooking penalties players commit when they can't keep up.
"I think it's our forwards. They're always buzzing in the zone. It's hard to keep up with them," Bruins defenseman Connor Clifton said. "As the game goes on, I bet they're getting tired of covering them. It's as simple as that."
"It's not so simple to Berube. Asked if he sees a common thread in the calls, he acknowledged fault on his players' part but questioned the frequency. "First of all, we were the least penalized team in the league in the first three rounds, now all of a sudden we've taken [17] penalties in one series. So I don't know. I don't buy into all of that, to be honest with you," he said. "I think that we could definitely be more composed after the whistle. I think we've let some frustration get in there where we maybe do too much after the whistle. So we'll clean that up, for sure. But like I said, we were the least penalized team in the league coming into this series. I don't agree with all of the calls."
Stanley Cup Final results/schedule
All times Pacific
at Boston 4, St. Louis 2
St. Louis 3, at Boston 2 (OT)
Boston 7, at St. Louis 2
Tonight, 5 p.m., Boston at St. Louis, NBC
Thursday, 5 p.m., St. Louis at Boston, NBC
*Sunday, 5 p.m., Boston at St. Louis, NBC
*Wed. June 12, 5 p.m., St. Louis at Boston, NBC
*-if necessary
NBA Finals
All times Pacific
at Toronto 118, Golden State 109
Golden State 109, at Toronto 104 (Read the game story here)
Wednesday, Toronto at Golden State, 6 p.m., ABC
Friday, Toronto at Golden State, 6 p.m., ABC
Mon., June 10, Golden State at Toronto, 6 p.m., ABC
*Thur., June 13, Toronto at Golden State, 6 p.m., ABC
*Sun, June 16, Golden State at Toronto, 5 p.m., ABC
*-if necessary
Other newsletters
We also have five other newsletters you can subscribe to for free. They are emailed to you and we don't sell your name to other companies, so no spam from us. They are:
Our Dodgers newsletter, written by me. Subscribe here.
Lakers newsletter, written by Tania Ganguli. Subscribe here.
Horse racing newsletter, written by John Cherwa. Subscribe here.
Boxing/MMA newsletter, written by Lance Pugmire. Subscribe here.
Soccer newsletter, written by Kevin Baxter. Subscribe here.
Odds and ends
David Freese ignites a scoring outburst as Dodgers sweep Phillies…. Dodgers reliever Tony Cingrani likely to miss rest of the season…. Jose Suarez's victorious debut bolstered by Angels' heavy hitters…. Blake Bortles, meshing well with Rams, hopes to be a starting quarterback again someday…. World Cup Group F preview: U.S. going on the attack to defend title…. Jerry West to get Presidential Medal of Freedom…. TV schedule for 2019 Women's World Cup…. Jeongeun Lee6 wins the U.S. Women's Open…. UCLA baseball wins twice to force a winner-take-all final game today to decide a super regional berth in college baseball playoffs.
Today's local major sports schedule
(All times Pacific)
Dodgers at Arizona, 6:30 p.m., SportsNet LA, AM 570
Angels at Chicago Cubs, 1 p.m., FSW, KLAA 830
Born on this date
1943: NBA player/coach Billy Cunningham
1945: Golfer Hale Irwin
1961: Gymnast Peter Vidmar
1986: Tennis player Rafael Nadal
Died on this date
2013: NFL player Deacon Jones, 73
2016: Boxer Muhammad Ali, 76
And finally
Muhammad Ali vs. Joe Frazier. "The Thrilla in Manila." Watch it here.
That concludes the newsletter for today. If you have any feedback, ideas for improvement or things you'd like to see, please email us here. If you want to subscribe, click here.
---