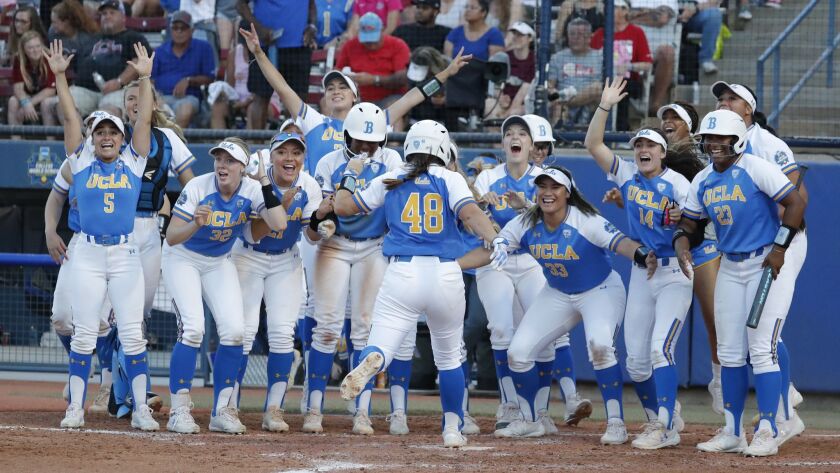 Hello everyone. My name is Houston Mitchell and let's get right to the news.
UCLA softball
Well, at least one team can reach a championship game or series in L.A. and get the job done. Not the Rams, not the Dodgers, but the UCLA softball team.
UCLA defeated Oklahoma, 5-4, on Tuesday to sweep the best-of-three championship final of the Women's College World Series.
Kinsley Washington's two-out RBI single in the bottom of the seventh gave the Bruins the walkoff victory and their UCLA's 13th national championship in softball.
"They're a really gutsy, relentless, fighting team, but… I am so proud that they enjoyed it," coach Kelly Inouye-Perez said of the win. "They had fun. They had each other's backs.
This team got on a mission. You know, last year's team… we got a little heartbroken on how things ended. So they were very convicted of being able to bring it back to Westwood in 2019."
Lakers
The Lakers continue to add a lot of star power to their coaching staff. Tania Ganguli reported on Tuesday that they will add Lionel Hollins as an assistant, a person with knowledge of the hire said Tuesday.
Hollins joins head coach Frank Vogel and assistant Jason Kidd on the staff. All three have previously been head coaches in the NBA.
Hollins had a 262-272 record in nine seasons with the Memphis Grizzlies and Brooklyn Nets.
A former NBA player who won a championship with the Portland Trail Blazers in 1977, Hollins began coaching in the NBA as an assistant with the Phoenix Suns in 1988.
He guided the Grizzlies to three consecutive playoff appearances, culminating in a trip to the Western Conference finals in 2013, when Memphis was swept by the San Antonio Spurs. After the Grizzlies declined to renew Hollins' contract, he was hired the next season by Brooklyn. He was fired during his second season with the Nets, who were 10-27 at the time.
The 6-foot-3 guard played 10 seasons in the NBA, including stops with the Philadelphia 76ers, San Diego Clippers, Detroit Pistons and Houston Rockets. He averaged 11.6 points, 4.5 assists and 1.6 steals.
Dodgers
The Dodgers, and Hyun-Jin Ryu, continue to dominate. Ryu pitched seven scoreless innings, running his latest scoreless streak to 18 2/3 frames, in the Dodgers' 9-0 win over the Arizona Diamondbacks on Tuesday. He held Arizona to three hits and struck out two while walking no one.
As Jorge Castillo put it, "Ryu was even better than that. Those seven innings, which dropped his earned-run average to 1.35, were bookended by defensive gaffes behind him. The mistakes, two in the first inning and a third in the seventh, forced him to labor more than he should have. They generated the only jams he encountered. They could have wrecked his night. But Ryu, calmly as ever, maneuvered free both times, beginning his June like he spent all of May as the Dodgers (43-19) won their seventh straight game to seize a 10-½ game lead in the NL West."
Stanley Cup Final
Helene Elliott on the Stanley Cup Final:
"The hits keep coming and so do the bruises, black and blue like the predominant uniform colors of the Boston Bruins and the St. Louis Blues. This is hard, big-bang hockey, an unexpected but entertaining detour away from the youth-and-speed-driven game that trended during the regular season.
"The fourth game of the Stanley Cup Final was the hardest-hitting yet, with the teams combining for 85 hits in the Blues' series-tying 4-2 home victory on Monday. It was also the fourth straight game the Blues had the edge in hits.
"That's significant because statisticians who track such things often favor the home team in subjective categories, yet the Blues were credited with more hits than the Bruins in the first two games in Boston, by 33-32 in Game 1 and 50-31 in Game 2.
"The Blues are bigger than the Bruins on defense — St. Louis' smallest defenseman in Game 4 was 6-foot, 208-pound Vince Dunn — and on the left side, and that has taken a toll on the Bruins everywhere on the ice. "We're a big, heavy team and when we get pucks low we grind it down low and get second and third opportunities. We get rewarded," Patrick Maroon, a 6-3, 228-pound left wing, said. "We're just a north-south, simple kind of team." Simply devastating at times too.
"Given their success so far, it's no surprise that the Blues want to continue to wear down the Bruins as the Final returns to Boston for Game 5, to be played Thursday at TD Garden.
"I think all the series we played have been like that, to be honest with you," said coach Craig Berube, whose team disposed of the big Winnipeg Jets in six games in the first round, outlasted the Dallas Stars in seven games in the second round, and wore down the wounded San Jose Sharks in six games in the West final.
"That's kind of, again, how we're built. We try to play a physical game night in, night out, a forecheck game. We force teams to play 200 feet as much as we can."
Read more of this story by clicking here.
Stanley Cup Final results/schedule
All times Pacific
at Boston 4, St. Louis 2
St. Louis 3, at Boston 2 (OT)
Boston 7, at St. Louis 2
at St. Louis 4, Boston 2
Thursday, 5 p.m., St. Louis at Boston, NBC
Sunday, 5 p.m., Boston at St. Louis, NBC
*Wed. June 12, 5 p.m., St. Louis at Boston, NBC
*-if necessary
NBA Finals
All times Pacific
at Toronto 118, Golden State 109
Golden State 109, at Toronto 104
Tonight, Toronto at Golden State, 6 p.m., ABC
Friday, Toronto at Golden State, 6 p.m., ABC
Mon., June 10, Golden State at Toronto, 6 p.m., ABC
*Thur., June 13, Toronto at Golden State, 6 p.m., ABC
*Sun, June 16, Golden State at Toronto, 5 p.m., ABC
*-if necessary
Other newsletters
We also have five other newsletters you can subscribe to for free. They are emailed to you and we don't sell your name to other companies, so no spam from us. They are:
Our Dodgers newsletter, written by me. Subscribe here.
Lakers newsletter, written by Tania Ganguli. Subscribe here.
Horse racing newsletter, written by John Cherwa. Subscribe here.
Boxing/MMA newsletter. Subscribe here.
Soccer newsletter, written by Kevin Baxter. Subscribe here.
Odds and ends
Dodgers stock up on college talent in first 10 rounds of the draft…. Staggering growth of women's soccer bodes well for World Cup in France…. World Cup Group D preview: Lucy Bronze hopes to make England a tough match…. Six players from No. 1-ranked UCLA are selected in first 10 rounds of MLB draft…. USC's Angie Annelus is determined to lead the Trojans to another track title…. Sparks beat Liberty behind Chelsea Gray's career-high 29 points…. Tacitus, War Of Will early favorites after good draws for Belmont Stakes…. UCLA adds transfer quarterback Colson Yankoff…. Draft pick Erik Rivera gives Angels another two-way player…. Angels lose to the Oakland A's.
Today's local major sports schedule
(All times Pacific)
Dodgers at Arizona, 12:30 p.m., SportsNet LA, AM 570
Oakland at Angels, 7 p.m., FSW, KLAA 830
Born on this date
1925: NFL player Art Donovan
1942: Bowler/sportscaster Nelson Burton Jr.
1945: Track star John Carlos
Died on this date
1953: Tennis player Bill Tilden
And finally
UCLA wins the Women's College World Series. Watch it here.
That concludes the newsletter for today. If you have any feedback, ideas for improvement or things you'd like to see, please email us here. If you want to subscribe, click here.
---