The Sports Report: When push comes to shove, Warriors part-owner was out of line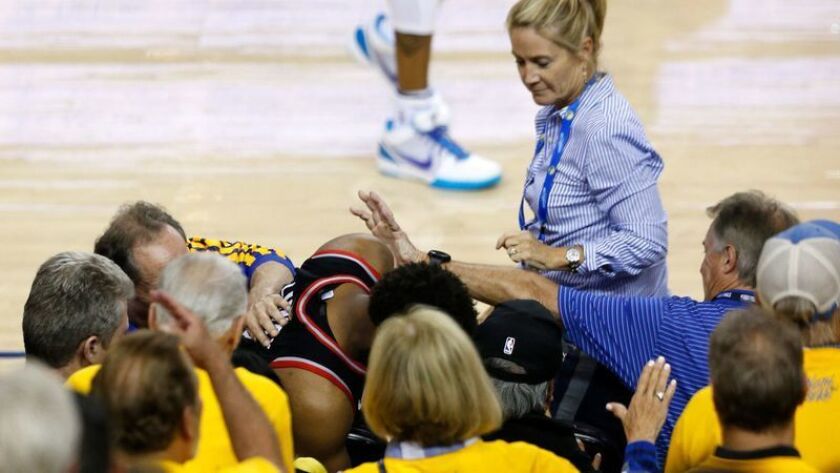 Hello everyone. My name is Houston Mitchell and let's get right to the news.
NBA Finals
Mark Stevens, a minority owner in the Golden State Warriors, was sitting in his sideline seat watching the Warriors take on the Toronto Raptors In Game 3 on Wednesday when Raptors star Kyle Lowry ended up in the seat next him while trying to save a loose ball. Stevens thought it would be a good idea to shove Lowry and use some language unsuitable for your friendly neighborhood sports newsletter.
On Thursday, the NBA responded, fining Stevens $500,000 and banning him from all games and from all team events for the rest of these playoffs and all of next season.
Frankly, he got off easy. There is absolutely no place for something like this in sports. To their credit, the Warriors and coach Steve Kerr immediately criticized Stevens and apologized to Lowry and the Raptors. Stevens had an apology of his own, with a statement that read,
"I take full responsibility for my actions last night at the NBA Finals and am embarrassed by what transpired. What I did was wrong and there is no excuse for it. Mr. Lowry deserves better, and I have reached out today in an attempt to directly apologize to him and other members of the Raptors and Warriors organizations. I'm grateful to those who accepted my calls. I hope that Mr. Lowry and others impacted by this lapse in judgment understand that the behavior I demonstrated last night does not reflect the person I am or have been throughout my life. I made a mistake and I'm truly sorry. I need to be better and look forward to making it right."
Lakers forward LeBron James posted a video of that play on Instagram Thursday, leaving a lengthy comment condemning Stevens' actions.
"There's absolutely no place in our BEAUTIFUL game for that AT ALL. There's so many issues here. When you sit courtside you absolutely know what comes with being on the floor and if you don't know it's on the back on the ticket itself that states the guidelines," James posted. "But he himself being a fan but more importantly PART-OWNER of the Warriors knew exactly what he was doing which was so uncalled for. He knew the rules more than just the average person sitting watching the game courtside so for that Something needs to be done ASAP! A swift action for his actions."
NBA Finals schedule/results
All times Pacific
at Toronto 118, Golden State 109
Golden State 109, at Toronto 104
Toronto 123, at Golden State 109
Tonight, Toronto at Golden State, 6 p.m., ABC
Monday, Golden State at Toronto, 6 p.m., ABC
*Thusday, Toronto at Golden State, 6 p.m., ABC
*Sun, June 16, Golden State at Toronto, 5 p.m., ABC
*-if necessary
Rams
The Philadelphia Eagles announced they signed quarterback Carson Wentz to a four-year extension through the 2024 season. The deal is reportedly worth $128 million, with $107 guaranteed, according to several reports.
According to our own Gary Klein, this is good news for Rams quarterback Jared Goff.
"Whether those figures are exact remains to be seen, but it probably set a new floor for the Rams' eventual negotiations with Goff, who is under contract through the 2020 season and is represented by the same firm — REP 1 Sports — as Wentz.
"Goff was the No. 1 pick in the 2016 draft. Wentz was the second pick.
"Wentz, 26, has struggled with knee and back injuries but has played well when available. He has completed 63.7% of his passes, 70 for touchdowns, with 28 interceptions. He is 23-17 as a starter and made the Pro Bowl in 2017. He suffered a major knee injury late in that season against the Rams, which opened the door for quarterback Nick Foles to lead the Eagles to the Super Bowl title.
"Goff, 24, went 0-7 as a starter under former coach Jeff Fisher's staff but has flourished under coach Sean McVay, improving his record to 24-14. He made the Pro Bowl in each of the last two seasons, led the Rams to consecutive NFC West titles and to the Super Bowl last season. He has completed 62% of his passes, 65 for touchdowns, with 26 interceptions.
"Goff is due to earn a base salary of $4.3 million this season and carries a salary-cap number of $8.9 million, according to the website overthecap.com. In April, the Rams exercised their fifth-year option on Goff, which would give him a salary of about $22 million in 2020 if he does not sign an extension before then.
"Throughout this offseason, Rams front office executives indicated that they typically wait until the weeks after the conclusion of mandatory minicamp in June before entering into discussions about extensions. The Rams will hold one minicamp practice Tuesday.
"Wentz's deal breaks from recent NFL practice. Most teams have waited until after a quarterback's fourth season before signing him to an extension."
Soccer
The Women's World Cup starts today with host France taking on South Korea. We have put together a page that tells you basically all you need to know, which you can access by clicking here.
Let's break down the basics. (Spoiler alert: the U.S. is going to win)
How the groups shape up, in predicted order of finish:
Group A
France
Norway
South Korea
Nigeria
Group A TV schedule (All Times Pacific)
Friday, France vs. South Korea, Noon, FS1
Saturday, Norway vs. Nigeria, Noon, Fox
Wednesday, Nigeria vs. South Korea, 6 a.m., FS1
Wednesday, France vs. Norway, Noon, Fox
Monday, June 17, Nigeria vs. France, Noon, Fox
Monday, June 17, South Korea vs. Norway, Noon, FS1
Group B
Germany
Spain
China
South Africa
Group B TV schedule (All Times Pacific)
Saturday, Germany vs. China, 6 a.m., FS1
Saturday, Spain vs. South Africa, 9 a.m., Fox
Wednesday, Germany vs. Spain, 9 a.m., Fox
Thursday, South Africa vs. China, Noon, Fox
Monday, June 17, South Africa vs. Germany, 9 a.m., Fox
Monday, June 17, China vs. Spain, 9 a.m., FS1
Group C
Australia
Italy
Brazil
Jamaica
Group C TV schedule (All Times Pacific)
Sunday, Australia vs. Italy, 4 a.m., FS1
Sunday, Brazil vs. Jamaica, 6:30 a.m., FS1
Thursday, Australia vs. Brazil, 9 a.m., Fox
Friday, June 14, Jamaica vs. Italy, 9 a.m., Fox
Tuesday, June 18, Jamaica vs. Australia, Noon, FS2
Tuesday, June 18, Italy vs. Brazil, FS1
Group D
England
Japan
Scotland
Argentina
Group D TV schedule (All Times Pacific)
Sunday, England vs. Scotland, 9 a.m., Fox
Monday, Argentina vs. Japan, 9 a.m., FS1
Friday, June 14, Japan vs. Scotland, 6 a.m., FS1
Friday, June 14, England vs. Argentina, Noon, Fox
Wednesday, June 19, Japan vs. England, Noon, FS1
Wednesday, June 19, Scotland vs. Argentina, Noon, FS2
Group E
Canada
Netherlands
New Zealand
Cameroon
Group E TV schedule (All Times Pacific)
Monday, Canada vs. Cameroon, Noon, FS1
Tuesday, Netherlands vs. New Zealand, 6 a.m., FS1
Saturday, June 15, Netherlands vs, Cameroon, 6 a.m., GS1
Saturday, June 15, Canada vs. New Zealand, Noon, FS2
Thursday, June 20, Netherlands vs. Canada, 9 a.m., Fox
Thursday, June 20, Cameroon vs. New Zealand, 9 a.m., FS1
Group F
United States
Sweden
Chile
Thailand
Group F TV schedule (All Times Pacific)
Tuesday, Chile vs. Sweden, 9 a.m., FS1
Tuesday, United States vs. Thailand, Noon, Fox
Sunday, June 16, Sweden vs. Thailand, 6 a.m., FS1
Sunday, June 16, United States vs. Chile, 9 a.m., Fox
Thursday, June 20, United States vs. Sweden, Noon, Fox
Thursday, June 20, Thailand vs. Chile, Noon, FS1
Rest of the schedule
Round of 16 matches take place from June 22-25.
Quarterfinal matches are from June 27-29
One semifinal match is on July 2 at Noon on Fox
The other semifinal is on July 3 at Noon on FS1
Third-place game is July 6 at 8 a.m. on Fox
Championship match is Sunday, July 7 at 8 a.m. on Fox.
Stanley Cup Final
Helene Elliott on Game 5 of the Stanley Cup Final:
"The St. Louis Blues, who ranked last in the NHL on Jan. 2 and appeared destined for a second straight non-playoff finish, are one victory away from capping a remarkable comeback season with a Stanley Cup championship.
"Goaltender Jordan Binnington, who became the key to their rise when he seized the starting job in January, stopped 38 shots by the Boston Bruins on Thursday and made Ryan O'Reilly's second-period goal hold up as the Blues grabbed a 2-1 triumph at TD Garden. The Blues can claim the franchise's first Cup title on Sunday, when the Final resumes at Enterprise Center in St. Louis. The Blues entered the NHL in the six-team expansion of 1967, and they'd be the last of the five surviving teams from that group to get their name engraved on the Cup.
The Bruins hoped to get a lift from the presence of veteran defenseman Zdeno Chara, who suffered a face or jaw injury in Game 4 when a shot deflected upward off his own stick. His status was doubtful but he did play, wearing a clear shield over the lower half of his face. The crowd roared when he skated out for warmups and again when he was introduced but the Bruins couldn't ride that wave of emotion.
With his 15th playoff win, Binnington tied Patrick Roy, Ron Hextall, Cam Ward and Matt Murray for most wins by a rookie goalie in one playoff year.
Of the 25 times the Cup Final has been tied at 2-2 since the best-of-seven format was adopted in 1939, the Game 5 winner has gone on to win the Cup 18 times (72%).
Stanley Cup Final results/schedule
All times Pacific
at Boston 4, St. Louis 2
St. Louis 3, at Boston 2 (OT)
Boston 7, at St. Louis 2
at St. Louis 4, Boston 2
St. Louis 2, at Boston 1
Sunday, 5 p.m., Boston at St. Louis, NBC
*Wednesday, 5 p.m., St. Louis at Boston, NBC
*-if necessary
Other newsletters
We also have five other newsletters you can subscribe to for free. They are emailed to you and we don't sell your name to other companies, so no spam from us. They are:
Our Dodgers newsletter, written by me. Subscribe here.
Lakers newsletter, written by Tania Ganguli. Subscribe here.
Horse racing newsletter, written by John Cherwa. Subscribe here.
Boxing/MMA newsletter. Subscribe here.
Soccer newsletter, written by Kevin Baxter. Subscribe here.
Odds and ends
Dodgers rookie catcher Will Smith's apprenticeship began in September…. UCLA coach John Savage considers the MLB draft a headache…. Derby River is 27th horse to die since Santa Anita opened meet Dec. 26…. Angels' Justin Upton heads to rehab stint for first action since March…. LAFC's Tyler Miller and Walker Zimmerman make USMNT roster for Gold Cup…. Braves sign starter Dallas Keuchel to a one-year deal…. Quarterback Matt Fink decides against transferring, will remain with USC…. Sparks' second-half rally falls short against Sun…. Angels face the A's at home.
Today's local major sports schedule
(All times Pacific)
Dodgers at San Francisco, 7:15 p.m., Sportsnet LA, AM 570
Seattle at Angels, 7 p.m., FSW, KLAA 830
Born on this date
1947: Baseball player Thurman Munson
1970: NHL player Mike Modano
1973: NFL player Napoleon Kaufman
1975: NBA player Allen Iverson
1981: Tennis player Anna Kournikova
Died on this date
1993: NBA player Drazen Petrovic, 28
2008: Sportscaster Jim McKay, 86
And finally
Mark Stevens pushes Kyle Lowry. Watch it here.
That concludes the newsletter for today. If you have any feedback, ideas for improvement or things you'd like to see, please email us here. If you want to subscribe, click here.
---
Get our high school sports newsletter
Prep Rally is devoted to the SoCal high school sports experience, bringing you scores, stories and a behind-the-scenes look at what makes prep sports so popular.
You may occasionally receive promotional content from the Los Angeles Times.