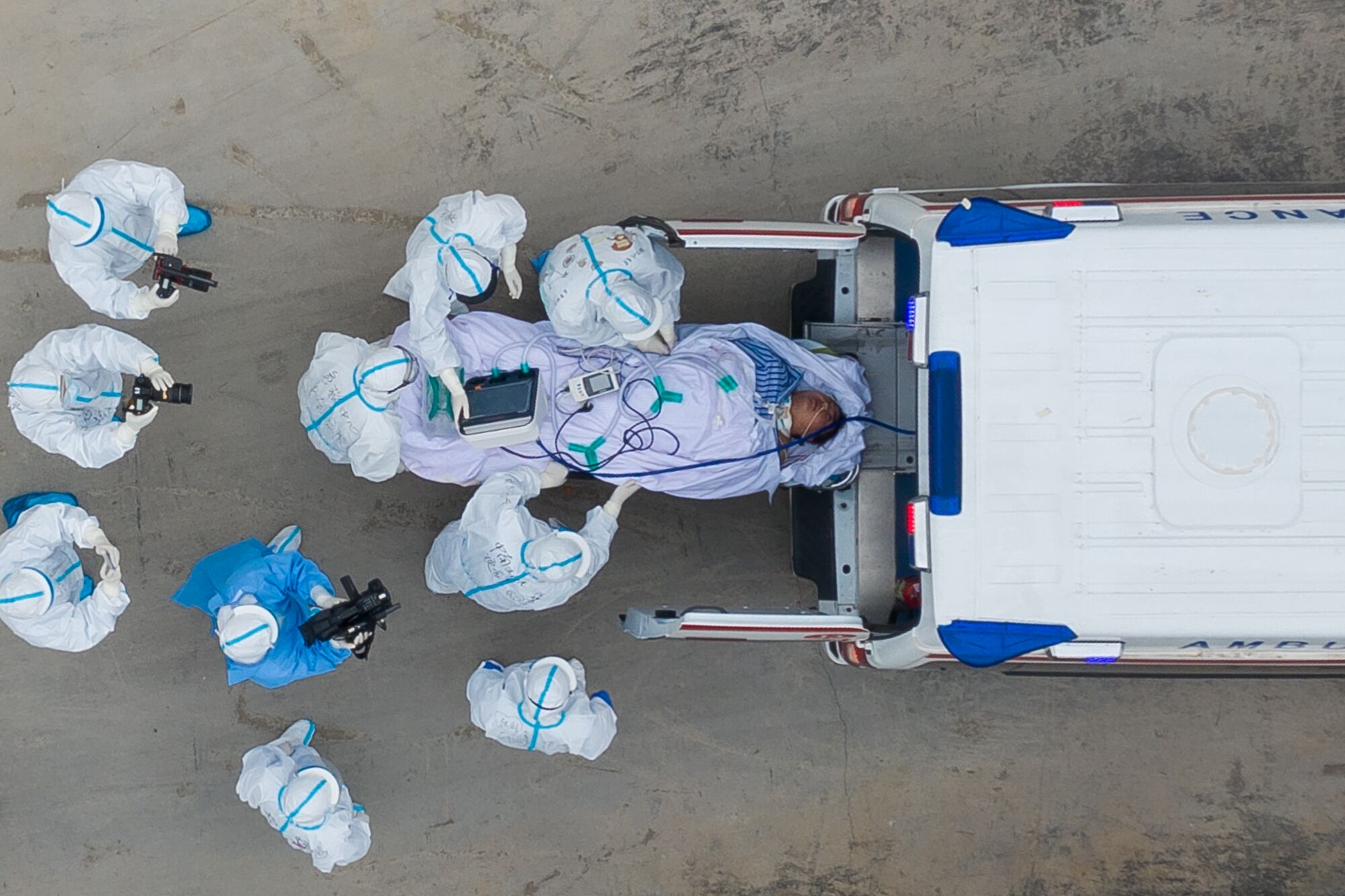 (Barcroft Media/Getty Images)
WASHINGTON —
The first day President Trump mentioned the coronavirus in public, only one American was known to be infected. He assured the rest of the country it had no reason to worry.
"We have it totally under control," Trump said Jan. 22 from Davos, Switzerland. "It's going to be just fine."
Behind the scenes, however, even some of his close aides thought the virus posed a much greater threat to the nation and to Trump.
Three months later, the United States leads the world in reported numbers of people infected and killed by the virus, with more than 39,000 dead. States, counties and local hospitals are desperately bidding against one another for scarce ventilators and other lifesaving equipment in a marketplace dominated by chaos, profiteering and fraud. And the country's economy is in free fall, with more than 20 million Americans filing unemployment claims in the last month.
Trump has at various times called the catastrophe unforeseeable or blamed the World Health Organization and China; his predecessor, who he claimed left him an "empty shelf" of medical equipment; and state governors whom he accused of mismanaging the health crisis.
But from the first international reports of the virus' appearance in China in late December until Trump declared a nationwide emergency in mid-March, his administration delayed or bungled basic but crucial steps to contain the spread of infections and prepare the country for a pandemic, according to a Times review of internal government records and interviews with administration officials and outside experts.
In that key early period, many of the Trump presidency's most deeply ingrained characteristics — its distrust of the federal bureaucracy, internal personality conflicts, lack of a formal policymaking process and Trump's own insistence on controlling the public message — severely hampered the federal response, according to current and former White House officials and public health experts.
Even senior members of the administration who sought to warn Trump about the looming dangers were rebuffed, said several administration officials who spoke on condition of anonymity because they were not authorized to comment on internal discussions.
Containing such an easily spread contagion was certain to be arduous under any circumstances, many experts concede. Making it even harder, China initially played down the infection danger, and it was unclear at that point how readily the virus could spread.
But Trump's unwillingness to take the health threat seriously and disagreements among his top aides effectively sidelined the U.S. Department of Health and Human Services, leaving key responders without direction from a White House that was focused on the president's impeachment trial in the Senate.
Weeks were lost that could have been used to test and isolate the first infected patients, purchase medical supplies, prepare makeshift hospitals and enlist corporations in quickly ramping up production of badly needed respirators and other supplies.
"In an ideal world, there would have been a structure and someone with vision empowered in the White House," said J. Stephen Morrison, a health policy expert at the Center for Strategic and International Studies, a Washington think tank. "Everything was seen through the impeachment and reelection process."
The White House said in a statement that Trump acted to control the virus while Democrats in Congress and the news media ignored the danger in January and February.
"President Trump took bold action to protect Americans and unleash the full power of the federal government to curb the spread of the virus, expand testing capacities, and expedite vaccine development when we had no true idea the level of transmission or asymptomatic spread," White House spokesman Judd Deere said.
The statement added that Trump "remains completely focused on the health and safety of the American people and it is because of his bold leadership that we will emerge from this challenge healthy, stronger, and with a prosperous and growing economy."
In January, scientists, public health officials and journalists were warning that the coronavirus was set to explode out of China. Few listened.
'It will cost the election'
The first official warning about the new virus came on the last day of 2019, when Chinese authorities reported that residents of Wuhan in the central Hubei province were coming down with pneumonia from an unknown cause. China soon identified the cause of the outbreak as a new strain of coronavirus but said there was "no evidence of significant human-to-human transmission."
At the U.S. Centers for Disease Control and Prevention, Director Robert Redfield, a physician and former AIDS researcher, tweeted Jan. 14 that "there is no confirmed person-to-person spread" of the illness in China, though his agency was "monitoring the situation closely." The CDC issued a routine "level 1 travel notice," advising Americans traveling to Wuhan to "practice usual precautions."
Three days later, the CDC announced that airports would conduct health screenings for passengers traveling from Wuhan to Los Angeles, San Francisco and New York.
The screenings didn't initially cover all airports with flights from China. Nor did they address travelers from Europe, another likely source of infection. And the cursory temperature checks didn't detect patients who were carrying the virus but were still asymptomatic, a problem that became fully apparent only later.
At the White House, Trump and his close advisors, consumed by his impending impeachment trial in the Senate, rebuffed attempts by Redfield's boss, Health and Human Services Secretary Alex Azar, to alert them about the threat, according to a former federal official with knowledge of the communications.
Unlike some other Trump Cabinet officials, Azar has considerable experience in his field, having served in the agency in the administration of President George W. Bush and having been an executive at pharmaceutical giant Eli Lilly and Co.
The program had worked with labs in Wuhan, China, and around the world to detect deadly viruses that could jump from animals to humans.
His relationship with Trump and senior health and budget officials in the White House had been strained for months, in part because of Azar's inability to deliver on one of Trump's signature campaign promises — to lower prescription drug prices. Trump also blamed Azar for entangling him in what turned out to be a politically complicated effort to crack down on vaping.
The health secretary finally connected with Trump on Jan. 18, when the president was at Mar-a-Lago, his Palm Beach, Fla., resort. By then, Thailand and Japan were reporting confirmed coronavirus infections. Trump wanted to discuss the vaping ban, not the coronavirus, a White House aide familiar with the call said.
Two days later, the CDC confirmed the first coronavirus case in the U.S.
A Washington state man in his 30s had returned from Wuhan on Jan. 15 at Seattle-Tacoma International Airport, where no screening was being conducted. Later, he reported pneumonia-like symptoms to his doctor.
"It's one person coming in from China," Trump said during his Jan. 22 interview with CNBC from Davos.
As Trump reassured the nation, the WHO, the United Nations agency for international public health, announced that evidence suggested "human to human" transmission in China but that more investigation was necessary.
Trump did not consider the virus a major worry and trusted Azar to handle it, a senior administration official said. Other White House aides were concerned that Azar would overreact, the official and another senior White House aide added.
In late January, Joseph Grogan, the White House domestic policy chief and a former lobbyist for a pharmaceutical company, sounded the alarm about the administration potentially overlooking what could become a major crisis. He voiced reservations about Azar's ability to handle the matter during a meeting in the office of Mick Mulvaney, then the president's acting chief of staff, one of the senior administration officials said.
"It could be so big that if we mishandle it, it will cost the election," Grogan said with several senior staffers present.
Mulvaney convened meetings aimed at coordinating the U.S. government response, but the discussion at first focused only on evacuation flights to bring Americans in China and other affected countries home, one of the senior White House officials said. There was little discussion about how to keep the virus out.
Daily intelligence updates from the CIA and other intelligence organizations tracked the international spread of the coronavirus, but their reports did not recommend steps to contain it in the U.S., according to a senior Defense official familiar with the warnings.
On Jan. 29, the White House announced a 12-member task force of officials from multiple agencies "to work to prevent the spread of the new coronavirus." Trump was briefed in the White House Situation Room.
Privately, some advisors were warning about massive disruptions if the virus caused a pandemic. Peter Navarro, Trump's director of trade and manufacturing policy, suggested stopping travel from China in a memo written the same day the task force was announced. The memo, first reported by the New York Times, warned of potentially devastating effects on the economy if no containment measures were taken.
But Navarro, a longtime China hawk known around the West Wing as having a combustible temper, was largely dismissed after he erupted at Azar during a staff meeting, leading the health secretary to demand that Mulvaney keep him off the task force, according to one of the senior administration officials.
The conflicts inside the White House along with the impeachment trial underway in the Senate kept the health threat barely on Trump's radar.
"You have Trump as the lone-wolf operator," said Anthony Scaramucci, who served briefly as Trump's director of communications and has recently been critical of the president. "What happens is everybody gets immobilized. They don't know what their marching orders are … so that's caused them to be very slow-footed in the midst of this crisis."
Others in the administration took their cue from Trump.
The same day as the Situation Room briefing, Commerce Secretary Wilbur Ross observed that the alarming rise in cases in China could "accelerate the return of jobs to North America."
White House counselor Kellyanne Conway told reporters the next day that Trump and his senior aides were continuing "to monitor the situation." Standing next to her, Brett Giroir, assistant secretary for health, said that the outbreak was "under control" and that "all the resources were in place."
As head of the task force, Azar tried to carve out a major role overseeing the federal response without sounding public alarms that were sure to upset the president, according to another administration official, who spoke on the condition of anonymity.
On Jan. 31, Azar declared a public health emergency and announced the U.S. was temporarily prohibiting foreign nationals who had traveled in China within the previous 14 days from entering the country. Americans returning from China were allowed back after being screened at select ports of entry and for 14 days afterward to monitor any possible symptoms.
It was Trump who had made the decision to impose the travel restrictions, Azar told reporters, following the "uniform recommendation of the career public health officials here at HHS."
But Azar would run into resistance from some White House aides later as he sought more federal funding to respond to the virus. During one tense meeting, a White House budget official accused him of trying to go around the president to get the money from Congress, according to a former government official.
For much of the next month, Trump and other senior White House officials played down the risk to Americans, even as evidence mounted that the virus was deadly and highly communicable.
Disaster predicted
Public health and disaster experts had warned for years about the possible devastation that a pandemic could wreak.
Internal government studies conducted months earlier had shown that a fast-spreading flu virus from China would quickly overwhelm the nation's health system unless preparations were taken beforehand.
A 2019 exercise overseen by the Department of Health and Human Services, dubbed Crimson Contagion, concluded that a massive, deadly epidemic would result in confusion and limited coordination among federal agencies and state governments as school closures and other social distancing measures were put into place. Hospitals would struggle with shortages of medications, personal protective equipment, ventilators and other supplies, according to a draft report on the results, disclosed by the New York Times.
At the White House, the Council of Economic Advisors warned in September that the economic damage of a fast-spreading virus could reach $3.79 trillion and kill 500,000 Americans. And a 2017 study by the Defense Department on the possibility of a pandemic predicted a shortage of medical masks, gloves, ventilators and hospital beds.
The federal government had an array of options to prevent the predictions from becoming a reality, experts said, including invoking the Defense Production Act to require private companies to address shortages of medical masks, ventilators and other equipment; mobilizing the military to construct field hospitals and organize testing centers around the country; and dispatching Navy hospital ships to New York and Los Angeles sooner.
But there was little urgency to the government response.
"It was one failure after another, piling up on each other," said Dr. Ashish Jha, faculty director of the Harvard Global Health Institute. "When that happens, it usually means it wasn't a priority. It was a lack of leadership."
In early February, the WHO warned that the coronavirus was spreading rapidly in China and assumed in its response plan that human-to-human transmission was widespread. Chinese authorities had quarantined entire cities. Limited testing in other countries was complicating the effort to detect the virus.
The international organization urged countries to scale up "preparedness and response operations, including strengthening readiness to rapidly identify, diagnose and treat cases."
These are some of the unusual new scenes across the Southland during the coronavirus outbreak.
Taiwan, South Korea and Singapore rolled out COVID-19 tests fairly quickly, giving health officials a head start on tracing the spread of the virus and imposing a degree of containment measures that the United States did not take until weeks later, said Dr. C. Jason Wang, director of Stanford University's Center for Policy, Outcomes and Prevention.
Not everything went smoothly. Singapore is now fighting an outbreak among a large population of migrant workers the government mostly overlooked in its initial efforts against the virus.
But as of late Saturday, the total number of deaths reported in Singapore was just 11, and only half a dozen had been tallied in Taiwan. There were 234 reported fatalities in South Korea — a tiny fraction of the per capita deaths in the United States.
"South Korea did massive testing and containment," Wang said.
He said Taiwan also deployed its military to manufacture medical masks, upping production from 2 million to 10 million a day within three weeks.
"We could have done that — absolutely," said Nick Vyas, executive director of USC's Center for Global Supply Chain Management. "Masks would have been very easy to replicate and inventory."
In the U.S., Trump mentioned the virus during a Feb. 10 campaign rally in New Hampshire, telling the crowd that "by April, you know, in theory, when it gets a little warmer, it miraculously goes away."
It is now clear that the virus was spreading rapidly in the U.S., but tracing its path proved impossible because the CDC had fumbled its initial attempt to create a reliable test.
The agency shunned a proven German test that had been adopted by the WHO, and it relied on an existing network of public health labs, a model better suited for smaller, less deadly outbreaks.
It distributed kits to more than 100 public health labs run by states and counties, sending each facility enough testing supplies to sample 300 to 400 patients, far fewer than would eventually be needed.
The agency's early effort was on a small scale because there was little initial recognition that the virus could be transmitted easily between humans, said an agency official who discussed the CDC response.
When state labs began to run sample tests using the CDC kits, a flaw quickly became apparent: Running ordinary water through the test produced false positives.
Paul Fulton, a CDC spokesman, said the agency was still studying the flawed test but said a new version is now "accurate and reliable." He noted that the CDC's role was "to equip state public health labs, which is only one part of total testing that needs to be conducted."
The Food and Drug Administration was responsible for approving tests by private labs for commercial use by hospitals and clinics — a step that took the agency until March 16.
Difficulties in responding to a health crisis are hardly unusual, noted Dr. Richard Besser, who served as acting director of the CDC in 2009 during the outbreak of the H1N1 swine flu. The agency has long prided itself on its independence and sometimes made mistakes as it rushed to respond in a crisis.
"I was never involved in a public health response where everything rolled out perfectly," said Besser, who now heads the Robert Wood Johnson Foundation.
But the missteps in responding to the current outbreak were slow to be corrected — in part because of the agency's isolation under Trump, Besser added. During past outbreaks, the CDC played a prominent role in public briefings, helping increase accountability within the agency and push its scientists to make any needed changes quickly.
"It was the ability to be transparent and share what we were learning that allowed us to maintain trust in the public and make adjustments," Besser explained.
At a news briefing Feb. 25, Dr. Nancy Messonnier, director of the CDC's National Center for Immunization and Respiratory Diseases, said she was frustrated with the flaws in the tests and raised the possibility of significant social disruption, including closing schools, canceling mass gatherings and delaying elective surgeries.
Her comments were a sharp contrast to the message delivered that same day by Trump, who was 10 time zones away in New Delhi for a state visit.
"We think we're in very good shape in the United States," Trump told reporters, referring briefly to the virus. "And we think it's going to remain that way."
On the 18-hour flight home, the president grew upset about the plunging stock market and grim picture painted in news reports he watched aboard Air Force One. Instead of sleeping, he called Azar from the plane and complained that Messonnier's comments were worrying the markets.
Upon landing, Trump convened the task force in the Oval Office ahead of a news briefing. When the president stepped to the lectern, he announced that Vice President Mike Pence would be taking over the task force. The aides who'd been in the room with him moments earlier had gotten no warning. Nor had Azar, who heard along with everybody else the news that he'd been replaced.
The decision, according to two administration officials familiar with the president's thinking, reflected Trump's fixation on the virus' economic effects and his desire to prevent public health officials from asserting too much control over the response.
The number of U.S. cases was "going very substantially down, not up," Trump said at a news conference. There would be only five infected Americans shortly, he predicted.
Azar openly contradicted him: "We can expect to see more cases in the United States," he said.
Pence's staff immediately ordered that all public statements about the virus go through his office, according to one of the officials.
On Feb. 27, as reported infections spread through Europe, Trump told reporters his administration had "done an incredible job."
"One day — it's like a miracle — it will disappear," he said. "It could get worse before it gets better. It could maybe go away. We'll see what happens. Nobody really knows."
The next day, a WHO report warned the virus was highly contagious and urged countries with infections to immediately "activate the highest level of national Response Management protocols."
On Feb. 29, the CDC announced that a man in his 50s had died of COVID-19 near Seattle, marking the first publicly reported fatality in the U.S.
But as the coronavirus outbreak spread in March, Trump failed to mount an organized government response to address medical supply shortages hobbling hospitals, clinics and doctors' offices nationwide.
Instead, he turned to his daughter Ivanka Trump; her husband, Jared Kushner; and Navarro, a former economics professor from Southern California, none of whom have expertise in logistics or procurement.
Kushner set himself up in an office at the Department of Health and Human Services at the foot of Capitol Hill, much to the chagrin of some in the health agency. The Kushner team began calling chief executives of major corporations, lobbying them to scrounge up supplies outside the normal procurement channels set up by the government, one private sector official said.
Matthew Beckmann, a UC Irvine political science professor who focuses on the presidency, said Trump's response to the pandemic reflected not so much his ideology as his overall lack of interest in the nitty-gritty work of running the government and his reliance on a small number of inexperienced people close to him.
"The way he runs things is more like a family restaurant," Beckmann said.
Off the California coast, the cruise ship Grand Princess had circled for days as thousands of worried passengers and crew members potentially exposed to the coronavirus waited for federal and state officials to decide where and when they would dock.
Trump said he wasn't in favor of bringing the passengers ashore for testing that would cause the official tally of infected Americans to surge.
"I like the numbers being where they are. I don't need to have the numbers double because of one ship," Trump told reporters during a visit March 6 to the CDC in Atlanta.
The passengers were unloaded in Oakland anyway and sent to hospitals or placed in quarantine.
The worsening outlook — and the slow pace of testing — increased pressure on Trump to announce far-reaching additional measures.
"The bottom line: It is going to get worse," Dr. Anthony Fauci, who leads the National Institute of Allergy and Infectious Diseases, testified at a House committee hearing March 11, the same day the WHO labeled the virus a pandemic and the continuing losses in the stock market officially ended the longest bull market in U.S. history.
Hours later, in a rare prime-time address from the Oval Office, Trump said he was extending the travel restrictions to Europe, barring entry to foreign nationals who had been in parts of the continent within the previous 14 days. It was a measure some advisors had been urging him to take for weeks, a White House official said.
He urged that "older Americans should avoid nonessential travel" and said people in general should "stay home," even as he continued to minimize the potential severity of the disease.
Wall Street futures dropped sharply after the speech, which came within minutes of the actor Tom Hanks announcing he had the disease and the National Basketball Assn. suspending its entire schedule.
One former White House official said the speech prompted an intervention from some of the Wall Street executives whom Trump most trusts: "Your press conferences and your Oval Office speech where you're making light is not helping you," the former official said, paraphrasing the message. "The markets know math and this is not a math thing. This is a science thing."
The takeaway was clear: The usual playbook would not work with a pandemic.
"He can't yell from the podium, 'fake science,'" the former official said. "You've got to adjust and calibrate this."
The speech marked the first sign that Trump intended to take over the White House messaging on the pandemic. But his continued downplaying of the coronavirus threat so alarmed Fauci and Dr. Deborah Birx, the State Department's top global health expert, that they decided they needed to shock him into taking action, according to a former health official close to Birx.
They showed him the findings of an alarming study by Imperial College London, an institution noted for its research into global health, that found an unchecked epidemic could infect 8 in 10 people and cause as many as 2.2 million U.S. deaths.
The day after their briefing, Trump declared a national emergency, freeing more than $40 billion in federal assistance for states.
Within days, the Pentagon, the Federal Emergency Management Agency and other agencies moved off the sidelines. State and local officials began shutting down schools and enforcing restrictions on contacts.
The virus was still spreading, and many weeks of upheaval, medical emergencies and human tragedy were to come. Over that time, Trump has vacillated on how long the nation's social distancing rules should remain and who is to blame for the rising death toll.
But he has consistently maintained that his administration's response was flawless, a "10 out of 10," he told reporters at one news conference. Problems such as the slow rate of testing were not his fault.
"I don't take responsibility at all," he said.
Times staff writers Noah Bierman, Noam N. Levey and Tracy Wilkinson contributed to this report.
Must-read stories from the L.A. Times
Get the day's top news with our Today's Headlines newsletter, sent every weekday morning.
You may occasionally receive promotional content from the Los Angeles Times.