Essential Arts: A 'spellbinding' Renaissance masterpiece lands in L.A.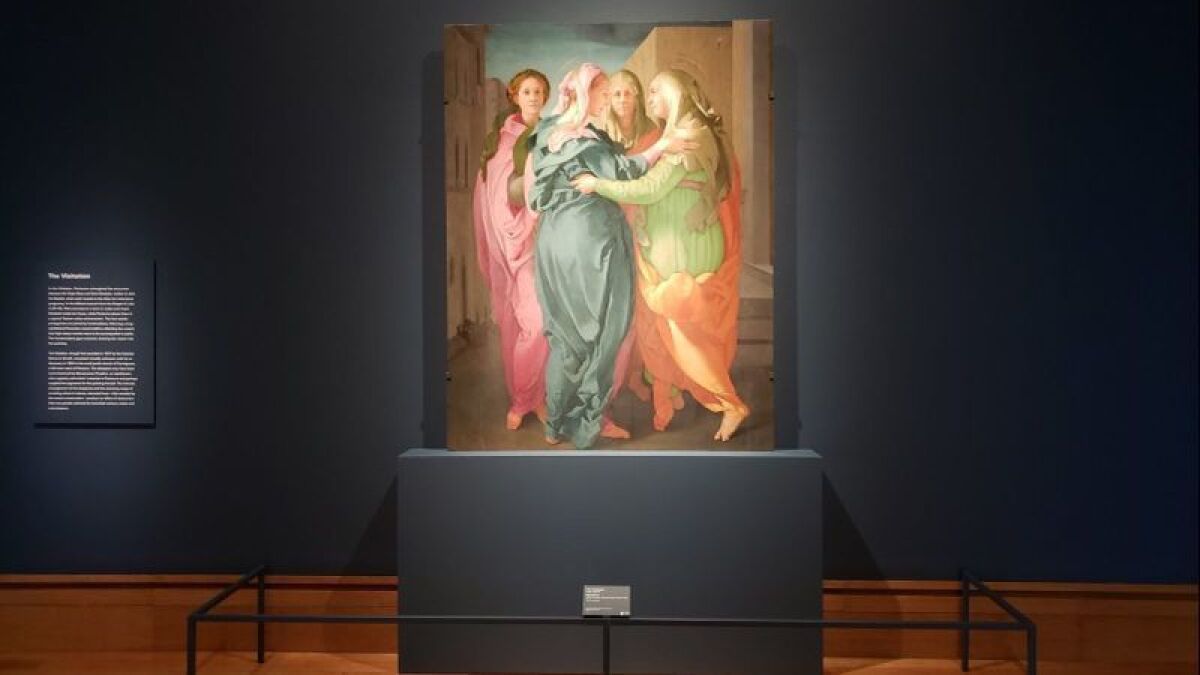 Take a painting by Pontormo. Add a little bit of Richard Strauss. Spice with "Cinderella" set in World War II. What do you get? L.A. culture this weekend. I'm Carolina A. Miranda, staff writer with the Los Angeles Times, with your week's essential arts:
MIRACULOUS ENCOUNTER
For centuries, the curious altar painting titled "The Visitation," c. 1528-29, by Jacopo Pontormo, has hung in a small town church in Italy. It has now left the country for the very first time, landing at the Getty Museum, which has put it on display with other Pontormo portraits and drawings. Times art critic Christopher Knight describes "The Visitation," which shows the Virgin Mary greeting St. Elizabeth in sisterly embrace, as "spellbinding" — "an extravagant herald of Christ's coming." Los Angeles Times
BUZZING THE BUZZSAW
Art Twitter was all up in Netflix's grill on Friday when the streaming service released the art world horror flick "Velvet Buzzsaw," which stars Jake Gyllenhaal, as art critic Morf Vandewalt. Christopher Knight teases out the homages — Otto Preminger's "Laura" comes to mind — and notes that the "movie is less sharp satire" than "a veiled lament fixated on art and commerce." Though that art and commerce may have less to do with visual art and more to do with Hollywood. Los Angeles Times
My two cents: Knight notes that the movie is set in a corner of a "nearly unrecognizable Los Angeles art world." Certainly, the film made no use of the city's most terrifying cultural experiences. There was no seven-hour studio critique at CalArts, no visual references to Larry Gagosian ascending to the balcony in his Beverly Hills gallery to peer down on the socialites, and nary an allusion to the press van tooling around Desert X like a nerdy family vacation with artspeak and German eyewear. These settings are ripe for cinematic gore. What we got instead was a wan "Final Destination" with monkey paintings.
SPAKING ABOUT ZARATHUSTRA
Times classical music critic Mark Swed has been listening to a whole lot of Richard Strauss' "Thus Spake Zarathustra," conducted by both men and women — including recent performances led by Simone Young at Disney Hall and Esa-Pekka Salonen at the Soraya. The repeat listens were an opportunity to dissect how gender might affect the presentation of a work composed by one misogynist (Strauss) inspired by the work of another (Friedrich Nietzche). "The great value of these two performances was, in the end, revealing just how complex an issue gender is," he writes, "neither black and white, nor, for that matter, male or female." Los Angeles Times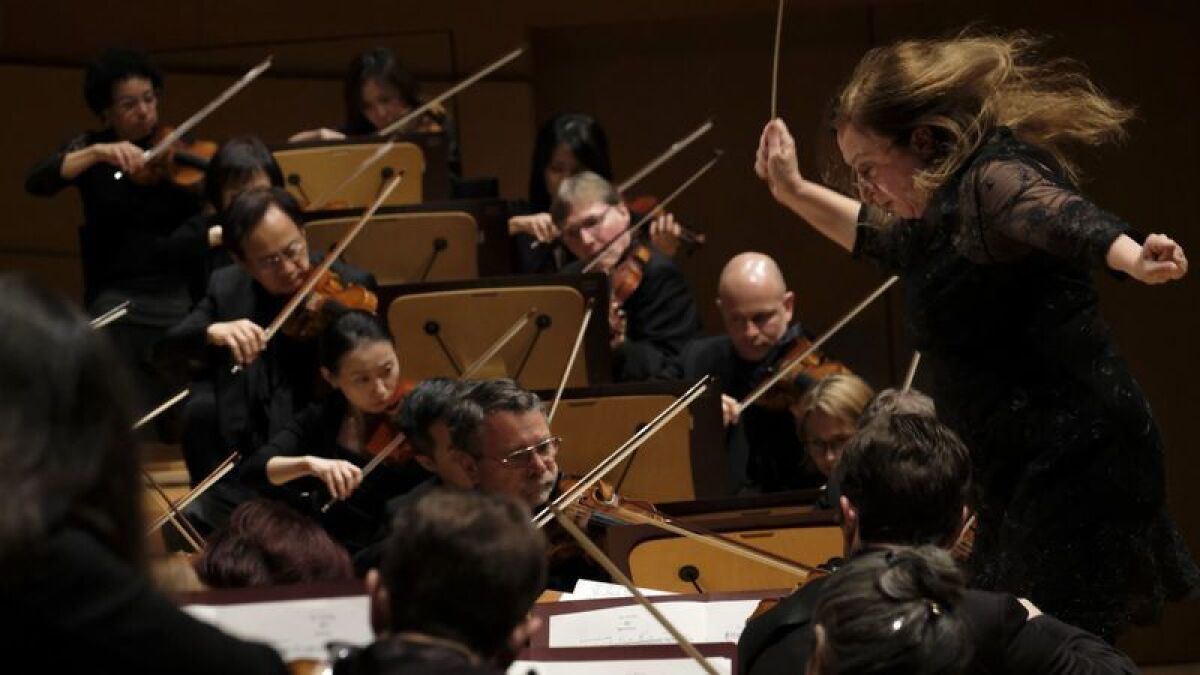 Plus, Swed checked in with Jacaranda, the new music series in Santa Monica, which recently featured an evening of music that channeled existential dread: quartets by Pavel Haas, George Friedrich Haas (no relation) and Gustav Mahler's "alarming" Sixth Symphony, which features an "onrush of alarm" balanced by "wondrous evocations of bucolic landscape." Los Angeles Times
AFTER MIDNIGHT
British director and choreographer Matthew Bourne's adaptation of "Cinderella" has landed at the Dorothy Chandler Pavilion. The score is still by Sergei Prokofiev, but the action has been re-situated to World War II. Times contributor Lewis Segal says this gives the ballet a brooding feel. "Using documentary films of the Blitz and unsparing depictions of the carnage and brutality it caused," he writes, "Bourne not only created a 'Cinderella' for adults but a superb display of hallucinatory stagecraft." Los Angeles Times
Liam Mower, the dancer who originated the title role in "Billy Elliot: The Musical," is back as Count Lilac in "Cinderella." Times contributor Christina Campodonico catches up with the performer. Los Angeles Times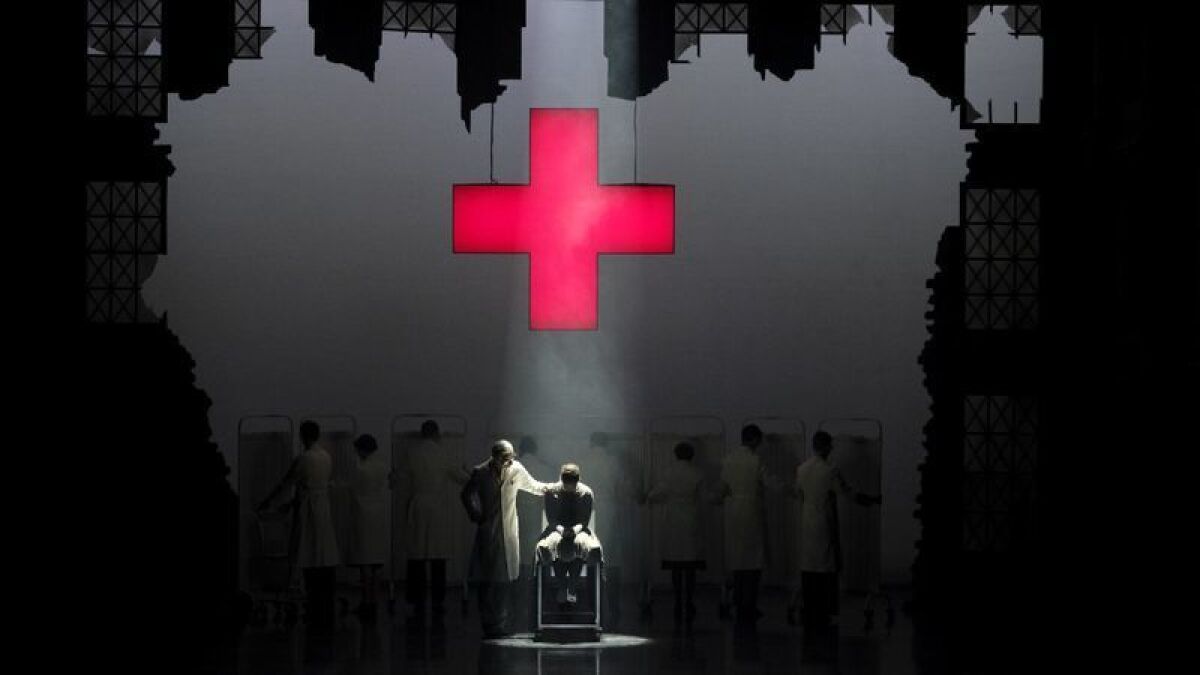 BEYOND THE FAIRY TALE
When the Academy Award nominations were announced on Jan. 22, "Roma's" Yalitza Aparicio made history by becoming the first indigenous woman to be nominated in the leading actress caregory. The role has catapulted the Mexican preschool teacher onto the international stage. I profile the actress about her work, her favorite books and indigenous representation. "I could stay in this jar where they say I belong, where they tell me, 'You can only be a servant,' that you can't aspire to more," she says. "And sorry to use the word 'servant,' but that is how they say it to you." Los Angeles Times
POLITICAL MADNESS, ITALIAN STYLE
There aren't many opportunities to check out the work of late Nobel Laureate Dario Fo, notes Times theater critic Charles McNulty, which makes the staging of "Accidental Death of an Anarchist" by the Actors' Gang a rare opportunity to see a play by the Italian political radical. The play, notes McNulty, "takes too much time to get into top gear, but when it explodes into full-blown madness (complete with blaring music) it's a raucous delight." Los Angeles Times
SONGS OF LOVE AND GRACE
Dulé Hill sat down with Times contributor Susan King to discuss his portrayal of Nat King Cole in the stage musical "Lights Out: Nat 'King' Cole" at the Geffen Playhouse. "They were offered money to move out of the neighborhood," Hill says of the racism Cole endured. But "his songs were still about love, and he brought joy to any ear that heard his voice." Los Angeles Times
PASSAGES
Ed Fuentes, an energetic artist and art writer known for chronicling the downtown L.A. arts scene — The Times once described him as "the human cyclone" in a profile — died this week after a heart attack. The Riverside native was always full of encouragement to arts writers like myself, sending warm missives when he enjoyed a story. Ed, you will be sorely missed. KCET Departures
READY FOR THE WEEKEND
Matt Cooper has the week ahead in museums, theater, dance and classical music, as well as weekend picks, including the Pacific Symphony's musical celebration of Lunar Year.
Margaret Gray brings it with the 99-Seat Beat, which includes a musical inspired by Lizzie Borden. Just what I'd been axing for. Los Angeles Times
Plus, my Datebook has all the art openings, including a survey of Allen Ruppersberg's pop culture-infused conceptualism. Los Angeles Times
IN OTHER NEWS …
— The world's largest Native American art forgery ring was responsible for $12 million worth of fakes. Hyperallergic
— The last days of West Hollywood's Circus of Books. Must read. Los Angeles Times
— Mark Murphy, known for his boundary-breaking work as executive director of REDCAT, is stepping down. Los Angeles Times
— The Hollywood Bowl has announced its 2019 lineup, which will include John Legend and Hugh Jackman. Los Angeles Times
— How land trusts could help serve as sites for affordable housing. NPR
— Crossing the street at midblock is an idea that cities need to accept. (Ahem, L.A.) Philadelphia Inquirer
— Finally. James Turrell's Roden Crater is set to open after 45 years. ArchDaily
— Thieves stole historical objects connected with Frank Lloyd Wright's Freeman House. USC, which owned the works, took more than six years to report the theft to police. Los Angeles Times
— In Washington, D.C., a work of performance art features an Ivanka Trump lookalike vacuuming. City Paper
— Photographer Annie Leibovitz's early work is the subject of an upcoming exhibition at Hauser & Wirth in Los Angeles. Los Angeles Times
— Hammer Museum assistant curator Erin Christovale was named one of 12 champions of culture in a special edition of Time magazine guest-edited by Ava DuVernay. Time
— After 200 years, John Ruskin makes a comeback. New York Times
— Sweater Instagram, it's totally a thing. New Yorker
LAST BUT NOT LEAST …
Yo-Yo Ma picks apart Bach's Cello Suite No. 1 in G Major. Song Exploder
Sign up for our weekly Essential Arts & Culture newsletter »
carolina.miranda@latimes.com | Twitter: @cmonstah
Get our L.A. Goes Out newsletter, with the week's best events, to help you explore and experience our city.
You may occasionally receive promotional content from the Los Angeles Times.