Newsletter: Essential California: Another layer of tragedy to Thousand Oaks shooting
Good morning, and welcome to the Essential California newsletter. It is Saturday, Dec. 8. Here's what you don't want to miss this weekend:
TOP STORIES
The fatal bullet that struck Ventura County Sheriff's Sgt. Ron Helus during a chaotic scene inside the Borderline Bar and Grill in November was fired from a California Highway Patrol officer's rifle, authorities said Friday. Helus was hit five times by gunfire from the assailant Ian David Long, 28, who was armed with a knife and a .45-caliber Glock handgun with a laser sight attached as he stormed into the Thousand Oaks business. A coroner's official said Helus might have been able to survive those injuries. The sixth and fatal round, which struck Helus in the heart, was fired from a fellow officer's gun. Los Angeles Times
Controversy at the Oscars
Hollywood's reaction to Kevin Hart's old homophobic tweets and his subsequent decision to bail on hosting the Oscars ran the full spectrum of emotions since the news broke late Thursday night. Some deemed his behavior unacceptable, while others called for his ouster, and some expressed concern that all they had wanted was an apology, not for him to quit. Los Angeles Times
Plus: Why Kevin Hart had to go as Oscars host. The New Yorker
Impact!
The Los Angeles County Sheriff's Department has suspended a team that stopped thousands of innocent Latino motorists on the 5 Freeway in search of drugs, an agency spokeswoman said. The move comes amid accusations of racial profiling by the team after a Times investigation found that 69% of drivers stopped by the unit's deputies were Latino and that two-thirds of them had their vehicles searched — a rate far higher than motorists of other racial and ethnic groups. Los Angeles Times
Plus: Alex Villanueva began his term as Los Angeles County sheriff by immediately removing 18 top executives. Now he has told nearly 500 other supervisors on his staff that their jobs are being reevaluated too. Los Angeles Times
AROUND CALIFORNIA
Grammy noms: Recording Academy voters were most impressed this year with the sound of Wakanda, the fictional African country from the film "Black Panther." The music that Compton rapper Kendrick Lamar assembled to accompany the Marvel Studios blockbuster received a field-leading eight nominations for its album and singles, including the hat trick of recognition in the top three categories of record, album and song of the year. Los Angeles Times
-- The full list of nominees. Los Angeles Times
-- Still a man's, man's, man's, man's world in the Grammy nominations? Los Angeles Times
-- With "Black Panther" and "A Star Is Born," this might be the best Grammys ever for movie-related music. Los Angeles Times
-- Grammy snubs: Taylor Swift, Sam Smith, the Carters and Kamasi Washington. Los Angeles Times
Changing ways: Los Angeles County has agreed to new jail-release planning policies designed to interrupt the incarceration-to-skid row pipeline for inmates with mental illness and dementia. Los Angeles Times
Washed out: Rain and floodwaters Thursday night prompted the evacuation of more than 300 homeless people from a tented shelter in the Barrio Logan area of San Diego near Petco Park, a shelter official said. Los Angeles Times
Plus: Residents fear losing Capistrano Beach as storms chip away at their "piece of paradise." Los Angeles Times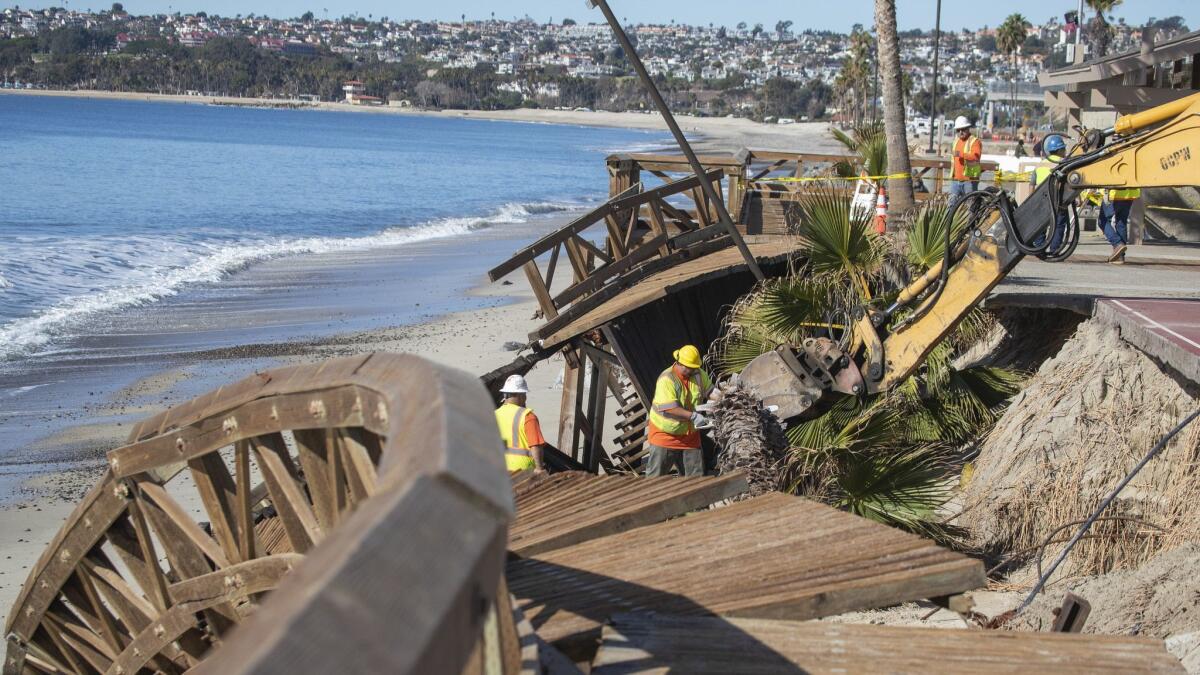 First person: "The Camp fire took my home. Now I understand that no one ends up sleeping under an overpass by choice." Los Angeles Times
After the flames: East Valley Church in Chico became their second home. Now Camp fire victims have to leave. Los Angeles Times
Scandal after scandal: Wells Fargo says it's cleaning up. Regulators demand more. Bloomberg
SantaCon in San Francisco: "A warning to all Santas. Don't get plastered." Ready or not, those ho-ho-hos are coming. San Francisco Chronicle
The blue wave: In newly blue Orange County, an elementary school librarian thanks President Trump. Los Angeles Times
RIP: P-64, the mountain lion known for his successful freeway crossings, has been found dead after surviving the Woolsey fire. Los Angeles Times
Lost and found: A decades-old wallet in an abandoned storage locker appears to have belonged to none other than Diane Keaton. New York Daily News
Baby Jane Doe: Fighting to make sure a baby found in a cardboard box by the side of the freeway gets a proper burial. Orange County Register
At the border: More signs that the caravan in Tijuana is breaking up. San Diego Union-Tribune
Get the Essential California newsletter »
THIS WEEK'S MOST POPULAR STORIES IN ESSENTIAL CALIFORNIA
1.They thought they'd die trapped in a parking lot. How 150 survivors of California's deadliest fire made it out alive. Los Angeles Times
2. An animated map of every Los Angeles commute. Curbed LA
3. A Giants owner backs a Mississippi Republican. To some San Francisco fans, that's more than an error. Los Angeles Times
4. Street artist Ron English vowed to whitewash a $730,000 Banksy mural. Then things got even weirder. Los Angeles Times
5. The 101 Restaurants We Love. Los Angeles Times
ICYMI, HERE ARE THIS WEEK'S GREAT READS
A historic first: Once an Olympic hopeful to represent the U.S. women's boxing team, Pat Manuel will become the first transgender man to fight professionally in the United States. It's been an amazing journey. Los Angeles Times
Fatal attraction: Why are Californians so drawn to areas that can so easily burn? This is a complex question, but this excellent essay really gets to the heart of it. We make it easy for people to flee cities for the hills. Maybe too easy? Wall Street Journal
Home at last: Seventy-seven years later, a Marine who died at Pearl Harbor is laid to rest in California. Fresno Bee
Living history: Photographer Bruce Talamon captured black joy in the glory years of soul and funk. Now he's getting his due. Los Angeles Times
Worthy tribute: The enormous life of Anthony Bourdain, according to those who knew him best. GQ
Please let us know what we can do to make this newsletter more useful to you. Send comments, complaints and ideas to Benjamin Oreskes and Shelby Grad. Also follow them on Twitter @boreskes and @shelbygrad.
Sign up for Essential California for news, features and recommendations from the L.A. Times and beyond in your inbox six days a week.
You may occasionally receive promotional content from the Los Angeles Times.