Newsletter: Today: Don't Lock Him Up?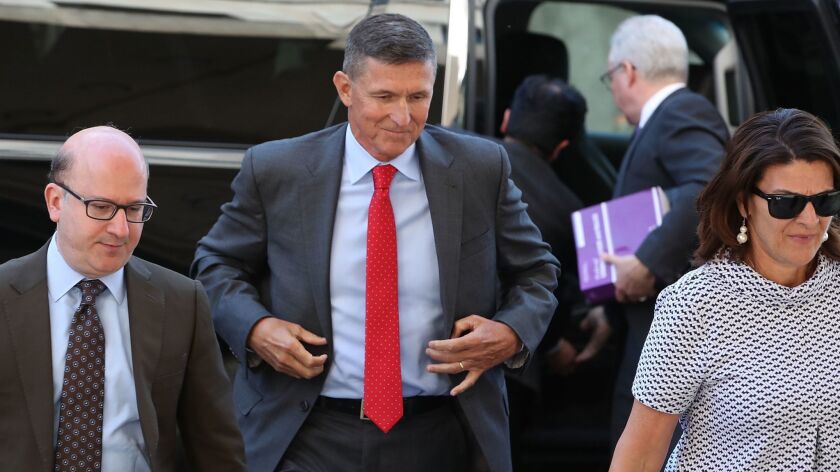 Prosecutors for the special counsel's office have laid out their case for why former Trump national security advisor Michael Flynn shouldn't get prison time.
TOP STORIES
Don't Lock Him Up?
In a court filing, prosecutors have recommended that Michael Flynn, President Trump's former national security advisor, should not have to serve time in prison for lying to FBI agents. The reason: Flynn has provided "substantial" assistance, including participating in 19 interviews with special counsel Robert S. Mueller III's office and other areas of the Justice Department while assisting in multiple ongoing investigations, including into whether there was any coordination between Trump's 2016 campaign and the Russian government. Perhaps the biggest news in the filing (read it here) lies in the substantial redacted sections, a sign the public has seen just a slice of what investigators are exploring. Flynn, who famously led chants of "lock her up" at the GOP convention, is the only member of Trump's White House team charged in the special counsel investigation.
'He Would Be Convicted in 30 Minutes'
Did Saudi Arabia's Crown Prince Mohammed bin Salman orchestrate the killing of U.S. resident and journalist Jamal Khashoggi? After receiving a closed-door briefing from CIA Director Gina Haspel, a group of senators is saying there's no doubt. Even key Republicans are now contradicting Trump's assertion that MBS' complicity is unclear. "If [the crown prince] went in front of a jury, he would be convicted in 30 minutes," said GOP Sen. Bob Corker. The angry reaction could give a boost to congressional efforts to punish Saudi Arabia for the killing. Meanwhile, the crown prince has begun a rehabilitation tour.
More Politics
-- The attorneys general of Maryland and the District of Columbia are issuing subpoenas for financial records and other documents from more than a dozen of Trump's private entities as part of an ongoing emoluments lawsuit.
-- The Pentagon has approved keeping several thousand active-duty troops along the southwest border at least through January.
-- Dignitaries and elected leaders who helped guide world affairs for the last half-century will gather today to celebrate the life and legacy of George H.W. Bush, the last president from the so-called Greatest Generation.
The Fighting's On at USC
USC vowed to improve accountability and transparency after a scandal earlier this year in which the longtime campus gynecologist was accused of sexual misconduct against hundreds of students. A dispute in USC's Marshall School of Business is shaping up to be a key test of this new approach, and it's pitting top administrators against some of the university's major donors. At issue: the removal of Dean James Ellis, who has led the school since 2007, over his response to sexual harassment and discrimination claims against faculty and staff.
A Sheriff With the Tenacity of Freddy Krueger
Alex Villanueva has long known the feeling of not fitting in — as a member of the Los Angeles County Sheriff's Department, where he says he faced retaliation for bucking the status quo and racial discrimination, and as a candidate making unsuccessful bids for public office. Now, after a historic election victory, he's the new sheriff in town, with a daunting set of issues in front of him. "My career has been killed so many times over I've been like Freddy Krueger," he said. "I keep rising from the dead."
A Question of Conscience or Disrespect?
For many Jewish Americans, the question is not whether they will travel to Israel, but when. Oftentimes, their expenses are paid by Taglit-Birthright Israel, a nonprofit that aims to foster their Jewish identity and a connection to Israel with tours. This year, about a dozen abandoned their excursions over what they consider to be Birthright's failure to adequately address the Israeli-Palestinian conflict. The protest has led to sharply divided reaction in L.A.'s Jewish community.
Sign up to get Today's Headlines delivered to your inbox. »
MUST-WATCH VIDEO
The Actors Roundtable: Viggo Mortensen, Michael B. Jordan, John C. Reilly, Ethan Hawke, Willem Dafoe and Steven Yeun discuss their film roles.
CALIFORNIA
-- Northern California's destructive wildfires could exacerbate the state's housing crisis.
-- The city and county of Los Angeles took steps to limit the availability of single-use plastic straws in restaurants, joining the state and a slew of smaller cities that have approved similar restrictions.
-- An Orange County health official testified that a cooling tower at Disneyland was the likely source for all 22 cases in a Legionnaires' disease outbreak last year near the theme park. Disneyland has denied it was the source.
-- Columnist Steve Lopez checks in with Jerry Valencia, a 63-year-old Cal State L.A. junior with as much energy and curiosity as any of the youngsters in class.
HOLLYWOOD AND THE ARTS
-- Julia Roberts knows what she wants, and being a "movie star" isn't high on the list.
-- Kevin Hart will host the 91st Oscars. He's stepping into what is often considered one of the most difficult and thankless gigs in Hollywood.
-- Meanwhile, officials gave a preview of the Academy Museum of Motion Pictures, whose opening has been pushed back to "late 2019."
NATION-WORLD
-- Secretary of State Michael R. Pompeo said the United States will begin withdrawing from a landmark arms control treaty in 60 days unless Russia stops cheating.
-- Congress has tried more than 200 times to pass an anti-lynching law. This year, it could fail again.
-- A witness more brutal than "El Chapo" — one who underwent multiple face surgeries to disguise his identity — has testified in the drug lord's trial.
-- In humble Tecate, Mexico, Central American migrants are finding a break from the caravan drama.
-- It used to be illegal to throw snowballs in the Colorado town of Severance. Not anymore.
BUSINESS
-- One day the Dow Jones industrial average drops 500 points, then it shoots up 600 points and a few days later it plummets 800 points — 799, to be exact, on Tuesday. What in the name of Warren Buffett is going on?
-- CBS Corp.'s board hired two high-powered law firms with sterling credentials to investigate allegations of sexual misconduct by former Chief Executive Leslie Moonves, but a series of leaks is undermining the probe.
-- Fishermen are waiting for permission to catch Dungeness crab off California's northernmost coast and suing oil companies over the delay.
SPORTS
-- Former Texas Tech head football coach Kliff Kingsbury is heading to USC as offensive coordinator, even if the official announcement's been a bit slow in coming.
-- Did Urban Meyer do things the "right way" as a college football coach at Ohio State? The debate continues.
OPINION
-- A tax on gun sales in California is worth considering.
-- Today is L.A. County's crucial annual memorial for the county's indigent unclaimed. It's time to honor the lives and deaths of those who will finally be laid to rest.
WHAT OUR EDITORS ARE READING
-- The Confederacy was built on slavery. How can so many Southern whites still believe otherwise? (Washington Post)
-- John Dingell, who served in Congress longer than anyone else, offers his suggestions for fixing government. Among them: Abolish the Senate. (The Atlantic)
-- Are you ready for these nihilist dad jokes? Oh, what is the point? (McSweeney's)
ONLY IN L.A.
A few days ago, Bronny James had some news for his father, Lakers star LeBron James: He plans to wear No. 23 for the Santa Monica Crossroads middle school basketball team. That, of course, is the same number his father has worn in NBA games for the last decade and a half. Then Bryce, Bronny's little brother, declared that he would be wearing No. 6, the number his dad wears in practices and used to wear for the Miami Heat. "I don't know how long it's going to last," James says. "But it definitely made me feel proud."
If you like this newsletter, please share it with friends. Comments or ideas? Email us at headlines@latimes.com.
---