Newsletter: Today: An Upstream Battle Over Clean Water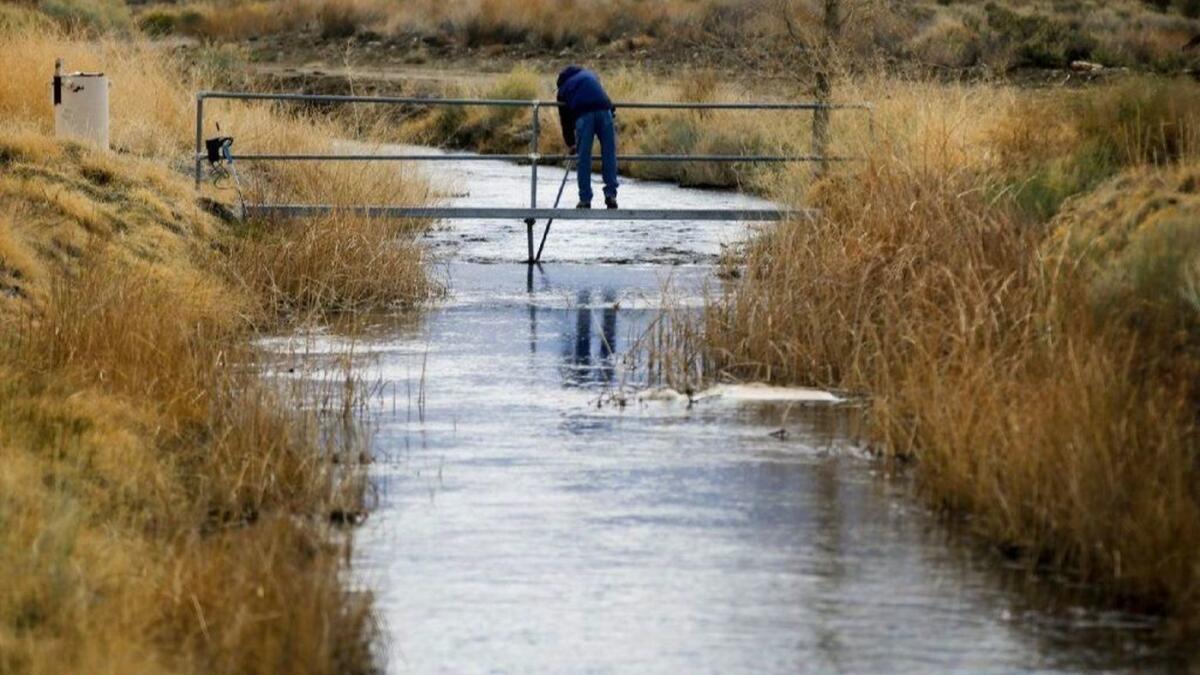 A look inside the Trump administration plan to roll back the Clean Water Act.
TOP STORIES
An Upstream Battle Over Clean Water
President Trump has said he wants to see "crystal clean water" in the United States. As soon as today, his administration is expected to release a plan to roll back Clean Water Act protections on millions of acres of waterways and wetlands that do not flow year-round — the nature of many upstream waters in California and the arid West. The plan targets a rule put in place by President Obama, which Trump administration officials have characterized as a power grab. At stake are billions of dollars in potential development rights, the quality of drinking water for tens of millions of Americans and rules that affect farming in much of the country.
More Politics
-- Sen. Charles E. Schumer and House Minority Leader Nancy Pelosi will meet with Trump at the White House today. Can the president cut a budget deal with "Chuck and Nancy" to fund his border wall?
-- Trump's troubled search for his third chief of staff reflects the sharp decline in power and appeal of a job that long was among the most prestigious.
-- Maria Butina, a Russian gun rights activist, is poised to plead guilty in a case involving accusations that she was working as an agent for the Kremlin in the United States, according to a new court filing.
-- The Trump administration says the number of migrants filing asylum claims at the southern U.S. border has risen sharply this year.
The Supreme Didn't Go There, This Time
When Trump picked Brett M. Kavanaugh to serve on the Supreme Court, some conservatives thought the new justice, when given the chance, would vote in favor of restricting abortion rights. But at his first opportunity, he took a pass. Kavanaugh and Chief Justice John G. Roberts Jr. joined liberal justices in turning down appeals backed by 13 conservative states seeking to take away Medicaid funds from Planned Parenthood. What's behind the surprise? It could be that Roberts and Kavanaugh are wary of taking on the abortion issue too soon after Kavanaugh's bruising confirmation fight.
Leaving Is the Hardest Thing to Do
Today was supposed to be the day Parliament would vote on Prime Minister Theresa May's plan for Britain to exit the European Union. Instead, with defeat a virtual certainty, May put the vote on hold and said she'd go back to European leaders to discuss options. With the clock ticking and chaos growing, the chances of a "hard Brexit" – that is, Britain leaving the EU without a deal in place – are greater. But amid the doom and gloom, the saga has had its weirder moments, such as one lawmaker momentarily running off with Parliament's ceremonial mace — and actor Andy Serkis impersonating May in the style of Gollum from "Lord of the Rings."
What Is Mongols MC Without Its TM?
It's one of the most notorious logos on the road today: the insignia for the Mongols motorcycle club, which has long been targeted by authorities for killings and drug trafficking. The logo is also trademarked. So, if federal prosecutors prevail in a racketeering case against the group's leadership in Orange County, they plan to go after the Mongols MC mark. Some legal experts are, to say the least, skeptical. Says one: "It's a strange tool to use to try to stamp out an organization."
The Politics of War, Memory and Art
To artist Beau Stanton, the rays of sun in his mural of actress Ava Gardner at a public school gym in Koreatown are a design element with ancient roots. To Korean groups, they are a reminder of the imperial Japanese battle flag used during World War II, as offensive to them as a swastika would be to Jewish people. Now, the L.A. Unified School District has agreed to paint over the mural at the Robert F. Kennedy Community Schools complex. But that hasn't ended the debate over art and intention.
Sign up to get Today's Headlines delivered to your inbox. »
CALIFORNIA
-- The Los Angeles County Board of Supervisors is expected to vote today on the Centennial project at Tejon Ranch. It could be the last hurdle for the long-debated, master-planned community.
-- It's safe and emissions free. So why is the state in the doldrums around energy from offshore wind? Engineering challenges, regulatory hurdles and concerns about the turbines' effect on wildlife.
-- L.A. Mayor Eric Garcetti was forced to stop a speech at USC after demonstrators began shouting at him over his approach to the city's homelessness crisis and other issues.
-- A church-to-hotel conversion in Silver Lake is the latest casualty of the Katy Perry convent lawsuit.
HOLLYWOOD AND THE ARTS
-- Olivia de Havilland explains why she won't give up the legal fight over the portrayal of her in last year's FX limited series "Feud: Bette and Joan." Will the Supreme Court hear the 102-year-old actress' case?
-- Natalie Portman, Jude Law and Brady Corbet discuss the complex portrait of modern celebrity in "Vox Lux."
-- How is the awards sausage made? Times critics Justin Chang and Glenn Whipp give an inside look at the Los Angeles Film Critics Assn. vote for the best movies of 2018.
-- British spy novelist John le Carré is showing no signs of slowing down. The author will release his 25th novel next year.
NATION-WORLD
-- Protesters disrupted the Trump administration's only official event at the U.N. climate conference — a panel defending fossil fuels — with laughter and chants of "Keep it in the ground."
-- Under pressure from the Trump administration, Mexico's new government says it will put more than $30 billion into development for southern Mexico, an investment plan meant in part to deter illicit migration from Central America.
-- A Canadian judge has signaled he wasn't satisfied that the bail conditions sought by a jailed Huawei executive would prevent her from fleeing to China.
-- French President Emmanuel Macron has responded to weeks of protests by announcing a wage increase and tax cuts, along with denouncing the violence.
-- NASA's Voyager 2 spacecraft has become the second human-made object to enter interstellar space. The first? Voyager 1.
BUSINESS
-- Twitch, a platform known for broadcasting live gaming, is adding other types of content, including its first scripted show. The push comes as Twitch faces more competition from Google-owned YouTube and Facebook.
-- The price was right: CBS has sold its Television City headquarters and sound stages in L.A. for $750 million to an L.A.-based real estate developer.
SPORTS
-- An independent investigation into the U.S. Olympic Committee's role in the Larry Nassar sexual abuse scandal criticizes the organization for participating in a culture that "facilitated" the crimes.
-- Miami Heat guard Dwyane Wade's last game in L.A. was a nostalgic ode to a stellar career, writes columnist Helene Elliott.
OPINION
-- William Barr's qualifications for attorney general mean nothing if he won't protect special counsel Robert S. Mueller III.
-- Yellowface in "The Nutcracker" isn't a benign ballet tradition. It's racist stereotyping.
WHAT OUR EDITORS ARE READING
-- Forty-four former senators from both parties urge those in the Senate next year to be "steadfast and zealous guardians of our democracy," as "we are entering a dangerous period." (Washington Post)
-- How much of the world is "urban" rather than "rural"? The answer isn't easy. (CityLab)
-- Some artists are quitting Instagram, which has been the place to be if you want to be an artist. (Vulture)
ONLY IN L.A.
Riddle time: If people who live in glass houses shouldn't throw stones, what should people who live in propeller-shaped glass houses not throw? For an asking price of $56 million, a Bel-Air home built by the same architect who restored Hollywood's Pantages Theatre and the Pacific Palisades' Getty Villa will let you find out for yourself. Or you could just click here and make up an answer.
If you like this newsletter, please share it with friends. Comments or ideas? Email us at headlines@latimes.com.
Sign up for Essential California for news, features and recommendations from the L.A. Times and beyond in your inbox six days a week.
You may occasionally receive promotional content from the Los Angeles Times.