Newsletter: Today: Help the Border Patrol — or the Border Crossers?
An up-close look at life in a border town, where we rented a house — and saw a cat-and-mouse game play out.
TOP STORIES
Help the Border Patrol — or the Border Crossers?
We wanted to know what life is like on the U.S.-Mexico border. So we moved in. Times reporter Molly Hennessy-Fiske and photographer Robert Gauthier lived off and on for four months in a house half a block from the Rio Grande in Roma, Texas. They found a community like any other — parents raising kids, tending to aging parents. But Roma is also a busy crossing point for illegal immigration in the U.S., and our journalists found a community gripped by suspicion. Some residents worry that their neighbors are smugglers. Some thought Hennessy-Fiske and Gauthier were narcs — informants working with the Border Patrol —while others thought they were narcos with Mexican drug cartels. Others warmed to them and invited the two into their homes for tacos or enchiladas. Living in Roma also means having to face a legal and ethical question: If a border crosser asks for help, what do you do? Write in here and let us know, as our series unfolds this week.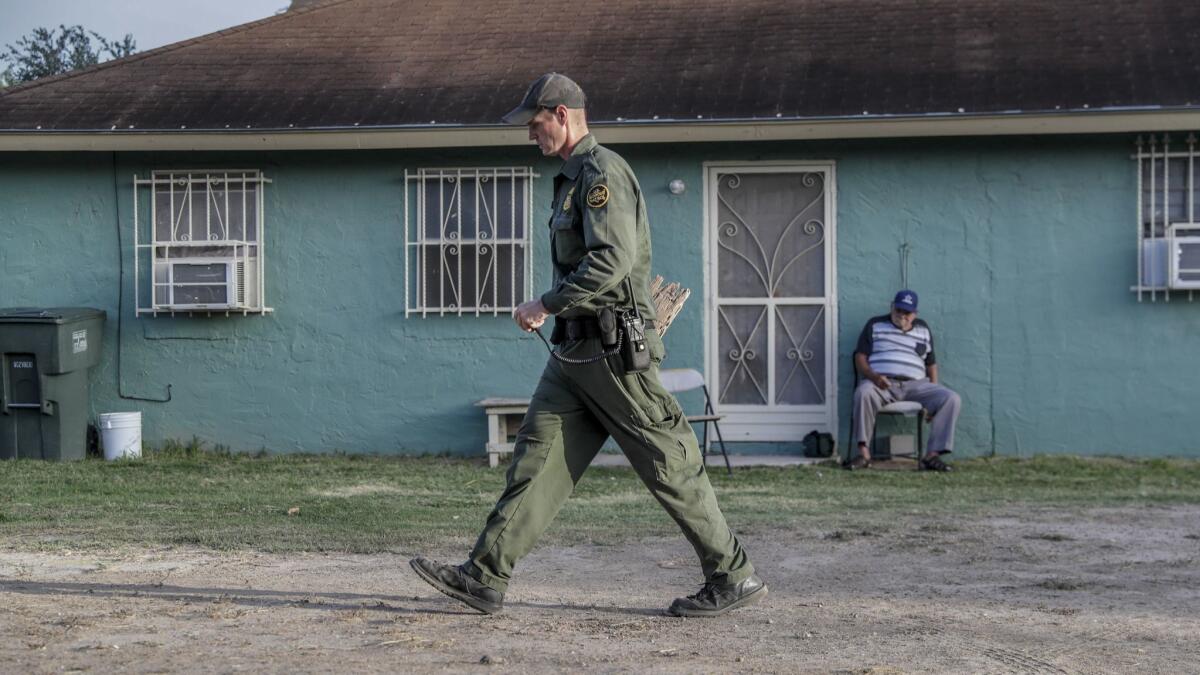 $5 Billion or Bust
Nearly 1,800 miles away from Roma, a different battle over the border is looming: funding for President Trump's much-talked-about wall. Last week, Trump said he'd be "proud" to shut down the government if he doesn't get $5 billion for it, and on Sunday, White House advisor Stephen Miller said that "we're going to do whatever is necessary" to secure the money. If no deal is reached, a partial shutdown of the government would begin Saturday. Given the political climate in Washington, that seems more likely than not at this point.
Truth or Consequences
Donald Trump has long had a loose relationship with the truth, making grandiose, often false statements about the height of his buildings, the size of his wealth and any number of other subjects. But after nearly two years in office, his lies appear to be catching up to him, as investigations look into nearly every organization he's led in the last decade. Federal prosecutors in New York showed last week they have meticulously deconstructed the hush-money scheme that Trump once denied knowledge of. Meanwhile, special counsel Robert S. Mueller III has peeled away Trump's claim he had "nothing to do with Russia" by revealing that well into his presidential campaign he was trying to build a luxury tower in Moscow.
More Politics
-- A report prepared for the Senate that provides the most sweeping analysis yet of Russia's disinformation campaign around the 2016 election found that the operation used every major social media platform to deliver words, images and videos tailored to voters' interests to help elect Trump — and worked even harder to support him while in office.
-- David Bernhardt, a former oil and gas lobbyist, is among the front-runners to succeed Ryan Zinke as secretary of the Interior. The scandal-plagued Zinke is departing by the end of the year.
-- Trump named Mick Mulvaney, now his budget director, as his acting chief of staff.
Hazardous to the GOP's Health
Just in time for the end of open enrollment: On Friday, a federal judge in Texas found Obamacare to be unconstitutional, potentially putting medical coverage for tens of millions of Americans in jeopardy. Though the consensus among experts is that the ruling will be overturned on appeal, it's reopened the wounds from previous GOP attempts to dismantle the Affordable Care Act. Given how Republicans were pummeled on the issue in November's election, many are not cheering the court's decision. A notable exception: Trump, who called it "Great news for America!"
Sign up to get Today's Headlines delivered to your inbox. »
OUR MUST-READS FROM THE WEEKEND
-- A Times data analysis has found that dozens of retired Los Angeles employees are collecting such generous retirement pay that they exceed pension fund limits set by the Internal Revenue Service, saddling taxpayers with additional costs.
-- The inside story of how police and the FBI found one of the country's worst serial killers.
-- Trump says he wants a government-run news outlet. He's ignored Voice of America so far, but there are signs that could change.
-- Nicole Kidman almost gave up acting. This month, she's starring in three movies.
-- In the Salt Lake City tabernacle that Brigham Young built, 360 voices blend with frontier history.
MUST-WATCH VIDEO
For Syrians in the former rebel bastion of Duma, reconciling with the government means a return to normalcy at a price.
CALIFORNIA
-- A series of December storms has covered the Sierra Nevada with heavy snow, leaving the snowpack at 106% of average. But a new study says the snowpack could shrink by as much as 79% by the century's end if humans don't limit greenhouse emissions.
-- Thousands of teachers, students and union allies marched through downtown L.A. on Saturday. Next month, United Teachers Los Angeles could call its first strike in nearly 30 years.
-- Meanwhile, in Little Saigon, Vietnamese Americans rallied to protest the Trump administration's push to deport thousands of war refugees.
-- Officials are scrambling to stabilize the crumbling Del Mar bluffs. So far, the collapses pose more danger to pedestrians than the Amtrak and Coaster trains that run atop them.
HOLLYWOOD AND THE ARTS
-- In "Mary Poppins Returns," Lin-Manuel Miranda of "Hamilton" has his first major film role. Making the movie "was film school for me," he says.
-- Artist Shepard Fairey says the L.A. school district should destroy his Robert F. Kennedy mural at a Koreatown school if it paints over a Beau Stanton mural on the same campus. The latter has drawn the ire of Korean activists.
-- Violinist Vijay Gupta is leaving the L.A. Philharmonic to develop his nonprofit Street Symphony, which performs free concerts for the homeless and in county jails. He won a MacArthur fellowship this year.
-- Comedian Pete Davidson made a brief appearance on "Saturday Night Live" after a troubling message posted to his Instagram account.
NATION-WORLD
-- A study says the proportion of U.S. high school seniors who are vaping tobacco products nearly doubled in the last year. More than 1 in 5 say they have vaped to get a hit of nicotine in the last 30 days.
-- Nevada's incoming attorney general wants to find a way to implement a stalled, voter-approved gun background check law when he takes office early next year.
-- Sri Lanka's ousted prime minister has been reinstated, ending a seven-week constitutional crisis.
BUSINESS
-- Wonder why your flight is delayed? It could be due to a SpaceX launch.
-- When you're mad at your credit card company, what should you do?
SPORTS
-- The Rams showed some fight at the finish but fell 30 to 23 to the Super Bowl champion Philadelphia Eagles. It was the team's first home loss this season.
-- A surprise visit from the Lakers' Michael Beasley, who's been away because of his ailing mother, was a bright spot as the team lost big to the Washington Wizards.
OPINION
-- Congress shouldn't let the window close on a Yucca Mountain nuclear waste storage deal.
-- Uncontacted tribes aren't "Stone Age." They just want, and deserve, to be left alone.
WHAT OUR EDITORS ARE READING
-- Trump's inaugural committee paid the Trump Organization for rooms, meals and event space at the company's Washington hotel, according to interviews, internal emails and receipts. (ProPublica)
-- The unlikely friendship between former NBA star Charles Barkley and a cat litter scientist from Iowa. (WBUR)
-- Read this later: Are you a procrastinator, task delayer or none of the above? (The Atlantic)
ONLY IN L.A.
Zac Park was a corporate lawyer for seven years, specializing in mergers and acquisitions. Spencer Markel had been the product director for a digital advertising agency. So it was only natural that they …. started a line of children's hoodies that can be folded into stuffed animals? Here's how these two guys on the Westside transformed their lives.
If you like this newsletter, please share it with friends. Comments or ideas? Email us at headlines@latimes.com.
Sign up for Essential California for news, features and recommendations from the L.A. Times and beyond in your inbox six days a week.
You may occasionally receive promotional content from the Los Angeles Times.