Newsletter: Today: Gen. Mattis, Out. General Dismay, In
James N. Mattis resigns as secretary of Defense and has some strong words for President Trump's policies, as a federal government shutdown and other worries consume Washington.
TOP STORIES
Gen. Mattis, Out. General Dismay, In
Secretary of Defense James N. Mattis rarely stood in the spotlight, instead working behind the scenes to reassure America's allies when President Trump spoke harshly of them. His disagreements with Trump likewise remained quiet — until his strongly worded two-page resignation letter (read it here). In it, the retired four-star Marine general rebuked the president for his military policies and lack of respect for allies. Mattis quit in protest after Trump refused to reconsider pulling all U.S. troops out of Syria; Mattis also was said to be incensed that Trump next plans to withdraw up to half the 14,000 U.S. troops in Afghanistan. The announcement of Mattis' departure, set for Feb. 28, sent shock waves through Washington, as the prospect of a government shutdown looms, the stock market is in sharp decline, and America's overseas alliances grow more strained.
Last Stand for the Wall
Is the federal government headed for a shutdown? That's been a frequently asked question over the eight years Republicans have controlled the House of Representatives, whether Barack Obama or Donald Trump was in the White House. The drama is playing out once again today, before Democrats get the majority in January. At issue is $5 billion for Trump's long-promised wall on the border with Mexico. GOP members had appeared ready to approve a Senate-endorsed stopgap bill, which did not include funding for the wall (or "steel slats," as Trump has been referring to it lately). Now they've doubled down on Trump's wall, albeit with no clear path to a victory.
'Catch and Return'
While the fight over wall money plays out, the Trump administration and Mexico's government have announced a major change in how thousands of asylum seekers are handled. Instead of staying in the U.S. while their cases are considered, they'll have to wait in Mexico. Homeland Security Secretary Kirstjen Nielsen called the new policy a historic measure that would "bring the illegal immigration crisis under control" and referred to it as "catch and return." Meanwhile, Mexico's top immigration official says his country is unprepared for the tens of thousands of Central Americans who could arrive there.
More Politics
-- Justice Department officials say acting Atty. Gen. Matthew Whitaker will not recuse himself from overseeing special counsel Robert S. Mueller III's investigation into Russian interference in the 2016 election despite advice from a senior attorney that he should do so.
-- Mueller has asked the House Intelligence Committee for an official transcript of Trump advisor Roger Stone's testimony to the panel, according to people familiar with the request. It's a sign prosecutors could be moving to charge Stone with a crime.
-- Two hackers associated with China's main security service were charged with stealing troves of sensitive digital data from the Navy, Jet Propulsion Laboratory and dozens of American companies as well as U.S allies overseas. It was the latest indictment aimed at suspected Chinese economic and military espionage.
-- Trump signed into law an $867-billion farm bill that provides billions in aid to U.S. farmers while rejecting deep cuts to the federal food stamp programs sought by some House Republicans. The bill also clears the way for the legalization of hemp, a form of cannabis that won't get you high but can make rope and clothing fabric.
A Tunnel Vision for L.A.
When Elon Musk unveiled his first tunnel prototype for a system meant to revolutionize the future of transportation in Southern California, he admitted it was "a little rough around the edges." After all, the vehicle inside was a Tesla outfitted with special wheels going 53 mph or less on a bumpy track. But with some improvements, could it work to solve L.A.'s traffic woes? Many experts say the basic idea is headed in the wrong direction.
Sign up to get Today's Headlines delivered to your inbox. »
FLASHBACK FRIDAY
With the holidays upon us, here's a reminder: Don't drink and drive. It was just as true in December 1957, when the traffic checkpoint on Whittier Boulevard in East Los Angeles pictured below took place, as it is now.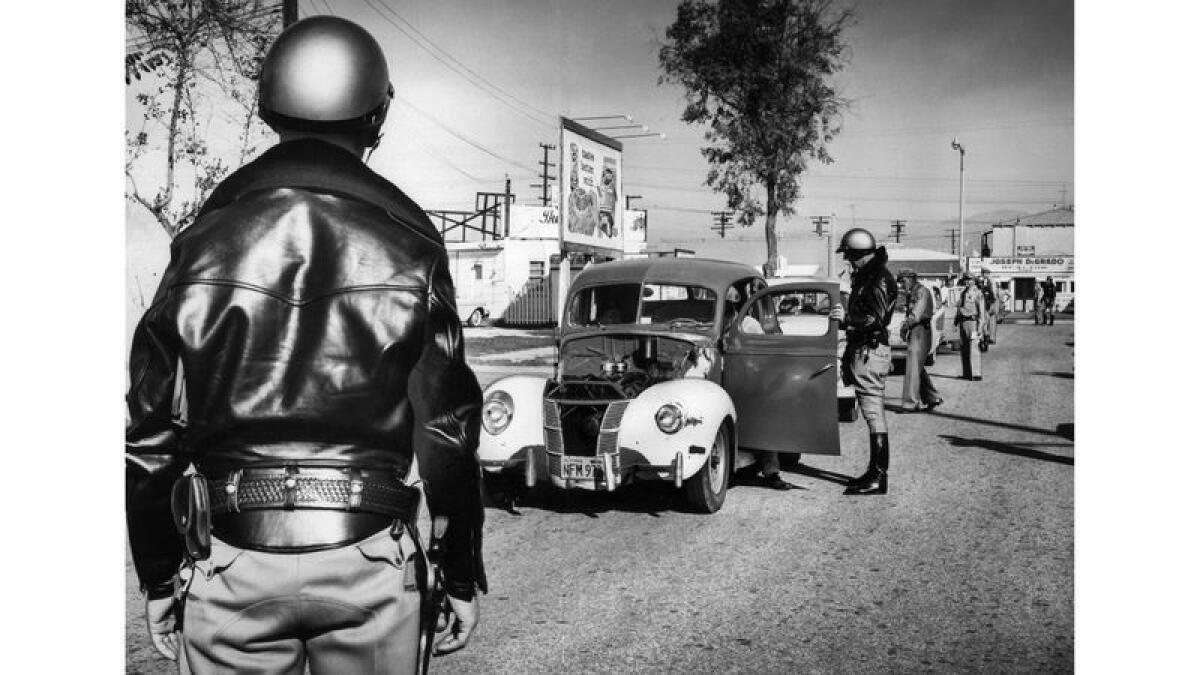 CALIFORNIA
-- Over the last decade, the state has led the nation in reducing its prison population. As crime has increased in recent years, there's a new effort to roll back some of the reforms.
-- Gov.-elect Gavin Newsom says he will place his ownership interest in the collection of wineries, hotels, restaurants and other investments that made him a millionaire into a blind trust.
-- The Los Angeles Department of Water and Power is leaning toward spending billions of dollars to rebuild three aging gas-fired power plants, even as California aims to eliminate fossil fuels.
-- A homeless Joshua Tree couple accused of child abuse after they were found living with their children in a shack in the desert this year no longer faces criminal charges in the case.
YOUR WEEKEND
-- Altadena's Christmas Tree Lane, a nearly century-old tradition, evokes an old-fashioned holiday.
-- There's plenty of other things to do in and near L.A., like boat parades and festivals, in the run-up to Christmas.
-- And if all else fails: Your no-drama drinking guide for the holidays. Just don't drive afterward!
HOLLYWOOD AND THE ARTS
-- Film critic Justin Chang finds Robert Zemeckis' psychodrama "Welcome to Marwen" to be muddled, misguided and weirdly compelling.
-- In a Broadway adaptation of the 1976 film "Network," Bryan Cranston delivers another theatrical tour de force. Critic Charles McNulty took it in.
-- The music in Clint Eastwood's new movie "The Mule" is from jazz legend Arturo Sandoval in his film-scoring debut.
NATION-WORLD
-- A judge in New York City has ruled that the Harvey Weinstein sexual assault case can move forward. The judge set a pretrial hearing for March.
-- The Trump administration took another step toward allowing oil and gas drilling in the Arctic National Wildlife Refuge by issuing a draft environmental impact statement that would outline four development alternatives.
-- Russian President Vladimir Putin blamed the United States for raising the risk of a catastrophic nuclear war, saying U.S. abandonment of key Cold War-era arms control treaties had undermined the "strategic balance" of the world's nuclear powers.
-- A delivery van driver in Taiwan plowed into up to $1.9 million worth of Ferraris. Now people are raising money for him to pay the debt.
BUSINESS
-- Two rogue drones at London's Gatwick Airport froze hundreds of incoming and outgoing flights. It's a dramatic example of the potential threat to commercial airspace.
-- Consumer columnist David Lazarus checks in with a man who says Uber charged him $236 for a ride he didn't take to a place he didn't want to go.
SPORTS
-- Former USC associate head coach Tony Bland has agreed to a plea bargain in the wide-ranging federal investigation into college basketball bribery and corruption.
-- This weekend's games will help plant the seeds for the Chargers and the Rams, two L.A. teams with Super Bowl aspirations.
OPINION
-- Has Trump finally realized that to reduce immigration, the U.S. should fight the conditions that fuel it?
-- To unravel the Trump/Russia affair, don't follow the money, follow the lies.
WHAT OUR EDITORS ARE READING
-- The story of James N. Mattis, then a brigadier general, standing duty on Christmas so a young Marine could be with his family. (Stars and Stripes)
-- Does your face look a lot more attractive in pictures taken with the latest cellphones? There's a reason why. (The Atlantic)
-- How stereo sound was first sold to the public. (The Conversation)
ONLY IN CALIFORNIA
The Monterey Bay Aquarium hoped it would make a splash when it tweeted out a picture of a sea otter named Abby, called her "a thicc girl," and used a string of memes referencing her size. And make a splash it did, but not entirely as intended. While some used the tweet to celebrate #bodypawsitivity, others took offense at its use of African American Vernacular English. Now the aquarium is apologizing for cultural appropriation.
If you like this newsletter, please share it with friends. Comments or ideas? Email us at headlines@latimes.com.
Get our Essential Politics newsletter
The latest news, analysis and insights from our politics team.
You may occasionally receive promotional content from the Los Angeles Times.