Newsletter: Today: Cohen's Extraordinary Opening Statement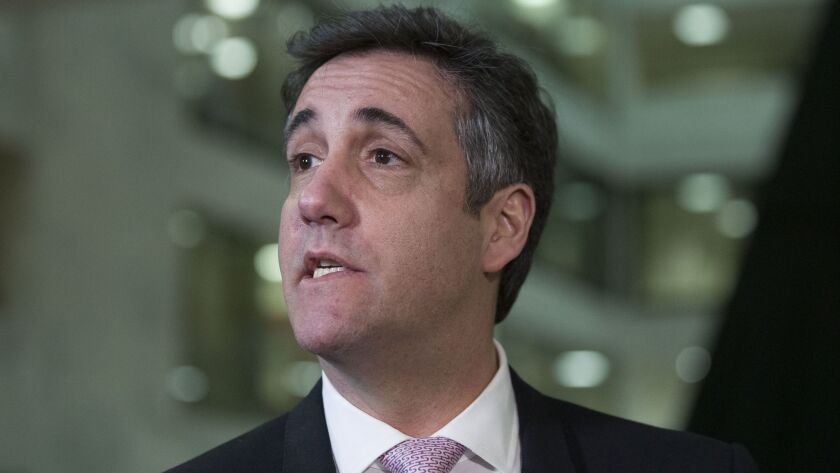 Michael Cohen goes before Congress this morning with his public story of President Trump's behavior before and after taking office.
TOP STORIES
Cohen's Extraordinary Opening Statement
Michael Cohen, President Trump's former lawyer and fixer, once vowed that he would "take a bullet" for Trump. Today, he is expected to tell a House committee damaging details involving the president's campaign, business and personal finances and that Trump is a "racist," a "conman" and a "cheat." Perhaps the most explosive allegation: that Trump knew that his longtime advisor Roger Stone was communicating with WikiLeaks about publishing stolen emails from the Democratic National Committee, according to the text of Cohen's prepared opening statement published by multiple news organizations. The president has repeatedly denounced Cohen, who will begin a three-year prison sentence in May, as a liar and "a rat." On Tuesday, Trump ally Rep. Matt Gaetz added another twist, taunting Cohen with a tweet suggesting that compromising personal information will come out about him. Gaetz later deleted the tweet. Cohen's testimony is scheduled to start at 7 a.m. Pacific.
Summitry in Motion
In Hanoi, Trump expressed hope for "great things" ahead of his meeting with North Korean leader Kim Jong Un, whom he referred to as "my friend" in a tweet. Both leaders received a warm welcome in Vietnam, but amid the pomp and carnival-like atmosphere in the city, there is pressure to make concrete progress. Their June summit in Singapore yielded only fuzzy promises from Kim to denuclearize, and no timeline to achieve them.
A Border Emergency in Limbo
The House has passed a resolution to override Trump's emergency declaration at the U.S.-Mexico border, but like much involving the battle over the president's desire to build a wall, it is far from over. The resolution will move on to the Senate, where it's one GOP vote away from passing next month — but the margin is not nearly enough to make it veto-proof. Meanwhile, in Texas' Rio Grande Valley, there's little sign of government springing into action, despite Trump's emergency. Machinery to build new border barriers is sitting idle, as lawsuits and constraints contained in the spending bill Congress passed this month have combined to throw the planned construction into confusion and doubt.
More Politics
-- A state audit of immigrant detention centers in California has found detainees face lengthy stays in cells and a lack of access to doctors, counselors and legal aid.
-- Former Vice President Joe Biden inched closer to announcing a decision to run for president in 2020, saying that his family wanted him to run but that there were "still a couple hurdles to go through" before he could commit.
-- At least one brave Republican candidate, and maybe three, will run against Trump next year. Why? They think GOP voters deserve an alternative.
Violence Around the Schools
Shootings on campuses in the U.S. have made for grim headlines over the years, but schools are also dealing with other physical and psychological harms that students experience directly or indirectly nearby. A Times data analysis has found that at least one homicide occurred within a mile of 89% of L.A. County public high school campuses from 2014 through 2018. A special new Times series starting today examines the devastating and costly effects of that violence through the stories of those who have lost friends and relatives and the educators working to provide a safe environment.
Sign up to get Today's Headlines delivered to your inbox. »
FROM THE ARCHIVES
Southern California is expected to avoid the brunt of an atmospheric-river-fueled storm today, but starting on this date in 1938, a storm dropped 4.4 inches of rain over two days. Then, on March 1, a more powerful storm arrived with 10 inches of rain in Los Angeles and more in mountain areas. Rivers overflowed and dozens of people were killed. The flood would forever change the look of Southern California. More photos of the devastation are here.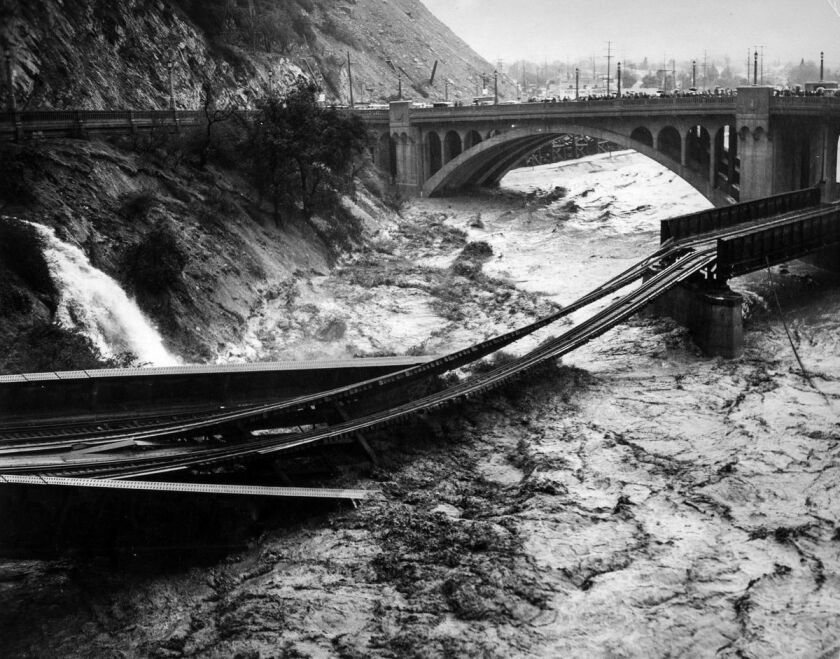 CALIFORNIA
-- Gov. Gavin Newsom has been using the power of appointments to shape government in his image.
-- The latest twist in the Hollister Ranch beach access saga? Landowners have filed a petition to have the judge who got in their way disqualified, as columnist Steve Lopez reports.
-- In Washington, D.C., House lawmakers have approved the California Desert Protection and Recreation Act, a conservation bill to designate more terrain for wildlife and off-roaders alike. Will Trump sign it?
-- The Coachella Valley Music and Arts Festival says it's a welcoming environment for LGBTQ people, but these transgender siblings say they were denied restroom access.
HOLLYWOOD AND THE ARTS
-- Comedian Pamela Adlon almost walked away from "Better Things" after the revelations about longtime writing partner and co-creator Louis C.K. But Adlon and her show will be back on Thursday.
-- Much has changed in Hollywood since Kevin Tsujihara became chief executive of film and TV studio Warner Bros. in 2013. In this exclusive interview, he tells us about the projects he's most excited about.
-- Mark Hollis, who died at 64 this week, was known for the song "It's My Life." But among fans of the former leader of the band Talk Talk, he'll be remembered for choosing to stop making records during what seemed to be his artistic prime.
-- Actress Selma Blair has opened up about her multiple sclerosis in her first interview since announcing her diagnosis in October.
NATION-WORLD
-- The Supreme Court will look at whether a 40-foot Latin cross sitting at a busy intersection in Maryland is an unconstitutional official endorsement of Christianity or a historic memorial for soldiers who died in World War I.
-- Pakistan says its air force shot down two Indian warplanes after they crossed the boundary between the two nuclear-armed rivals in the disputed territory of Kashmir and captured one Indian pilot.
-- In Venezuela, a second television journalist working for a U.S. media outlet was abducted and detained for several hours. The correspondent, Daniel Garrido, was later released.
-- Nigeria's president has been declared the winner of a second term after urging voters to give him another chance to tackle corruption, hunger and an economy limping from recession.
BUSINESS
-- What to do about skyrocketing prescription drug prices? Seven leading pharmaceutical executives appeared before a powerful Senate committee but made no firm commitments to lower prices, and lawmakers are far from settling on a strategy.
-- Rep. Maxine Waters is calling for a consumer-friendly overhaul of the nation's credit reporting system. She brought the chief executives of Equifax, Experian and TransUnion to testify before her House committee about what she called a "broken system."
SPORTS
-- UCLA has no shortage of potential candidates for the men's basketball coaching job.
-- Training is set to resume today at Santa Anita, where 19 horses have died in the last two months.
OPINION
-- Climate change: The five biggest delusions even engaged liberals have about global warming.
-- Columnist Robin Abcarian on the in-your-face politics behind Billy Porter's perfect Oscar night tuxedo gown.
WHAT OUR EDITORS ARE READING
-- Twitter suspended the account of Trump supporter Jacob Wohl after he said in this story that he planned to use deceptive social media accounts "to steer the left-wing votes in the primaries to what we feel are weaker candidates compared with Trump." (USA Today)
-- Facebook moderators say they face a traumatic toll doing their jobs. (The Verge)
-- Pugs and bulldogs are popular, but they often have serious breathing problems. Now, more and more are having surgery. (The Guardian)
ONLY IN L.A.
Jeraldine Saunders of Glendale was the author of Omarr's Astrological Forecast, a horoscope column originally written by Sydney Omarr, and the book "Hypoglycemia: The Disease Your Doctor Won't Treat," which was dedicated to her daughter Gail, who died of the disease in 1970. But her greatest claim to fame came from her memoir about her experiences as a cruise director on a passenger ship. It would become the basis for the 1970s and '80s series "The Love Boat." This week, she died at age 96.
If you like this newsletter, please share it with friends. Comments or ideas? Email us at headlines@latimes.com.
---