pho gà nhanh (Quick Chicken Pho)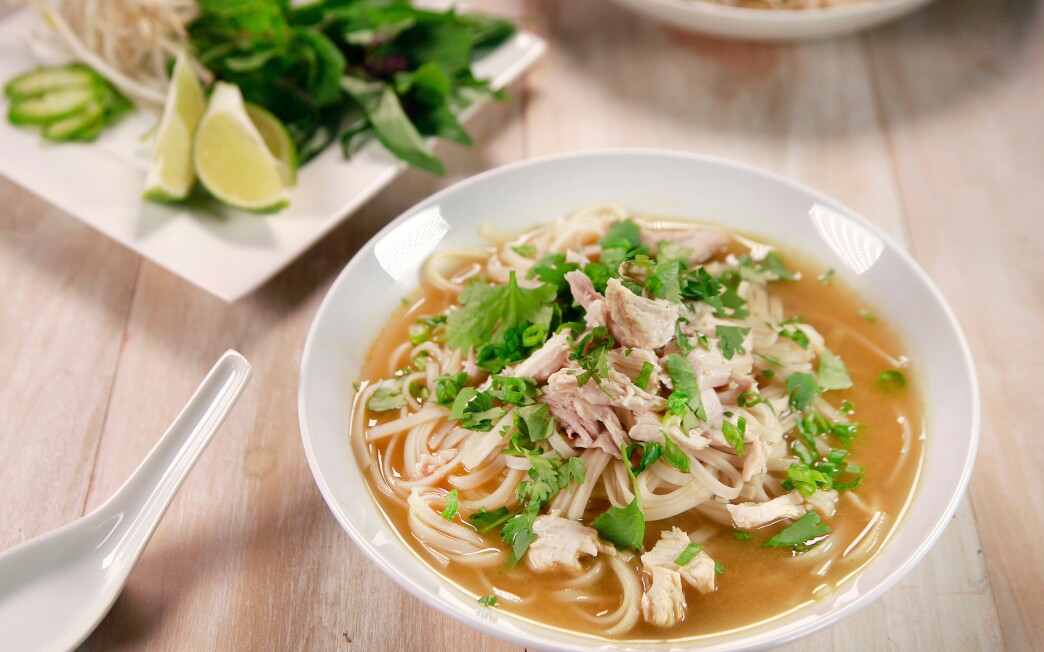 Print Recipe

Print Recipe
Pho noodle soup has been around for over 100 years. It's iconic to people who identify with it as Vietnam's national food and it has inspired cooks, poets and even political insurgents. While most people know pho as a beefy bowl, chicken pho has been around since the late 1930s.
During the busy holiday season, I ditch my old-school, long-simmered pho that serves eight and instead opt for a quick 40-minute pho to satisfy our household of two. The recipe involves supermarket ingredients such as rice noodles (Annie Chun's pad Thai noodles work great) and fish sauce (Megachef and Redboat are superb), usually found in the Asian food section. The only "special" equipment I use is a piece of hand-torn, lightweight muslin purchased at a fabric shop. Used for straining broth, muslin works like a champ for producing clear results and it's washable to boot; in a pinch, I've substituted paper towels, a paper coffee filter or multiple layers of cheesecloth.
Herb-wise, I stick with cilantro for soup assembly and mint for the garnish plate, along with chile slices, bean sprouts, and maybe lime. Mint is a traditional Hanoi pho herb that's overlooked in America. It adds bright, zippy notes to pho and pairs exceptionally well with chicken.
From the recipe: How to make a great bowl of pho at home
Pho Gà Nhanh (Quick Chicken Pho )
1
Peel and then slice the ginger into 4 or 5 coins. Smack with the flat side of a knife or meat mallet and set aside. Thinly slice the green parts of the green onion to yield 2 to 3 tablespoons, and set aside to use as a garnish. Cut the leftover sections into 2- to 3-inch lengths, bruise, then add to the ginger.
2
Coarsely chop the leafy tops of the cilantro to yield 2 tablespoons; set aside to use as a garnish. Set the remaining cilantro sprigs aside.
3
In a 3- to 4-quart pot, toast the coriander seeds and clove over medium heat until fragrant, 1 to 2 minutes. Add the ginger and bruised green onion sections. Stir until aromatic, about 30 seconds.
4
Remove the pot from heat for about 15 seconds to briefly cool, then pour in the broth. Add the water, cilantro sprigs, chicken and salt. Bring to a boil over high heat, then lower the heat to gently simmer for 30 minutes.
5
While the broth simmers, soak the rice noodles in hot water until pliable and opaque. Drain, rinse and set aside.
6
After 5 to 10 minutes of simmering, the chicken should be firm and cooked through (press on it and it should slightly yield). Transfer the chicken to a bowl, flush with cold water to stop the cooking, then drain. Set the chicken aside until cool enough to handle, then cut or shred into bite-size pieces. Cover loosely so the chicken does not dry out.
7
When the broth is done simmering, strain it through a fine-mesh strainer into a 2-quart pot; line the strainer with muslin or cheesecloth for super clear broth. Discard the solids. You should have about 4 cups broth. Season with fish sauce and sugar, if needed, to create a strong savory-sweet note.
8
Bring the strained broth to a boil over high heat. Put the noodles in a noodle strainer or mesh sieve and dunk in the hot broth to heat and soften, 5 to 60 seconds. Lift the noodles from the pot and divide between the 2 bowls.
9
Reduce the heat to keep the broth hot while you arrange the chicken on top of the noodles and garnish with the chopped green onion, cilantro and a sprinkling of pepper. Taste and adjust the broth's saltiness one last time. Return the broth to a boil and ladle into the bowls.
Adapted from a recipe in Andrea Nguyen's "The Pho Cookbook."
---
Get our new Cooking newsletter.
You may occasionally receive promotional content from the Los Angeles Times.