Swordfish with green olive salsa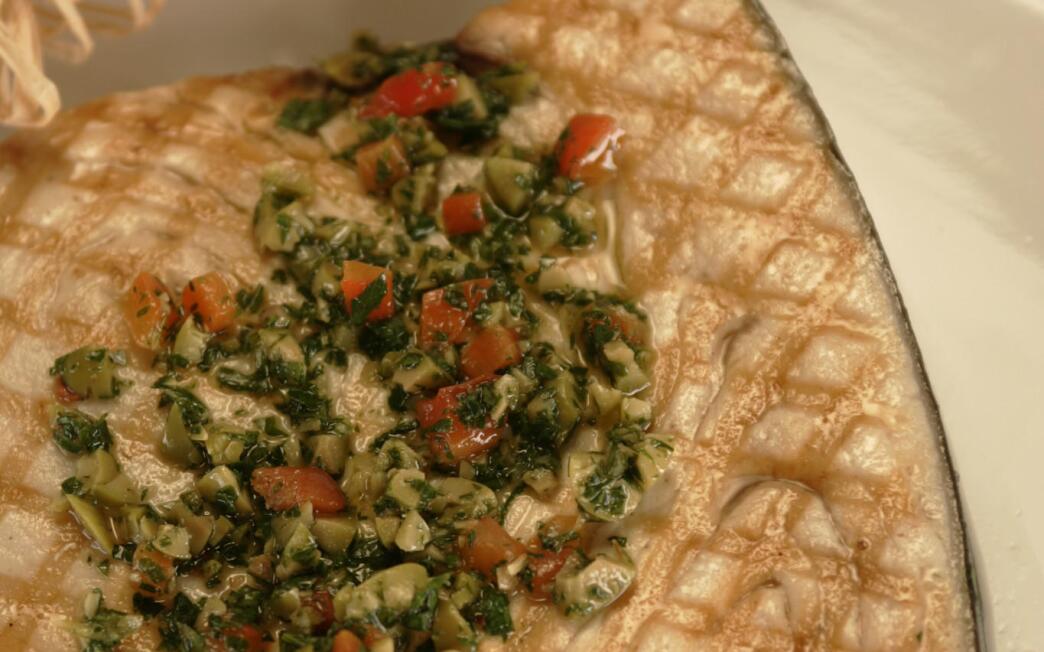 Print Recipe

Print Recipe
Pink is such a pretty color -- so frilly, so delicate. It's the color of fragile flowers and fading sunsets. You probably don't think of it as the color of wine to serve with robust foods, but you should. Sometimes it takes a pale wine to stand up to strong flavors -- which is why roses are a mainstay of my summer meals.
Here are a few of the big summer dishes I've served with rose wines over the last couple of weeks: quick-cured green olives with oregano and lemon peel; thinly sliced spicy salame; almonds dusted with red chile powder; bruschetta topped with confited tomatoes and garlic; a smoked salmon salad made with mayonnaise and capers; kale and wild greens braised with potatoes and topped with shards of Parmigiano-Reggiano; even smoked tri-tip alongside a fiercely garlicky green bean and potato salad.
The roses I was drinking -- a broad geographical sampling from the outstanding 2004 vintage -- didn't just stand up to all of those dishes, they positively danced around them.
For those who love roses (and our numbers are steadily increasing), this will come as no surprise. Look at where they come from, for goodness' sake. The cuisines of Provence, Portugal and Spain aren't exactly made for shrinking violets.
A good rose has fresh fruit -- think strawberries, raspberries and cherries -- with just a rumor of sweetness. It has crisp acidity that leaves your palate ready for more. Floating above it all, there are layers of herbaceousness, spice and minerality that would do credit to any red wine.
In fact, I think of roses as having the best characteristics of both reds and whites -- the juicy complexity of the former and the refreshing, palate-cleansing qualities of the latter.
Because of this, there is probably no friendlier food wine on the planet. And given the kinds of deeply flavored dishes we eat during the summer, that effect is squared. With its sweet fruit, rose pairs naturally with dishes that are sharp, salty or spicy. Tart green olives, capers, cornichons, dried red chiles -- nothing fazes it. The crisp backbone cuts straight through smoke and fat. Roses go great with tomatoes, which turn most wines thin and acrid. And they love garlic almost as much as I do. Is there a summer ingredient I haven't mentioned?
Center of attention
MOST people seem to regard roses as hot-weather aperitif wines. Granted, there is nothing wrong with serving a glass of chilled rose alongside a plate of almonds and olives to get a meal started. But limiting yourself to that is selling the wine short. Instead, make an entire menu based on roses, ranging from appetizers to dessert.
I suppose you could even pair specific courses with specific wines, but to tell you the truth, the idea kind of gives me the creeps. It seems to me to be missing the entire point of roses, which is uncomplicated pleasure rather than analytical examination. Instead, find a couple of wines you really like, then fill an ice bucket with them. Your only consideration should be when to open more.
Start out with crostini topped with a rich, smoky eggplant puree that you've spiked with tart diced tomatoes and fresh rosemary. Roast the eggplant whole as you would for baba ghanouj, and then chop it and stir it into a rough paste with a wooden spoon. Pureeing it in the blender makes it thin and soupy.
Follow that dish with stuffed zucchini and tomatoes, a classic summertime dish that is too often neglected these days. But have you noticed all the billiard ball-sized tomatoes and round zucchini at the farmers markets? To me, they beg stuffing and baking. Because this is going to be an appetizer and not an entree, keep the filling light -- nothing more than bread crumbs crushed with basil and garlic. Bake the vegetables until they're melting in a tart tomato sauce studded with capers.
For the main course, grill swordfish steaks and top them with a salsa pungent with green olives and pickled red peppers, perfumed with crushed fennel seed. Swordfish is one fish I prefer to have cooked thoroughly through. Cut the steaks thin and grill them over high heat -- they'll be done in minutes. For the salsa, just chop the olives and peppers and season them with garlic and fennel seeds you've crushed in a mortar.
If you want to continue the theme, finish the meal with sliced peaches or nectarines and a plate of lightly sweetened fresh ricotta dusted with ground cinnamon. Try dipping the fruit in the wine left in your glass (for fastidious guests, bring out little bowls of fruit they can pour the wine over).
Though roses may not be overly serious, they are seriously fun. Most wines I buy by the bottle; rose I buy by the case. Some wines are meant to be sipped and savored; rose is a wine to revel in.
Rather than dabbling in different roses through the summer, I tend to find one I like and then buy a bunch. I mark my summers by which rose I was drinking. The first wine I remember buying this way was Paso Robles vintner Gary Eberle's Rose of Counoise, a wonderfully spicy wine from a little-known Rhone grape. It was my summer wine and I drank it for years until he stopped making it in 2000 -- apparently nobody was buying it but me and even though I gave it my best effort, it wasn't quite enough to keep an entire winery running. (Eberle now makes a very nice rose from Syrah.)
There followed a couple of summers of Swanson Rosato from the Napa Valley -- a lovely strawberry-scented rose made from Sangiovese. Then a couple of years ago it lost its Southern California distribution (you can still order it from the winery, but at $18 a bottle, it's getting pretty dear), so I moved overseas. My summer dinner guests and I have been enjoying Morgues du Gres, a crisp, herbaceous rose from the Costieres de Nimes in the Rhone in recent years.
This year's spring and early summer were unusually cool, and I put off choosing a successor. So, when the hot weather suddenly came, I was rose-less and on the first blistering weekend, I had to run out and pick up half a dozen or so different bottles to audition for a dinner party -- all of them under $15.
It was an interesting experiment. In the first place, the current 2004 vintage seems to be uniformly strong for roses, particularly those from Europe. When rose falls down it is most often due to a lack of acidity, which can leave the wine flat and simple. Every 2004 we tasted was fresh and crisp.
A palette of pinks
ALTHOUGH roses are generically referred to as "pink," that's not really an accurate description. The colors of the wines I tasted ranged from a delicate pale salmon to a pronounced plum red. And though it is tempting to relate color and flavor intensity, there is no connection. A pale color does not necessarily equate to delicate taste and neither does robust color mean hearty flavor.
Neither style is inherently superior to the other. The Commanderie de Peyrassol and the Chateau de Pampelonne from Provence were subtle and detailed (at least for a rose), with notes of slate and crushed herbs. The Garnacha-based Muga from Rioja and the Guappo from Puglia (mainly something called "Uva di Troia," Sangiovese and a dash of Primitivo) were as big and juicy as biting into a ripe plum.
Perhaps the biggest surprise was Robert Sinskey Vineyards' Vin Gris of Pinot Noir from the Carneros, a wine I have enjoyed many times in the past. But the 2004 is something else. A salmon so pale it is almost clear in the glass, it nonetheless packs an astonishing amount of fruit. If you were to taste this wine blindfolded, you would swear it was a well-crafted regular Pinot.
The hard work done, it was time to eat. We gathered around platters of spicy, salty, smoky, joyful summer food at a picnic table under an arbor of blazing bougainvillea and drank in the roses and the sweet, cooling evening breeze in roughly equal proportions.
1
Start a fire in a grill or preheat the broiler.
2
To pit the olives, place them on a cutting board and crush them with the side of a chef's knife. Pull them apart and discard the pits. Gather the olive meat in a pile and chop it coarsely. You should have about three-fourths cup.
3
In a mixing bowl, combine the olives, chopped red bell pepper and crushed red pepper flakes. Place the garlic clove in a large mortar with about one-fourth teaspoon salt and the fennel seeds. Crush into a paste. Slowly add two-thirds cup olive oil, stirring constantly with the pestle.
4
Pour the olive oil mixture over the olives and add the vinegar. Stir several times to turn the mixture into a rough, loose paste. Taste and adjust seasoning, adding more vinegar or salt if necessary. Stir in the chopped parsley and set aside.
5
Pat the swordfish dry with paper towels and season with salt and pepper. Rub both sides lightly with a little olive oil. Moisten a paper towel with olive oil and lightly moisten the surface of the grill or broiler pan. Immediately place the swordfish on the grill and cook just until lightly browned, 3 to 4 minutes per side. Swordfish should be cooked through, but don't let it dry out.
6
Place the swordfish on a platter. Stir the salsa one more time and spoon it over the fish. Serve immediately, passing any leftover salsa on the side.
---
Get our new Cooking newsletter.
Your roundup of inspiring recipes and kitchen tricks.
You may occasionally receive promotional content from the Los Angeles Times.