The Sports Report: Maybe Lakers can add Dancing Barry to Anthony Davis offer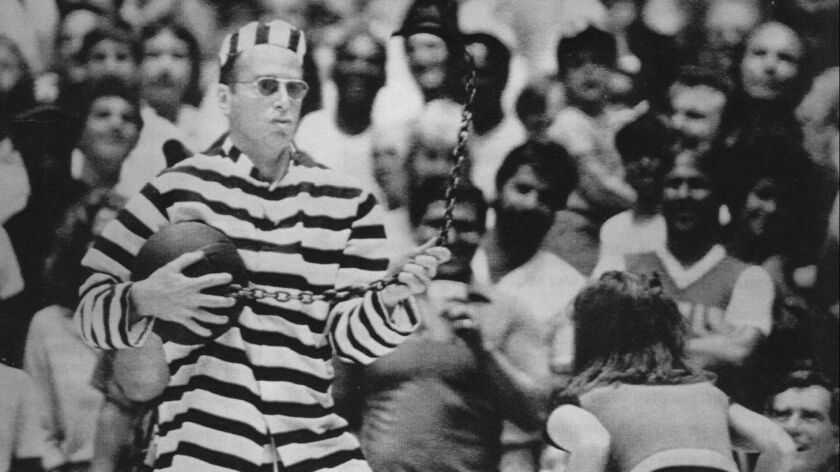 Howdy everyone, and welcome to the Thursday edition of the Los Angeles Times daily sports newsletter. My name is Houston Mitchell and I'm your host for the festivities. Subscribe to this newsletter by clicking here.
Let's get to it.
Lakers
Today at noon PT is the NBA trade deadline, and most NBA fans are waiting to see what happens with New Orleans star Anthony Davis. Will the Pelicans come back to the Lakers and take the deal in which the Lakers offered the whole team (except for LeBron), 37 draft picks, ownership of Staples Center, the rights to Dancing Barry and one of Jerry West's old office chairs? Will the Pelicans wait for the offseason to see what Boston offers them? Why wouldn't the wait at this point?
Our NBA columnist, Dan Woike, looks at all that and more. Read it here.
But while you wait for trade deadline news, take some time to learn about the newest Lakers, Reggie Bullock. He had a transgender sister named Mia, who used to be named Kevin and was Bullock's older brother. Bullock was in high school when Kevin became Mia.
Reggie didn't react well, and continued to refer to Mia as Kevin. Then, in 2014, Mia was killed after being stabbed in the back, arms and chest. Bullock is now and LGBTQ activist and has a tattoo of his sister's name over a rainbow heart with "LGBTQ" written at the top.
Arash Markazi tells the story here.
Clippers
A lot of Clippers fans are surprised that the team traded their leading scorer, Tobias Harris, late Tuesday, especially since the team is in the hunt for a playoff spot. So why did they do it?
Because modest success in the short term is no longer the Clippers' goal. Instead they aspire to "construct a sustainable, championship contender," president of basketball operations Lawrence Frank said in a statement.
Andrew Greif has more here.
Rams
You'd think that the Rams players would take a couple of weeks to rest and recuperate from a long season. But not Aaron Donald, who had five tackles in the Rams Super Bowl loss.
He is already getting back to work.
Donald said there was "a lot of good, a lot of bad" in the loss. He will use it as a learning experience and "get back to grinding" so that the Rams can return to the Super Bowl next season.
"We wanted to win, we didn't — that didn't do nothing but light a fire," he said.
Dodgers
With no end to the Spectrum/DirecTV impasse in sight, the Dodgers announced that KTLA Ch. 5 in Los Angeles will carry 10 regular-season games in 2019.
MLB
Are you ready for some massive baseball rules changes? Some may be on the way, but probably not for the 2019 season. But on the table for the future:
--The DH in the National League
--Each pitcher must face at least three batters (barring injury)
--The return of the 15-day disabled list.
--Teams carrying 26 players instead of 25.
--A maximum of 12 pitchers on the roster.
Not, before you curse the sky, remember that talking about changes and actually doing them are two different things.
Andy McCullough takes a look at it all here.
UCLA football
If you were hoping for a large recruiting class for the Bruins on national signing day, then don't read this item. The Bruins received letters of intent from the three high school players expected to sign with the school. Two other prospects who were strongly considering UCLA announced they were headed elsewhere. Later in the day, a linebacker with a scholarship offer from the Bruins opted to stay close to home and attend Washington, as a walk-on.
After enhancing his team's depth by just the slightest of margins, coach Chip Kelly all but planted a help wanted sign.
"We'll take anybody anywhere," Kelly said after UCLA announced a 19-player class, 16 of whom signed in December. "I mean, we think we've addressed needs so we don't have any gaps anywhere, but we're obviously looking for more players if they fit the profile both academically and athletically."
It's not encouraging when the coach basically takes out a Facebook Buy/Sell page ad to get players to come to his team. Maybe the Lakers can trade him some players, since they seem to want to unload half the team.
USC football
Meanwhile, Trojans coach Clay Helton used the day to emphasize what will be different next season. Which includes him no longer calling the plays on offense.
"For me," Helton said, "it's about putting the best product on the field. And for us to be the best product, I need to step away from the Xs and O's and focus on what's truly important for this team, which is the accountability, the discipline of the game, not turning the ball over and understanding situational mastery. That will be my emphasis as the head coach."
Helton said the Trojans' poor attention to detail last season cost the team a chance at another Pac-12 Conference championship.
Figure skating
If you are a fan of figure skating, then you will want to read this story by Helene Elliott. An except:
"Jason Brown, who contributed to a team bronze medal for the U.S. at the 2014 Olympics, has never cleanly landed a quad in competition, though he hopes to change that during the Four Continents Championships this week at Honda Center. His fluid skating, tight spins and deft footwork make a persuasive case for highly valuing artistry, and fans swoon over his born-to-do-this performances. But his entrancing abilities usually aren't enough for him to outscore the teenager-dominated quad squad.
"If he doesn't land a quad, he probably won't win a major title. If he tries one and misses, he risks ruining the spell he weaves for appreciative audiences. It's a push-pull he's still working through a year after he missed a berth on the U.S team for the Pyeongchang Olympics and hit a career crossroads."
Sports Podcast
In the latest episode of "Arrive Early, Leave Late," Page 2 columnist Arash Markazi discusses his experience at Super Bowl LIII in Atlanta, from the pregame tacos to the postgame party, and whether or not the Rams did enough to win over a new generation of fans in Los Angeles despite the 13-3 loss to the New England Patriots.
Later, Markazi talks about esports and explains how he ended up in China during the 2017 UCLA shoplifting scandal.
Best sports movies
As we continue our runup to the Oscars by having Times readers pick the best sports movie of all time, we move on to baseball. You have chosen the best football and basketball movies, and we have received over 30,000 ballots, so make sure your vote counts by clicking here or emailing me here. This time, we will have you pick your top seven baseball movies of all time.
This date in sports history
2010: The New Orleans Saints defeat the Indianapolis Colts, 31-17, to win Super Bowl XLIV.
Notable births on this date
1908: Buster Crabbe, gold-medal winning swimmer, also played Tarzan and Flash Gordon.
1974: NBA star Steve Nash.
Notable deaths on this date
1993: Tennis star Arthur Ashe.
And finally
That concludes the newsletter for today. If you have any feedback, ideas for improvement or things you'd like to see, please email me here. If you want to subscribe, click here.
---
Get the latest on L.A.'s teams in the daily Sports Report newsletter.
You may occasionally receive promotional content from the Los Angeles Times.