The Sports Report: LeBron James has the answer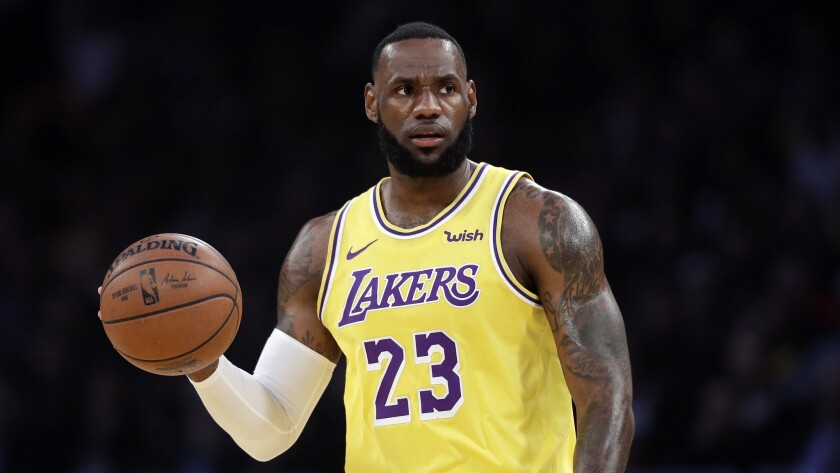 Howdy everyone, and welcome to the Monday edition of the Los Angeles Times daily sports newsletter. My name is Houston Mitchell and I'm your host for the festivities. Subscribe to this newsletter by clicking here.
Let's get to it.
Lakers
It wasn't supposed to be like this. The Lakers were supposed to make it into the playoffs, perhaps as high as the No. 4 seed, then surprise some people in the playoffs before losing in the conference finals. That would set the stage for next offseason, when another big name would join the team and we'd all be able to start basking in the glow of multiple NBA titles.
Instead, the Lakers are under .500 and might not even be able to make the playoffs. If they do, they'll be luck to escape the first round.
What went wrong? LeBron James thinks he knows.
"I knew it was going to be very challenging, just because of the [limited] experience the roster had at that point and time," James said. "I knew it was going to be challenging from that sense, but I felt like we could still play better basketball. And we were doing that and obviously it sucks that my injury happened and Zo's injury happened and so many of our injuries happened. And we had suspensions in there.
"So, I'm huge on chemistry and camaraderie … but the injuries have felt like it's taken a toll on our team. So hopefully we can get Zo back soon to kind of help that out. And hopefully we can start playing a little bit better too."
Clippers
The Clippers made only three of 21 shots from three-point range in a 123-96 loss to the Denver Nuggets, their worst defeat since losing by 38 in San Antonio on Dec. 13.
"I can do media for everybody," Clippers forward Montrezl Harrell said once the locker rooms opened. "They beat our (butts)."
Dodgers
Dylan Hernandez writes about Clayton Kershaw. An excerpt:
Whatever Kershaw says, the indisputable fact is that he has refrained from throwing a baseball over the last four days. Pitchers who shoulder heavy workloads are sometimes given breaks like this in spring training, but rarely so early in camp.
The previously unspecified "arm kind of thing" that has temporarily sidelined Kershaw was identified as shoulder inflammation by manager Dave Roberts on Sunday. Kershaw also experienced shoulder problems last year.
If he suffered serious damage, Kershaw would almost certainly have returned to Los Angeles for an examination. The Dodgers didn't even consider it necessary for him to undergo an MRI examination and treated him with anti-inflammatory medication. Roberts reiterated that Kershaw is the team's opening-day starter.
So, at this point, he figures to be able to pitch. The question is how he will pitch. The events of the last week raise legitimate concerns.
Chargers
Chargers coach Anthony Lynn was struck by a drunk driver in Ventura in 2005 and was left with temporary paralysis and life-threatening injuries that eventually would require four surgeries. The first responders to the scene that night helped save his life.
Lynn never got a real chance to thank them until a meeting was set up for a Super Bowl commercial.
As Jeff Miller writes, the 60 seconds were the most sincere, most captivating of Super Bowl LIII. And they had happened weeks earlier. In a firehouse. In Pasadena.
"Everybody in the place was crying," Lynn recalled. "I was like, 'Damn, this is a real downer. You guys screwed up the whole damn thing.' "
Read more of this incredible story by clicking here.
Odds and Ends
The Ducks traded Brandon Montour to the Buffalo Sabres for a first-round pick and a prospect…. They also traded Brian Gibbons to the Ottawa Senators for defenseman Patrick Sieloff…. Taylor Ward is making strides in his quest to win a third base job with Angels…. Ilya Kovalchuk is noncommittal when asked about waiving his no-trade clause for the Kings…. Former USC linebacker Porter Gustin pushes through doubts, concerns for NFL combine
Best sports movie
Well, after thousands of votes through several rounds of voting, asking readers to sift through 195 sports movies, we have a winner in our poll of best sports movie of all time. There were five movies voted through to the final round, and this is how it turned out after receiving 31,544 votes:
Fifth place
"Rocky," starring Sylvester Stallone, receiving 14.7% of the vote.
Fourth place
"Bull Durham," starring Kevin Costner, receiving 15.1% of the vote.
Third place
"A League of Their Own," starring Geena Davis, receiving 15.6% of the vote.
Second place
"Hoosiers," starring Gene Hackman, receiving 24.8% of the vote.
Winner
"Field of Dreams," starring Kevin Costner, receiving 29.8% of the vote.
The key thing to learn here is that if you want a successful sports movie, try to get Kevin Costner to star in it, especially if it's about baseball.
Today's local major sports schedule (all times Pacific)
Lakers at Memphis, 5 p.m., Spectrum SportsNet, ESPN 710
Dallas at Clippers, 7:30 p.m., Fox Sports Prime Ticket, NBA TV, AM 570
Dodgers vs. Cubs, Noon, AM 570
Angels vs. Brewers, Noon, FSW, KLAA 830 AM
Kings at Tampa Bay, 4:30 p.m., NBCSN, SN1
Ducks at Vancouver, 7 p.m., FSW
Born on this date
1918: Tennis player Bobby Riggs
1919: Baseball player Monte Irvin
1940: NBA and NCAA broadcaster Billy Packer
1940: Baseball player Ron Santo
1958: Former Laker Kurt Rambis
Died on this date
1934: Baseball manager John McGraw
1994: Boxer Jersey Joe Walcott
And finally
That concludes the newsletter for today. If you have any feedback, ideas for improvement or things you'd like to see, please email me here. If you want to subscribe, click here.
---
Get the latest on L.A.'s teams in the daily Sports Report newsletter.
You may occasionally receive promotional content from the Los Angeles Times.