L.A. Times Festival of Books is underway. Here's everything you need to know before you go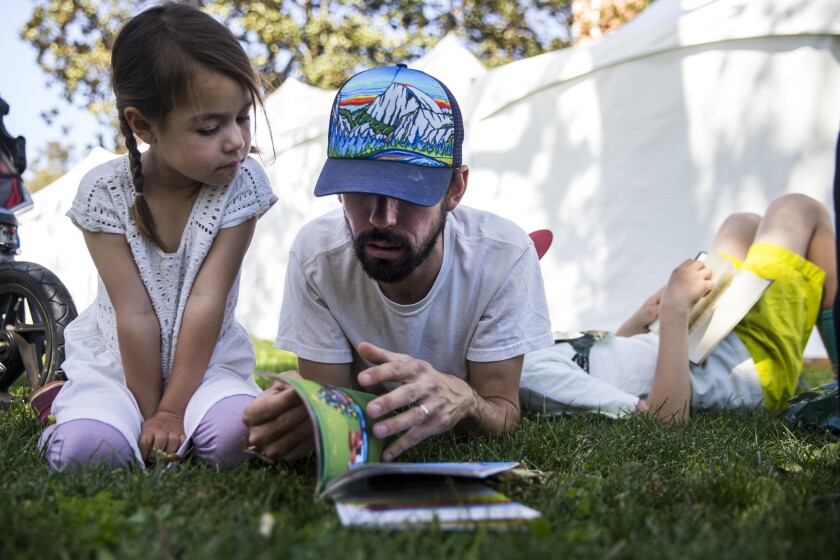 The annual Los Angeles Times Festival of Books, which kicks off this weekend, can seem intimidating to first-time attendees — it's the largest literary festival in the country, after all, with more than 150,000 book fans estimated to make the trek to USC.
But as longtime festival-goers can attest, it's actually easy to navigate the many events being held on the campus, even with more than 500 authors, artists, chefs and musicians scheduled to speak and perform. You can join us for the 39th Annual Los Angeles Times Book Prizes on Friday night (get your tickets here). If you're a newbie to the event, just follow a few pro tips and you'll be able to experience the festival like a seasoned veteran.
First things first: All outdoor events at the festival are free, although the series of indoor conversations, where attendees will be able to hear authors including T.C. Boyle, Chelsea Clinton, Cory Doctorow, Roxane Gay, Don Winslow and more, do require tickets. Some tickets will be available on site, but it's probably best not to risk them selling out, and order them online at the festival website. The hologram performance of Maria Callas with L.A. Opera and Valerie Jarrett's Ideas Exchange talk are not free, but some tickets may still be available online.
Festival times: Saturday 10 a.m. – 6 p.m. Sunday 10 a.m. – 5 p.m.
Location: University of Southern California, University Park Campus, Los Angeles.
Where to park — even though it's more fun to take Metro
While parking in University Park can sometimes be a challenge, there are five parking structures that will be open during the festival, with each parking spot going from $12 to $25. Better yet, you can take the Metro Expo Line — you'll do your part for the environment, and you'll get a 10% discount on official Festival of Books merchandise. Information about parking and Metro routes is available here.
Once you're on the USC campus, pick up a free map and the L.A. Times special Festival of Books issue to help guide your way to all the venues and exhibitors — but it's best to come up with a plan of attack before the weekend. A full schedule of readings, conversations and other events is available on the festival website, which will help you find your way this weekend. You can even make your own personal schedule and sync it to your digital calendar too.
If you're eager to get a book signed by a favorite author, you'll be able to bring one from home or buy a book at the various vendors around campus. Authors typically autograph books after their panels or readings, and are usually available for about an hour. Also be sure to chat with your neighbors in line, you may make a new book friend or two.
Events for kids
Thinking of bringing a pint-sized book lover to the festival? There's more than enough to keep them occupied — the Reading by 9 Children's Stage will play host to authors Including Sean Hayes and Scott Icenogle ("Plum"), Eva Chen and Derek Desierto ("Juno Valentine and the Magic Shoes") and Danica McKellar ("Do Not Open This Math Book").
Los Angeles is one of America's great culinary cities (no disrespect to our friends in that cramped but charming little town on the Hudson River), and food lovers will find much to pique their interests, and their appetites, at the festival. Just head over to the Cooking Stage, where cookbook authors such as Margarita Manzke ("Baking at République"), Marcela Valladolid ("Fiestas") and Alana Kysar ("Aloha Kitchen") will demonstrate recipes from their books.
If those demonstrations stoke your hunger, don't worry — you don't have to leave campus to find some great food. There are plenty of brick-and-mortar eateries on the USC campus.
How to have a blast
There's much more, of course, including a hundreds of authors, so be sure to allow yourself plenty of time at the festival — if the forecasters are right (stranger things have happened), the weather's going to be beautiful.
Just remember to bring sunglasses, sunscreen and bottled water, and a bag to store all the books you'll be picking up. Keep reading, have fun and we'll see you there.
Catch up on all our Festival of Books author interviews and coverage below:
5 debut novelists you won't want to miss at the L.A. Times Festival of Books
5 bestselling authors to see at the L.A. Times Festival of Books
Saturday Panelists
Cory Doctorow's 'Radicalized' reveals our dystopian technological future in four tales
T.C. Boyle's new novel takes a trip with LSD evangelist Timothy Leary
Jeffrey Fleishman's noir novel 'My Detective' unleashes a killer architect in downtown L.A.
Gareth Hinds' illustrated 'Iliad' follows the fights and follies of egomaniacal men
With 'Callas in Concert,' an opera diva makes a holographic encore
Susan Choi's latest book unveils major drama of a 1980s performing arts high school
Ruth Reichl on breaking through the machismo of restaurant and publishing worlds
Lydia Fitzpatrick's 'Lights All Night Long' is a luminous debut from an Angeleno author
Dave Barry's dog Lucy is living her best life — and teaching him to be happier too
Sunday Panelists
Poet Yesika Salgado blew up on Instagram. Now her books are breaking literary boundaries
Therapist Lori Gottlieb talks about the therapists that therapists go to
Bret Easton Ellis is over today's Trump obsession — in 'White' he finds other targets
Terry Tempest Williams on nature writing: 'My heart is very deep in these wild lands'
Chelsea Clinton on talking to kids about the environment and what's going on in the world
Kiese Laymon shared his trauma in 'Heavy' — now readers are telling their stories too
Obama senior adviser Valerie Jarrett shares her road from Chicago to the White House
Ridley Pearson's 'Super Sons' unveils a new dynamic duo: Batman and Superman's kids
---
Get the latest news, events and more from the Los Angeles Times Book Club, and help us get L.A. reading and talking.
You may occasionally receive promotional content from the Los Angeles Times.