While Carolina Miranda recovers from her just-ended LA Times Expedition to Japan — and the rest of us recover from too many "Game of Thrones" finale gripe sessions — I'll be your guide to the week's essential arts stories.
MOCA goes free
Last year, Los Angeles' Museum of Contemporary Art ditched its annual spring fundraising gala after artist Lari Pittman resigned from the board and painter Mark Grotjahn (also a museum board member) declined to be the gala's honoree, heating up the discussion about diversity and all the straight, white men who had been honored at past galas. Soon after came the firing of Helen Molesworth, the highly respected curator who brought the popular and critically acclaimed "Kerry James Marshall: Mastry" exhibition to MOCA. Many wondered how the museum could continue under the leadership of Philippe Vergne.
One year later, MOCA has a new director, Klaus Biesenbach, and a new outlook. Times arts writer Deborah Vankin reports that the museum's revived annual benefit on Sunday was one of the most inclusive she's experienced — some 300 artists were invited to attend for free, thanks largely to MOCA trustee Marina Kellen French underwriting the event. And MOCA trustees board President Carolyn Powers had her own fabulous birthday present for the museum celebrating its 40th year: a $10-million gift that will allow the museum to make admission free.
"This is a game changer," board chairwoman Maria Seferian told Vankin at the benefit.
The night, which attracted stars like Keanu Reeves, Katy Perry and Sharon Stone, raised an additional $3 million for museum operations.
Grand plans
MOCA is at the center of one of the more intriguing details in the series of stories senior editor Alice Short put together on the past, present and future of downtown Los Angeles' Grand Avenue. Describing his decades-long involvement as a driving force in making Grand Avenue an art and culture hub, philanthropist and entrepreneur Eli Broad recounts his frustration with Bunker Hill Associates, the developer consortium that, Broad writes, "wanted to put the museum inside its condo building, which I thought was insulting." Broad convinced the developers that architect Arata Isozaki's building would be good for foot traffic, but had to agree that part of the building would be underground so that visitors could see the nearby apartment towers. "It was an unfortunate compromise for Los Angeles for a talented architect (who won this year's Pritzker Prize)," Broad says, "and for me."
More in the series: Times art critic Christopher Knight examines how four city blocks of Grand Avenue "contain an enticing thumbnail sketch of shifting ideas in mostly 20th century public art." Times classical music critic Mark Swed makes the case that music is what turned Grand Avenue the cultural hub it is today, from the Dorothy Chandler Pavilion to the Colburn School, Walt Disney Concert Hall, REDCAT and a new Frank Gehry-designed 1,100-seat hall intended to resemble Berlin's recent Pierre Boulez Saal. New York magazine architecture and classical music critic Justin Davidson describes how Gehry's "ebullient" Disney Hall shows that "every once in a while, a work of architecture can transform all it touches — the orchestra, the audience, music itself, the neighborhood and the city beyond."
Author and architecture journalist Sam Lubell analyzes the rewards and risks of Grand Avenue development now underway, including fears that like New York's Hudson Yards, the area could become a "placeless fortress for the elite." And in her look at the history of the neighborhood that became the Grand Avenue hub, Carolina Miranda asks, "What does it mean to 'revitalize' something that we had a hand in extinguishing? Bunker Hill was a vital neighborhood."
Deborah Vankin provides an insider's guide to the art highlights of Grand Avenue. Times reporter Jessica Gelt looks at how the institutions of Grand Avenue are giving back to the community. Amy Scattergood highlights the best places to eat and drink on and around Grand Avenue. Plus, a timeline of Grand Avenue development starting in 1850, and from Times Executive Editor Norman Pearlstine, an overview of the series on why he felt Grand Avenue made such a fascinating subject to examine from multiple perspectives.
Buried treasure
Winnie, the character buried up to her waist throughout Samuel Beckett's "Happy Days," "is one of theater's most difficult roles," writes The Times' Daryl Miller, "an hour and 40 minutes of text spoken by one person, with little input from the other actor — or reference points of any kind." Dianne Wiest, Miller reports, "handles it all with poise, precision and empathy" in the Mark Taper Forum production directed by James Bundy. "In this Everywoman role, she contains multitudes."
And if you missed Times theater critic Charles McNulty's interview last week with Wiest, it's worth a read. "I just want to do Beckett's 'Happy Days' over and over again," Wiest tells McNulty. "Nothing else comes near it." The production continues at the Taper through June 30.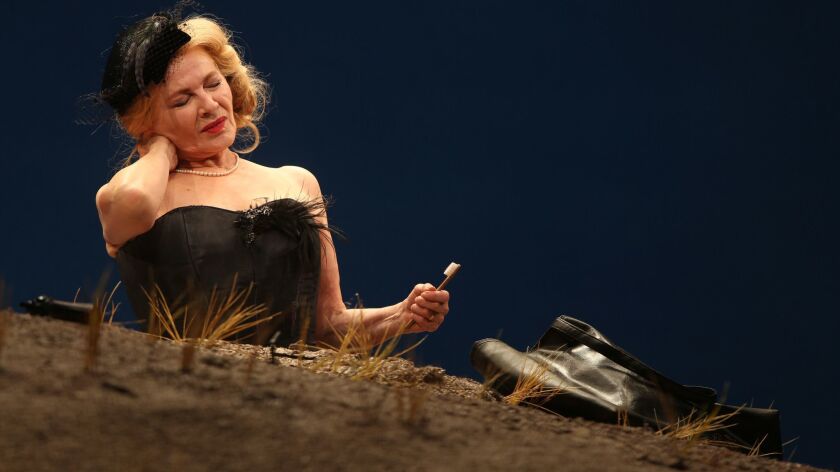 McNulty also reviews the latest production of David Henry Hwang's "M. Butterfly," directed by Desdemona Chiang at South Coast Repertory, recently reworked for "an era with a less binary view of gender and a more complex perspective on East-West power relations."
Lang Lang's new heights
After tendinitis kept superstar pianist Lang Lang off the concert stage for a year, he's been making a slow return. His plans to perform a different Beethoven concerto at five different L.A. Phil concerts were scaled back, yet, as Times classical music critic Mark Swed writes, Lang Lang's performance of Beethoven's Second Piano Concerto "was spectacular, and something people may well be talking about for years." Swed also made note of Russian pianist Julianna Avdeeva, who was "the standout" of the four pianists who played the other concertos Lang Lang had hoped to perform.
Swed also attended the season closer of the 80-year-old Monday Evening Concert series, a night dedicated to Pierre Boulez from "the longest-lasting new music series in America." Wrote Swed, "We should all be so vital at 80."
Theater of change
"We are standing on the bleeding edge of change," Cornerstone Theater Company cast member Marcenus M.C. Earl told a crowd in the courtyard of the Jordan Downs recreation center in Watts for a preview of "A Jordan Downs Illumination," which runs through Sunday. Times reporter Makeda Easter writes that "the immersive production offers residents and outsiders the opportunity to engage with the history of one of the oldest housing projects in L.A." — one that "will inevitably be demolished as Jordan Downs is transformed into a mixed-use, mixed-income 'urban village.'"
Art rises
"People say they want 40 acres and a mule. I got 50 blocks." Those are the words of Crushow Herring, better known as ShowzArt. Times reporter Jessica Gelt spent time on skid row with ShowzArt and his dogs Big Ugly and Space Ghost in her look at the pop-up art event We Rise. With live performances, art and workshops, We Rise was launched by the L.A. County Department of Mental Health and produced by Yosi Sergant through his company TaskForce "to raise awareness," Gelt writes, "about the importance of early intervention and treatment for mental health issues."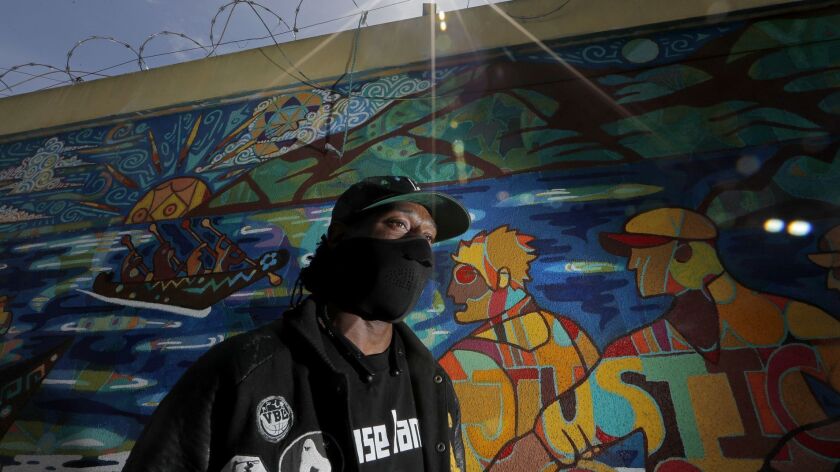 'Les Mis' legacy
Librettist and lyricist Alain Boublil, who with composer Claude-Michel Schönberg wrote two of the 20th century's longest-running musicals, "Les Misérables" and "Miss Saigon," invited Times contributor Margaret Gray to his Nichols Canyon house to talk about his life in musical theater and why he continues to tinker with his work.
Golden spike
The photo at the center of Oakland Museum of California's "Pushing West: The Photography of Andrew J. Russell" is the image of the eastern and western halves of the Transcontinental Railroad coming together with a golden spike on May 10, 1869. But "although Russell was hired to glorify the railroad," Times contributor Liesl Bradner writes, his "photos also capture a human toll," especially a series taken at a Shoshone Indian camp. "Some look at the railroad and gold rush as a triumph of American ingenuity," museum curator Drew Johnson said. "But if you were a native person then, you looked at the gold rush as a holocaust."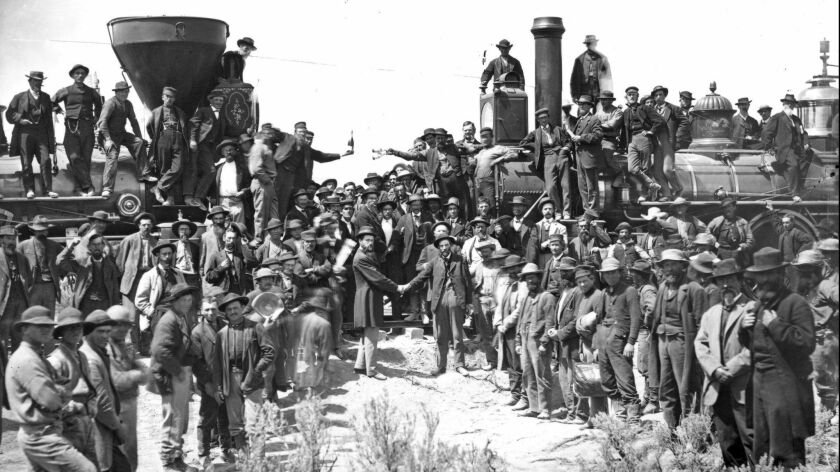 Dance jolt
When Dwight Rhoden, co-founder and artistic director of Complexions, brought his dance "Seen Unseen" to Orange County's Backhausdance company, reviewer Laura Bleiberg describes "an electrifying effect" on the company run by Jenny Backhaus. "The dancers seemed to grow bigger before our eyes" during the performance at the Irvine Barclay Theatre.
Hot topics
Nearly every hot-button issue of the day — abortion, race, gay marriage — is discussed in Michael Perlman's "At the Table" at the Road Theatre in North Hollywood. on Lankershim. But as F. Kathleen Foley writes in her review, the play is "provocative but thematically confused … an overstuffed cornucopia of social issues."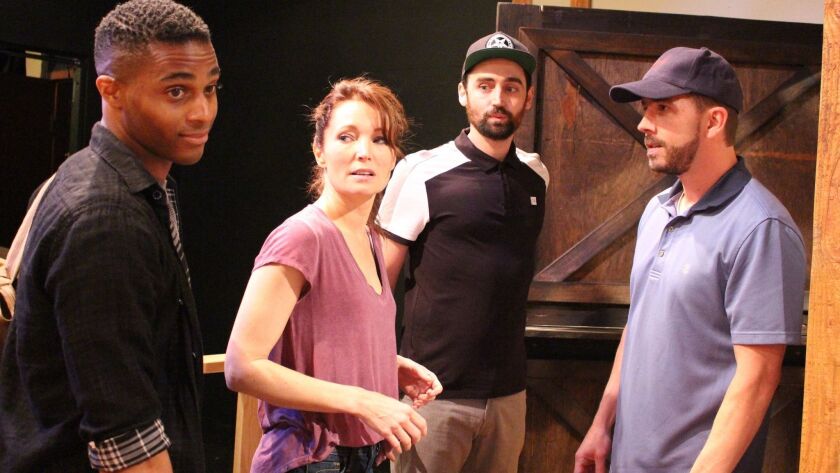 More theater
Philip Brandes reviews the most recent Actors Gang staging of the foreclosure play "Violence: The Misadventures of Spike Spangle, Farmer."
Daryl Miller on the 99-Seat Beat this week highlights "Bronco Billy," an adaptation of 1980 Clint Eastwood-Sondra Locke movie at Los Feliz's Skylight Theatre, from the film's screenwriter Dennis Hackin; plus, "Lady Day" at the Garry Marshall Theatre in Burbank and "A Streetcar Named Desire" at the Odyssey in West L.A.
And Matt Cooper has the rundown on what's coming up in Southern California theater, classical music, dance and museums.
I'll leave you with the fantastic image below of Carolina Miranda's mom as a preview of next week's newsletter — which I hope will have lots of juicy details about Carolina's trip to Japan.
---