Newsletter: Essential Arts: Frieze fair! The art, the rain, the vegan chocolate and Brad Pitt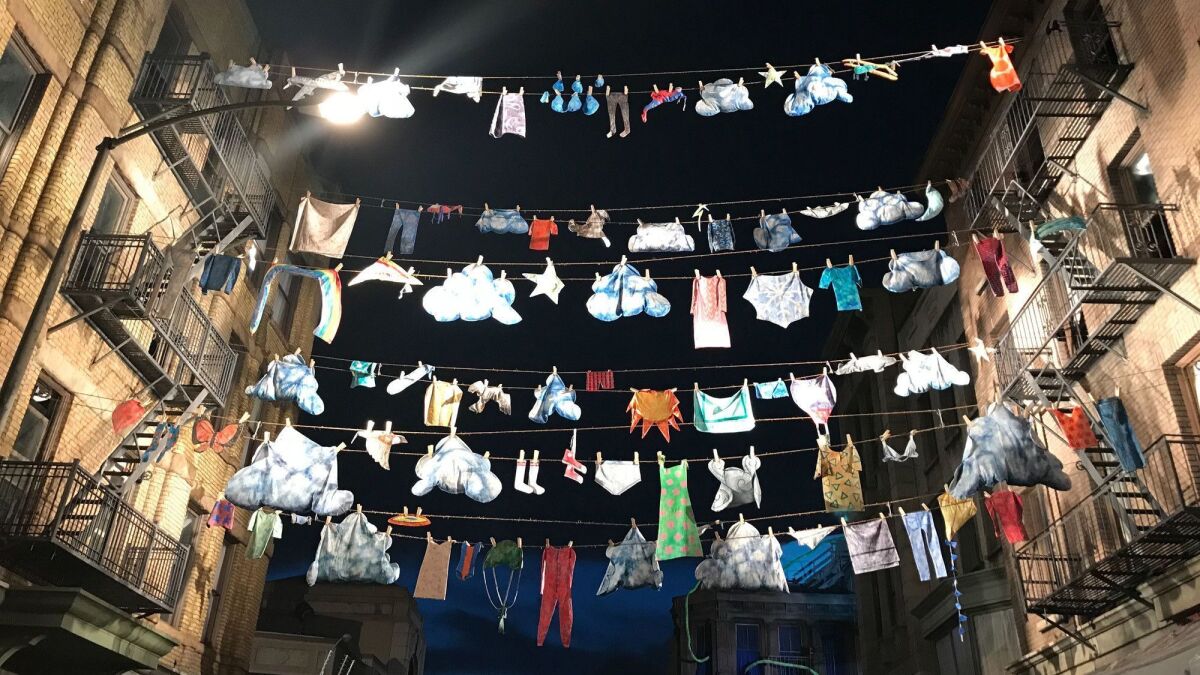 It's raining! But that hasn't extinguished the blazing spirit of all those art patrons who just landed in sunny SoCal to investigate art fairs. I'm Carolina A. Miranda, staff writer at the Los Angeles Times, with the week's essential art and vegan chocolate news:
FRIEZE FRAME
Times art critic Christopher Knight braved the rain and put on his best socialite-looking-at-art-face to check out the Frieze fair at Paramount Studios. While Frieze, like all fairs, "emphasizes commerce in an inhospitable context for people whose highest priority is social," Knight reports that "the quality of what's on view in the fair's 70-plus gallery booths is quite good." Will the fair turn L.A. into an art market? "New York and London are international banking centers," he writes, "while this city is not." Los Angeles Times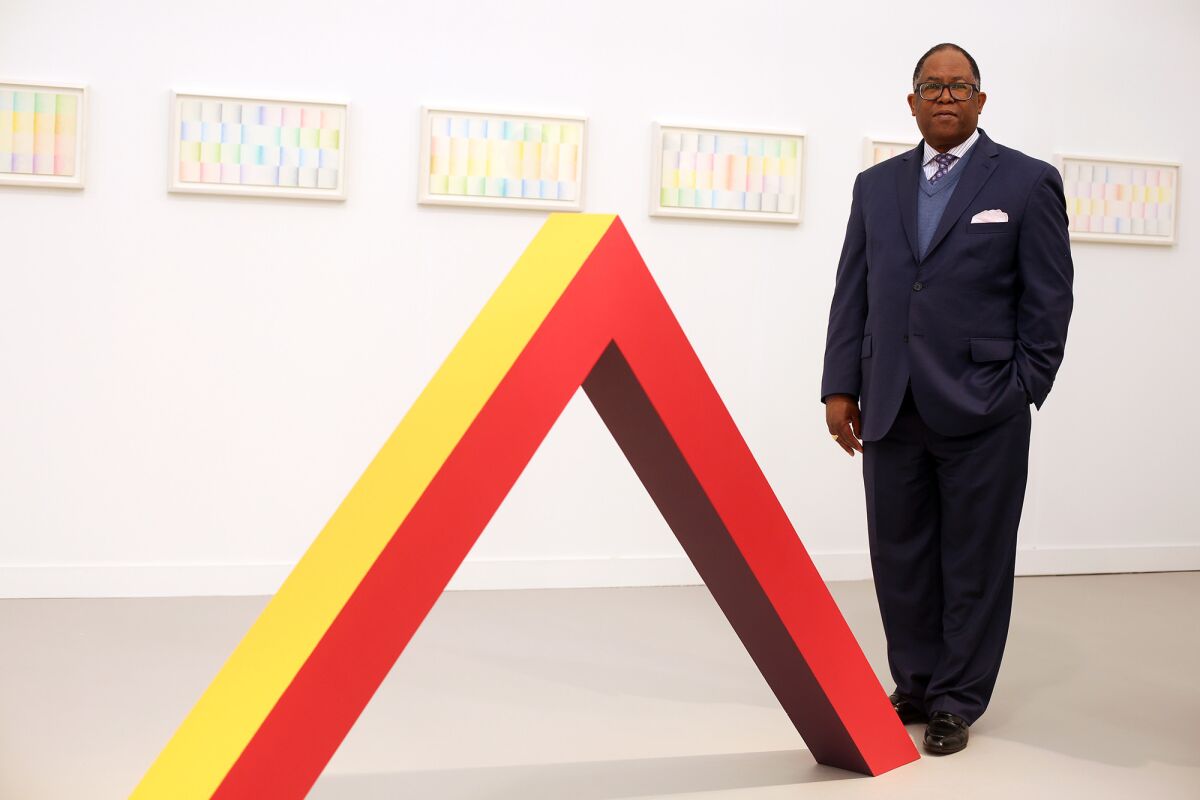 The Times' Deborah Vankin captures the doings on the first day, complete with a Brad Pitt sighting. Los Angeles Times
Jori Finkel reports on Frieze Projects, the installations organized by curator Ali Subotnick on the Paramount backlot. New York Times
Matt Stromberg has a handy guide to all the fairs, including Art Los Angeles Contemporary and Felix in Hollywood. Hyperallergic
He also interviewed Felix co-founder Dean Valentine about why he prefers a fair in a hotel setting: "It's human space. A booth is transactional space." Artnet
Plus, the artist who used search engine optimization to insert herself into the fair's online presence. Los Angeles Times
I am not covering the fairs in any official capacity, but I would like to report I ate a vegan chocolate at Frieze that was quite tasty.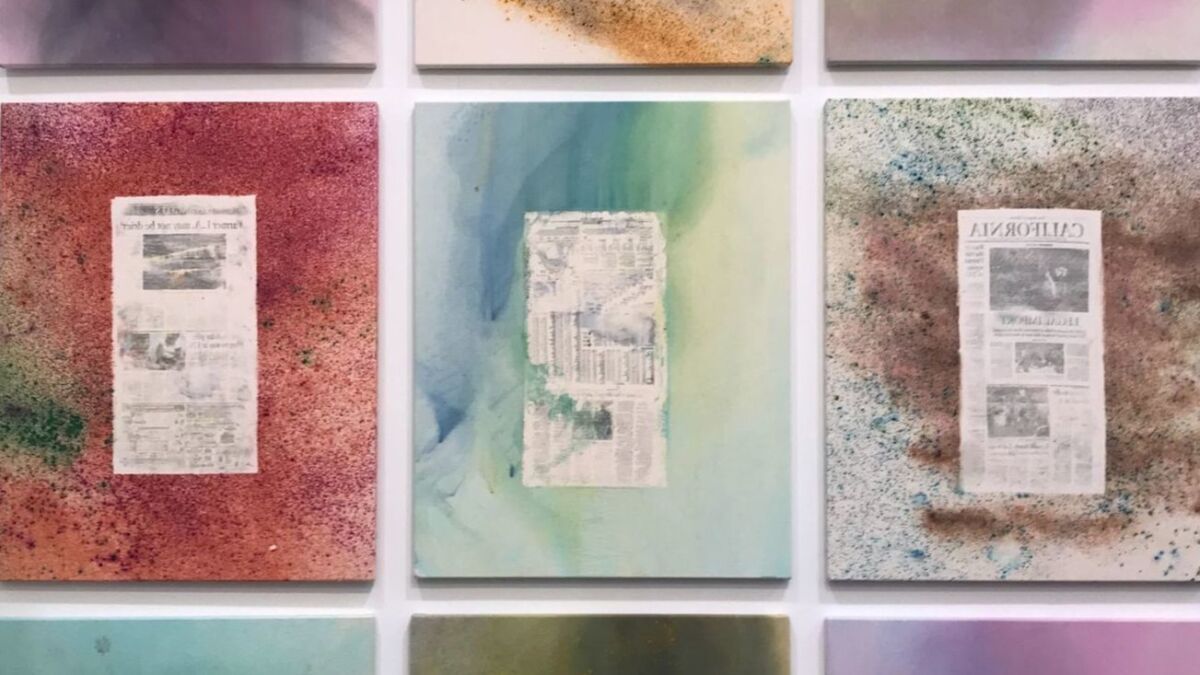 THE LEGACY OF A BLACK COMPOSER
In 1936, William Grant Still became the first African American to conduct a major American orchestra when he led the L.A. Philharmonic in a concert at the Hollywood Bowl. This week, the Philharmonic will perform Still's "Afro-American Symphony" led by another black conductor: Thomas Wilkins. How to make sure Still's memory isn't lost? "Don't have Negro night at the symphony or Mexican night at the symphony," Wilkins tells The Times' Jeffrey Fleishman. "Just add this repertoire to the canon." Los Angeles Times
STAGGERING LOSS
Times reporter Ashley Lee has been following L.A. artists whose homes were devastated by the recent fires. Among them: pop artist Hunter Blaze Pearson and Eryka Seimona Casper, a location scout who lost an archive of vintage photography.
Lee spent the most time with Lita Albuquerque, an artist whose ethereal works fuse Land Art and Light and Space. Albuquerque, who was preparing to send her papers to the Smithsonian Institution's Archives of American Art, lost five decades' worth of artwork, texts, drawings, sculptures and paintings at her Malibu home. "We're talking about hundreds of hours of work here," she tells Lee. "I have to let go of this, I really have to let go of this." Los Angeles Times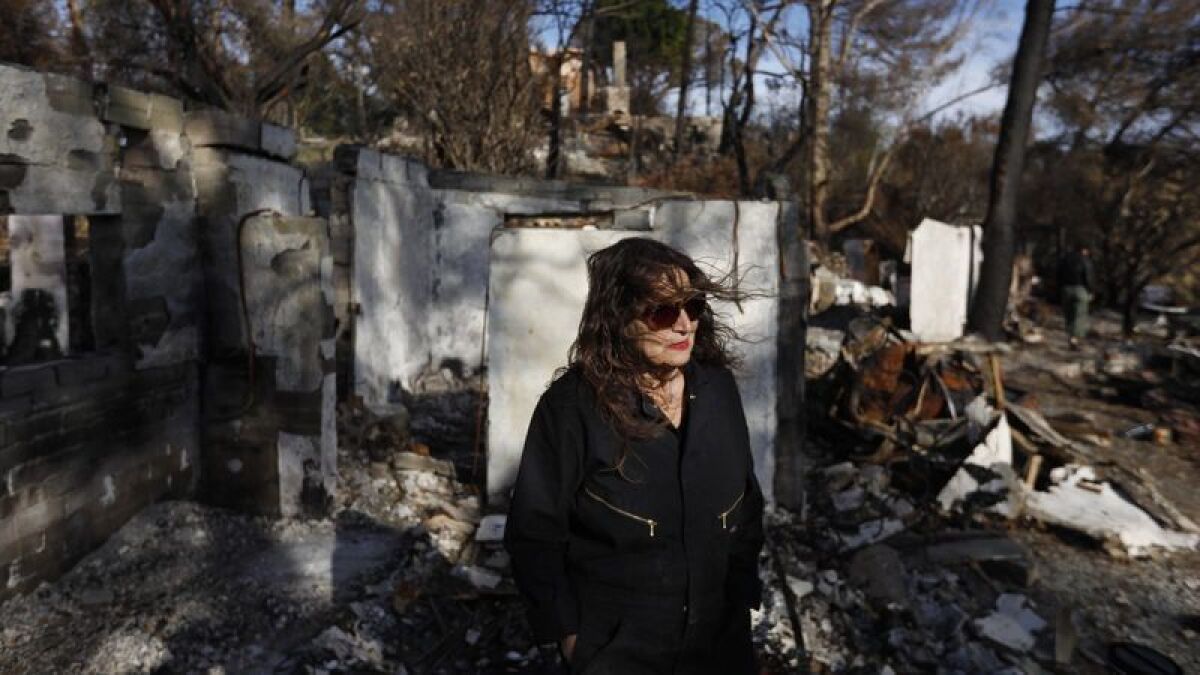 A 'STUNNING' REVIVAL
"Ragtime: The Musical," inspired by E.L. Doctorow's historical novel, is receiving a "stunning revival" at the Pasadena Playhouse, reports Times theater critic Charles McNulty — one that is just right for this political era. "The musical still has its embarrassing storytelling moments, and when the waves of honky-tonk piano give way to saccharine power ballads, the score loses its rich historical flavor," he writes. "But trust me, musical theater lovers: The show, pulled off with polish and panache, is one you won't want to miss." Los Angeles Times
The Times' Daryl H. Miller looks at the continued resonance of the musical: "Playhouse producing artistic director Danny Feldman notes that it's 'squarely on the nose about immigration and women's rights and hints of the Black Lives Matter movement.'" Los Angeles Times
ON STAGE
Charles McNulty also reviews Anna Moench's "funny, creepy and unflinchingly observed" new play "Man of God," staged by East West Players, about a group of girls on a church mission that examines "harsh gender realities" internalized by young women. Los Angeles Times
F. Kathleen Foley checks out the revival of August Wilson's "Two Trains Running," at the Matrix Theatre. The staging, she writes, "does full honor to the late Wilson's timeless genius." Los Angeles Times
And Margaret Gray says she wasn't expecting to find herself on her feet after seeing "Witness Uganda: A Documentary Musical," at the Wallis. But this unusual work is "honest, even vulnerable, in a way that is rare for a musical." Los Angeles Times
NARCOS IN THE LAND OF GARCIA MARQUEZ
"Birds of Passage," the new film from Colombian filmmakers Ciro Guerra and Cristina Gallego, takes the common cinematic trope of the gangster movie and tells it from a distinctly Latin American point of view: a surreal, epic tale about about early drug runners in a remote indigenous community. "The setting of La Guajira and the world of the Wayuu gave us an opportunity to tell this story in a different way, subverting the genre in the process," Gallego tells me, "a genre that has been very macho, a genre that has been very much of and about men." Los Angeles Times
CLASSICAL NOTES
To usher in the Year of the Boar, Mark Swed attended the U.S. premiere of Tan Dun's "Buddha Passion" at Disney Hall — a work inspired by murals and manuscripts found in China's Mogao Caves. "Asian melodies get Westernized, sometimes with the expansive and unembarrassed extravagance of a 21st century Puccini," he writes. "But just as often Western instruments and the choral singers are asked to Eastern-ize, producing tones meant for scales of other cultures." Los Angeles Times
Rick Shultz writes about the conductorless Kaleidescope Chamber Orchestra, which produces innovative programming that has included free shows at a Whole Foods store and plenty of pay-what-you-can shows. Says Rachel Fine, the director of the Wallis of their work: "They are lending themselves to a level of collaboration that most orchestras don't have." Los Angeles Times
READY FOR THE WEEKEND:
Matt Cooper has the week ahead in dance, art, theater and classical music, as well as his weekend picks, which including a performance by dance troupe Ate9.
I've got all the artsies in my weekly Datebook, including the opening of the highly anticipated retrospective of L.A. painter and teacher Charles White. Los Angeles Times
Plus, F. Kathleen Foley rounds up the 99-Seat Beat, which includes a modern-day interpretation of Othello. Los Angeles Times
IN OTHER NEWS…
— A pointe shoe designed specifically for men. Dance Magazine
— The serial killer who drew portraits of his victims. Devastating story. Los Angeles Times
— Cuban artists are asking participants in the upcoming 13th Havana Biennial to express their opposition to Decree 349, a law that puts strict regulations on art production in Cuba. Hyperallergic
— The Rijksmuseum in Amsterdam is showing all of its Rembrandts at once. Artnet
— Minimalist painter Robert Ryman, known for his evocative, mostly white canvases, has died at 88. Critic Roberta Smith has an obit. New York Times
— SFMOMA will deaccession a painting by Mark Rothko to support acquisitions of underrepresented artists. San Francisco Chronicle
— LACMA has acquired a key self-portrait by Kerry James Marshall. Los Angeles Times
— Robert Winter, an essential chronicler of Los Angeles architecture, has died at the age of 94. Curbed
— USC says it will provide benefits such as job training in connection with further development around the LAC+USC Medical Center in Boyle Heights. Boyle Heights Beat
— Ebony's ah-mazing 1970s test kitchen is for sale. New York Times
LAST BUT NOT LEAST…
I've been enjoying jazz critic Nate Chinen's playlist to accompany his book, "Playing Changes: Jazz for the New Century." Spotify
Sign up for our weekly Essential Arts & Culture newsletter »
carolina.miranda@latimes.com | Twitter: @cmonstah
---
Get our L.A. Goes Out newsletter, with the week's best events, to help you explore and experience our city.
You may occasionally receive promotional content from the Los Angeles Times.