On Thanksgiving, these stories offer food for thought.
TOP STORIES
A Time for Reflection
Thanksgiving is traditionally a time to take a step back. These past few weeks of tragedy in California — most notably the mass shooting in Thousand Oaks and the deadly wildfires — have given us much to think about. On this day, consider two stories: One is from the scene of hard-hit Paradise, where Tamara Ferguson, a nurse and mother of four, called her daughters to say goodbye as fire closed in around her, her colleagues and patients. The other is far removed from recent headlines; it's about Maria Hartmark, a caring employee at Dodger Stadium who was struck by an SUV and is finding her kindness is being repaid.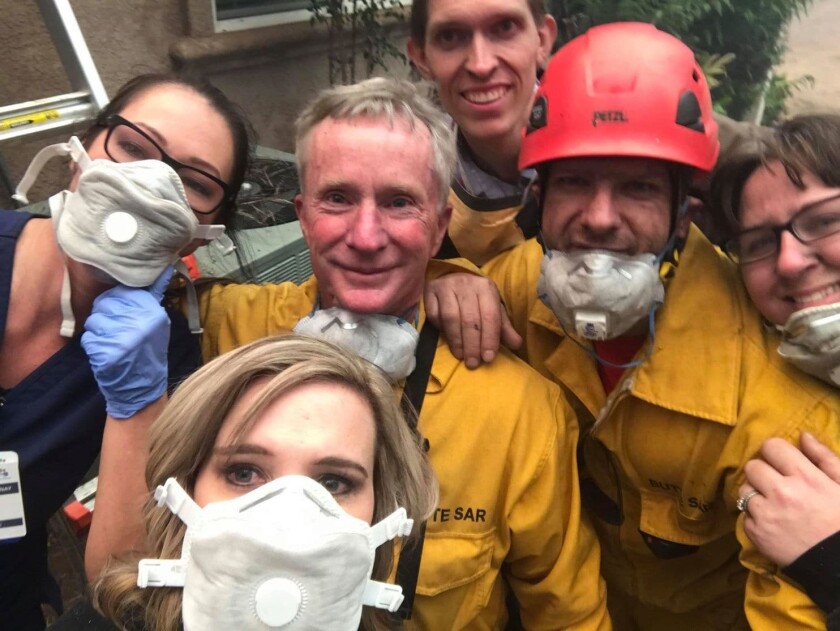 An Authorization of Deadly Force
Searches. Detentions. Crowd control. And, if necessary, deadly force. These are among the powers the White House has authorized for the U.S. military to protect Border Patrol officers and other personnel near Mexico. As we reported yesterday, the unusual order is likely to be challenged in court on grounds that federal law restricts active-duty military in most cases from performing domestic law enforcement. What makes it even more unusual is that White House Chief of Staff John F. Kelly signed the four-page memo, rather than the president of the United States.
Courting Controversy
Is there such a thing as an "Obama judge"? The role of an independent judiciary has been thrust into the spotlight after President Trump once again verbally attacked a federal judge over a decision he didn't like — and Chief Justice John G. Roberts Jr. seemingly had heard enough. "We do not have Obama judges or Trump judges, Bush judges or Clinton judges," Roberts said in a surprise statement. Trump's response: "Sorry Chief Justice John Roberts, but you do indeed have 'Obama judges,' " he wrote from his Mar-a-Lago resort in Florida, after playing golf with Jack Nicklaus.
More Politics
-- Trump's lawyers say the president has provided special counsel Robert S. Mueller III's team with written answers to questions about his knowledge of Russian interference in the 2016 election, avoiding at least for now a potentially risky sit-down with prosecutors.
-- GOP Rep. David Valadao's lead has slipped to 447 votes over Democrat TJ Cox in their still-undecided Central Valley House race.
Now in Stores: Fewer Headaches?
With Black Friday and Cyber Monday fast upon us, how can traditional retailers compete with the likes of Amazon for your holiday shopping dollar? Many of the biggest, including Target, Walmart and Macy's, are trying to take the hassle out of the in-person buying experience. That means "skip the line" technology, in which employees help shoppers pay and check out from anywhere in the store, and more convenient delivery options.
Sign up to get Today's Headlines delivered to your inbox. »
THANKSGIVING
-- Turkey 101: How to cook it.
-- Twenty-nine recipes you can do at the last minute. Perhaps.
-- TV highlights: What marathons, movies, specials and sports to watch.
-- Seven food-obsessed novels to make any feast complete, or to get your mind off all you ate.
MUST-HEAR PODCAST
-- History and hockey: Columnist Helene Elliott reflects on her journey as a pioneering journalist in the latest episode of "Arrive Early, Leave Late."
CALIFORNIA
-- In Butte County, the Thanksgiving holiday came to the communities devastated by the state's worst wildfire with rain, grieving and a haunting silence.
-- Gov. Jerry Brown has issued Thanksgiving pardons to immigrants facing deportation, drug offenders and former state Sen. Roderick Wright.
-- A Los Angeles County sheriff's sex crimes investigator has been charged with raping and tying up a 14-year-old girl he met as part of his job.
-- Attorney Michael Avenatti will not face felony charges based on allegations of domestic violence lodged against him by a 24-year-old actress. The case has been sent to the L.A. city attorney for possible misdemeanor charges.
HOLLYWOOD AND THE ARTS
-- As the radio quiz show "Wait Wait … Don't Tell Me" marks its 20th year on air, it's trying to be "a Christmas Eve truce" in a highly partisan world for one hour a week. Sometimes that's hard to do.
-- Not ripped from the headlines: The film "Creed II" isn't following the usual script of how Russian characters are depicted on screen.
-- Warner Bros. has settled a lawsuit filed by the Satanic Temple over a goat-headed deity shown in "The Chilling Adventures of Sabrina" on Netflix.
NATION-WORLD
-- Down at the border, volunteers in Texas are opening their homes and hearts to asylum seekers.
-- Ray Chavez, widely recognized as the oldest surviving veteran of the attack on Pearl Harbor, has died at age 106.
-- Some in Saudi Arabia are celebrating after Trump gave Riyadh a pass in the killing of Saudi journalist and U.S. resident Jamal Khashoggi.
-- Why is Mars so different from Earth? NASA's InSight mission will dig deep to find answers.
BUSINESS
-- Furniture giant Ikea plans to cut 7,500 jobs worldwide as part of a plan to cater more to (you guessed it) online customers.
-- Facebook's head of communications and policy said in a blog post he is responsible for hiring a public relations firm that targeted the company's critics.
SPORTS
-- The Lakers beat the Cavaliers behind LeBron James' 32 points, in his first trip to Cleveland as a Laker.
-- More than 50 years later, UCLA basketball's Moses Brown is stirring up memories of another dominant big man from New York.
OPINION
-- On Thanksgiving, here's to the bright spots of unity in a divided world.
-- John Roberts' brushback pitch at Trump comes with a big old asterisk.
WHAT OUR EDITORS ARE READING
-- A selection of poems for Thanksgiving. (Poets.org)
-- A study has found that you're more likely to be fooled by a fake headline if you don't like the media. (Nieman Lab)
-- Chef and TV host Andrew Zimmern wants to open a chain of Chinese restaurants, but he has a big cultural appropriation problem on his hands. (Eater)
ONLY IN L.A.
If you are looking for a place that not only serves Peruvian food but also has the feel of a practical Lima lunch hall, artist Eamon Ore-Giron has a tip for you: Head to a squat stucco strip mall at Cesar Chavez Avenue and Spring Street in downtown L.A. and look for a sign that bears a plastic chicken enveloped in plastic flame. There you'll find Intiraymi, which opened in 1999 but has "something very '80s" about it.
If you like this newsletter, please share it with friends. Comments or ideas? Email us at headlines@latimes.com.
---