Workers arrive at the Lincoln Memorial on the eve of Thursday's Fourth of July celebration in Washington, D.C. President Trump will deliver a speech at the memorial with military hardware on display, including tanks, and flyovers by military aircraft.
(Mark Wilson / Getty Images)
Workers install red, white and blue bunting in front of Lincoln Memorial ahead of Thursday's Fourth of July celebration.
(Mark Wilson / Getty Images)
A member of the Code Pink activist group holding a sign opposing the military display planned for the Fourth of July celebration in Washington on Thursday poses in front of a Bradley fighting vehicle.
(Alastair Pike / AFP/Getty Images)
U.S. soldiers prepare a Bradley fighting vehicle for display in front of the Lincoln Memorial in preparation for Fourth of July celebration in Washington, D.C.
(Brendan Smialowski / AFP/Getty Images)
A worker cleans a partition around the stage in front of the Lincoln Memorial where President Trump will speak during the Fourth of July celebration.
(Mark Wilson / Getty Images)
A Bradley fighting vehicle towed in on a trailer near the Lincoln Memorial in Washington.
(Andrew Harnik / Associated Press)
An Abrams tank hauled in by rail is hosed down en route to Fourth of July celebrations in Washington, D.C.
(Mark Wilson / TNS)
On this Independence Day, President Trump is once again mixing politics and the power of the White House in norm-upending ways.
TOP STORIES
Fireworks Over Trump's July 4 Plans
Tanks, military planes and fireworks will be part of today's Fourth of July celebration on the National Mall in Washington, which will feature President Trump speaking before a VIP crowd of Republican donors. He has promised it will be "the show of a lifetime!" Critics say Trump is hijacking a usually nonpartisan event and turning it into a costly, taxpayer-funded "Make America Great Again" rally. And government watchdogs say it's part of a much larger pattern during the Trump presidency of using the power of the White House to further his reelection effort in unprecedented ways — and sometimes flout a federal law called the Hatch Act that prohibits employees like Kellyanne Conway from using their official position for partisan purposes.
Questions About the Question
Hold the presses. A day after Commerce Secretary Wilbur Ross, who oversees the 2020 census, wrote that he "started the process of printing the decennial questionnaires" without a citizenship question, Trump declared that to be "fake" in a tweet. Not long thereafter, Justice Department lawyers told a federal court they had been "instructed" to try to find a way to add the question, despite what the Trump administration had said about moving forward without one — much to the exasperation of the judge.
More Politics
-- A federal appeals court has upheld an injunction barring the Trump administration from using military funds to pay for a wall along the southern border.
-- Iranian President Hassan Rouhani says his country will accelerate its enrichment of uranium in violation of the international nuclear accord, despite dire warnings from the United States. Trump pulled the U.S. out of the deal.
-- Former Vice President Joe Biden's campaign says it has raised $21.5 million since he got into the 2020 presidential race in late April.
Doomed to Repeat?
Less than five years ago, an Ebola epidemic in West Africa killed more than 11,000 people. When it was over, world leaders took a solemn vow: Never again. Now, in Congo, it is beginning to happen again — with an outbreak that has sickened thousands and killed more than 1,500. The response from the international community, including the U.S.? Epidemiologists and aid groups say it's not nearly enough.
Your support helps us deliver the news that matters most. Subscribe to the Los Angeles Times.
Sign up to get Today's Headlines delivered to your inbox. »
FROM THE ARCHIVES
On this date 90 years ago, L.A. residents celebrated Independence Day by swarming the beaches around Santa Monica. As The Times reported, "A record crowd, estimated by Police Chief Webb in excess of 250,000, kept traffic squads here, at Ocean Park and Venice and on the beach north through the Malibu working overtime in the night of the largest Fourth of July celebration in the history of the bay district."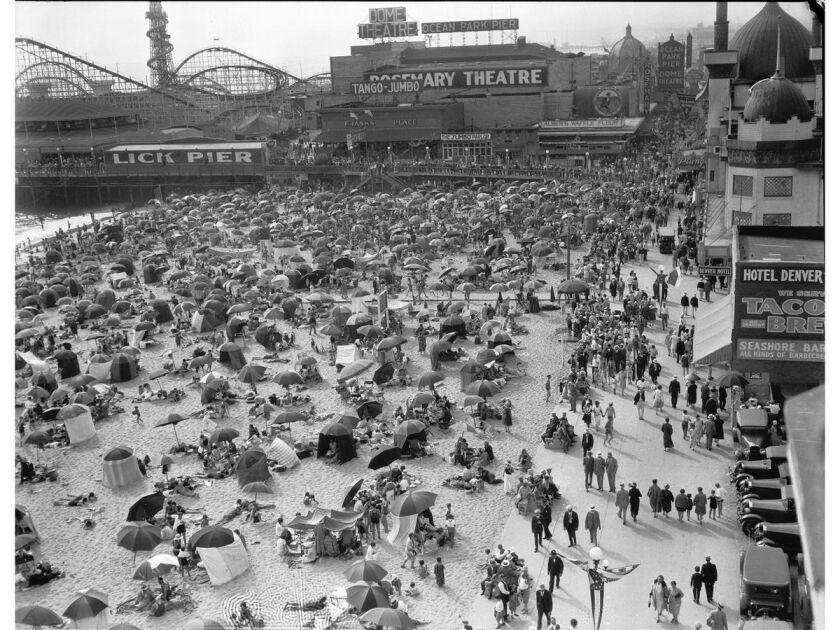 INDEPENDENCE DAY
-- Where to watch fireworks shows in the L.A. area.
-- Three delicious (and quick) dessert recipes for the Fourth of July.
-- Beyond fireworks: Ten ways to get a little culture this weekend.
-- Beachgoers beware: Dangerous rip currents and the threat of stingrays await.
CALIFORNIA
-- USC has agreed to pay UC San Diego $50 million and to publicly apologize to the school for the way it wrested control of its prestigious Alzheimer's Disease Cooperative Study in 2015 during a raid that led to a highly contentious lawsuit.
-- The sexual assault case filed against Rep. Tony Cardenas has collapsed, with the congressman's accuser dropping her case and saying she regretted hiring her attorney in the matter.
-- Despite a slight decline in the overall number of hate crimes reported statewide, incidents targeting Latinos and Jewish people surged last year in the state.
-- Dance studios are the latest being pushed out by L.A.'s skyrocketing real estate.
HOLLYWOOD AND THE ARTS
-- Taylor Swift, millionaire labor activist. Yes, everything has changed.
-- "Stranger Things 3" on Netflix finds new horrors at ... the mall. Aiee!
-- The game "Super Mario Maker 2" unexpectedly offers lessons in time and wealth management, not to mention a treatise on corporate life.
-- That casting-couch outtake in the 1999 film "Toy Story 2"? It's been cut.
NATION-WORLD
-- An Alabama district attorney said she is dropping charges against a woman who was indicted for manslaughter after she lost her fetus when she was shot during a fight.
-- In Hong Kong, activists fear shattered glass may obscure the demands of the wider protest movement.
-- The glamorous British-educated sixth wife of Dubai's ruler is reported to have fled to London. Her husband has unleashed an angry poetic outburst.
BUSINESS
-- "#Girlboss" author Sophia Amoruso is busy with her second act: a new social platform for young businesswomen.
-- As of this week, landlords of Los Angeles rent-controlled buildings can raise rent by 4%, the first time in a decade the annual cap isn't 3%.
SPORTS
-- U.S. soccer star Megan Rapinoe answers those who question her patriotism: "I'm extremely American."
-- Why shouldn't we worry about Manny Pacquiao boxing at age 40? God, he says.
OPINION
-- We hold this truth to be self-evident: Immigration helped build this nation.
-- The Times Editorial Board says Rep. Duncan Hunter should resign from Congress so he can spend more time with his lawyers.
WHAT OUR EDITORS ARE READING
-- Fourth of July poems on immigration, history, fireworks, cookouts and more. (Poetry Foundation)
-- Instagram influencer moms and the perils of perfection. (Vanity Fair)
ONLY IN CALIFORNIA
How do the San Francisco Giants get rid of the pesky seagulls that love to hang out at Oracle Park? After months of speculation amid fans, the San Francisco Chronicle got to the bottom of the matter and found the team is using the "Everybody clap your hands" snippet from the ballpark anthem "Cha-Cha Slide" to encourage them to get away — like a flock of seagulls.
If you like this newsletter, please share it with friends. Comments or ideas? Email us at headlines@latimes.com.
---