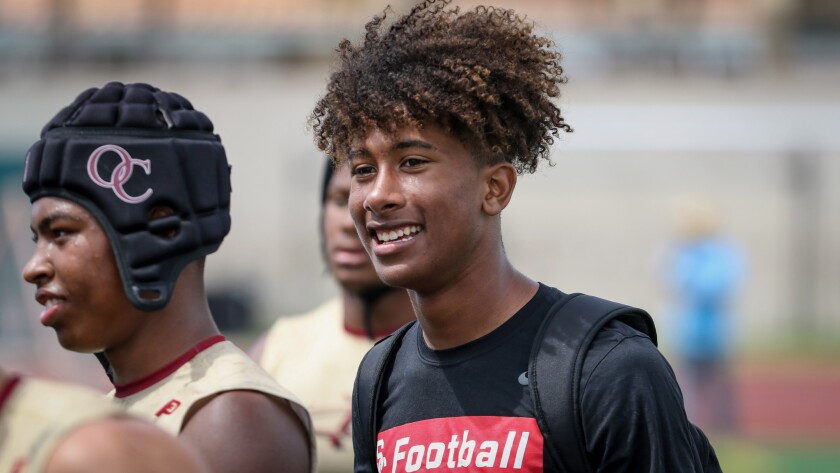 Turn on Alonzo Fontenette's highlights and you'll see several clips of him rising over a defender to make a catch.
"Nobody can compete with me in a jump ball," Fontenette said. "Nobody can put their hands on me. I'm just a complete receiver."
Fontenette's highlight reel from his sophomore season shows him catching deep passes and getting big gains on screen plays. He makes catches in traffic and over the middle of the field. There are even a few plays showcasing his willingness to block.
It's a well-rounded highlight package for a well-rounded wideout. He caught 32 passes for 648 yards and four touchdowns in nine games last year at Mission Hills Alemany High.
The 6-foot-3 Fontenette has the size of a college receiver and already has made a college commitment, pledging to Arizona State this spring after taking his third visit to the school.
"Third time's the charm," said Fontenette, who is now at Westlake Village Oaks Christian High. "I just had to do it. It was the move. I love the whole atmosphere, all that, and a big impact was the Michigan State game, seeing how they competed. I just feel like that's where I belong."
Fontenette said the Sun Devils' passing game is what caught his eye initially, watching the way N'Keal Harry, who became a first-round NFL draft pick, was utilized in a variety of ways. Fontenette thinks he can be used similarly after sitting with the Arizona State coaches and having them evaluate his game tape.
"We watched my film and they're just talking about I can [be thrown] jump balls, posts, deep routes. I can really run anything," he said.
Southland Sun Devils
Fontenette is the latest Southland prospect to commit to the Sun Devils. Arizona State has prioritized Southern California recruiting in coach Herm Edwards' short tenure. Half of Edwards' first recruiting class came from the area. The Sun Devils signed eight area players in the 2019 class and have four area commits in the 2020 class. Fontenette is the Sun Devils' lone commit in the 2021 class.
Southland connections played a large role in Fontenette choosing Arizona State. He previously lived in Palmdale and really clicked with Palmdale native Derek Hagan, who is an offensive analyst with the Sun Devils after being one of the program's all-time receivers.
Fontenette said he has a really good connection with Antonio Pierce as well. Pierce, the former Long Beach Poly High coach, has played a big role in Arizona State's recruiting prowess in Southern California since joining Edwards' staff as the linebackers coach. He helped bring in two of Fontenette's teammates at Alemany — safety Eli Doyle and offensive lineman Dohnovan West. They sold Fontenette on life in the desert.
"Just being around them, hanging out with them after their game, their spring game, the practices, hanging out with the team. It just felt really good," Fontenette said.
He also heard from Los Angeles Cathedral's Chad Johnson Jr., a 2020 receiver commit.
"That's my boy," Fontenette said. "He was telling me [about Arizona State] way before. Before I even got the offer."
A new home
Fontenette teamed up with quarterback Miller Moss for one of the top sophomore duos last year at Alemany, but he'll be looking to make a new connection this fall after transferring to Oaks Christian.
"Charlie Collins is the best wide receiver coach out here. So I just feel like to get myself better for college, I need to go through him," Fontenette said of the Lions' head coach. "All the players accepted me. It's a nice little brotherhood over there."
---