The Sports Report: A conversation with Roman Reigns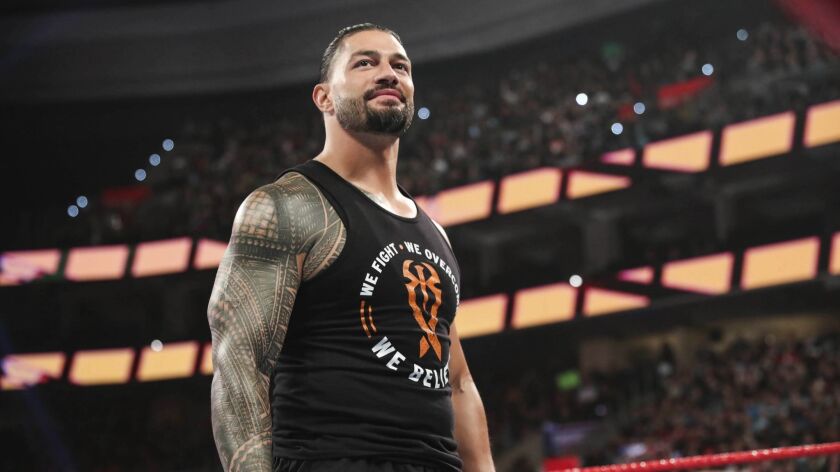 Howdy everyone, and welcome to the Tuesday edition of the Los Angeles Times daily sports newsletter. My name is Houston Mitchell and I'm your host for the festivities. Subscribe to this newsletter by clicking here.
Let's get to it.
WWE
Yes, I know what you are saying. "Pro wrestling isn't a sport!" Yes, but some things transcend labels, and this is a story I wanted to bring forward.
WWE star Roman Reigns is a former college football player (Georgia Tech) and pro football player (the CFL's Edmonton Eskimos). He's 6-foot-3, 265 pounds and when you watch him, you are convinced that if a car hit him, the car would be destroyed. One of his closing moves is even called the "Superman Punch."
So it came as a shock in October when Reigns, 33, real name Joe Anoa'i, announced on WWE's live TV show "Monday Night Raw" that he was leaving to battle leukemia, a disease he had also fought 11 years before.
"There were a lot of emotions going on when I decided to tell people," Anoa'i told me on Monday. "A big emotion was fear. I was insecure."
But the reaction was an outpouring of support from people, via the crowd he made the announcement to, via email, text, social media. He felt the whole world reached out to him.
"I was overwhelmed. I felt just so reassured that I wasn't alone. When you are holding a secret for so long you feel like you are trapped on an island with nobody to connect to, with nobody to kind of take that weight off your shoulders. But to receive that type of support, that type of positive reinforcement. I was overwhelmed. It felt really good."
But it didn't take too long for those who look down their nose at pro wrestling, or for those brave people on the internet who hide behind their anonymity, to start saying this was all a story line, or that he wasn't really that sick. They were thinking about Roman Reigns, TV character. Not Joe Anoa'i, a man who has a wife and kids.
"I've been with my wife since college, so she has been through this whole process with me. My big concern was my daughter, who is 11. So she's right at that age where she's hearing all those misguided opinions and hearing different things from different people. I thought that as long as she hears it from me, 'This is what is going on with Dad, and I don't want you to worry,' that she would be OK. And she's been great.
"It's hard, because as fathers and providers we want to protect. I'm so used to putting them in front of me and putting everyone first and making sure everything is OK. I learned it's OK to sometimes put ourselves first when it comes to our health because then we can get healthy and take care of everyone else again.
A couple of weeks ago, Reigns returned to TV to announce that he was in remission. Now, being the top guy and holding the championship is not the top priority. Giving back is. Reigns visits children's hospitals and wants to send a positive message to anyone who is fighting cancer or leukemia or any other disease where at times things may look hopeless.
"If anyone is struggling, I hope they can look at me and know that I am no different than them. I hope they can look at me and see that light. 'If he can do it, I can do it.' And that after they get through this rough patch, that there is a beautiful light that surrounds you and helps you appreciate life and those around you so much more. That they aren't alone and that many of us know what they are going through. Take strength from me, take strength from your friends and family."
I have battled cancer myself. It's a deeply personal experience, an experience that shows you your own mortality and generates fear of the unknown and what could be around the corner. There are untold number of people going through a fight against cancer or leukemia or some other dreaded disease. If you are one of those people, it's important for you to realize that you do not have to face this alone. Turn to a friend, or a loved one. Talk about your fears and anxieties with them. Don't be afraid to let them know what you are feeling. Know there are many, many people who have gone through the same thing and will listen to you. There are support groups you can reach out to to help deal with the mental aspect of the disease. And if you really need to vent and feel you have nowhere to turn, you can email me. I can't solve the problem, but I can let you know that you aren't alone. And just expressing your doubts and fears can be a great help. So keep fighting the good fight.
Dodgers
A lot of people are preparing for the worst about Clayton Kershaw. "Kershaw out for season" is a headline a lot of fans are expecting to wake up to some time soon. But not today.
Kershaw threw a bullpen session on Monday and the results were encouraging.
He had not thrown off a mound since Feb. 20 and threw only 20 pitches Monday, all fastballs.
"Felt great, yeah," Kershaw said. "It was another good day. And I'll take that right now. So just keep moving forward from here and start building up."
Pitching coach Rick Honeycutt described the exercise as "excellent." He noted that Kershaw appeared "freer and cleaner" while throwing at 80% effort.
Clippers
Lou Williams came off the bench as usual to score 34 points as the Clippers routed the Boston Celtics, 140-115. The 34 points made Williams all-time leading bench scorer in NBA history.
"I've always embraced this role. I think that's part of my legacy. I'm not a starter," Williams said. "…It's part of what people are going to remember me for so you might as well be the best at it."
Williams now has 11,150 points off the bench in his 14 seasons in the NBA. The previous record holder? Dell Curry, father of Steph Curry.
With the win, the Clippers moved into sixth place in the Western Conference. A look at the standings, with the top eight making the playoffs after the 82-game season is complete.
1. Golden State, 45-21, ---
2. Denver, 43-22, 1.5 GB
3. Houston, 42-25, 3.5 GB
4. Oklahoma City, 41-26, 4.5 GB
5. Portland, 40-26, 5 GB
6. Clippers, 39-29, 7 GB
7. San Antonio, 38-29, 7.5 GB
8. Utah, 37-29, 8 GB
9. Sacramento, 33-33, 12 GB
10. Minnesota, 32-35, 13.5 GB
11. Lakers, 30-36, 15 GB
12. New Orleans, 30-39, 16.5 GB
13. Memphis, 28-40, 18 GB
14. Dallas, 27-39, 18 GB
15. Phoenix, 16-52, 30 GB
Odds and Ends
Marcos Giron puts up valiant effort in loss to Milos Raonic at Indian Wells…. Naomi Osaka recalls anonymous days before rise to the top in tennis…. Oakland's Athletics need a home. They may get one — and provide 6,000 more…. Peter Bourjos is back with Angels, five years after pushing Mike Trout out of center…. Angels to pay Shohei Ohtani $650,000 this season…. Former UCLA great Don MacLean thinks Pac-12 can get three teams into NCAA tournament…. UCLA's Kris Wilkes, Jaylen Hands and Moses Brown receive All-Pac-12 honors…. Chargers owner Dean Spanos could've had the most popular NFL team in L.A…. Gennady Golovkin discusses the possibility of fighting Canelo Alvarez again…. Conor McGregor arrested on suspicion of robbery and criminal mischief…. Age is just another reason to watch Roger Federer and Rafael Nadal while there's a chance
Today's local major sports schedule (all times Pacific)
Lakers at Chicago, 5 p.m., Spectrum Sportsnet, 710 ESPN
Portland vs. Clippers, 7:30 p.m., Fox Sports Prime, AM 570
Nashville at Ducks, 7 p.m., FSW
Born on this date
1938: Race car driver Johnny Rutherford
1956: Baseball player Dale Murphy
1962: Baseball player Darryl Strawberry
1963: Synchronized swimmer Candy Costie
1965: Baseball player Steve Finley
1966: NBA player Grant Long
1968: NFL player Merton Hanks
1971: NBA player Isaiah Rider
1971: Baseball player Raul Mondesi
Died on this date
1973: Baseball player Frankie Frisch, 74
And finally
That concludes the newsletter for today. If you have any feedback, ideas for improvement or things you'd like to see, please email me here. If you want to subscribe, click here.
---
Get our high school sports newsletter
Prep Rally is devoted to the SoCal high school sports experience, bringing you scores, stories and a behind-the-scenes look at what makes prep sports so popular.
You may occasionally receive promotional content from the Los Angeles Times.