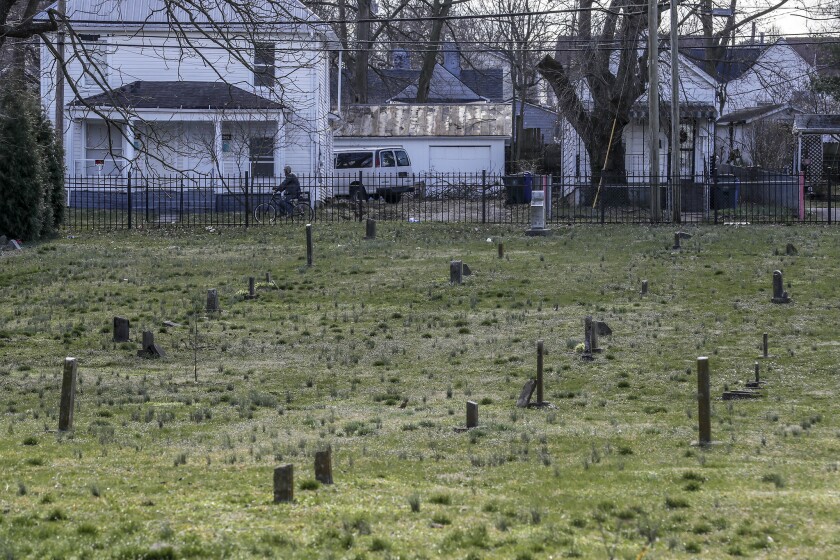 Hello everyone. My name is Houston Mitchell, and I'm hoping that one day Charley Steiner figures out what is and isn't a home run.
Horse racing
I know that not everyone who reads this newsletter is into horse racing. In fact, I'd be surprised if half of you are into it. But, this is Kentucky Derby week, and there's a special story about horse racing that is worth checking out. Written by Kurtis Lee, it takes a look at the mostly forgotten legacy of African Americans in building the sport. Usually I riff on a subject and throw in a bit of sarcasm, but this is far too important, so I am going to let Kurtis' words speak without comment:
"Tucked off a quiet two-lane road lined by towering oak trees in Lexington, you'll find African Cemetery No. 2, the burial site of many of Kentucky's first — yet often least remembered — jockeys and horse trainers.
"Every May, racing fans from around the world flock to Churchill Downs in Louisville, eager to watch thoroughbreds — many of them reared in the rolling hills nearby — tear around the track. The horse racing industry brings billions of dollars and infinite pride to the Bluegrass State each year. This Saturday will mark the 145th running of the Kentucky Derby.
"But as with the cemetery that houses the remains of some of the sport's pioneers, little attention is paid to the critical role black equestrians played in forming the industry in the late 1800s. In the years after the Civil War, most horse trainers and grooms were black men — so, too, were jockeys. Of the first 28 winning jockeys of the Derby, 15 were African American.
"By the early 1900s, racism and Jim Crow had started to push more and more African Americans from the sport. Beginning in 1922, no black jockeys would appear in the race for decades — a marginalization of blacks that continued until 2000, when Marlon St. Julien rode in the Derby. Kevin Krigger, the most recent black man to ride in a Derby, finished near the bottom of the pack in 2013.
""Walk to the far edge of African Cemetery No. 2 and you'll find a gray column with the family name of jockey Oliver Lewis. Born into slavery outside Lexington in 1856, Lewis rode Aristides, an American thoroughbred, across the finish line to first place in the inaugural Derby in 1875. Other than the marker on his grave and a small stretch of highway through Lexington, there are few monuments honoring him in his hometown, about 80 miles south of Cincinnati.
"Fifty steps away, near the center of the cemetery, you'll stumble upon the Perkins family plot. In 1891, at age 11, James "Soup" Perkins — nicknamed for his favorite dish — started riding horses. Just four years later, the Lexington native became one of the youngest jockeys ever to win the Kentucky Derby.
"The Lewis and Perkins headstones make no mention of their riding days, though elsewhere in the cemetery you'll find gravestones decorated with rusted horseshoes.
"Nearby, in a thick clump of grass, stands a red and black old-style furlong marker. It marks the location where the legendary Isaac Burns Murphy was once buried.
"Murphy, who competed in the Derby 11 times — winning in 1884, 1890 and 1891 — died of heart failure in 1896. For decades, Murphy was known as one of the best jockeys to ever race — and for his honesty in an era known for the occasional payoff or rigged race. In 1879, he refused to let champion Falsetto lose the Kenner Stakes, even though he was offered bribes.
"Despite his horse racing success, his grave sat unmarked for more than 60 years until the 1960s, when a Kentucky researcher tracked down his burial site. Murphy was re-interred twice, and now lies 10 miles away at the Kentucky Horse Park, an educational farm dedicated to the state's equestrian culture. Since its opening, he's been the only man buried at the park, feet away from Man o' War, an American thoroughbred who won 20 of 21 races and is widely considered the best horse to ever race.
"Carved into Murphy's headstone: "I am as proud of my calling as I am of my record, and I believe my life will be recorded a success, though the reputation I enjoy was earned in the stable and in the saddle."
This is an important story you should read by clicking here. And listen to our podcast on the subject here.
---
Trainer calls Omaha Beach's Kentucky Derby scratch "devastating."
Horse racing industry fights for survival in wake of deaths and scrutiny
Lamar Odom
"My memory is really bad. I can't remember anything. My short-term memory is really bad. … I wish I could explain it but I can't. It's tough and it's really frustrating. If there's a poster child for Alzheimer's, I'm probably it. It's something I'm scared of. I think I need to go see a doctor at some point and see if I can work on that. It's scary."
These are the words of former Laker and Clipper Lamar Odom, who was found unconscious in a Nevada brothel four years ago this October and was in critical condition at the Sunrise Hospital and Medical Center in Las Vegas.
Odom says he he had 12 strokes and six heart attacks while in a coma, and doctors had all but pronounced him dead to friends and family who came to see him for what they thought would be the last time.
"My doctors say I'm a walking miracle; they're amazed that I'm here," Odom says. "I always knew I had a strong will. I think my will is even stronger than I believed it was. It's a testament that God is good. When I woke up and I couldn't talk or walk I never thought I would be here. I never thought I would play basketball again or talk to you. Just to be here is a win for me."
"I can't dribble the basketball the way I used to. That was a gift from God. It was just so natural for me. It was a mismatch for me with my size to be able to put the ball on the floor the way I did.
"I guess God gave me life so he had to take something so I guess he took away some of my natural ability, which came easy to me. Ball handling and dribbling is still an issue but I have a month to work on that before the season starts."
NBA playoffs
Thursday's NBA score
at Philadelphia 116, Toronto 95 (76ers lead series, 2-1. Read game story here.)
Today's NBA schedule
All times Pacific
Milwaukee at Boston, 5 p.m., ESPN (Series tied, 1-1)
Denver at Portland, 7:30 p.m., ESPN (Series tied, 1-1)
NHL playoffs
Thursday's NHL scores (Read game stories here)
Boston 4, at Columbus 1 (Series tied, 2-2)
at Colorado 3, San Jose 0 (Series tied, 2-2)
Today's schedule
(All times Pacific)
New York Islanders at Carolina, 4 p.m., NBCSN (Hurricanes lead series, 3-0)
Dallas at St. Louis, 6:30 p.m., NBCSN (Series tied, 2-2)
Podcast
The "Arrive Early, Leave Late" podcast is in Las Vegas for fight week leading up to Saturday night's middleweight-title unification bout between Canelo Alvarez and Daniel Jacobs at T-Mobile Arena.
Boxing beat writer Lance Pugmire and columnist Dylan Hernandez discuss the main event and also interview undercard fighters Joseph Diaz Jr., Vergil Ortiz Jr. and Mauricio Herrera— all Southern California residents who hope to someday headline a Cinco de Mayo boxing match in Las Vegas themselves. You can listen to the podcast by clicking here.
Scheduling note
There will be no newsletter on Saturday, but we'll be back Sunday with results from the Alvarez-Jacobs fight and the Kentucky Derby.
Odds and ends
Dodgers should retire Fernando Valenzuela's number, and others as well…. Red Kelly, NHL Hall of Famer and first coach of the Kings, dies at 91…. Women's hockey players announce boycott of any North American pro league…. Angels expect Shohei Ohtani to help their batting woes at DH…. For Canelo Alvarez, Daniel Jacobs is the latest in a string of tough tests…. Is Canelo Alvarez hitting his peak? Most observers think so…. Eric Wynalda is in the soccer wilderness of Las Vegas and he's loving it…. Carli Lloyd and Alex Morgan among 23 named to U.S. Women's World Cup roster…. Malibu High, where surfing rules, decides to drop 11-man football…. Caster Semenya hints at retirement but is scheduled to race in Doha…. Former USC beach volleyball stars return to Huntington Beach with new partners…. Trial date set for Ted Rath, Rams' training director accused of sexual battery…. Angels reap the benefits of Brian Goodwin's surprising production…. Angels win fourth consecutive game with victory over Blue Jays.
Today's local major sports schedule
(All times Pacific)
Dodgers at San Diego, 7 p.m., Spectrum Sportsnet, AM 570
Born on this date
1904: Baseball player Red Ruffing
1920: Boxer Sugar Ray Robinson
1957: NHL player Rod Langway
1963: NBA player Jeff Hornacek
1964: NHL player Ron Hextall
Died on this date
1976: Football player Ernie Nevers, 73
And finally
All 14 of Cody Bellinger's home runs this season. Watch them here.
That concludes the newsletter for today. If you have any feedback, ideas for improvement or things you'd like to see, please email us here. If you want to subscribe, click here.
---