The Sports Report: Whatever happened to Mike Scioscia?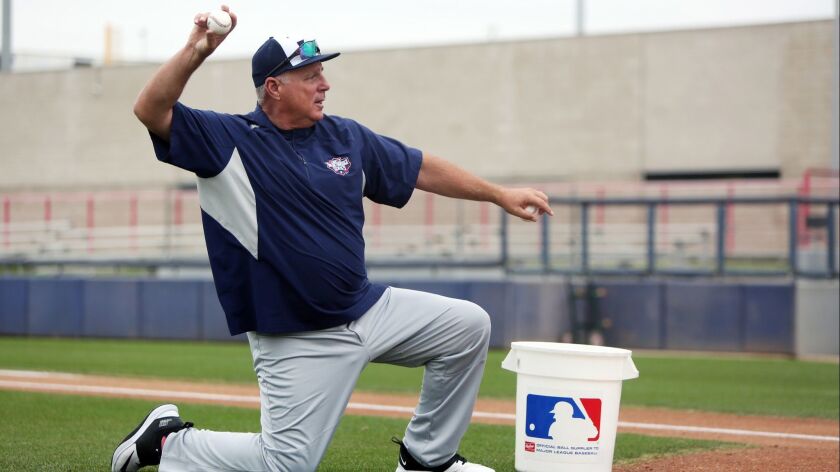 Howdy, my name is John Cherwa and I'm in final descent on this here newsletter as we await the return of Houston Mitchell, who is channeling his inner Einstein to try to figure out how to slow time so his vacation doesn't end.
I've said it before but you can always count on how Bill Plaschke comes up with these great stories. And here he has done it again with a look at how Mike Scioscia may have left the Angels but hasn't left baseball. Just give it a read. One version here, another down below.
"The bear of a baseball man is a familiar sight as he stands in the dirt behind third base, leaning on a weathered fungo bat, cap pushed back on his sunburned face, note card sticking out of his back pocket.
"For 39 consecutive years he roamed both of Southern California's great baseball fields with an impact unmatched, winning two World Series championships as a player at Dodger Stadium, winning one title as a manager at Angel Stadium. In a career that will almost certainly end in Cooperstown, he has worked in that dirt with everyone from Fernando Valenzuela to Mike Trout.
"Yet on this Saturday afternoon his cleats are in Compton, on a field underneath a buzzing freeway and in front of aluminum bleachers that are empty, talking rundown plays with a high school kid who just now figured out who he is.
"'He's teaching me all these great things and it didn't click at first, then I realized, wait, this is amazing,'' says Landon Wallace. 'This is Mike Scioscia!'
"It is indeed, Mike Scioscia, doing what he has done for the last nine months, hiding in plain sight.
"The last time most folks saw him was late September, and he was weeping at his farewell press conference after ending his 19-year career as Angels manager. This followed a 20-year career as a Dodgers player, coach and minor league manager.
"He had been arguably the most enduring figure across the entirety of the Southern California baseball landscape. Then, just like that, he was gone, disappearing into the shadows often occupied by old-school baseball guys who never cared about the fame.
" 'I'm not making an effort to get in the limelight or stay out of the limelight,' Scioscia says with a grin. 'I'm just living.'
"He hasn't been to Angel Stadium. He hasn't been to Dodger Stadium. He won't say it, but it's clear he just doesn't want to spend even a second detracting from the attention from those wearing the uniforms.
"You can find him working the occasional clinic for kids. You can find him working with his foundation's Conejo Oaks summer California Collegiate League team in Thousand Oaks. On this Saturday, he was typically discovered in the middle of working a three-day camp for diverse high school players at Compton's MLB Youth Academy."
Women's World Cup
Don't know how he does it but Kevin Baxter keeps coming up with good stories in the weeks and months between the U.S. women playing in France during the World Cup. Today's feature is on defender Ali Krieger, so read away. One version here, another down below.
"Defender Ali Krieger was a vital and constant presence for the U.S. women's team in the last two World Cup tournaments. She was so impressive in playing every minute of every game during their runner-up finish in 2011 that she was named to the tournament's top 11 at right back, and she started every game of their championship run in 2015.
"Krieger's time on the field has been reduced in France, but her presence hasn't been diminished — and she might have as big an influence on the Americans' success as she has ever had.
"Krieger, 34, was a surprise roster choice after she had been dropped from the national team and brought back to the fold for a friendly against Belgium on April 7. Coach Jill Ellis' pieced-together defense figured to be fast and capable of supporting an already fearsome attack, but would players be tempted to take chances and leave openings for opponents to score?
"Any questions about possible vulnerability on defense were silenced by the team's three shutouts and 18 goals scored in group play here. Any doubts about the wisdom of giving Krieger a place on the squad were wiped away by her solid performance against Chile and her success in helping mentor the team's 11 World Cup newcomers, including four first-timers on defense.
"'Ali's incredible. Look at what she's done for this team, and now stepping into a maybe a little different role than she's played in past tournaments,' said Kelley O'Hara, a fellow defender and three-time World Cup participant. 'She's great. I'm so thankful that she's here. I've always wanted her here. I've always thought she needed to be here and I think that it's only improved our team by having her here. It's a long tournament so we need people that are able to step in, fill big roles, and have that experience like she does.'
"'Krieger, who has a U.S. Soccer coaching license, has easily adapted to the role of advising her younger and less experienced teammates. When she whispers a word here or there or offers a tip now and then, her words are received with attention and respect. As they should be."
Round of 16 games (PDT)
Saturday's results
Germany 3, Nigeria 0
Norway 1, Australia 1 (Norway wins on penalty kicks)
Today's games
England vs. Cameroon, 11:30 a.m., FS1
France vs. Brazil, 12 p.m., Fox
Monday
Spain vs. United States, 9 a.m., FS1
Sweden vs. Canada, 12 p.m., FS1
Tuesday
Italy vs. China, 9 a.m., FS1
Netherlands vs. Japan, FS1
Rest of the schedule (PDT)
Quarterfinal games, June 27-29
Semifinal game, July 2, noon, Fox
Semifinal game, July 3, noon, FS1
Third-place game, July 6, 8 a.m., Fox
Final, July 7, 8 a.m., Fox
Santa Anita crisis
While at my day job, I discovered the fact that Hall of Fame trainer Jerry Hollendorfer was banned from Santa Anita, and a few other tracks, after a fourth horse died in his care at Santa Anita. And then we discovered two more horses died in Northern California at Golden Gate Fields.
There is the Hollendorfer story, which you can read here. (And the top of the story below.)
And there is the big picture story, which is a more comprehensive story in what went wrong at Santa Anita this year. You can find that here.
"Hall of Fame trainer Jerry Hollendorfer was ruled off the Santa Anita track after a fourth horse in his care died while racing or training.
"American Currency on Saturday suffered a life-ending leg injury to his left-front fetlock (ankle) while running over the training track, according to Rick Arthur, chief equine veterinarian for the California Horse Racing Board. It was the first fatality this meeting on the training track, which sits between the turf course and infield area and is not used for racing. It was the 30th horse fatality since the meeting opened Dec. 26.
"'Individuals who do not embrace the new rules and safety measures that put horse and rider safety above all else will have no place at any Stronach Group racetrack,' the company that owns Santa Anita and Golden Gate Fields, in Albany, Calif., said in a statement.
"'We regret that Mr. Hollendorfer's record in recent months at both Santa Anita and Golden Gate Fields has become increasingly challenging and does not match the level of safety and accountability we demand. Effective immediately, Mr. Hollendorfer is no longer welcome to stable, race or train his horses at any of our facilities.'
"In addition to the four horses at Santa Anita, Hollendorfer lost two during the fall-winter meet at Golden Gate Fields. River Of Doubt, a 3-year-old filly, died Nov. 11, and Defiantly, a 6-year-old gelding, was euthanized Jan. 6 after breaking down."
Odds and ends
Alex Verdugo's walk-off homer in the 11th lifts Dodgers over Rockies. … Albert Pujols crushes homer and gets a standing ovation from Cardinals fans. … It's a big victory for Andy Ruiz Jr. and Imperial Valley. … Gold Cup: U.S. men's soccer team routs Trinidad and Tobago. … Emmanuel Boateng, Favio Alvarez score in Galaxy's win over FC Cincinnati. … Kings get a scorer, Ducks defensive help during second day of NHL draft.
Other newsletters
We also have five other newsletters you can subscribe to for free. They are emailed to you and we don't sell your name to other companies, so no spam from us. They are:
Our Dodgers newsletter, written by Houston Mitchell. Subscribe here.
Lakers newsletter, written by Tania Ganguli. Subscribe here.
Horse racing newsletter, written by John Cherwa. Subscribe here.
Boxing/MMA newsletter. Subscribe here.
Soccer newsletter, written by Kevin Baxter. Subscribe here.
Sunday's local sports schedule
Colorado at Dodgers, 1 p.m., Sportsnet LA, AM 570
Angels at St. Louis, 4 p.m., FSW, KLAA 830
Sparks at Phoenix, 3 p.m.
Born on this date
1925: NFL team owner Art Modell
1940: Sprinter Wilma Rudolph
1961: NBA player LaSalle Thompson
1963: Golfer Colin Montgomerie
1968: Volleyball player Kent Steffes
1971: NHL player Felix Potvin
1972: Soccer player Zinedine Zidane
1979: NFL player LaDainian Tomlinson
Died on this date
2006: Pro wrestler Luke Graham, 66
2007: Baseball player Rod Beck, 38
And finally
If you've forgotten, or are just too young, here's a mini-bio on Wilma Rudolph. Just click here.
That concludes the newsletter for today. If you have any feedback, ideas for improvement or things you'd like to see, please email us here. If you want to subscribe, click here.
---
Get the latest on L.A.'s teams in the daily Sports Report newsletter.
You may occasionally receive promotional content from the Los Angeles Times.