Black power, police misconduct are part of the fashion messaging during the Emmys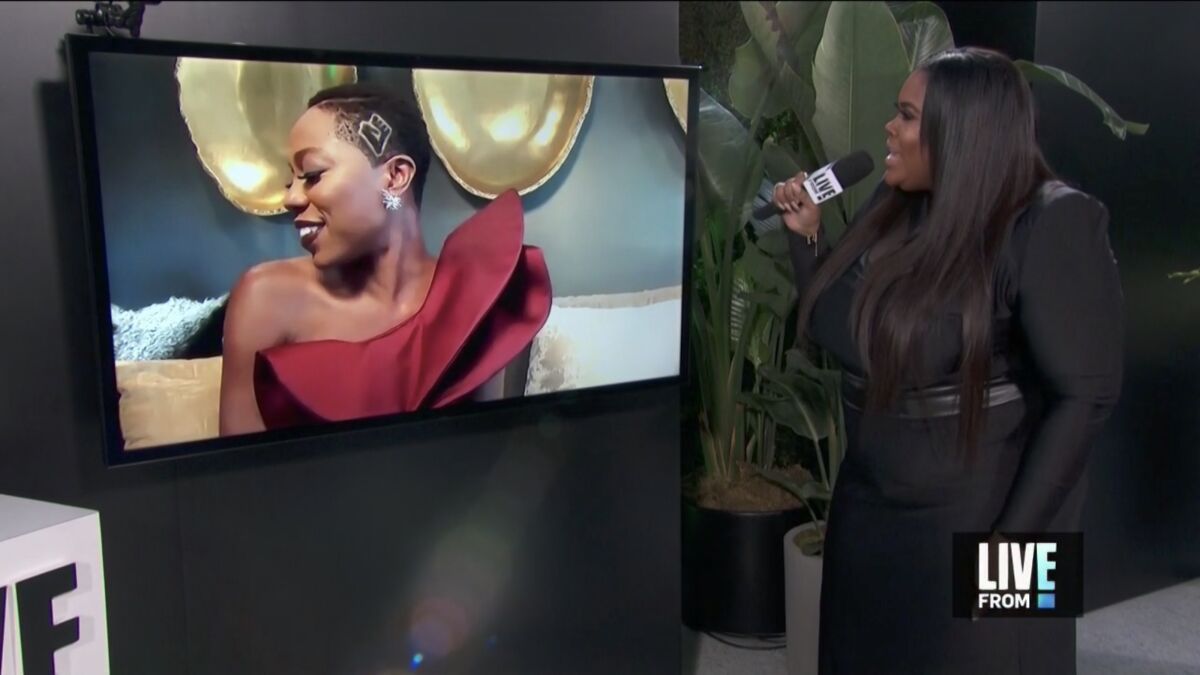 Emmys fashion was a mixed sartorial bag on the virtual pre-shows, but messages about Black power and beauty as well as police brutality stood out.
Appearing on E! from Atlanta, "Insecure" star Yvonne Orji showed off a short hairstyle with a raised clenched fist, a reference to the Black power and Black Lives Matter movements, edged into one side of her head.
Along with her hairdo, the Nigerian American actress also stood out with her dramatic one-shoulder dark red gown. A bit of sparkle on her dress was seen on screen but not much else in terms of the full look. (Oh, the constraints of being able to see these Emmy outfits only on TV instead of an actual red carpet.) "I brought my own red carpet," said Orji, a supporting actress nominee.
"The Good Place" star and supporting actor nominee William Jackson Harper, who's in L.A. in what appeared on screen to be a backyard, wore a black T-shirt with the words "Good trouble" in white letters. It was a reference to Rep. John Lewis' words, "Get in good trouble, necessary trouble, and redeem the soul of America." Lewis, a civil rights icon, died in July in Atlanta.
Another celebrity with a message was "Watchmen" star Regina King, who's in Santa Fe, N.M.
The Emmy nominee wore a bright pink Schiaparelli suit with a Breonna Taylor T-shirt. (She also sent E! a video of a bold blue Schiaparelli dress — what she would have worn to the Emmys if it were live this year.)
The "Say Her Name" shirt has appeared dozens of times in Instagram posts and been worn by Hollywood stars and stylists. Taylor, a Black woman, was fatally shot by Louisville, Ky., police in her home in the middle of the night in March.
Also, during the opening of the Emmys, nominee Sterling K. Brown from "This Is Us" could be seen on screen wearing a Black Lives Matter T-shirt.