From the Archives: Tyrus Wong breaks barriers as one of the first well-known Chinese American artists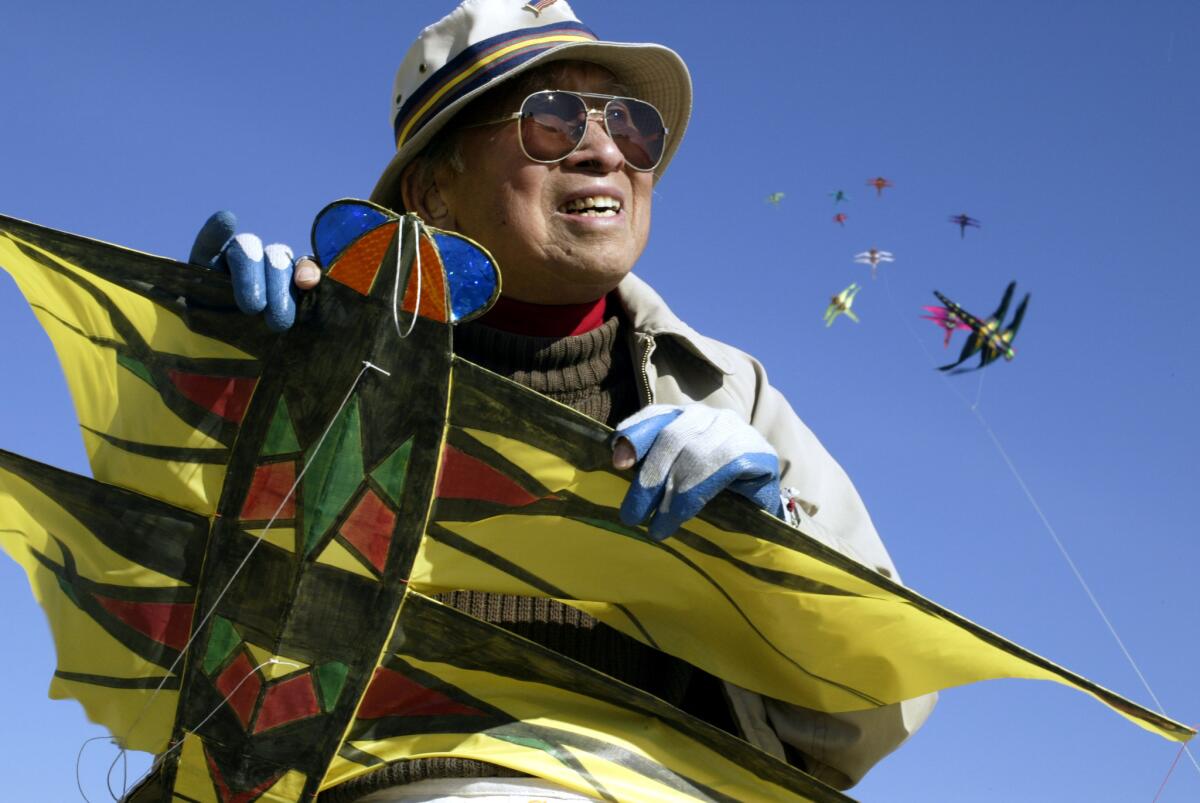 Tyrus Wong, who drew the backgrounds for Walt Disney's "Bambi" and went on to a long and distinguished career as an artist, died Dec. 29, the Walt Disney Family Museum announced. He was 106. In this 2004 article, a Times writer spoke to Wong about his exhibit at the Chinese American Museum in downtown Los Angeles.
His kites dance wildly above Santa Monica Beach, nine dragonflies tethered to a single line -- each moving independently as if touched by separate winds. Artist Tyrus Wong studies them, fascinated by their sounds, how they flutter against the washed-out sky and pale moon.
Nature is always greater than man -- that was one of the lessons Wong took from his early study of art from China's Sung period (960-1279). And, harmony between the two give balance to life. Kites reflect that balance. While Wong designed and built them, they could not be beautiful, he says, without the wind.
His reverence for nature is evident in "Tyrus Wong: A Retrospective," which runs through Aug. 18 at the 4-month-old Chinese American Museum in downtown Los Angeles and includes some work being shown for the first time.
One of the first well-known Chinese American artists, Wong now is, at 93, perhaps the oldest. His conceptual artwork for the Disney film "Bambi" is well known among animation-art aficionados. Wong worked 30 years in studios, including 26 years at Warner Bros., where he was a production illustrator for films including "Rebel Without a Cause."
"Tyrus simplified things and made them elemental and made them atmospheric," says Ron Barbagallo, an independent conservator specializing in animation. "You can really create a genealogy chart of everything today and line it back up to what Tyrus' influences were. You can't underestimate this person's impact on the industry.... He's probably one of the most unsung heroes in animation."
He had this talent that took him out of the confines of what was at that time a ghetto.
— Author Lisa See
The exhibition goes beyond Wong's Hollywood work and includes a self-portrait, nudes, landscapes, as well as pottery, toys and kites he created. Some pieces were done when Wong was a teenager, less than a decade after he came to the United States with his father in 1919.
In "Rain" (Chinese ink on paper), Wong creates a rainstorm with a few strokes slanting down upon a person with an umbrella, leaning forward, into the wind. In much of his work, he uses brush strokes like a poet uses words, sparingly and precisely.
The show was co-curated by author Lisa See, who wrote of Wong in her book "On Gold Mountain," and her cousin, Leslee See Leong.
"Tyrus was really among the very first to kind of break out of Chinatown by going to Otis [Art Institute] when he was in junior high," says Lisa See. "He had this talent that took him out of the confines of what was at that time a ghetto." Initially, Wong lived in Sacramento with his father, who later moved to Los Angeles to find work, leaving his son behind. When Wong started skipping school, however, his father sent for him.
In "On Gold Mountain," See devoted a chapter to Wong, told from his perspective. In it, Wong described living on Ferguson Alley in Chinatown: "We're sharing a room with a lot of other men. We all slept on these cots, only the bedbugs are so bad that they put the legs of our cots in little pans of kerosene to keep them from crawling up."
As far back as he can remember, art was his passion. His father made him practice calligraphy daily. Because they had no money for ink, Wong brushed water onto newspaper, which could be used over and again.
At age 15, he received a scholarship to attend Otis Art Institute (now Otis College of Art and Design) for one term. When the scholarship ran out, he didn't want to leave; his father scraped together $90, a huge sum, so he could continue there. Through further scholarships and part-time jobs, he spent another four years at the school.
In "On Gold Mountain," See, writing again from Wong's perspective, wrote: "I love art. Sometimes after class, when I'm walking back to Chinatown, I stop at the library. I look at the Japanese Sumi-e painters. I learn if you put down just what's necessary to make a point, you will have a great painting. If you can do a painting with five strokes instead of 10, you can make your painting sing."
In 1938, Wong was hired at Disney Studios to do "in-between" work, continuing the motion of characters as determined by animators. The work, he says, allowed little creativity, so when he heard that "Bambi" was going to be made into a film, he read the book and, on his own time, put together a series of conceptual paintings. Although other artists were working on the project, Wong's renderings were chosen to set the tone for the film. They were unique in that they were more Impressionistic than previous Disney animations. They also were tiny, some of them only 2 inches square.
John Canemaker, author and director of animation studies at the New York University Tisch School of the Arts, says Wong was able to incorporate Chinese sensibilities into his unique conceptuals.
"It was a different approach that really appealed to Walt Disney," Canemaker says. "He approached it as much of Chinese painting is approached, trying to simplify and get to the heart of things with a very strong design."
Prior to World War II, Wong was a member of the Los Angeles Oriental Artists Group, which also included Hideo Date and Benji Okubo. They were mentored by Stanton Macdonald-Wright and often showed their work at a Chinatown gallery owned by Eddie See, Lisa See's grandfather.
"They all knew each other and helped each other," says See. "It was during the depth of the Depression. These people had no money and yet they were all working together and supporting each other." They were starting to gain recognition too, and their work was included in shows at the Los Angeles Museum of Art (now LACMA), See says. The group fell apart during the war, however, when those of Japanese ancestry living on the West Coast were locked up in internment camps.
"These guys were perched on the edge and could have become very well known," See says, "but they were never able to come back and pick up where they were before World War II."
It was after retiring from Warner Bros. that Wong began designing and building kites as a hobby. He likes to tell the story of how his late wife, Ruth, once told him to "go fly a kite," and that's how it all began, but the story is told with a twinkle in his eyes.
He rarely paints, although he says he may start again. Looking back, he is particularly proud of the 20 years' worth of Christmas cards he designed in his free time, because that art was his alone. He never considered himself a great artist, just a lucky one. His three daughters, he says, are his greatest achievement. Kim Wong says she and her sisters were always creating art, but their father disallowed coloring books.
The imagination should not be contained by lines, he says. There should be creativity and freedom in art, just as there should be balance in life, and that is what he feels when he watches a kite join the wind, creating beauty between man and the heavens.
Get our L.A. Goes Out newsletter, with the week's best events, to help you explore and experience our city.
You may occasionally receive promotional content from the Los Angeles Times.