Actor Dan Haggerty, TV's 'Grizzly Adams,' dies at 73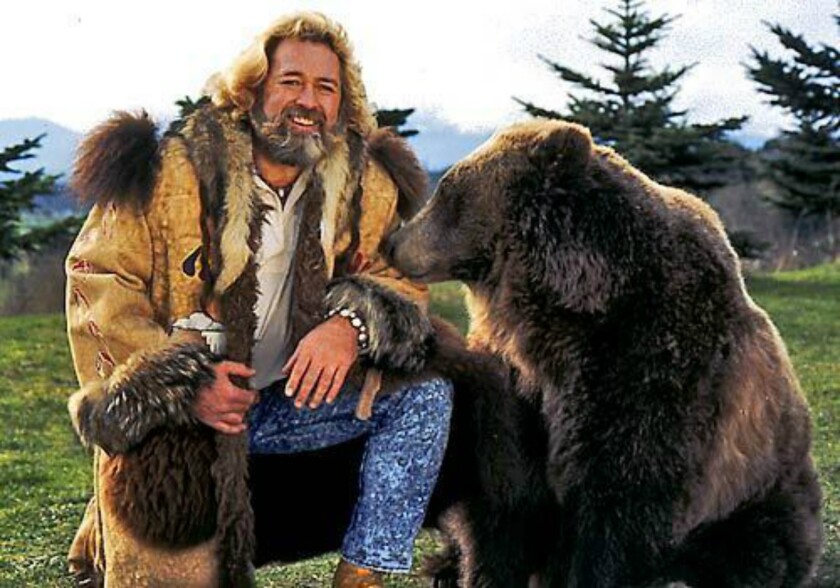 Actor Dan Haggerty of "Grizzly Adams" fame died early Friday of cancer, said his longtime friend and manager Terry Bomar. He was 73.
Haggerty learned he had cancer of the spine in August and died at Providence St. Joseph Medical Center in Burbank, Bomar said.
Born Nov. 19, 1942, in Los Angeles, Haggerty was the son of an entertainment industry veteran. His parents wanted him to be a priest, but Haggerty proved a "wild child" who "went off track and became fast and furious," Bomar said.
As a young man he got a job with a ranch in the San Fernando Valley that trained animals for movies. He became an animal handler, wrangling rabbits and frogs for various film productions, and was a stuntman on the side.
The combination of skills led to his discovery as an actor. He was working on a movie shoot in Canada, filming a scene that required him to chase a tiger across a frozen lake in an attempt to rope it, Bomar said.
Apparently, this proved a memorable escapade. A colleague on the set later tapped the bearded Haggerty for the role of the burly, amiable woodsman in the 1974 back-to-nature TV movie "The Life and Times of Grizzly Adams" and later the series of the same name. The family-programming hit premiered in 1977 and ran for 37 episodes and made Haggerty and his bushy beard famous.
The role was a natural fit for Haggerty, who remained a rough-and-tumble free spirit, and who would have worn the beard regardless, Bomar said.
See more of our top stories on Facebook >>
In 1985, a jury found him guilty of one count of selling cocaine to undercover officers who were part of an "entertainment industry task force" run by the LAPD at the time. Jurors threw out a second count, apparently because Haggerty had grown so genuinely fond of the two officers.
Legally speaking, that meant the case had morphed into entrapment.
A few months later, Haggerty suffered serious injuries in a motorcycle accident on Benedict Canyon Road. While still recovering, he was sentenced by a federal court for failure to pay taxes.
He bounced back quickly, this time appearing in public to extol the merits of his court-mandated community service: "I'm trying to give back to the system. The system's been good to me," he told a Times reporter in 1987.
He marketed Cajun barbecue sauce, tried his hand as a restaurateur and kept acting. He reprised his Grizzly Adams character in several TV movies and appeared on dozens of other shows, including "Charlie's Angels," "CHiPs," and "The Love Boat." Later productions romanticized motorbikes, nature and family — and at least one starred a chimpanzee.
He shattered more bones in a second motorcycle crash in 1991; this time, rumors flew that he had died.
Badly shaken, Haggerty told a reporter he had been moved to write a letter to Pope John Paul II — and was delighted to get an encouraging letter back.
Haggerty "wasn't a choirboy by any stretch of the imagination," said Bomar. "He was a pirate! He would light up any room he walked into — he had infectious laughter."
See the most-read stories this hour >>
Fans never stopped identifying him with Grizzly Adams, a role he relished. He loved the bear on the show — a female called Boz, short for Bozo. On occasion, he would shave off his trademark bushy beard for charity.
But there were limits to his identification with mountain men. Bomar recalled a celebrity autograph-signing appearance Haggerty made in Tennessee. In keeping with the show, organizers had decided the setting should be a cabin in the trees.
Haggerty arrived before his manager, and called him in a fit:
"They've got me so far out in the woods — so deep and dark — you've got to be kidding me!" Bomar recalled the lifelong Angeleno saying. "I'm scared to death!"
Haggerty was divorced once then remarried. He was preceded in death by his wife Samantha. He is survived by daughters Megan and Tracy Haggerty, sons Dylan, Cody and Don, all of Los Angeles, and one grandson.
ALSO
Oscars 2016: The snubs, surprises and outrage
Name changes for Ahwahnee Hotel and other Yosemite attractions draw outrage
Mountain lion kittens born in Santa Monica Mountains, father still unknown
---
Must-read stories from the L.A. Times
Get the day's top news with our Today's Headlines newsletter, sent every weekday morning.
You may occasionally receive promotional content from the Los Angeles Times.