John Glenn dies at 95; hero was first American to orbit Earth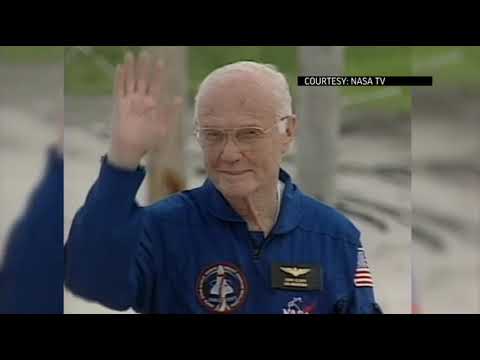 Former astronaut and U.S. Sen. John Glenn sat down with the Associated Press to discuss his past missions and the future of the U.S. space program. (AP)
When his bell-shaped capsule splashed into the ocean after orbiting Earth again and again, John Glenn emerged an instant hero — the fighter-jock pilot of few words who in just five hours of circling the planet helped cement America's faith that it could lead the race into outer space.
He walked across the deck of the aircraft carrier where Friendship 7 had been lowered as casually as a guy who'd just returned from running a crosstown errand, exuding a confidence and swagger later mythologized in Tom Wolfe's "The Right Stuff."
Decades later, at the age of 77, Glenn would return to space on a nine-day mission aboard the shuttle Discovery after selling himself as a human guinea pig who would demonstrate the effects of space travel on the elderly.
Glenn, who also served for 24 years as a U.S. senator from Ohio, died Thursday at the age of 95, a day after being hospitalized in Columbus, Ohio.
"When John Glenn blasted off from Cape Canaveral atop an Atlas rocket in 1962, he lifted the hopes of a nation. And when his Friendship 7 spacecraft splashed down a few hours later, the first American to orbit the Earth reminded us that with courage and a spirit of discovery there's no limit to the heights we can reach together," President Obama said in a statement.
Glenn was the last surviving astronaut of the original Mercury Seven group, preceded in death by Alan B. Shepard Jr., Gus Grissom, Wally Schirra, Gordon Cooper, Deke Slayton and Scott Carpenter.
In his first historic flight, Glenn circled Earth for nearly five hours in a tiny spaceship on Feb. 20, 1962, the first American to orbit the planet. When he returned to space in 1998, his voyage did nearly as much to revive interest in America's space program as his first pioneering voyage had to ignite the country's fascination with space exploration.
John Glenn sits inside the training capsule, January 11, 1961, in preparation for manned space flight.
(Harvey Georges / Associated Press)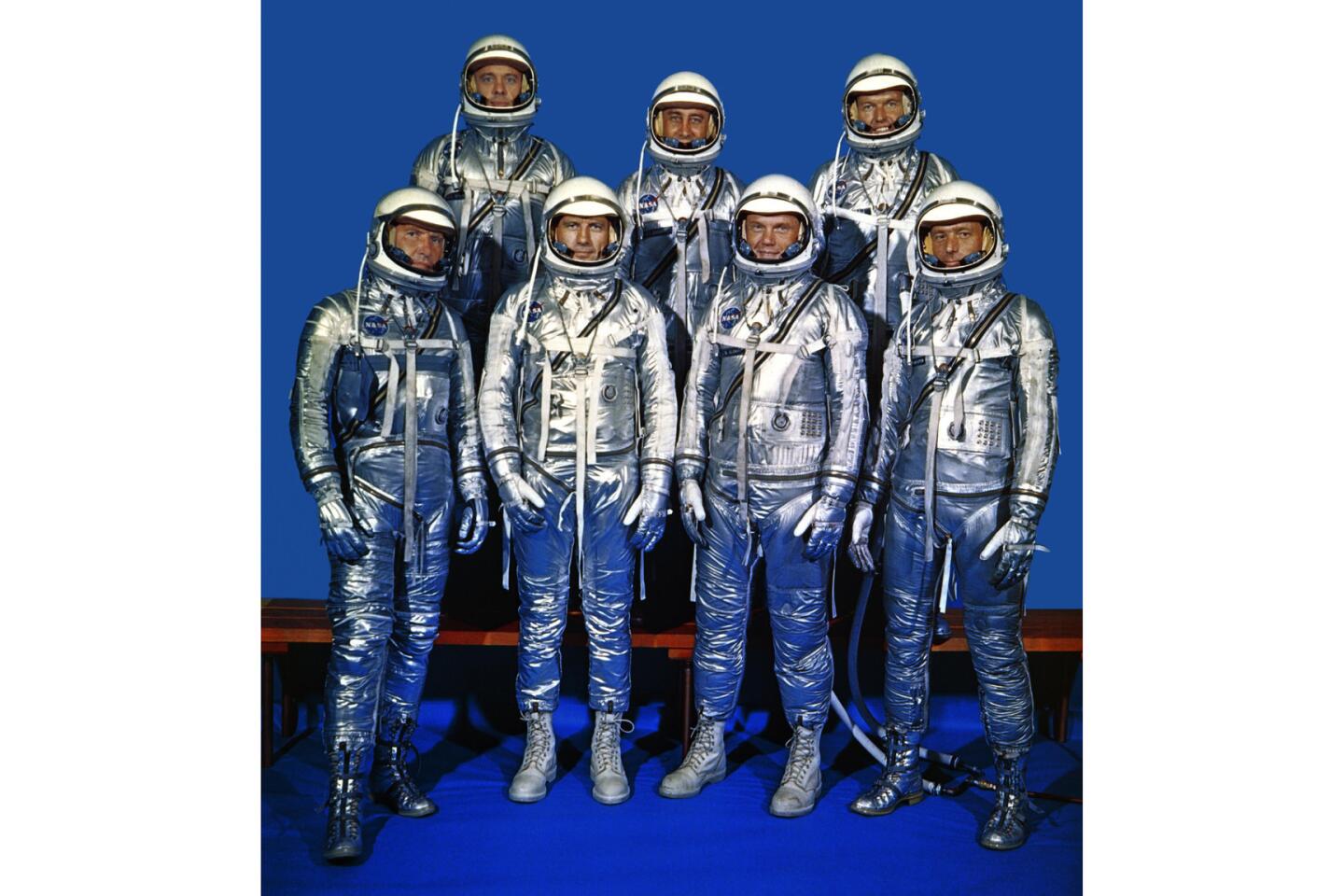 This 1961 NASA photo shows the original seven Mercury astronauts. From left, first row are Walter Schirra Jr., Donald Slayton, John Glenn and Scott Carpenter. In the back row are Alan Shepard Jr., Virgil "Gus" Grissom and Gordon Cooper.
(NASA / Getty Images)
John Glenn, President Kennedy and Vice President Lyndon Johnson inspect the Friendship 7, the Mercury capsule in which Glenn became the first American to orbit the Earth in 1962.
(Vincent P. Connolly / Associated Press)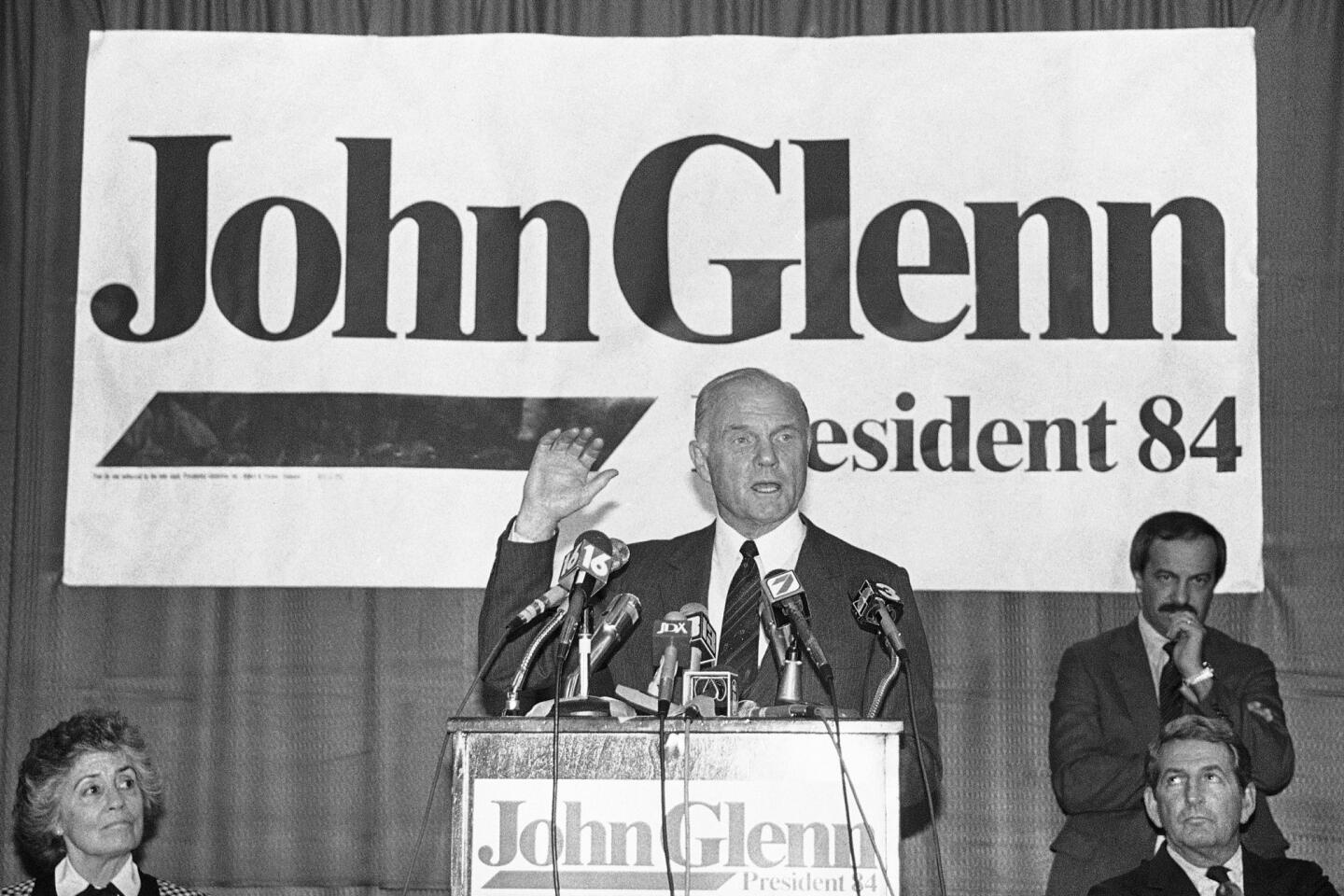 Jan. 18, 1984 photo of Sen. John Glenn, D-Ohio, answers questions from the press in Jackson, Miss.
(Tannen Maury / Associated Press)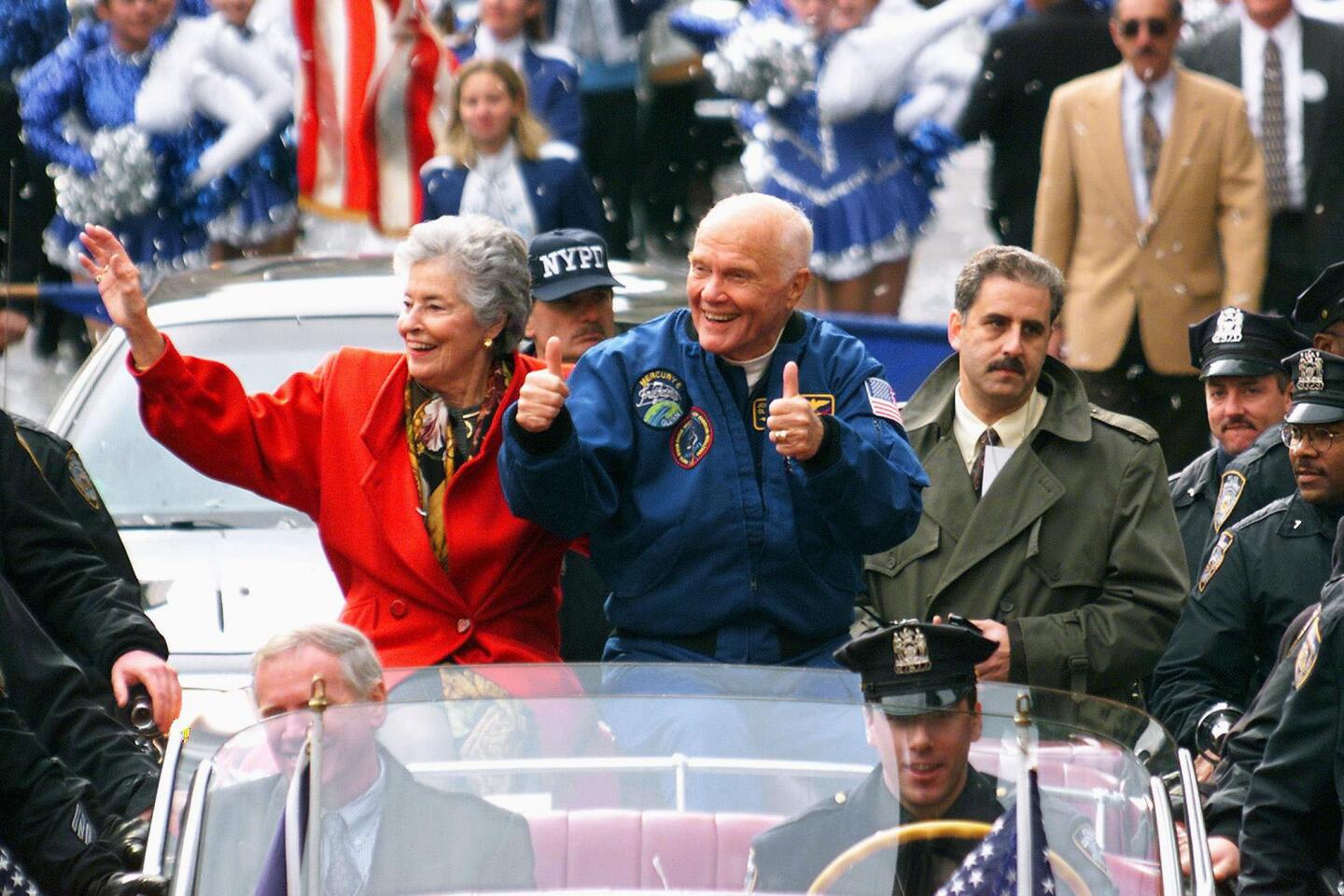 US Senator and astronaut John Glenn and his wife Annie, along with the crew of the recently completed Space Shuttle Discovery mission, parade up Broadway's "Canyon of Heroes" in 1998.
(TIMOTHY A. CLARY / AFP/Getty Images)
John Glenn talks with astronauts aboard the International Space Station via satellite before a discussion titled "Learning from the Past to Innovate for the Future" in Columbus, Ohio, on Feb. 20, 2012.
(Jay LaPrete / Associated Press)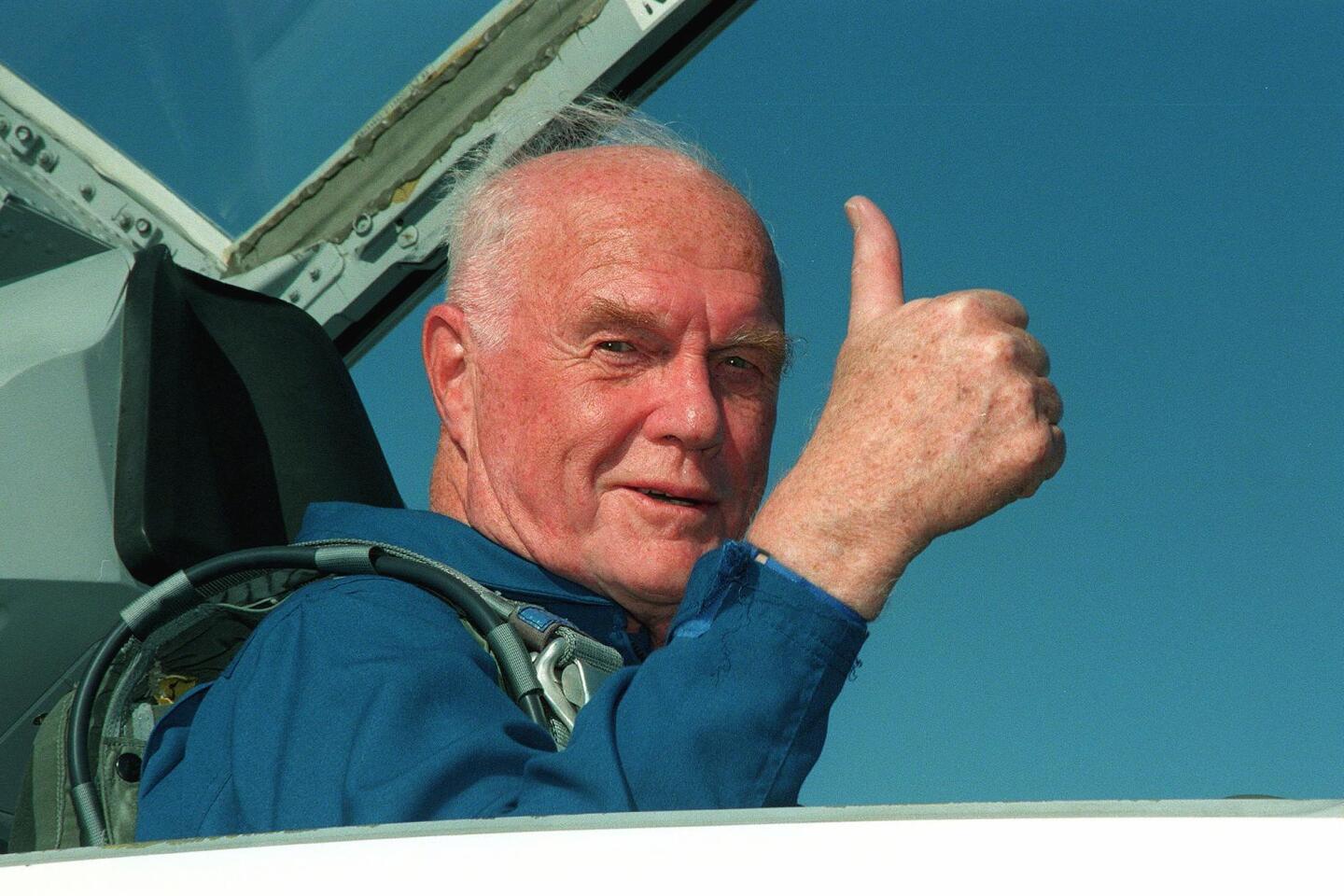 Astronaut and senator John Glenn arriving at the Kennedy Space Center for his scheduled launch aboard the Space Shuttle Discovery.
(AFP/Getty Images)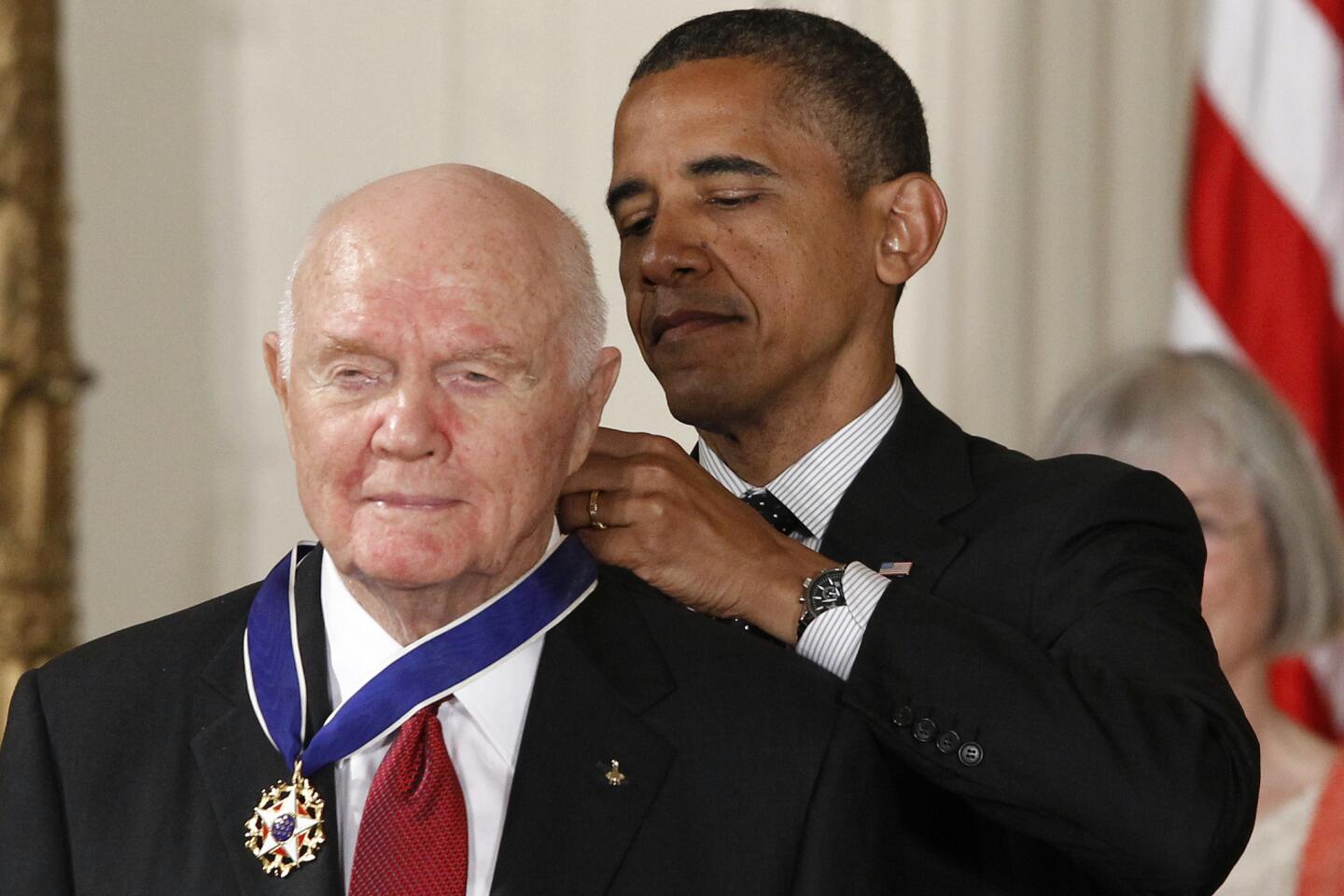 May 29, 2012 photo of President Barack Obama awarding the Medal of Freedom to former astronaut John Glenn during a ceremony in the East Room of the White House in Washington.
(Charles Dharapak / Associated Press)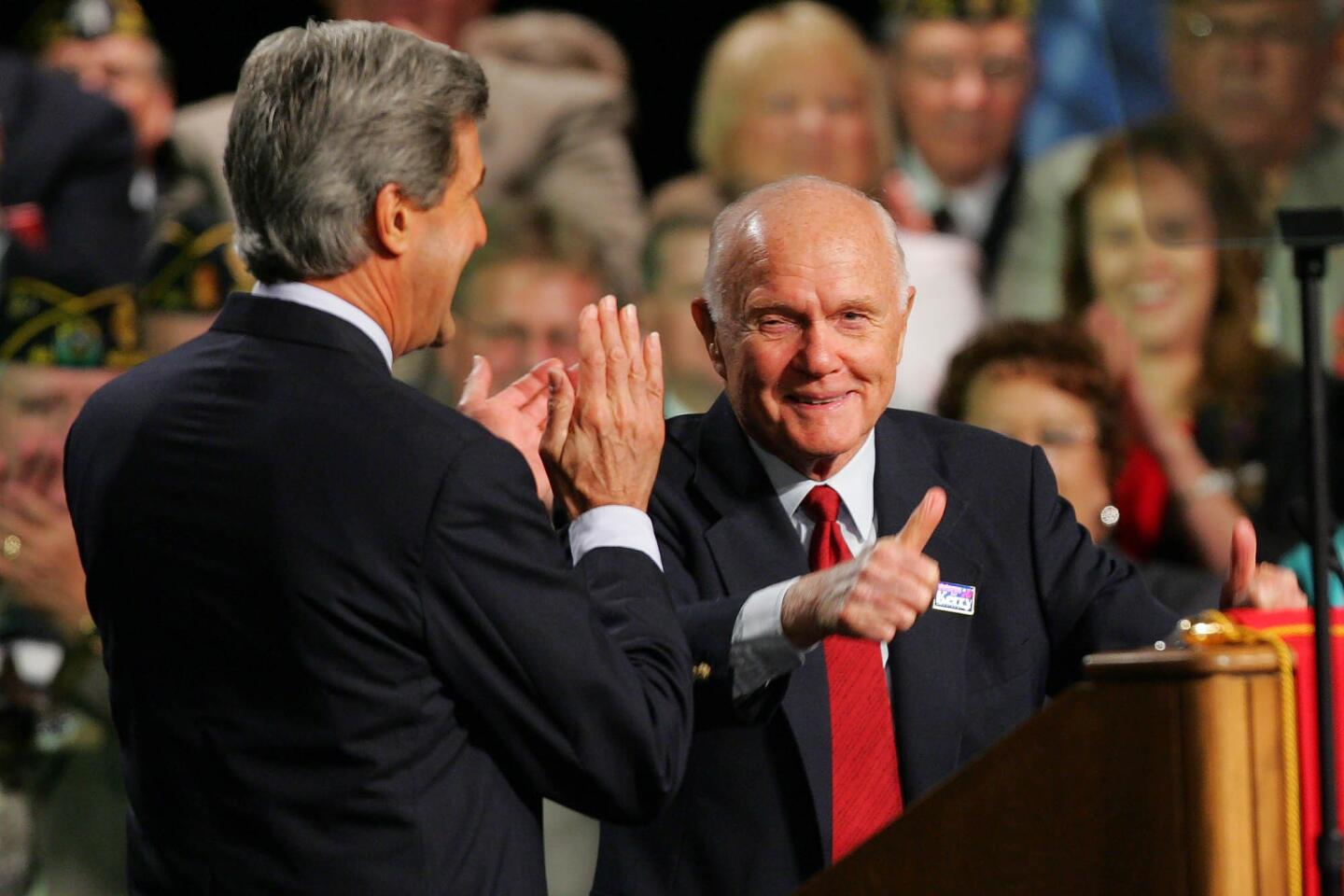 John Glenn gives a thumbs-up to then-Democratic presidential candidate John Kerry, left, as he prepares to address members of the American Legion during their national conference in Nashville, Tenn., on Sept. 1, 2004.
(John Russell / Associated Press)
John Glenn gives a thumbs–up sign while riding in a float with his wife Annie during a parade in his hometown of New Concord, Ohio, on Dec. 19, 1998.
(Tony Dejak / Associated Press)
Glenn first earned broad public attention in 1962 in the bell-shaped space capsule Friendship 7 — a flight that NASA's mission control worried might burn up upon reentering Earth's atmosphere.
A war hero and test pilot who earned fame even before he was named to the Mercury team, Glenn seemed to have the right stuff and more.
Not only did Glenn "have courage and ambition, but he also had supreme confidence in himself and his own abilities," qualities that distinguished him from most mortals, said Frank Van Riper, who wrote the 1983 biography "Glenn: The Astronaut Who Would Be President."
"That type of confidence can let him sit atop a rocket and have his blood pressure not change at all."
After his first space flight, Glenn, then 40, was elevated to celebrity status as much by his personal charm and heroics as he was by the pioneering era that he helped define. Before Glenn made his three loops around Earth in a four-hour, 56-minute flight, only Soviet astronauts, test dummies and dogs had made historic "firsts" in space. Almost a year before Glenn's flight, cosmonaut Yuri Gagarin had become the first man in space.
Glenn was neither the first nor the second American in space. Those distinctions belonged to Shepard — whose entire voyage lasted 15 minutes — and Grissom, who followed Shepard months later. Yet Glenn's flight raised the most passion and publicity in America. Glenn stayed aloft for hours, focusing Americans' rapt attention on his every orbit and ultimately restoring America's confidence in its technological prowess.
President Kennedy was apparently so relieved that Glenn helped put America back in the space race, and so concerned about the astronaut's well-being, that he vetoed a return to space by Glenn. Rather, Kennedy marked Glenn as an American with a political future. After a few early political defeats, the astronaut was elected to the U.S. Senate from Ohio in 1974.
Although Glenn remained a supporter of NASA, he tried to steer clear of being seen as the Senate "astronaut," preferring to make his mark in other areas. He was perhaps best-known as the author of bills to restrict the proliferation of nuclear weapons around the world. He also helped pass legislation to clean up radioactive waste at the nation's nuclear weapons sites.
Yet his drive to return to space never fully abated, and he relentlessly lobbied the National Aeronautics and Space Administration for another space flight. Glenn insisted that he was not driven to return to space for the thrill of the ride or as a passenger with a congressional free pass, but as a scientist-explorer.
What you're up there for is to accomplish something for the country that may break us into some new areas of research that may benefit an awful lot of people.
— John Glenn
"What you're up there for," he said, "is to accomplish something for the country that may break us into some new areas of research that may benefit an awful lot of people."
After his late-in-life flight, dozens of tests done on his body showed that he handled the rigors of space as well as astronauts roughly half his age, NASA scientists said when results were released in 2000.
In 2012, Glenn and Carpenter received a hero's welcome when they returned to the Cape Canaveral launchpad to mark the 50th anniversary of Glenn's orbital flight.
The national attention after the 1962 flight was "almost unbelievable," Glenn said at the event, and he added that he and his colleagues learned to live with the acclaim "or tried to, anyway."
John Herschel Glenn Jr. was born July 18, 1921, in Cambridge, Ohio. His mother, Clara, a teacher, and father, John, soon moved to the tiny town of New Concord, where his father opened a plumbing business. At 3, he met Anna "Annie" Castor, the 4-year-old daughter of the town dentist. The pair started dating in high school and married in 1944.
In high school, Glenn was an honors student who excelled in sports and student politics — and played the lead in the senior class play.
A religious young man, Glenn enrolled in Muskingum College, a small Presbyterian school in New Concord, where he sang in the church choir and played football. While there, Glenn learned to fly in a civilian program run by the Navy.
When it came time to enlist, he joined the Marines, leaving college behind after Japan attacked Pearl Harbor.
During World War II, he rose to the rank of captain and decided to make a career in the military. By the end of the war, he had flown 59 missions with F4U fighters and had been awarded two Distinguished Flying Crosses and 10 Air Medals.
The Korean War meant 90 more missions for the Marine aviator, and many more medals, including a third and fourth Distinguished Flying Cross.
"Glenn grew up with the archetypal Protestant work ethic and the idea that good things happen to people who work hard," Van Riper said. "Add to this [his] sense of confidence and the idea in the military that you succeed if you work hard, and it explains why he pursued tougher and tougher assignments."
As a test pilot, Glenn pushed his bosses to let him attempt a transcontinental flight in an F8U-1 Crusader fighter aircraft. On July 16, 1957, he set a speed record of 3 hours, 23 minutes and 8.4 seconds flying from Los Angeles to New York, picking up a fifth Distinguished Flying Cross and a taste for fame.
Two years later, Glenn volunteered for an elite corps of pilots who would become the country's first astronauts, riding rockets into space. NASA pared an original list of about 500 test pilots down to 110 and then to the Mercury Seven.
Training was rigorous and tedious. In addition to studying astrophysics and biology, the new astronauts were exposed to high heat, strong gravitational forces and the sense of weightlessness. Glenn became a pacesetter in training and moral leadership. He would run extra miles in a morning workout and lecture the others against carousing.
When Glenn took his pioneering turn in space, astronaut Carpenter spoke for all Americans when he radioed from launch control just before liftoff, "Godspeed, John Glenn." Carpenter later said he had tried to keep the mood light by telling Glenn: "Remember, John, this was built by the low bidder."
NASA cut the flight short — Glenn was supposed to orbit Earth seven times — when mechanical failure created concern that Friendship 7's heat shield might fall off during reentry and cause the capsule to burn up.
Although he remained calm, Glenn later told Life magazine that he had been prepared to die. The heat shield held. After Glenn's safe return, he became a national hero. Bathed in the spotlight, Glenn was typically low-key.
"It's been a long day," he said after being fished out of the Atlantic Ocean by helicopter, "but it has been very interesting."
Back on Earth, Glenn was greeted by Kennedy. Four million New Yorkers showered him and his family with ticker tape, and the New York Times called him "America's first flesh-and-blood Buck Rogers."
Reflecting on that moment decades later while sitting in his third-floor office at the John Glenn School of Public Affairs at Ohio State University, Glenn was at a loss to explain the adulation: "It's true we got more attention. It wasn't something we planned. Truth is, I just don't know why it happened."
Glenn retired from the military in 1965 and entered private business, serving first as vice president of corporate planning and then as president of the Royal Crown Cola Co. He also made a fortune with business investments that included building Holiday Inns in Florida.
Within a few years, he decided to try politics. After losing to Howard Metzenbaum in the 1970 Democratic primary race in Ohio for a U.S. Senate seat, Glenn ran against him again in 1974.
During the campaign, Metzenbaum contrasted his business background with Glenn's military and astronaut credentials, saying his opponent had "never worked for a living."
Glenn's reply came to be known as the "Gold Star Mothers" speech. He challenged Metzenbaum to tell wounded veterans "they didn't hold a job" and tell any Gold Star mother — a woman whose child who died while serving in the military — that "her son did not hold a job."
Glenn won the nomination and the general election.
Jimmy Carter considered making Glenn his running mate in the 1976 presidential race, but after Glenn gave an uninspired address to the Democratic National Convention, Carter chose Walter Mondale. Nearly a decade later, Glenn ran for president and racked up $3 million in debt but didn't make it out of the primaries.
"He was never really a coalition builder," Van Riper said.
And if he was considered a bit of a square by the other Mercury astronauts, that image intensified in the Senate, where he served until 1999. But in Glenn's post-Watergate class of 1974, he was always a respected colleague, considered a sincerely decent man.
His Norman Rockwell character and reputation for unparalleled principle were severely tested in 1989 during the so-called Keating Five scandal. He was one of five senators investigated by the Senate Ethics Committee for using clout to keep federal regulators out of the way of savings-and-loan mogul Charles Keating Jr. The committee said Glenn used "poor judgment" in accepting a $200,000 donation from Keating but cleared the senator of wrongdoing.
Through all the years after his famous space flight, Glenn continued flying. Almost every weekend he would escape Washington for Ohio in his Beechcraft Baron, with his wife as his co-pilot. When he sold his plane in early 2012, Glenn noted that he still held a valid pilot's license.
In 1995, he had started campaigning to return to space. As a member of the Senate Select Committee on Aging, he had learned that the aging process on Earth, in many ways, is similar to the effects of weightlessness, and he decided he wanted to know why.
Glenn approached NASA chief Dan Goldin and pressed to serve as a crew member on a Discovery flight as a test subject for geriatric experiments. Goldin gave the go-ahead after aging experts insisted that Glenn's mission might produce good science and NASA's own doctors found Glenn in good health.
Glenn had kept fit throughout the decades, running in his youth and power-walking in his later years around his Bethesda, Md., neighborhood. He lifted weights, ate well, took vitamins and kept trim.
The day after returning to Earth on the space shuttle, Glenn admitted he had felt "a little woozy" upon landing but relayed a message aimed at other senior citizens. "Old folks have ambitions and dreams too, like everyone else. ... Why don't they go for them? Don't sit on a couch someplace," he said.
But age did catch up. Glenn sold off his airplanes and stopped flying in 2013. Last year, he gave up driving too.
His return to space was, in a way, Glenn's attempt at writing his own epitaph.
"Going back up there was a nice capstone to a career that was always centered on that 1962 flight," Van Riper said. "He's going to be remembered as the last American hero."
Glenn, who was awarded the Presidential Medal of Freedom in 2012, is survived by his wife, Annie; two children, David and Carolyn Ann; and two grandchildren.
Geraldine Baum and Valerie J. Nelson are former Los Angeles Times staff writers.
MORE OBITUARIES
Emerson, Lake and Palmer co-founder Greg Lake dies at 69
Former Cal State Chancellor Charles B. Reed dies at 75
Van Williams, TV's 'Green Hornet' and later an L.A. cop, dies at 82
Sign up for Essential California for the L.A. Times biggest news, features and recommendations in your inbox six days a week.
You may occasionally receive promotional content from the Los Angeles Times.