Good morning, and welcome to the Essential California newsletter. It is Saturday, June 29. Here's a look at the top stories of the last week:
TOP STORIES
Budget. Gov. Gavin Newsom just signed a $214.8-billion budget, the largest in California history. The majority of its provisions take effect next week.
Nipsey Hussle. Grand jury transcripts released Thursday indicate Nipsey Hussle was shot after a four-minute conversation with Eric Holder in which the topic turned to snitching. A judge ordered the release of the transcripts after Holder's public defense attorney sought to keep the documents secret from the L.A. Times and the public until after Holder's trial.
Santa Anita. Officials of the Breeders' Cup, one of horse racing's most prestigious events, have decided to keep the races at Santa Anita instead of moving them after horse safety concerns at the track in Arcadia.
New No. 23. The Lakers have reworked the terms of the Anthony Davis trade to send Moe Wagner, Isaac Bonga and Jemerrio Jones to the Washington Wizards. Meanwhile, Davis received a little gift from his new teammate: LeBron James has agreed to give up the No. 23 jersey number he has worn for most of his NBA career.
Bus woes. Over the last decade, Los Angeles County's sprawling Metro system and smaller lines have hemorrhaged bus riders as passengers have fled for more convenient options — mostly, driving. The result is worsening traffic and hurting climate goals.
"Cherokee." Contractors claiming Cherokee heritage have gotten hundreds of millions of dollars in government contracts meant for minorities, a Times investigation found. These cases point to a major failure in efforts to help disadvantaged Americans at minority-owned companies.
Natural hair discrimination. California is set to be the first state to protect black people from workplace discrimination based on their hair. If Gov. Newsom signs it into law, the CROWN Act would outlaw policies that punish black employees and students for their hairstyles.
Tyndall. Former USC gynecologist George Tyndall has been charged with committing more than two dozen felonies at the campus clinic where he practiced for decades. His arrest was the latest chapter in a yearlong Pulitzer Prize-winning investigation by the L.A. Times. For the women who brought allegations against Tyndall, the charges filed Wednesday are "one step closer" to justice. He has denied any wrongdoing.
Beach report card. An annual survey of about 500 California beaches released Wednesday showed that water quality sagged significantly across the state with below-average wet weather grades for beaches in 11 of 17 coastal counties.
Amoeba shapeshifting. The famed Amoeba Music building in Hollywood has been approved for demolition. Since its opening in Los Angeles — Amoeba also operates two stores in the San Francisco area — the shop has become a cross-cultural gathering place.
Get the Essential California newsletter »
THIS WEEK'S MOST POPULAR STORIES IN ESSENTIAL CALIFORNIA
1. Where to find oceanfront dining in Southern California that won't break the bank. Orange County Register
2. Nipsey Hussle's death unified Crips and Bloods in grief. Now, peace talks carry on his call. Los Angeles Times
3. San Francisco's new public trains are clean, spacious and surprisingly quiet — here's what it's like to ride one. Business Insider
4. The body of a missing automotive writer was found in a Northern California river. Mercury News
5. Take the plunge in these swimming holes to keep your cool. Los Angeles Times
ICYMI, HERE ARE THIS WEEK'S GREAT READS
The Punjabi American highway: Sikh drivers are transforming U.S. trucking. Los Angeles Times
"The Hills" theme song: an ode to Natasha Bedingfield's "Unwritten." Longreads
The rise and fall of Laguna Beach: Can a grass-roots effort bring back the town's LGBTQ vibe? Curbed
From the archives: How industrial designer Jony Ive became Apple's greatest product. Ive announced his departure from Apple this week. The New Yorker (February 2015)
LOOKING AHEAD
Saturday Recommendation: Sonoran hot dogs at this East Compton stand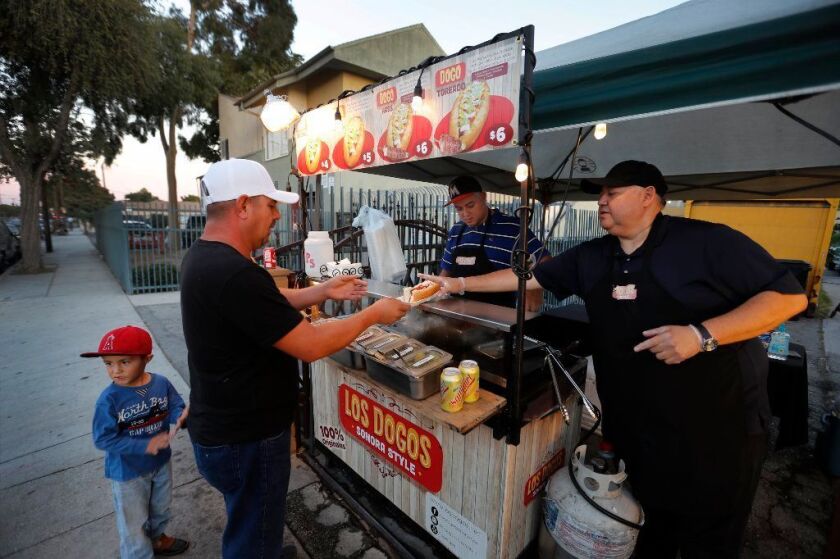 Today's recommendation comes from Los Angeles Times restaurant critic Patricia Escárcega:
The region of Sonora has meaningful historical ties to Los Angeles. One of the city's first established Mexican neighborhoods was the "lost barrio" of Sonoratown, established in the 1850s just north of what is now Chinatown.
The neighborhood, inhabited by thousands of Sonoran miners and other immigrants from el norte, came of age during one of Los Angeles' worst periods of racial strife. During the latter half of the 19th century, Sonoratown was dismantled and razed. In a fateful sort of way, L.A.'s renaissance of Sonoran-style restaurants is helping restore some of the city's lost flavors and culinary identity.
Every Wednesday through Sunday, Alejandro Zamorano and family serve Sonoran hot dogs at Los Dogos Sonora Style, an East Compton stand, including a classic bacon-wrapped dogo with pinto beans, fried onions, shredded lettuce and tomatoes, topped with a squiggle of mayonnaise.
Los Dogos Sonora Style is located at 15300 Atlantic Ave. in East Rancho Dominguez every Wednesday through Sunday evening (schedule here). (562) 316-3673 or (562) 310-9558.
Read Patricia Escárcega's top five picks for Sonoran cooking in Los Angeles here. Want to hear more from restaurant critics Patricia Escárcega and Bill Addison? Sign up for "Tasting Notes," their new newsletter.
The only thing I miss about Los Angeles / is the Hollywood Freeway at midnight, windows down and radio blaring
poet Frank Bidart, "California Plush"
Please let us know what we can do to make this newsletter more useful to you. Send comments, complaints, ideas and unrelated book recommendations to Julia Wick. Follow her on Twitter @Sherlyholmes.
---