Newsletter: Today: Dialing Up the Pressure on Trade Talks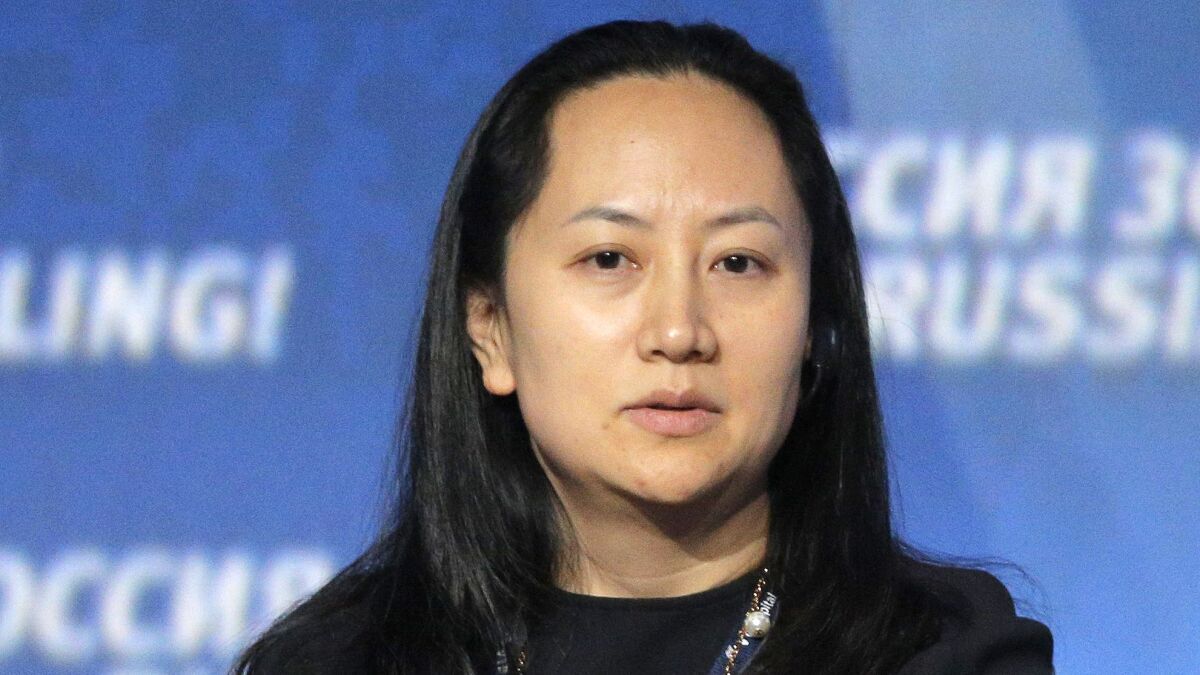 The secretive arrest of a top executive at a Chinese phone maker creates another complication for U.S.-China negotiations.
TOP STORIES
Dialing Up the Pressure on Trade Talks
On the same day President Trump and Chinese President Xi Jinping tried to hash out their differences on trade in Buenos Aires, an international meeting of a different sort was playing out 7,000 miles away in Canada: the arrest of a top executive of Chinese cellphone maker and telecommunications giant Huawei. A U.S. law enforcement official said the arrest of Meng Wanzhou, who's also the daughter of Huawei's founder/CEO, is related to violations of American sanctions against Iran and that she could face extradition to the States. The case sent a shock wave through the stock market on Thursday, among fears that it could upend a delicate truce in the trade war between the U.S. and China. Yet, there have been signs Beijing is still ready to deal.
More Politics
-- Special counsel Robert S. Mueller III is expected to disclose new details from the Russia investigation when he recommends sentences today for convicted felons Michael Cohen and Paul Manafort, two of Trump's former top aides.
-- Sources say the president is close to nominating William Barr, who served as attorney general under President George H.W. Bush, to permanently succeed Jeff Sessions as head of the Justice Department.
-- Lobbyists representing Saudi Arabia reserved blocks of rooms at Trump's D.C. hotel within a month of his election in 2016, paying for an estimated 500 nights at the luxury hotel in just three months.
-- Former President George H.W. Bush was buried at his presidential library at Texas A&M University in College Station after nearly a week of services honoring his life.
A Betrayal of Faith
For the first time in a decade, the Archdiocese of Los Angeles has updated its public list of those alleged to have molested children. Of the 54 clergy added to the "Report to the People of God," the vast majority were accused of wrongdoing before 2008; half of them are now dead. Victim advocates say such disclosures are a step in the right direction but more needs to be done to address the Roman Catholic Church's systemic, decades-long cover-up of abuse.
Winter Has Come
Mudslides in Malibu. Evacuations in wildfire burn zones. A snow-choked Grapevine. A jet plane skid-out … and so many car accidents. The storm that hit Southern California this week was expected to be mild but turned out to be too wild for many people's tastes, especially given the dangers to those in burn areas. Forecasters say it's hard to tell whether it's a sign of more powerful storms in the coming months. At the very least, it was a reminder to be prepared.
Awards Hell Week
That chill in the Hollywood air was not just weather-related; awards season has arrived in turbulent fashion. Just two days after comedian Kevin Hart was named to host the Oscars, he's stepped down amid an outcry over his past homophobic comments. As the Academy Awards deal with turmoil, the Grammy nominations are set to arrive this morning, after having been postponed so as not to conflict with President Bush's state funeral. In contrast, the Golden Globes not only weren't deterred by Bush being laid to rest in Texas yesterday, they gave the most nominations to the movie "Vice," a scathing biopic about former Vice President Dick Cheney, a key figure in both Bush presidencies.
The Battle Before the Fight
For every boxer, the journey is a struggle. For Patricio Manuel, set to make his professional debut at age 33 on Saturday, there have been additional challenges. That's because Patricio used to be Patricia, as The Times documented in an article last year. When he steps into the ring at the Fantasy Springs Resort Casino in Indio, Manuel will make history as the first transgender male to fight professionally in the U.S.
Sign up to get Today's Headlines delivered to your inbox. »
FROM THE ARCHIVES
Today is the 77th anniversary of Japan's attack on the U.S. naval base at Pearl Harbor in Hawaii. It killed more than 2,400 people and plunged the U.S. into World War II. One of the Japanese midget submarines used in that attack ran aground on a reef and was captured; a year later, the sub known as Ha-19 made its way to the Los Angeles Memorial Coliseum for the USC-UCLA football game as part of a nationwide effort to sell war bonds.
CALIFORNIA
-- L.A. County has agreed to new policies aimed at ending the jail-to-skid-row cycle for mentally ill people.
-- Larry Wallace, a top aide to Sen. Kamala Harris, has resigned after it was revealed that the state Department of Justice paid $400,000 to settle a sexual harassment and retaliation lawsuit stemming from his time there.
-- At least 11 candidates will face off for the L.A. school board seat formerly held by Ref Rodriguez, who resigned after pleading guilty to one felony and three misdemeanors for campaign-fundraising violations.
-- The Metropolitan Transportation Authority is backing a temporary plan to preserve Green Line service for riders in the South Bay.
YOUR WEEKEND
-- It's been snowing at Southern California ski resorts. The latest storm means more terrain and a tubing park will open.
-- In addition to our 101 Restaurants We Love list, we put together a bonus list of 10 classic restaurants that are essential to Los Angeles.
HOLLYWOOD AND THE ARTS
-- Is there a lack of originality in Hollywood? A spate of film titles would say yes.
-- In the documentary "Divide and Conquer: The Story of Roger Ailes," the rise of Fox News is told through the man who made it happen.
-- Pete Shelley, the singer-songwriter and co-founder of the punk band the Buzzcocks, has died at age 63.
NATION-WORLD
-- Despite the U.S. Constitution's ban on double jeopardy, Supreme Court justices may be unwilling to overturn a long-standing precedent that allows a state and the federal government to prosecute a person for the same crime.
-- Ecuador's president says a "path has been made" for WikiLeaks founder Julian Assange to leave the country's embassy in London. It could mean Assange might eventually face the U.S. justice system.
-- Germany is showing signs of fatigue toward refugees after three years of an open-borders policy by Chancellor Angela Merkel, who is stepping down as chair of her party this week.
-- Talks to bring peace to Yemen have begun. As a first step, the warring sides agreed to a prisoner swap that would allow thousands of families to be reunited.
BUSINESS
-- White House aide Kathy Kraninger will head the Consumer Financial Protection Bureau after Senate Republicans confirmed her in a party-line vote. She has no consumer finance experience.
-- Not to gush, but the U.S. became a net oil exporter last week, breaking 75 years of continued dependence on foreign oil. It might not last long, though.
SPORTS
-- Are the Dodgers and their temperamental outfielder Yasiel Puig best for each other? Despite the trade temptations, columnist Dylan Hernandez says it makes sense to hold onto him.
-- NFL defensive stars Aaron Donald of the Rams and Khalil Mack of the Chicago Bears will be on opposite sides of a pivotal game Sunday night.
OPINION
-- It's time to end the Orange County district attorney's DNA database … PDQ.
-- This week's court filings in the Russia probe prove Mueller is after the truth and nothing but.
WHAT OUR EDITORS ARE READING
-- The undocumented immigrants who work for Trump properties. (New York Times)
-- Rare maps reveal Japan's Pearl Harbor strategy. (National Geographic)
-- Eight hours of TV every day? How do American families have the time? (The Atlantic)
ONLY IN L.A.
When Nicole Kidman arrived at LAX on Thursday morning, she did what most people do: "I landed at 6 here in Los Angeles, turned on my phone, and it just blew up with all these text messages," she says. Celebrities — they're just like us? Well, not exactly. Instead of someone frantically typing, "Where are you? I'm about to be towed," the texts were congratulations on her Golden Globe nomination for her role as an L.A. detective in the film "Destroyer."
If you like this newsletter, please share it with friends. Comments or ideas? Email us at headlines@latimes.com.
---