Newsletter: Today: Nothing to See Here?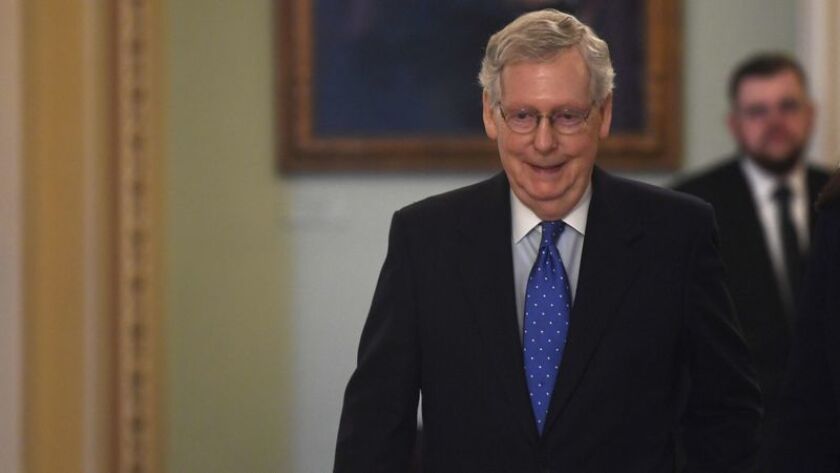 The GOP says the Russia case is closed, but even Republicans are looking to revisit the investigation for reasons quite different from those of Democrats.
TOP STORIES
Nothing to See Here?
Senate Majority Leader Mitch McConnell says it's time for the country to move along after special counsel Robert S. Mueller III's report on whether the Trump campaign conspired with Russia in 2016. "Case closed," as he said. But Congress isn't quitting the Russia investigation, in more ways than one. Senate Republicans are stepping up efforts to examine how the probe began, while House Democrats have launched multiple committee investigations that use Mueller's report as a starting point. And today, Democrats on the House Judiciary Committee could vote to hold Atty. Gen. William Barr in contempt for defying a subpoena by refusing to turn over an unredacted copy of Mueller's report and the underlying evidence.
More From Washington
-- The New York Times reported that Trump's businesses lost more than $1 billion from 1985 to 1994, based on tax information the newspaper acquired. (The full story is here.)
-- FBI Director Christopher A. Wray said he did not consider court-approved FBI surveillance to be "spying" and said he had no evidence the FBI illegally monitored Trump's campaign during the 2016 election.
-- U.S. Secretary of State Michael R. Pompeo made a lightning visit to Baghdad aimed at showing support for the Iraqi government. The U.S. says it's picked up intelligence that Iran is threatening American interests in the Middle East.
-- A federal appeals court says the Trump administration can force asylum seekers to wait in Mexico for court hearings while the policy is challenged in court.
Would Michigan Go Blue Again?
Among the battleground states that will decide the 2020 presidential election, few make Democrats wince like Michigan. The Wolverine State in 2016 handed Republicans the slimmest of victories to help put a Trump-shaped hole in the Democrats' supposed Midwestern firewall. Now, Sen. Kamala Harris has outlined a competing strategy for how Democrats can win back Michigan.
A USC School's Budget Woes
USC's social work school, the largest in the world and one of the oldest in the nation, might be forced to lay off nearly half its staff and eliminate the vast majority of its part-time teaching positions after revelations of severe budget problems that began under a former dean. The school's woes represent yet another fire for incoming President Carol L. Folt to extinguish as she seeks to reform the scandal-plagued university.
The Only Thing Missing: TIE Fighters
On paper, it's called Rainbow Canyon — a place of natural beauty on the western edge of Death Valley National Park. But to plane watchers the world over, it's known as "Star Wars Canyon" — where people come to catch a glimpse of jets maneuvered by U.S. Air Force and Navy pilots as if they're dropping into the trench of the Empire's Death Star.
Your support helps us deliver the news that matters most. Subscribe to the Los Angeles Times.
Sign up to get Today's Headlines delivered to your inbox. »
FROM THE ARCHIVES
On this date in 1952, L.A. City Hall was attacked by "invading Martian monsters!" Well, not really. The scene shown below is actually of a 6-foot-tall model being blown apart for the 1953 film "The War of the Worlds," which would go on to win an Oscar for its special effects. "The exact model of the City Hall was built of 'breakaway' plaster, and loaded with prima cord," The Times reported the next day. When the special effects director shouted, "Action!" "a series of blasts crumpled the model spectacularly against a background of swirling smoke and flame — and sprayed plaster particles across the set like shotgun pellets."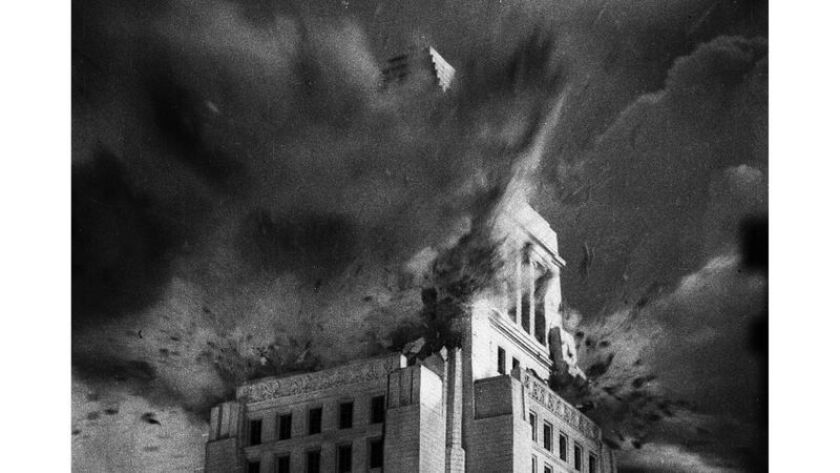 CALIFORNIA
-- L.A. County Sheriff Alex Villanueva says he will revive a drug team that was sharply criticized for disproportionately stopping Latino drivers on the 5 Freeway but said the unit would follow guidelines to prevent racial profiling.
-- Gov. Gavin Newsom has proposed a five-year elimination of sales taxes on purchases of diapers and menstrual products. Former Gov. Jerry Brown rejected a similar proposal.
-- Columnist Steve Lopez visited the Carthay Circle district, where residents worry that Senate Bill 50 — a measure being considered by the Legislature to increase housing density — could ruin their neighborhood.
-- The L.A. school board has voted to exempt the square footage of parking structures and garages in homes from the reach of Measure EE, a property tax on the June ballot meant to benefit the school system.
HOLLYWOOD AND THE ARTS
-- The Motion Picture Assn. of America's new film rating chief Kelly McMahon is looking to bring fresh eyes to a 50-year-old system.
-- Can "Avengers: Endgame" top "Avatar's" box-office record? Analysts say it has a shot.
-- "Game of Thrones" has killed off another breakout character: the coffee cup that made a cameo.
-- In the new Netflix series "Tuca & Bertie," a fictional pastry shop serves up "crunts," a wacky pastry with an awful name. What would they taste like in real life? Times cooking columnist Ben Mims has the answer.
NATION-WORLD
-- Authorities say an 18-year-old student was killed when gunfire erupted inside a suburban Denver middle school not far from Columbine High School. Several people were wounded before two students were taken into custody.
-- A measure in Denver to decriminalize hallucinogenic "magic" mushrooms appears headed for defeat, with voters apparently deciding it was too bold even that famously libertarian city.
-- Many in Turkey see the voiding of an election in Istanbul as the latest sign of a slide into authoritarianism.
-- Cuba has canceled this year's edition of the Conga Against Homophobia, a parade widely seen as a sign of progress on gay rights on the island.
BUSINESS
-- Ahead of Uber's expected initial public offering, drivers in at least 10 cities across the country plan to stage a 24-hour strike over what they describe as unfair pay and a lack of transparency.
-- How the Apple store has fallen from grace.
SPORTS
-- Columnist Bill Plaschke says the XFL is returning to L.A., with a cleaned-up act but a dim outlook.
-- Country House, winner of the Kentucky Derby, won't be running in the Preakness Stakes. It's the first time since 1996 a Kentucky Derby victor won't run the second leg of the Triple Crown.
OPINION
-- Are migrant families still being separated at the border? We need to find out. Now.
-- Congress should act now to ensure a free and open internet, writes former congressman Henry Waxman.
WHAT OUR EDITORS ARE READING
-- China's stock is rising in U.N. talks about tackling climate change, while the role of the U.S. diminishes. (Foreign Policy)
-- "Inside the world's only museum dedicated to ventriloquism" — a.k.a. museum-going for dummies. (Smithsonian)
ONLY IN L.A.
The Los Angeles Philharmonic is offering amateur musicians a chance to play with star violinist Ray Chen on stage at the Hollywood Bowl in August. More than 800 entries have come in — including a 10-year-old who submitted a YouTube video featuring herself playing next to a Chen sock puppet and a 21-year-old who posted an Instagram video of her alternating between performing CPR on a manikin and playing violin. That's music to the ears — and lungs.
If you like this newsletter, please share it with friends. Comments or ideas? Email us at headlines@latimes.com.
---