The Sports Report: There's a new star in the Galaxy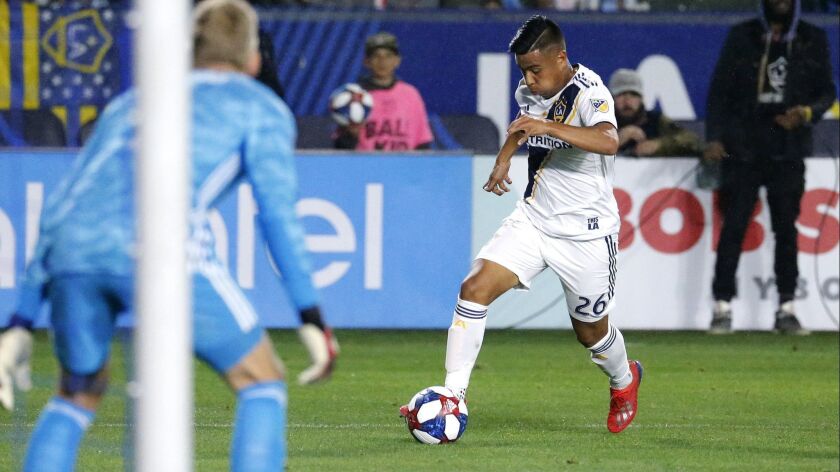 Howdy everyone, and welcome to the Sunday edition of the Los Angeles Times daily sports newsletter. My name is Houston Mitchell and I'm your host for the festivities. Subscribe to this newsletter by clicking here.
Let's get to it.
Galaxy
If you are looking for the most exciting young player in Los Angeles, don't look at the Dodgers. Or the Lakers. Or the Clippers. Or Kings. No, look at the Galaxy.
As Kevin Baxter puts it, 16-year-old Efrain Alvarez's MLS career is only 61 minutes old but the Galaxy midfielder already has national team coaches in two countries salivating over his future.
The teenager from East Los Angeles, who came off the bench to spark a comeback win over the Chicago Fire in the team's season opener, was unable to rescue the Galaxy on Saturday, getting robbed of a goal following another spectacular dribbling display in the final minutes of a 2-0 loss to FC Dallas.
Alvarez takes high school classes with Galaxy academy students after his morning training sessions with the first team and needs a teammate to go with him if he wants to buy a ticket to an R-rated movie.
Herculez Gomez, a former U.S. national team player who spent much of his club career in Mexico, said the Mexican federation is all in on Alvarez. But the player's loyalties are mixed.
"They're putting a full-court press on this kid," said Gomez, now an analyst for ESPN. "They expect to have him available for the Gold Cup. But this kid has Southern California ties. He very much embraces both communities, the Mexican community, the American community.
Sign up for our weekly soccer newsletter »
"I think it's very much up in the air."
U.S. coach Gregg Berhalter suggested he would give Alvarez space to make his decision.
"We'll be watching the whole thing. And when he's doing what we expect him to do, there will be an opportunity for him with the U.S. national team," he told reporters in Houston last week. "Regarding a potential choice for him, we want to create an environment the players want to be in. We want to create a playing style, a team spirit that players want to be a part of.
"If we do, we're confident we can get players like that."
In the meantime, go watch a Galaxy game to see this kid in action. You'll thank me later.
Clippers
Hey, isn't it time I pay more attention to the Clippers than the Lakers, since the Clippers haven't given up and look like a lock for the playoffs? Yeah, it's time.
One of the reasons the Clippers are in playoff contention is because of the strong play of Patrick Beverley.
"The most interesting stat on this whole thing to me is Gallo had 34 [points] and Lou had 40 and Pat Beverley had zero points and he was a plus-22," Clippers coach Doc Rivers said late Friday night after a 118-110 victory over the Oklahoma City Thunder at Staples Center. "I thought he had the biggest impact on the game and I thought he guarded Paul George as well as you can guard him. He had seven rebounds. He just did so many things for us that it allows us to win games."
Read more about Beverley here.
USC football
A lot of focus for USC fans is who will be the starting quarterback next season. It seems to be J.T. Daniels, but J. Brady McCollough throws out a different scenario:
"Would Clay Helton really take all of Daniels' on-the-job training and toss it into the trash heap, only to start over with Jack Sears or Matt Fink, players Daniels beat out just six months ago?
"The reason to believe Helton would do just that is his trust in Graham Harrell's ability to pick the right guy for his system, a variation of Mike Leach's "Air Raid" that incorporates more traditional run-game concepts than Leach's version.
"If Harrell prefers a pocket passer with the ability to quickly move through progressions and read defenses, he probably will remain the most appealing option.
Sign up for our daily sports newsletter »
"I think it plays to the strengths that I have," Daniels said, "timing and accuracy, excelling in the quick game and being able to take our shots when we can."
"If Harrell is looking for a quarterback with the capability to make plays with his feet, he will give stronger consideration to Sears and Fink.
"It's built for everybody," Sears said. "It has benefits for pocket passers, benefits for athletic quarterbacks, and if you like to play fast, it's the perfect offense for you. We're already playing at a faster pace than I've ever played at. We're just going to keep speeding up, and that's going to be exciting."
"Harrell, a former All-American quarterback at Texas Tech under Leach, appears to be going back to the basics with this new group, which includes freshman Kedon Slovis, who is enrolled for spring.
"Just do the small things right," Harrell said. "I want to see them take proper footwork, going through their reads, do the things that we really harp on well. The footwork needs to be right. Their eyes need to be in the right place. If you can just produce that over and over and over, you're going to play really well in this position in this offense."
Odds and Ends
Very short-handed Lakers lose to Celtics, 120-107…. Clueless front office has Lakers looking to LeBron James for direction…. Dodgers pitcher Walker Buehler faces hitters for first time this spring…. Angels prospect Jo Adell suffers dual injuries in exhibition game against Cubs…. UCLA's disappointing season gets even worse in a 92-81 loss to Utah…. USC gives up double-digit lead in 78-67 loss to Colorado…. Dorian Thompson-Robinson becomes more vocal as a leader for the Bruins' football team…. LAFC's Tyler Miller is thriving with an open field in front of him…. Shawn Porter escapes with split decision over Yordenis Ugas…. Kings' Carl Grundstrom scores his first career NHL goal in 4-2 loss to Coyotes…. Novak Djokovic rallies; Naomi Osaka starts well at BNP Paribas Open…. Fran Quinn leads by three shots at Hoag Classic.
Today's local major sports schedule (all times Pacific)
Dodgers vs. Colorado, 1 p.m., Sportsnet LA, AM 570
Angels vs. Seattle, 1 p.m., FSW, KLAA 830
Kings at Ducks. 7 p.m., NBC Sports Network
Portland at LAFC, 4:30 p.m., FS1, ESPN LA 710
Born on this date
1923: Notre Dame football coach Ara Parseghian
1926: Harlem Globetrotter Marques Haynes
1938: NFL player Ron Mix
1948: NBA player Austin Carr
1961: Gymnast Mitch Gaylord
1965: NFL player Rod Woodson
1977: Gymnast Shannon Miller
1982: NBA player Kwame Brown
And finally
That concludes the newsletter for today. If you have any feedback, ideas for improvement or things you'd like to see, please email me here. If you want to subscribe, click here.
---
Get the latest on L.A.'s teams in the daily Sports Report newsletter.
You may occasionally receive promotional content from the Los Angeles Times.