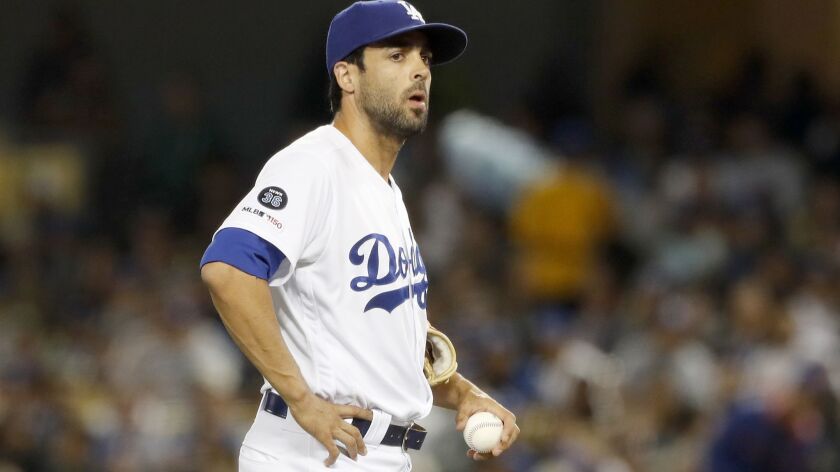 Hello everyone. My name is Houston Mitchell and let's get right to the news.
Dodgers
The Dodgers are 42-19 after Monday's 3-1 win over Arizona, making Dodgers fans not to make any plans for late October, when the World Series rolls around. Except for one little thing: the bullpen. Bill Plaschke takes a look:
"This Dodgers season feels different than their previous six division championship seasons. This team feels different than the ones that stumbled in the previous two World Series.
"This feels real. This feels championship real. This feels like they've built something that will give them their best shot yet at ending the 30-year drought. The last two years they came close, but this feels like they are finally there.
"They were one game from the title two years ago, but the moment was too big and Yu Darvish was too small. They were one series from the title last year, but they spent that summer battling a World Series hangover and wound up empty and exasperated.
"This season, with a 42-19 record that marks a better 61-game start than in any of those six division championship years, no moment has been too big. No drama has been too distracting. No hangover is in sight.
"This is the best we've ever been,'' reliever Kenley Jansen said last weekend.
"Just look at the offense. The Dodgers have failed in late October partially because of their inability to manufacture runs with anything other than a home run, but this dynamic has drastically changed. They not only lead the National League in runs, but they're also in the top three in runs with runners on base and runners in scoring position…..
"Now, look at their starting pitching. Hyun-Jin Ryu has become a Bellinger-like superstar, Clayton Kershaw has steadied, Rich Hill is seemingly getting younger, Walker Buehler is maturing and Kenta Maeda could be an ace on many other teams.
The Dodgers starting pitchers' ERA of 2.88 is nearly a full point lower than anyone else in the league. They're so deep, Kershaw's ERA of 3.20 is only third-best in the rotation.
Finally, check out the Dodgers clubhouse. It's the best atmosphere in six years. The room is filled with a calm and quiet confidence. There are no distractions. There appear to be no agendas. Before one recent game, a soft reggae tune played over the sound system while players quietly and briefly stopped by their lockers before hurrying back into their pregame routines…..
"There's one thing this team still needs to win it all, and everyone who has sweated through the late innings knows it. They need help for a bullpen that is ranked 11th in the league with a 4.56 ERA. Craig Kimbrel wouldn't be a fit because he wants to close, but there are several other perfectly suited arms out there, and here's where Andrew Friedman needs to add one more brush stroke to his potential masterpiece.
"Every year, it seems, Friedman makes a big deadline deal. Unlike past years, where he has been focused on acquiring the likes of Manny Machado or Darvish or Hill, this year's depth in those areas should allow him to ship out some of his great prospects for bullpen help.
"This should happen. Here's guessing this will happen. After that, October can't get here quick enough.
"We definitely have a chance to win a championship,'' Jansen said.
More definite than ever.
---
Dodgers pitcher Julio Urias was arrested recently after allegedly shoving a woman. On Monday we learned what is going to happen with him, legally.
The city attorney in an official statement announced it would "defer prosecution of Mr. Urias on the following conditions "(1) that Mr. Urias participate in a City Attorney hearing; (2) that he commit no acts of violence against anyone; and 3) that he successfully participate in and complete a 52 week domestic violence counseling program in person, and in a group setting."
"The domestic violence counseling will consist of weekly two hour sessions where, among other things, he must accept responsibility for the abusive behavior perpetrated against the victim, demonstrate an understanding that the use of coercion or violent behavior to maintain dominance is unacceptable in an intimate relationship and he must demonstrate an understanding of and practices positive conflict resolution skills."
"We are deferring prosecution at this time because: 1) this incident did not result in any physical injury; 2) the victim at no point indicated to either the uniformed police officers or to civilian witnesses that she believed she was a victim; and 3) Mr. Urias has no record of prior criminal conduct."
Major League Baseball's investigation remains ongoing, according to a person with knowledge of the situation.
---
Jorge Castillo on Monday's draft: "The Dodgers used their two first-round picks Monday in Major League Baseball's draft to take a pair of power-hitting prospects, selecting Tulane third baseman Kody Hoese with the 25th overall pick and North Carolina infielder/outfielder Michael Busch at No. 31. Los Angeles chose Jimmy Lewis, a high school right-handed pitcher from Texas, in the third round with the 78th selection to conclude the first day of the three-day event.
"Hoese, 21, batted .392 with a .487 on-base percentage and .789 slugging percentage in 56 games as a junior this season. He ranked fourth in the country with 23 home runs after hitting none as a freshman and five as a sophomore. He compiled more walks (38) than strikeout (30). He was named the American Athletic Conference player of the year and Baseball America ranked the 6-foot-4 third baseman as the 29th-best prospect in the draft.
"Busch, regarded as one of the best pure hitters in college baseball this season, was announced as a second baseman when he was selected despite not playing the position in three seasons at North Carolina. Busch, who played first base and left field in college, estimated he played 75% of his games at second base in the Cape League last summer after playing shortstop in high school in Minnesota.
Angels
Maria Torres on the Angels' draft Monday: "With the 15th pick of the 2019 amateur player draft, the Angels selected North Carolina State shortstop Will Wilson on Monday. Wilson, 21, was ranked 22nd on Baseball America's list of prospects. He began the season lower on that chart but his stock steadily rose.
A 6-foot, 184-pound junior from Kings Mountain, N.C., Wilson led N.C. State in batting average (.335), doubles (20), home runs (16) and slugging percentage (.661). He also drew 33 walks and struck out 46 times in 258 plate appearances. He was one of five finalists for the Brooks Wallace Award, given to the best college shortstop.
UCLA softball/baseball
The No. 2 Bruins defeated No. 1 Oklahoma, 16-3, in the first game in the best-of-three championship series of the Women's College World Series. The 13-run win was the largest in a game in a championship series in the history of the World Series.
The Bruins face the Sooners again today at 5:30 PDT. They are a win away from what would be the program's 13th national championship in softball.
Meanwhile, in baseball, the Bruins defeated Loyola Marymount, 6-3, at Jackie Robinson Stadium to win the Los Angeles regional and continue their quest to the College World Series in Omaha.
Stanley Cup Final
Helene Elliott on the Stanley Cup Final:
"The resilience of the St. Louis Blues seems limitless. First seen when they rose from last in the NHL standings on Jan. 2 to win the Western Conference title, they fought back from adversity again Monday to earn a 4-2 victory over the Boston Bruins and tie the Stanley Cup Final at two games each. It also was the Blues' first home win in a Cup Final contest after losing six games in their first three appearances in 1968, 1969, and 1970 and dropping the first game to the Bruins here Saturday.
"Ryan O'Reilly, acquired by the Blues from Buffalo last July, scored the winner when he converted the rebound of a shot by Alex Pietrangelo from the slot at 10:38 of the third period, cleanly beating Bruins goaltender Tuukka Rask. It was the second goal of the game for the standout center and it drew roars of pure glee from long-suffering fans at the Enterprise Center. Brayden Schenn added an insurance goal into an empty net with 1:29 left in the third period as jubilant fans hugged and waved rally towels.
"Game 5 will be played on Thursday at Boston's TD Garden, where the teams split the first two games of the Final."
Read the rest of the story by clicking here.
Stanley Cup Final results/schedule
All times Pacific
at Boston 4, St. Louis 2
St. Louis 3, at Boston 2 (OT)
Boston 7, at St. Louis 2
at St. Louis 4, Boston 2
Thursday, 5 p.m., St. Louis at Boston, NBC
Sunday, 5 p.m., Boston at St. Louis, NBC
*Wed. June 12, 5 p.m., St. Louis at Boston, NBC
*-if necessary
NBA Finals
All times Pacific
at Toronto 118, Golden State 109
Golden State 109, at Toronto 104
Wednesday, Toronto at Golden State, 6 p.m., ABC
Friday, Toronto at Golden State, 6 p.m., ABC
Mon., June 10, Golden State at Toronto, 6 p.m., ABC
*Thur., June 13, Toronto at Golden State, 6 p.m., ABC
*Sun, June 16, Golden State at Toronto, 5 p.m., ABC
*-if necessary
Other newsletters
We also have five other newsletters you can subscribe to for free. They are emailed to you and we don't sell your name to other companies, so no spam from us. They are:
Our Dodgers newsletter, written by me. Subscribe here.
Lakers newsletter, written by Tania Ganguli. Subscribe here.
Horse racing newsletter, written by John Cherwa. Subscribe here.
Boxing/MMA newsletter, written by Lance Pugmire. Subscribe here.
Soccer newsletter, written by Kevin Baxter. Subscribe here.
Odds and ends
Nothing wrong with Bru McCoy deciding Texas wasn't right for him and returning to USC…. USC receiver Velus Jones Jr. indicates he's decided not to transfer…. USC says Tony Bland 'caused significant harm' in college basketball corruption case…. College admissions scam: Ex-USC soccer coach to plead guilty and cooperate in investigation…. Dante Fowler ready to prove his worth to the Rams in 'show-me' season…. NHL draft prospects get a peek at the future at Stanley Cup Final…. What made the U.S. women's World Cup win in 1999 such a pivotal moment?…. DeMarcus Cousins vaults from tragic figure to game-changer for Warriors…. Angels blown out by Cubs despite pointing to 'an inch or two here or there'
Today's local major sports schedule
(All times Pacific)
Dodgers at Arizona, 6:30 p.m., SportsNet LA, AM 570
Oakland at Angels, 7 p.m., FSW, KLAA 830
Born on this date
1920: NFL Player Marion Motley
1922: Former Angels manager John McNamara
1957: Baseball player Tony Pena
1963: NBA player Xavier McDaniel
1965: Tennis player Andrea Jaeger
1965: Motorcycle racer Mick Doohan
1974: Former Angel Darin Erstad
1985: Figure skater Evan Lysacek
Died on this date
2010: UCLA basketball coach John Wooden, 99
2014: Baseball player/manager/coach Don Zimmer, 83
2018: NFL player Dwight Clark, 61
And finally
John Wooden explains the difference between winning and succeeding. Watch it here.
That concludes the newsletter for today. If you have any feedback, ideas for improvement or things you'd like to see, please email us here. If you want to subscribe, click here.
---