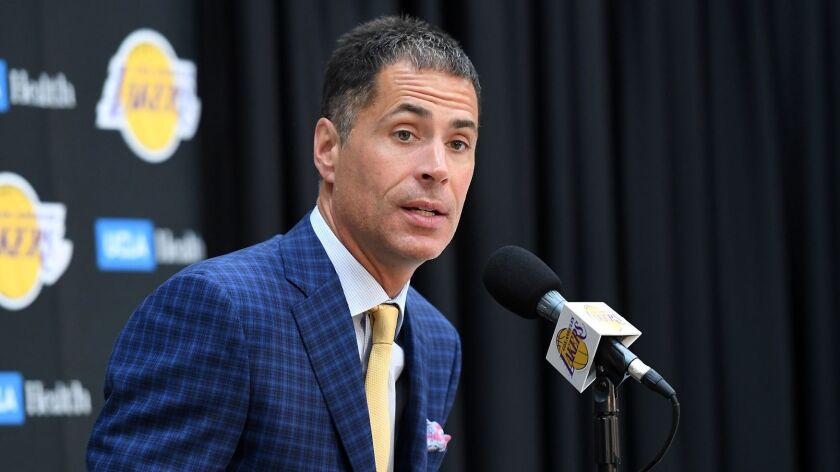 Howdy, my name is John Cherwa and I'm piloting this here newsletter as Houston Mitchell decides if he should apply for the Lakers GM job.
One great thing about being a subscriber to the Los Angeles Times is you get to read Bill Plaschke, who is usually one step ahead of the news.
A case in point is his analysis of the Lakers Anthony Davis trade and where the pressure now lies in the Lakers organization. Plaschke calls it like it is. Catch his full column here, or get the flavor below.
"The hangover hit quick.
"Hours after LeBron James agreed to join the Lakers last summer, with fans throughout Los Angeles still raising toasts to the King, he was followed into town by a misfit court.
"Showing up first was Lance Stephenson. What? Here came JaVale McGee. Seriously? Next up was Rajon Rondo. Huh? Finally there was Michael Beasley. Really?
"In buffeting the James acquisition with a bunch of aging and balky parts, Magic Johnson and Rob Pelinka followed their great coup with a giant crash. They stumbled through their encore and into the orchestra pit. They caused their celebrating city to awaken with a massive headache.
"Nearly a year later, a nearly identical opportunity to build upon greatness has arisen once more.
"In the wake of last weekend's titanic trade for Anthony Davis to join James, the Lakers are charged with surrounding two of the best five players in the NBA with enough pieces to fortify a legitimate title run.
"This time, the future of the franchise depends on Pelinka not screwing it up again. This notion takes an ominous turn when one considers the possibility Pelinka might have screwed it up already.
"Did you read the Tania Ganguli horror story in Monday's Times? While it was widely assumed at the time of the trade that the Lakers could use their salary-cap space to sign a max contract free agent such as Kyrie Irving, Kemba Walker or Kawhi Leonard, apparently the fine print in the NBA rules won't allow it.
"The trade for Davis is scheduled to be official July 6, which, for some complicated salary-cap reasons, won't give the Lakers the space to sign a top guy.
"The Lakers would prefer that the deal become official July 30, which would give them enough space to make their next big splash, but the New Orleans Pelicans aren't inclined to wait that long."
Women's World Cup
The final days of the interminably long pool play of the Women's World Cup are coming to an end. Groups A and B have already finished and we'll wrap up Group B on Tuesday.
With yet another day of space to fill between games, our own Kevin Baxter decided to look into the mind of Carli Lloyd, who scored two goals against Chile.
One of Lloyd's mentors had her channel some of the greatest athletes, much like Houston must use some of the greatest newsletter writers before doing this daily labor of love.
(Let's see, he must channel Tania and Kevin and, well, you know who. Shameless plug for you to check the next item on other newsletters and give one or all a try.)
So, with that out of the way, you can read Kevin's full story here or get a taste of it below.
"When Carli Lloyd was in college, she was supremely talented, exceptionally athletic and, her coach remembers, super lazy.
"'Everything she did as a youth player came pretty easily to her,' said Glenn Crooks, who coached Lloyd at Rutgers. 'The fitness aspect of it is something she lacked. It was a challenge to get her to work as hard on the defensive side of the ball.'
"Then Lloyd found James Galanis, who broke her down, then built her back up again. Galanis didn't just work on her body, he worked on her mind. And that may have been the most important step in Lloyd's transition from undisciplined college athlete to one of the most clutch players in women's soccer.
"'I would spend time after sessions to take Carli into the mind of the some of the greatest athletes that ever lived — Michael Jordan, Muhammad Ali, Wayne Gretzky, Diego Maradona,' Galanis said. 'I would make the connection that these athletes loved pressure and thrived in it. When pressure surfaced, their game went to the next level and [they] kept breaking barriers until they won.'
"Lloyd obviously got the message, because in the pressure cooker of the Women's World Cup she has thrived, scoring in a record six straight games dating to the 2015 tournament. She's had nine goals in that span, including three in the first 16 minutes of the 2015 final."
Monday's results
Germany 4, South Africa 0
China 0, Spain 0
France 1, Nigeria 0
Norway 2, South Korea 1
Today's schedule (all times Pacific)
Group C: Jamaica vs. Australia, Noon, FS2
Group C: Italy vs. Brazil, Noon, FS1
Group A W-D-L, GD, Pts
France 3-0-0, +6, 9
Norway 2-0-1, +3, 6
Nigeria 1-0-2 -2, 3
South Korea 0-0-3, -7, 0
Group A schedule (all times Pacific)
France 4, South Korea 0
Norway 3, Nigeria 0
Nigeria 2, South Korea 0
France 2, Norway 1
France 1, Nigeria 0
Norway 2, South Korea 1
Group B W-D-L, GD, Pts
Germany 3-0-0, +6, 9
Spain 1-1-1, +1, 3
China 1-1-1, 0, 4
South Africa 0-0-3, -7, 0
Group B TV schedule (all times Pacific)
Germany 1, China 0
Spain 3, South Africa 1
Germany 1, Spain 0
China 1, South Africa 0
Germany 4, South Africa 0
China 0, Spain 0
Group C W-D-L, GD, Pts
Italy 2-0-0, +6, 6
Brazil 1-0-1, +2, 3
Australia 1-0-1, 0, 3
Jamaica 0-0-2, -8, 0
Group C TV schedule (all times Pacific)
Italy 2, Australia 1
Brazil 3, Jamaica 0
Australia 3, Brazil 2
Italy 5, Jamaica 0
Today, Jamaica vs. Australia, Noon, FS2
Today, Italy vs. Brazil, FS1
Group D W-D-L, GD, Pts
England 2-0-0, +2, 6
Japan 1-1-0, +1, 4
Argentina 0-1-1, -1, 1
Scotland 0-0-2, -2, 0
Group D TV schedule (all times Pacific)
England 2, Scotland 1
Argentina 0, Japan 0
Japan 2, Scotland 1
England 1, Argentina 0
Wednesday, Japan vs. England, Noon, FS1
Wednesday, Scotland vs. Argentina, Noon, FS2
Group E W-D-L, GD, Pts
Netherlands 2-0-0, +3, 6
Canada 2-0-0, +3, 6
Cameroon 0-0-2, -3, 0
New Zealand 0-0-2, -3, 0
Group E TV schedule (all times Pacific)
Canada 1, Cameroon 0
Netherlands 1, New Zealand 0
Netherlands 3, Cameroon 1
Canada 2, New Zealand 0
Thursday, Netherlands vs. Canada, 9 a.m., Fox
Thursday, Cameroon vs. New Zealand, 9 a.m., FS1
Group F W-D-L, GD, Pts
United States 2-0-0, +16, 6
Sweden 2-0-0, +6, 6
Chile 0-0-2, -5, 0
Thailand 0-0-2, -17, 0
Group F TV schedule (all times Pacific)
Sweden 2, Chile 0
United States 13, Thailand 0
Sweden 5, Thailand 1
United States 3, Chile 0
Thursday, United States vs. Sweden, Noon, Fox
Thursday, Thailand vs. Chile, Noon, FS1
Rest of the schedule
Round of 16 matches takes place from June 22 to 25.
Quarterfinal matches are from June 27 to 29.
One semifinal match is on July 2 at noon on Fox.
The other semifinal is on July 3 at noon on FS1.
Third-place game is July 6 at 8 a.m. on Fox.
Championship match is July 7 at 8 a.m. on Fox.
Other newsletters
We also have five other newsletters you can subscribe to for free. They are emailed to you and we don't sell your name to other companies, so no spam from us. They are:
Our Dodgers newsletter, written by Houston Mitchell. Subscribe here.
Lakers newsletter, written by Tania Ganguli. Subscribe here.
Horse racing newsletter, written by John Cherwa. Subscribe here.
Boxing/MMA newsletter. Subscribe here.
Soccer newsletter, written by Kevin Baxter. Subscribe here.
Odds and ends
Giants take opener from Dodgers, 3-2. … Justin Upton rejoins Angels after long injury layoff and sparks win over Blue Jays. … Allyson Felix finds a much stronger voice after birth of daughter. … Ducks hire Dallas Eakins as their new coach. … Joe Cohen's expertise helped the WWE succeed. He hopes to do the same for the XFL. … Johnny Tincher of Birmingham is City Section player of the year. … Raptors championship parade: Huge crowd takes to the streets to celebrate.
Today's local sports schedule
San Francisco at Dodgers, 7 p.m., Sportsnet LA, AM 570
Angels at Toronto, 4 p.m., FSW, KLAA 830
Washington vs. Sparks, 7:30 p.m., Spectrum Sportsnet
Born on this date
1912: Track star/actor Glen Morris
1924: Former Laker George Mikan
1939: Baseball player Lou Brock
1949: Horse trainer Jerry Hollendorfer
1961: Baseball player Andres Galarraga
1963: NFL player Bruce Smith
1966: Figure skater Kurt Browning
Died on this date
2002: Sportscaster Jack Buck, 77
2003: Baseball player Larry Doby, 79
And finallygoogle
For a look at some rare George Mikan footage, catch up with this video tribute. Just click here.
That concludes the newsletter for today. If you have any feedback, ideas for improvement or things you'd like to see, please email us here. If you want to subscribe, click here.
---